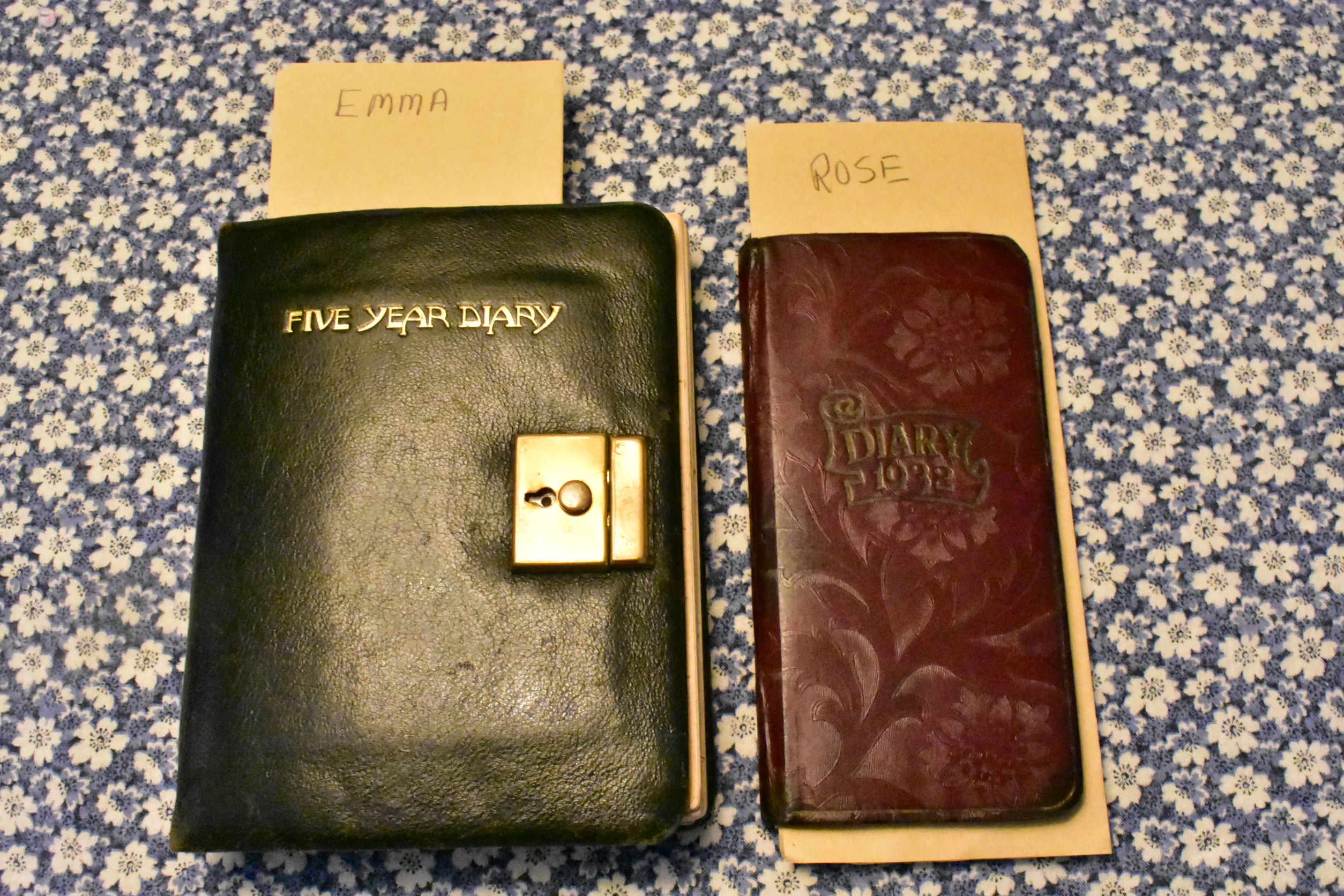 We are starting two new diaries today for our 1930s History study. I write the diaries as they are written, misspelling and punctuation included.
Both of the diaries, the diary writers are from Iowa, no relation that I can tell. The diary of Rose is the year 1932 and the diary of Emma is the year 1933.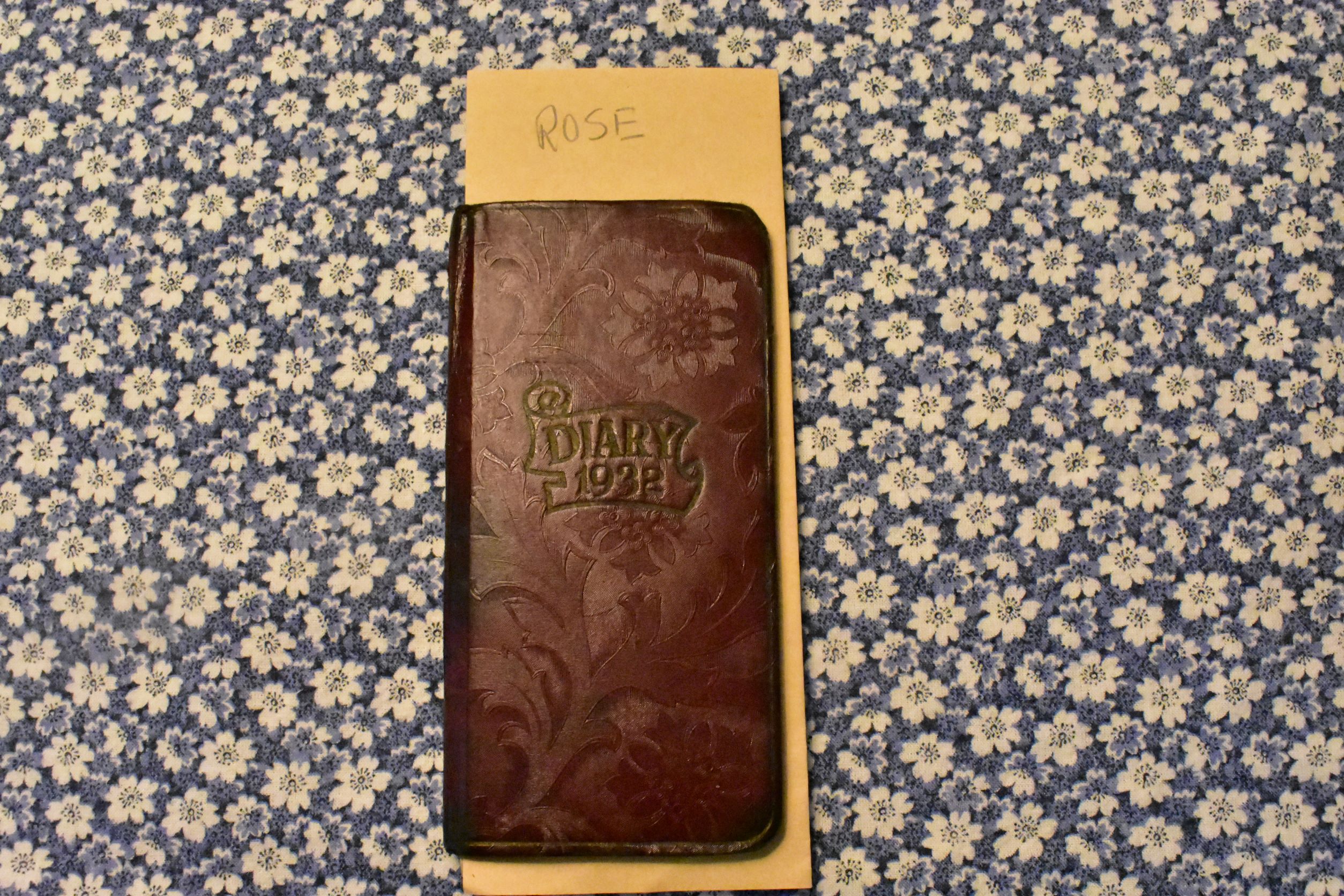 The diary of Rose is a one year diary. The space is very small to write and I have to use a magnifying glass with my bifocals. The writing space for each entry is 2&1/2 inches by 3/4 inch.
Rose is a thirty five year old school teacher in a country school. She is unmarried and lives at home with her parents and family in a rural area in the state of Iowa.

Now we start the diary.
Friday, January 1. 1932. Nice day. Stayed home all day. I had headache. Avis and Carl came in eve.
Saturday, January 2. Cold. Took Mama to C.F. and Waterloo peddling. Harland sold calf. Up to Myers in eve. No lights.
Sunday Jan 3. Very cold last nite but got warmer thru the day. Mr. Sumpter buried today. Got 11 eggs.
Monday Jan 4. Fairly good day but sleety & icy so didn't wash. Rather a gray day. Helen & I sewed.
Tuesday Jan 5. Snowed, rained all day. Helen and I sewed. Harland boarded up the corn crib. All went over to Theia to play cards. & to oyster supper.
Wednesday, Jan 6. Colder and windy. Harland put heater on car & hauled in old corn fodder. Helen and I sewed. Mama did chores. Otto's baby born at 1 A.M.
Thursday, Jan 7. Bishop's cemetery assoc. all to Waterloo but Father. Helen & I had our hair waved. Quite a decent day.
Friday, January 8. Union Meet at Del Leversens. Very cold I took Mama peddling in C.F. Harland took load of oates to mill. Helped Lucas butcher in a.m.
Saturday, January 9. Very cold 0 10 degrees below zero. I took Mama peddling in Waterloo. Harland took a load of corn to mill.
Sunday, January 10. Mama sick all day. Helen and I did work. Harland hauled in feed. Went down to play cards at nite. I cut out aprons.
Monday, January 11. Warm, windy day but no rain. I washed & mopped. Adrian and Mildred out. Mama better Helen hung clothes.
The end of this weeks diary reading of the diary of Rose.
You will learn the family and community as we move along.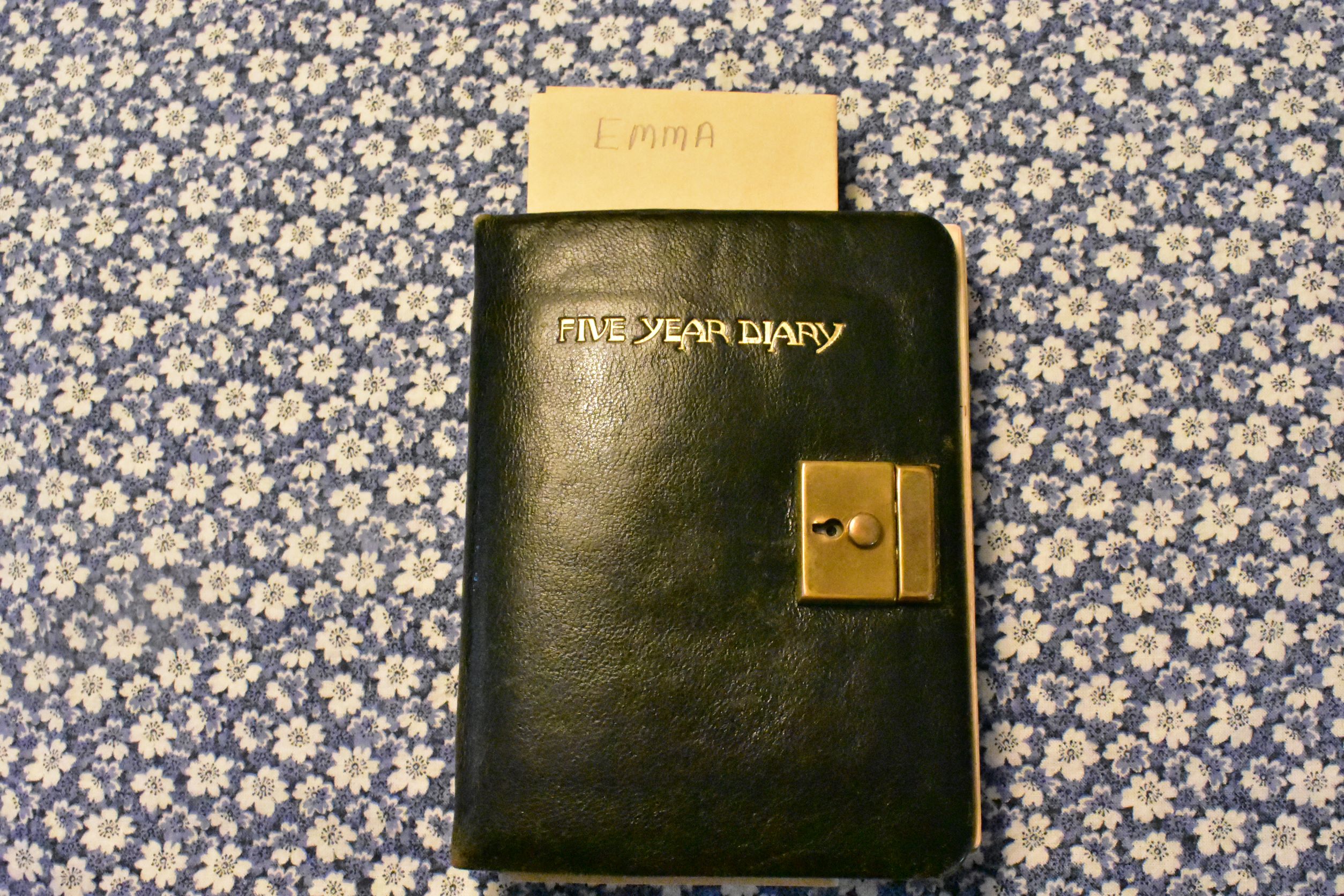 Emma's diary is a five year diary, and the space of her diary entry area is 1"x 4", a very small area. The year 1933. Emma has been a widow for 1 year and 4 months, she is living in the United States in the State of Iowa. Emma lives in a small town community.
Sunday, January 1,1933. To stand in the doorway of the New Year solemnly & prayerfully," Jesus Savior pilot me over life's tempestuous sea" Near Thy side I would ever be.

Monday, January 2. Just out of sick bed with Flu. Oli & Irene are with me, They have been so much help & comfort. Dr. Henry made two visits.
Tuesday, January 3. Has been a beautiful Spring like day. glad to get a card from Grace today Lem & Shery brot in a big load of wood this morn. Beulah & John are here this P.M.
Wednesday, January 4. No fault with the weather But that miserable old Flu is causing me to loose a lot of precious time. School begun & Frank here.
Thursday, January 5. At 2 P.M. bells toled death of Calvin Coolidge Plymoth Notch Born July 4, 1872. Frank's birthday, 14 years old. Mild weather with no snow. Plenty of Flu about, Edith is sick today. We had a black Christmas this time.
Friday, January 6. Weather very mild & sunny. Louie started the New Years right by writing me a letter which I received today. Mrs. Galley called this a.m.
(remember during this time called means visited in person)
Saturday, January 7. Went and mailed letter to Louis got one from Grace this P.M. Still wonderful weather, Roads are dusty. This is Sat & they are having community sale East of here. Mrs. Frank Hotzel called yesterday P.M. Twins are fine. Sleeping all night now.
Sunday, January 8. Somewhat cloudy, I am expecting to go out sometime today to see those dear little Twins Haven't seen them since Christmas.
Monday, January 9. Evening, just came home from Bessies with Lem as he came in for school children, Had ice cream & cake last nite it being Nick's birthday today.
Tuesday, January 10. Warm & cloudy, Abe brot in a nice load of hardwood & took dinner with Frank & I wish I could feel like work, so much needing to be done. P.O. box rent payed till March 31.
Wednesday January 11. Am feeling more like myself today. Have done some baking & ironing and worked with the wool this evening. weather clear & cooler, But not too cold.
End of this weeks diary reading of the diary of Emma. See you back next week around about Thursday. Grandma Donna