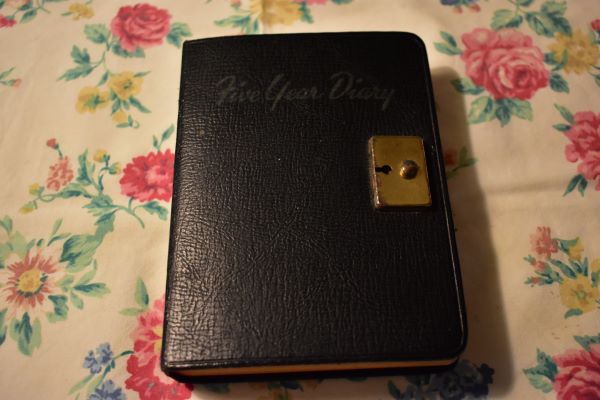 First I want to let you know that I will be taking two weeks off from posting. I need extra time to take care of some projects here at home.
There are many years of blog posts here on my blog. You can click on the menu and click living like the past and then scroll down to the bottom of the page until you get to the numbers and that will take you to years in the past. Number 15 is in the year 2017 and number 13 is 2018 etc.
So I am doing two weeks of diary entries in this post. I type out the diaries as they are written mistakes, mispelling and all because this gives us a more accurate picture of the person writing the diary.
I will now continue with the diary of Lil and Bob.
Monday May 17, 1943. Fine day - some better. B.M. called - Bob up Town to do the shopping.
Tuesday May 18. Up and dressed & cooked dinner for Bob - Jean phoned - Helen sick won't be up tomorrow.
Wednesday May 19. Fog in Early a.m. - Some better today - out doors a bit - Emma over in P.M. - Bob watering lawn.
Thursday May 20. Bob home early up town to shop - Kokyers all up in Eve -
Friday May 21. Warm day 85 - Bob home early, took car to Sanderson's to have new exhaust Pipe & took storm windows off porch.
Saturday May 22. Hot 95 degrees. Trying to keep cool. Electric fan working R & M over few minutes.
Sunday May 23. Another hot day 99 degrees on backporch - Bob cut lawns & up town for Chronicle -
Monday May 24. Nice day & cool. Done the washing - B.M. called he has bad cough - Bob home at 1-15.
Tuesday May 25. Partly cloudy & cold. Bob home at 1-15 - Up town to shop 1st time in 3 weeks.
Wednesday May 26. Nice cool day - watered lawns all a.m. Bob home early - up to have tires adjusted & get a hair cut.
Thursday May 27. Nice day - To Novarts to clean & decorate Dan's grave - called on Purley Scofield.
Friday May 28. Nice day. Done the ironing. Bob home 1 o'sclock - up town to shop - Ice 100 lbs.
Saturday May 29. Sick all day.
Sunday May 30. Light showers - Feeling some better but Bob doing most of the work & cut lawns Memorial Day.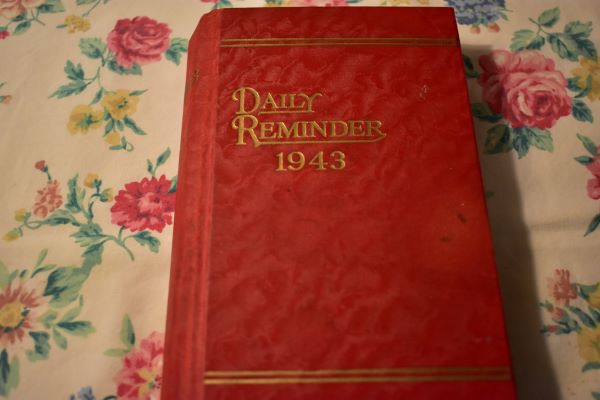 This is the diary of Lena and her son's name is Richard. Lena is a widow and is in her 70s and her son lives with her.
Monday, May 17, 1943 Did my washing by hand again in the little tup then went over shopping and had a big lug got home just in time before a heavy shower. Paid elec. and tele. Got in the clothes and folded them after supper.
Tuesday May 18. Planted nothing but did the ironing then went over street and did some errands. Didn't have as much as yesterday. Paid the water rent. Had a letter from Ida and Francis, picture. Put the tomato plants out but covered with papers at night. Took off two over windows yesterday. About did me up. Richard scolded me.
Wednesday May 19. Did odds and ends mended a little then went out doors planted the nastiturms around the house and went down and planted another row of black wax and one of horticultural beans. Ill have to spade up as much more I expect. quite a warm day. Put the house plants out and covered the tomato plants again tonight id hate to lose them now must be 3 inches or more and chance to grow. I put out the morning glory I had in all winter and wonder iff it will bloom or ever live. Cut the first asparagus.
Thursday May 20. 53 degrees. Richard took off the other over window and changed the screen in the door and mowed the lawn. I was glad I didn't have it to do but am willing to do 1/2 at a time as I did when it was m? last. Made cup custards and molasses cookies.
Friday, May 21, 55 degrees. Went out this P.M. and put in a row of parsnips beside the chard. I laid a row of phosphate and a few inches from it put seeds. The peas are just beginning to appear I couldn't see any carrots or beets yet. I have to cover my little tomato plants with newspapers altho they couldn't freeze as it isn't cold enought but it may help they look fine now. Made ice cream and ordered fish haddock macherel for dinner very fresh. had rained today P.M.
Saturday, May 22. I thot I didnt have a lot to do in the house so went out and turned out a little more 5 & 10 perhaps and put quite a coat of sheep manure. Guess ill set some tomato plants there I made a rhubarb pie when I came in ground some raisins and only used 1/4 cup sugar but made a rather thin pie which I like and it was very good. I was hungry for pie and had made a tomato mince pie along.
Sunday, May 23 Today is a nice pleasant day and have been trying to write letters. Didn't go to church. This is a very quiet day It is past 6 and I must put up Richards lunch. Think I started a week ago today on the 2nd barrel of oil. I have a few coupons.
Monday, May 24, 48 degrees. Im still doing the washing by hand but they promised Richard I should have it this week. It is hard to wring the heavy clothes altho I get along pretty well as we have a small wash. Got in the clothes and went over and mailed some letters I hope Fred will get his mtg. papers but he came up here just as it owed and didnt leave any forwarding address. Got a few cans 2 shell beans and 1 corn.
Tuesday, May 25. Went out and dug up the little place for the asparagus roots and intended to do more but that Id go to W. Leg and get a bit of meat and the asparagus roots. Went to Frenches garden and how beautiful they are the hot house full of blossoms and got the roots 12 for .35 cents. Did most of the ironing after dinner but felt too tired to plant this P.M.
Wednesday, May 26. Rainy all day but came on much worse in P.M. Had one of my stomach aches when I got up at 6 o'clock intending to go out and work in the garden. Got out 7:30 and set out the asparagus roots I got yesterday and planted 1 row of Horticultural beans but was so wet I came in. Did some mending but didn't feel quite up to scratch all day. Made macoroni & cheese for his supper and had eggs and succotash and ice cream for dinner.
Thursday, May 27. Went to W. LEb after it cleared away and got fish a mackerel and fresh salmon then afternoon went over street and was a thunder shower but didn't rain much got home alright but should have taken an umbrella and it didn't rain as good luck would have it. Baked the mackerel and paid only .20c a lb. have been paying 25 or 30 cents at Gnoramors. Shall try and get th fish over at Sargents.
Friday, May 28. This seemed to be a nice day. Went out and dug witch grass almost 2 hr what a tough job I took the little ax and chopped the roots all the way I could but cleared 6 or 8 ft sq. came in and washed Richards clothers Had boiled salmon with an egg sauce and guess he liked it shall try and make ice cream most of the time and shall make cup custards tomorrow.
Saturday, May 29. This is a nice day and did quite a lot. Made cup custards ice cream stuffed and roasted a chicken washed off the piazza the first time this year washed and waxed the kitchen floor ironed R-s clothes, defrosted the refrigator then got supper. Quite a day for me. Hoed what is up 5 rows of peas and beans and 1 more hasnt come up. Shall put in some more beans and corn wen it is a little warmer. Myu tomatoes are nice and stocky and think Ill set some of them out.
Sunday, May 30. Didn't go anywhere today I dont know as the general went to men exercises in the school building. I just felt like resting today. The nastiturms are just coming up. Planted them May 19. Guess I worked too steady yesterday but will be rested tomorrow I hope.
The end of these two weeks of diary readings and again, I will be working on household projects the next two weeks and if I need more time then I will let you know when I post the next diary readings.
Here are a few links below to some older posts, Grandma Donna
https://gdonna.com/living-like-the-past/my-grandmo...

https://gdonna.com/living-like-the-past/mississipp...