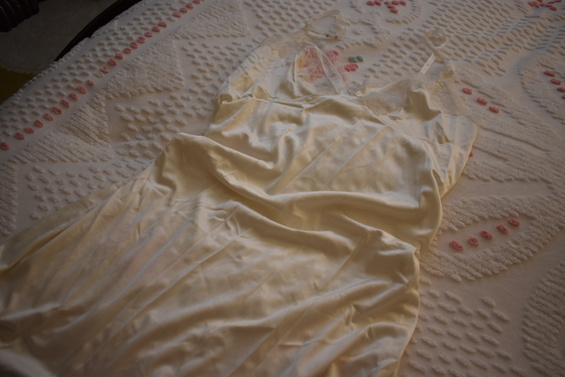 My Grandmother taught me the most important life lessons without any words. I learned from observing the things she did. She was never boastful, never, not once. She was gentle, kind, compassionate and went about the things she did in a very purposeful way.
My grandparents never had wealth, they eloped on a mule when they were young teens. My Grandfather made enough for them to buy the things they needed but as far as I know that was how it had always been.
My Grandmother a quiet woman with strong faith that never wavered.
She would sleep at night in a full slip and I never knew her to have pajamas or gowns until later in life, she would cover with her robe. She never had fancy things or clothes but always looked presentable. I only had a glimpses of grandmother in her slip but knew that is what she wore to bed.
She would grow a garden in the spring and they had chickens. She knew how to do things the old way because she learned during the time that skills were passed down generation to generation.
My Grandparents would kneel beside their bed to say their prayers and never ate a meal without giving thanks.
During this time that I have been decluttering the house, painting and moving things about I have thought so much of my family, especially my grandmother as I wondered what to do with my clutter. When I am going through my clothing which I am still doing again I think of her and what her life must have been like before I was born. I wonder how many dresses and panties, slips and shoes she had and I am figuring not many.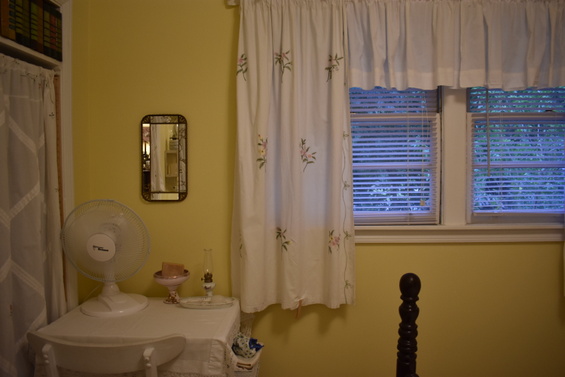 I keep simplifying and wonder when it will stop. I do not miss anything that is gone. I cannot even remember what we have donated so far.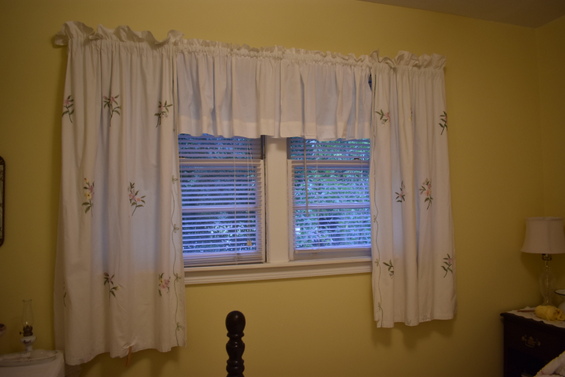 This past week I finally painted our new small bedroom that Charles and I have moved into. It was once the sewing/guest room and had a gallery of pictures all over the walls. I removed everything and all the nails and screws. It had shelves and boxes of bobbin lace tools and sewing notions and all kinds of things stored on those shelves and after I removed the shelves I patched the walls and sanded with an electric sander because it was a big job.
I was going to wallpaper but wallpaper is very expensive now so I decided to do this. Maybe one day in the future I will wallpaper but I am happy with the smooth painted walls. The curtains are temporary and I am going to sew some simple curtains for this room with some yellow embroidery but this will be over time.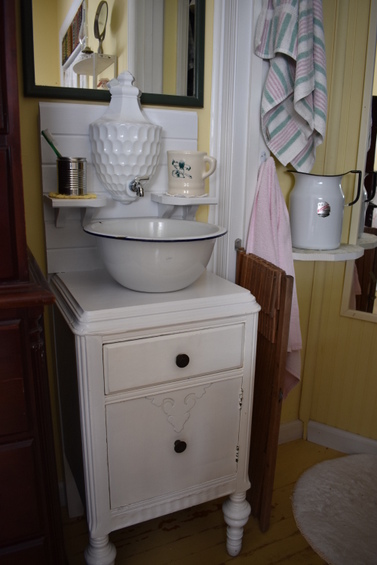 After the room was painted we did another project and took the old antique nightstand and added a back to make an official shaving stand for Charles. We used some leftover wood we had for the back and small shelves to hold the shaving soap mug and the can that holds a toothbrush. None of this is decorative, it is being used.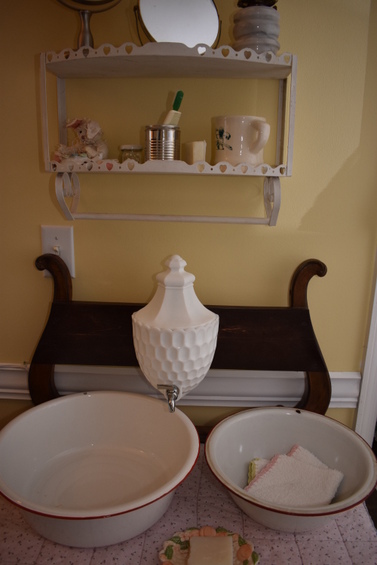 When we started washing up at the wash stand we had to get used to it. We had to learn which is the best way to do this. I found that I needed two bowls. I may have mentioned this before. The one on the right is for the soapy water and the one on the left for the rinse water. A enamel bucket is under the washstand to pour the used water in to carry it out.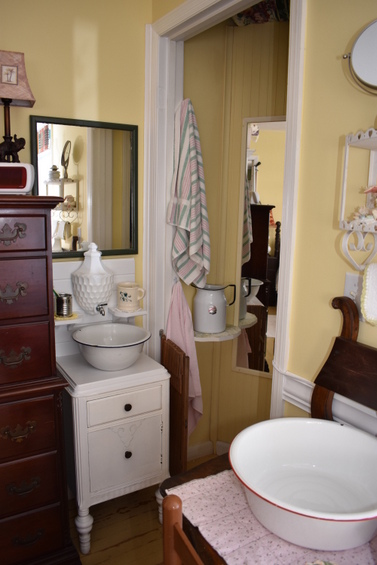 It is now in a much better working order. "Washing up" is much easier now. There is a rug in front of the washstand and a towel to the right of the washstand to lay on the floor when bathing. The closet is in that small area where the pitcher is sitting so getting dressed is easy now there at the wash area.
Yes, we do have a full bath too but not everyday and we find it is better for our skin.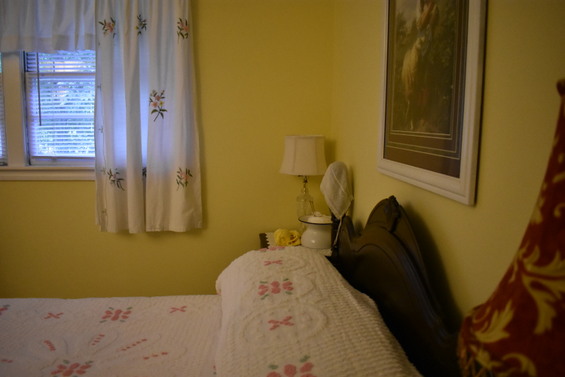 We really like our small bedroom now, it feels right.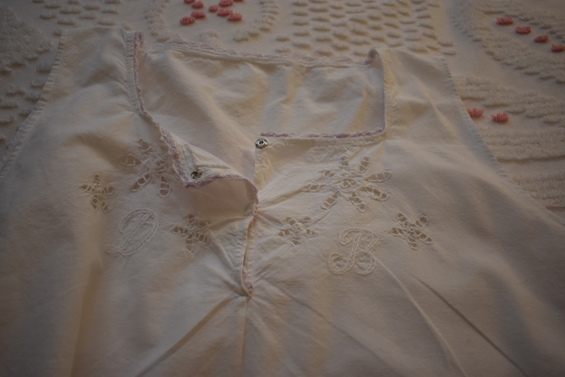 I don't sleep in my slip but I do sleep in a slip like gown. I prefer cotton as that is what I am most comfortable wearing. This is my summer gown.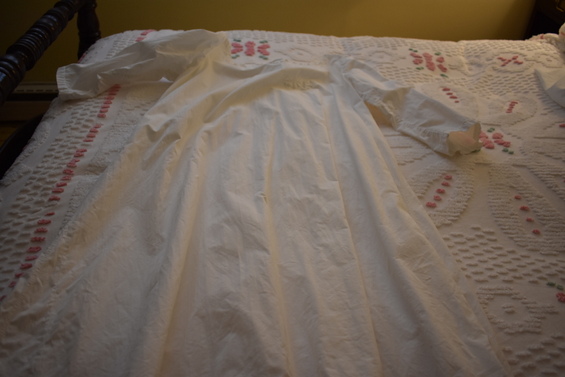 My winter gown has long sleeves...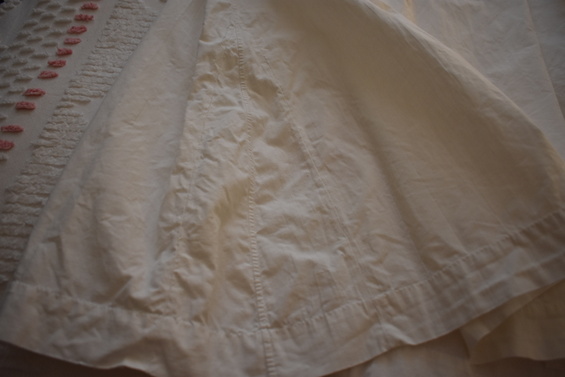 I love the way the bottom of the winter gown has a pie shape section sewn in on each side. I would have to sew another gown if this one wears out because this is vintage and cannot be purchased at the store, at least not that I know of. I am very careful with how I wash them and they always hang to dry. I do have some pajamas for very cold weather and a couple of summer pajamas too but I do enjoy wearing my cotton gowns and Charles likes them too.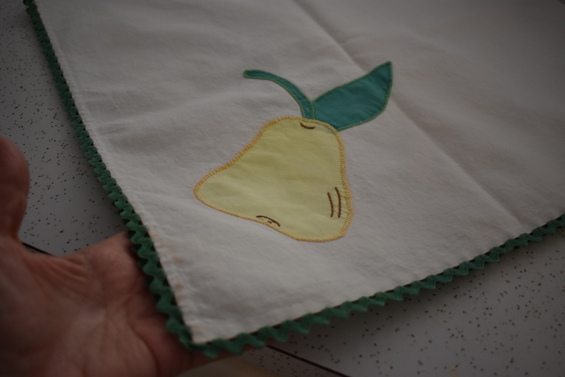 On a recent post I mentioned cleaning the window ledge and how we need to take our time cleaning I had a lot of thoughts during that time and since then.
I feel that getting rid of many things have relieved me from a burden. I am finding I have more time and that having too many items in our home was causing extra work.
In the past (long ago) it seemed it was easier to keep house, at least for me. When I was a child and teen my mother had time to sew, embroidery and she loved to sew appliques on table linens and placemats. This table linen above is one she sewed.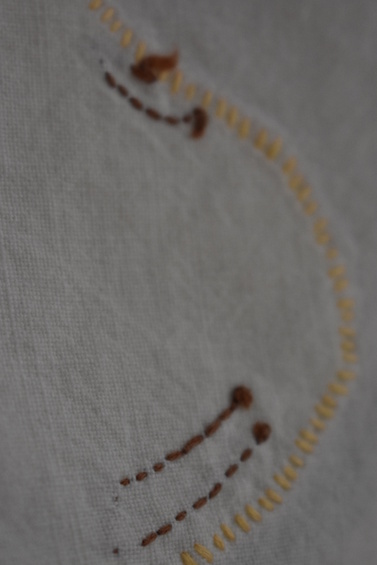 This is the back side...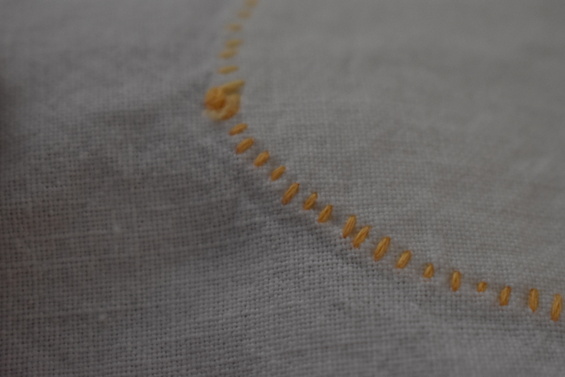 A little closer look at the stitches. No machine did this, this is what hand sewn applique looks like.
My mother was always careful taking care of clothing and linens. Our pillow cases and handkerchiefs were always ironed.
These are the days before electronics invaded our homes....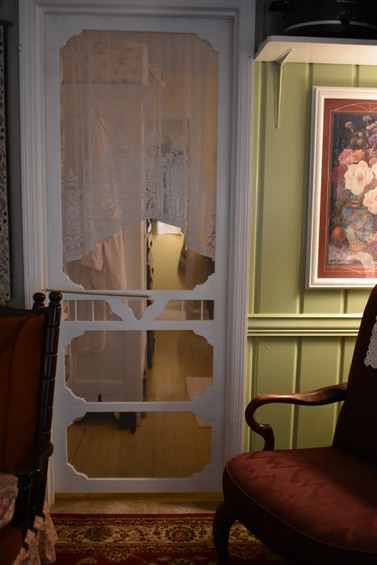 Yes, decluttering, moving furniture around, painting the walls has giving me much time to think.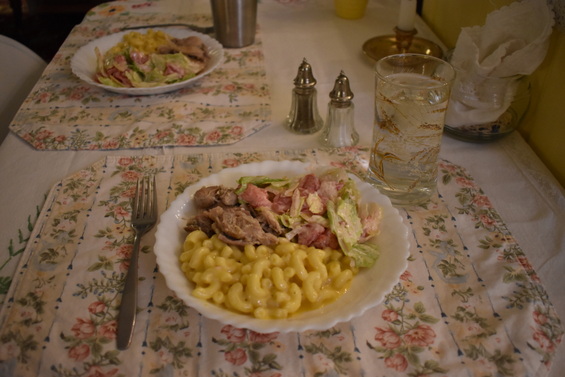 I am looking forward to better meal planning in the near future, I want to take my time doing the things I do. I want to finish cleaning those window ledges, those tight corners in the wood and small areas that only a toothbrush can clean.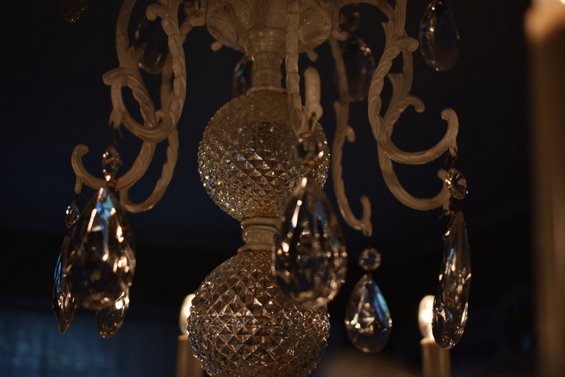 Just yesterday I cleaned the chandelier. I have been putting this off because it takes much time to clean it properly.
Yesterday as I cleaned this chandelier I thought about how many of us are losing our patience. When this thought came to me I thought about the past and one thing most people had was patience. Many things took time and most everything was done slow. Checking out at a grocery store meant that each item was written down on paper with a carbon paper under to make a copy and the carbon came later. People were polite and greeted one another. Communication was sitting down and writing a letter on a piece of paper. Oh boy do we ever need to go back to this to get us back to basics and grounded.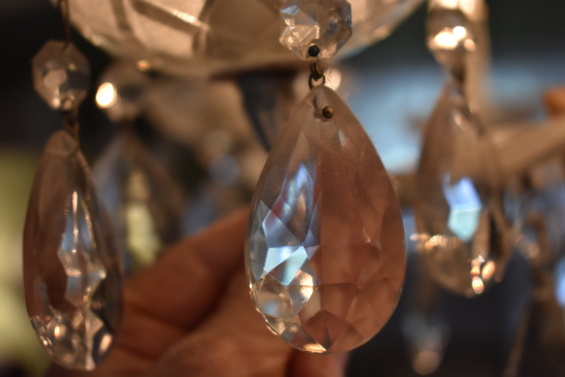 This chandelier was very dusty top to bottom. It has taken all of this work and decluttering for me to find my home. I thought I was a pretty good housekeeper, not great but decent. But I learned i was not, I was organized with our junk and that was taking me a lot of time keeping the junk organized. I can tell you I am tired of moving junk and when this is all finished I am done with junk!
Now I am starting to do the things that get put off and that feels good. This may get us a big step more like living like the past.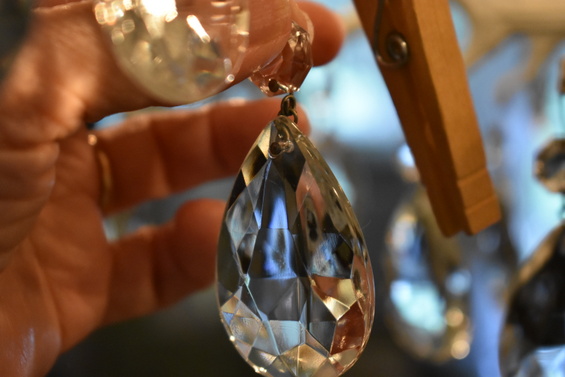 There are 77 crystals in this chandelier, not counting the small crystals attached to the drop crystal.
Each crystal was removed one by one and washed because it had not been properly cleaned in a while, only dusted and not that often.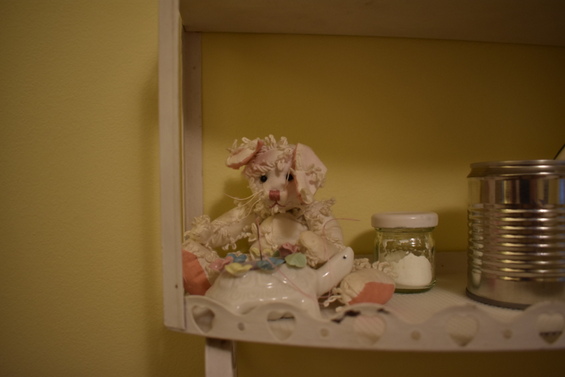 Some things that have special meaning will remain but there is a lot less of these things. I am finding that it makes these items that I have decided to keep even more special because too many things had made them barely noticeable.
It seems our journey to living like the past is only really beginning after all this time. Grandma Donna