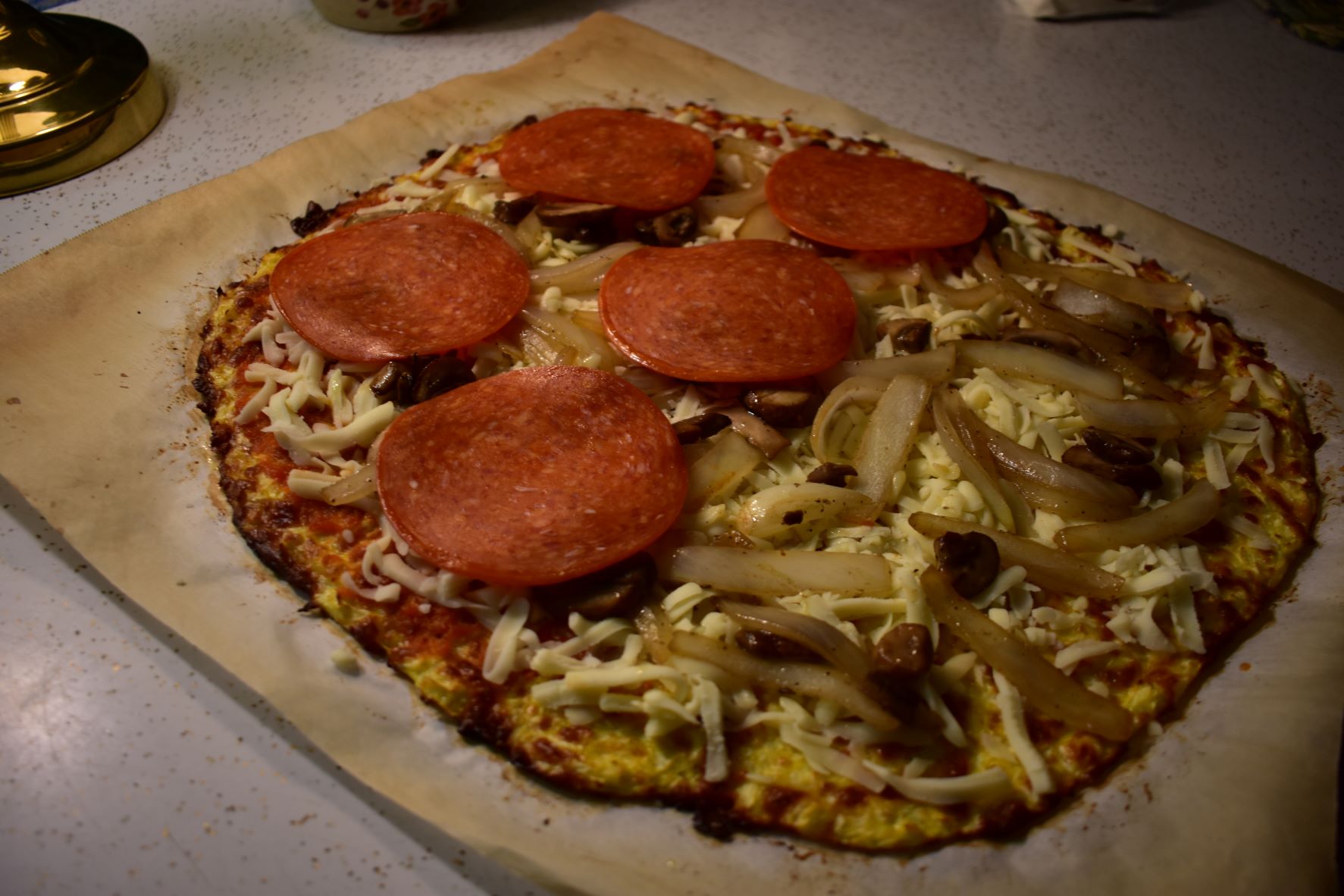 We are a little late on learning about the cauliflower pizza crust but now we know. This is a cauliflower crust with half in organic tomato pizza sauce, More mozzarella cheese, onions and mushrooms.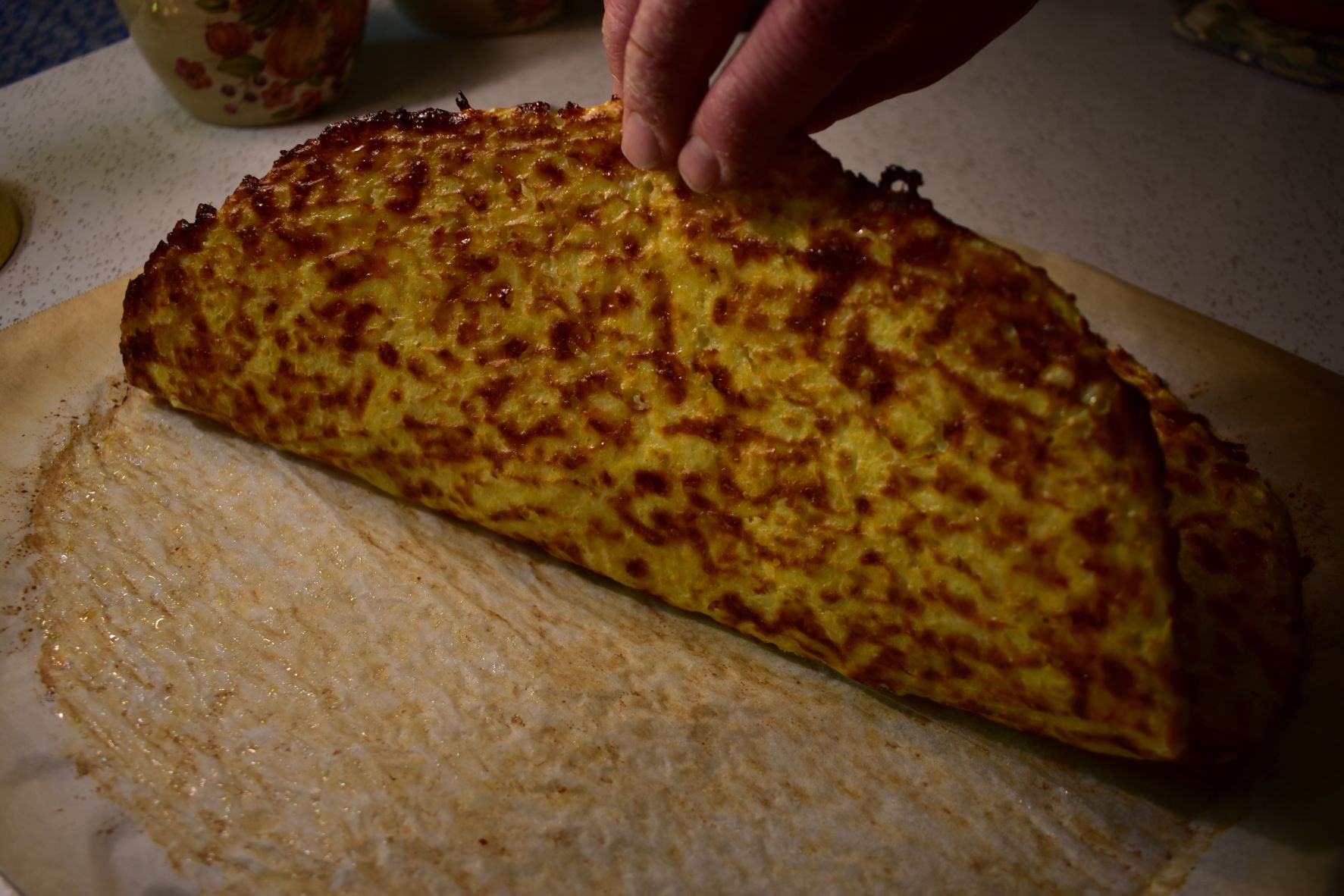 The first time we made one, we made one big pizza, the second time we divided and made two medium to small pizzas.
It is flexible and I would have never known there was no flour in this crust and I would have never guessed it was cauliflower.
2 cups, grated cauliflower
2 cups shredded mozzarella cheese
2 eggs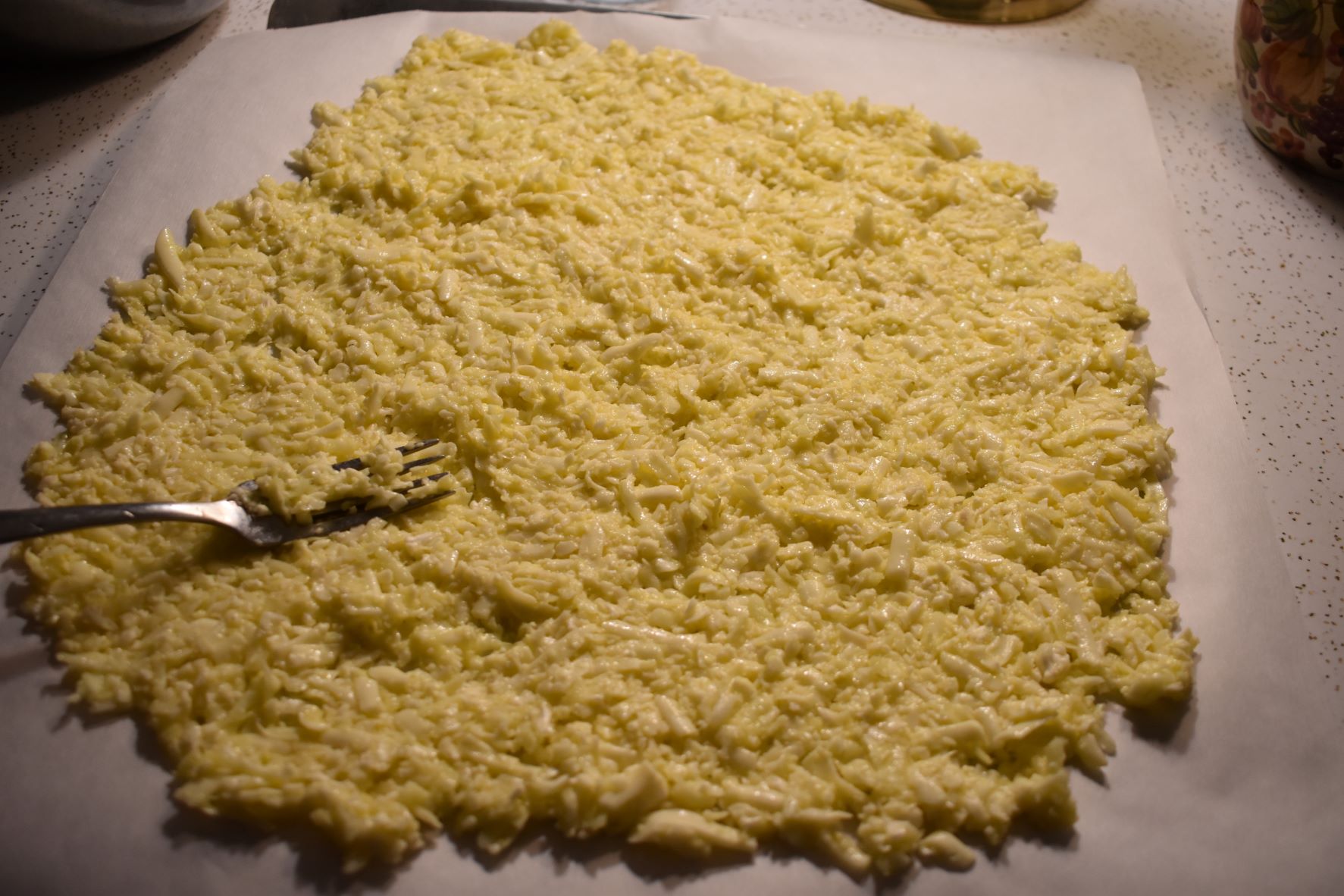 Mix together, press out into rounds on parchment paper. Use your hands to press it down or a fork. We press ours as thin as possible without any holes left.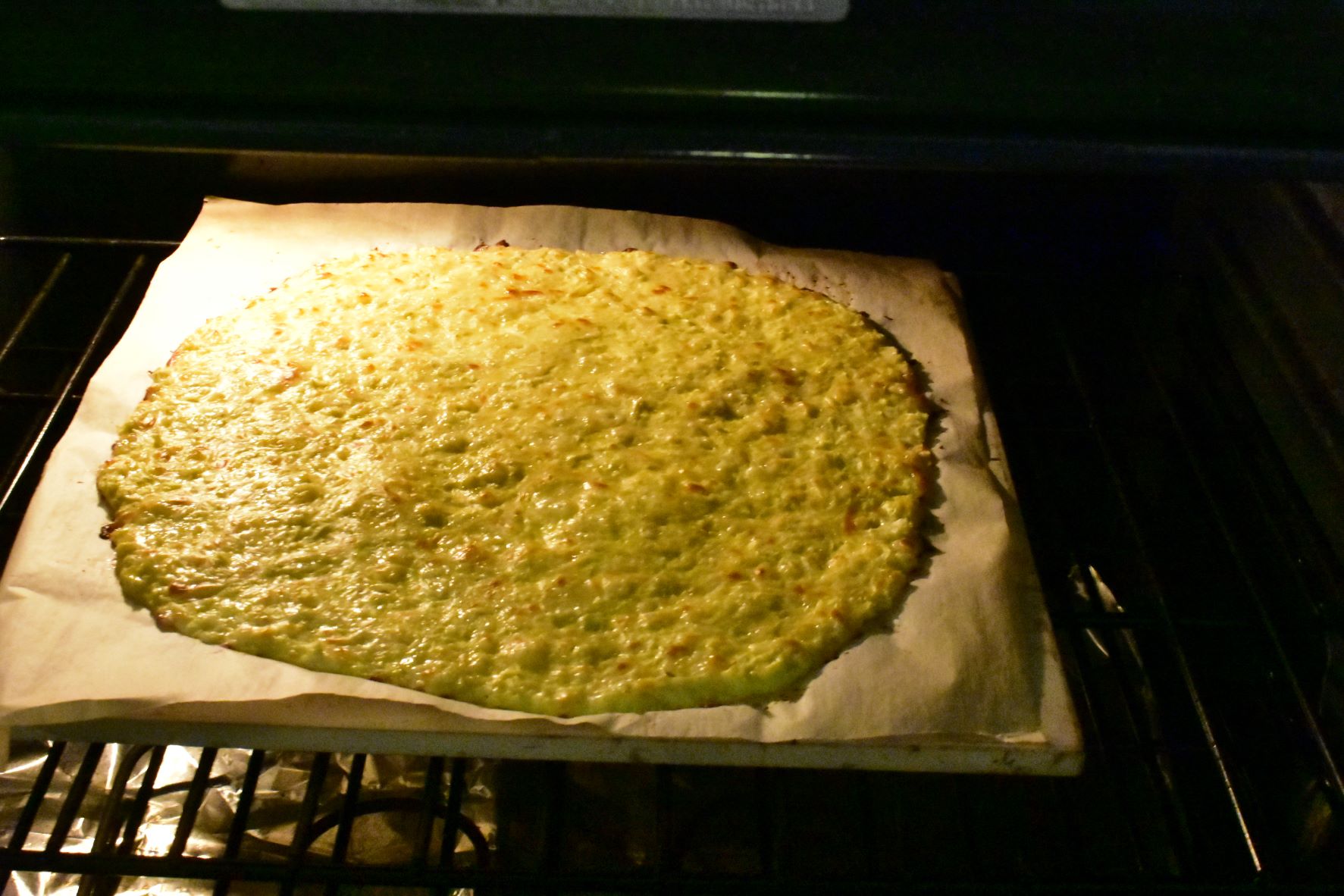 Bake 450 degrees for 15 minutes. This is the crust baking.
Bake it first then top it and then bake it again with topping.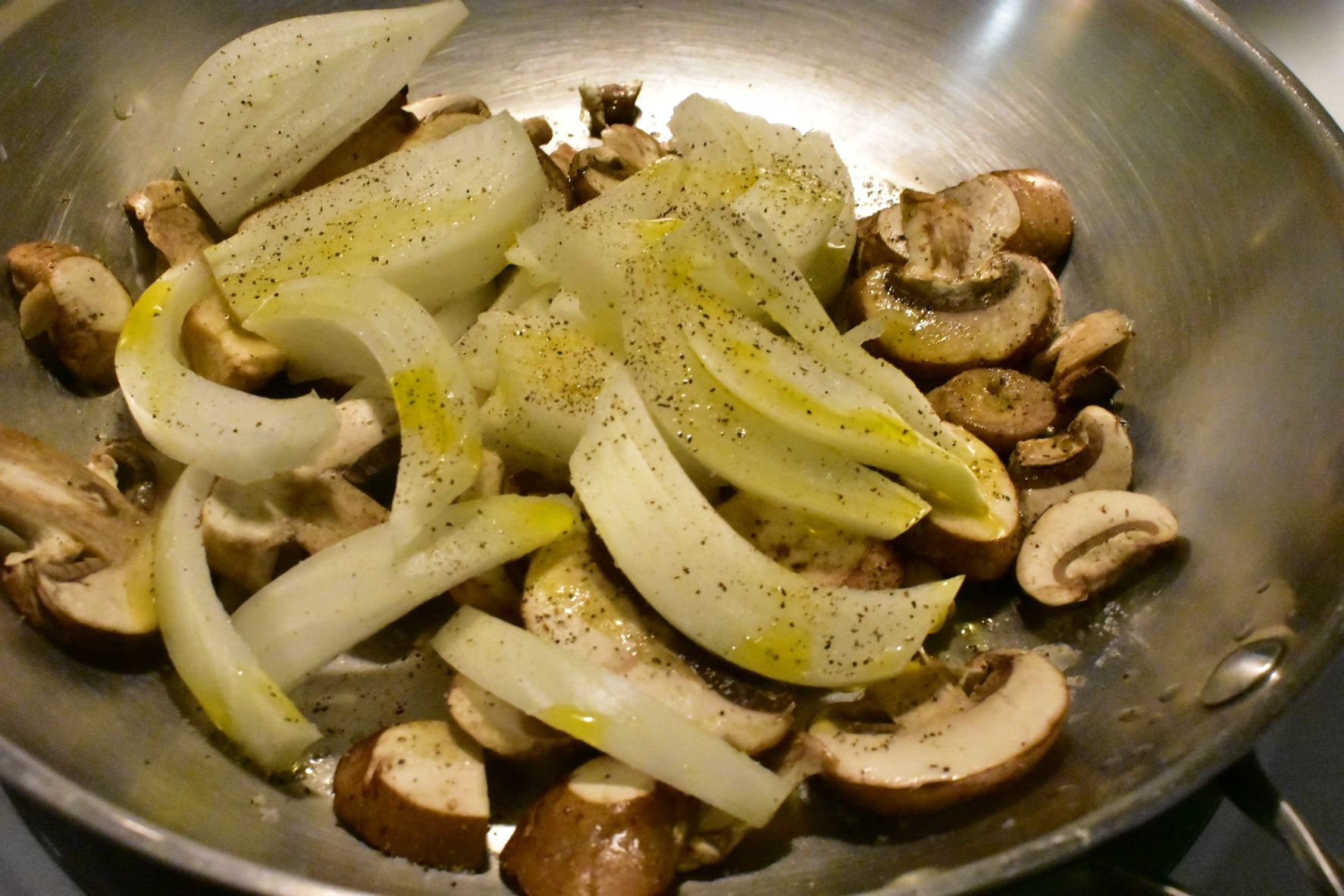 Top with whatever you like on your pizza and bake until topping is done. We cook our toppings first if they are raw, such as onions and mushrooms or meat so the pizza does not burn in the oven. We bake it until the cheese topping and everything on top is cooking and melting.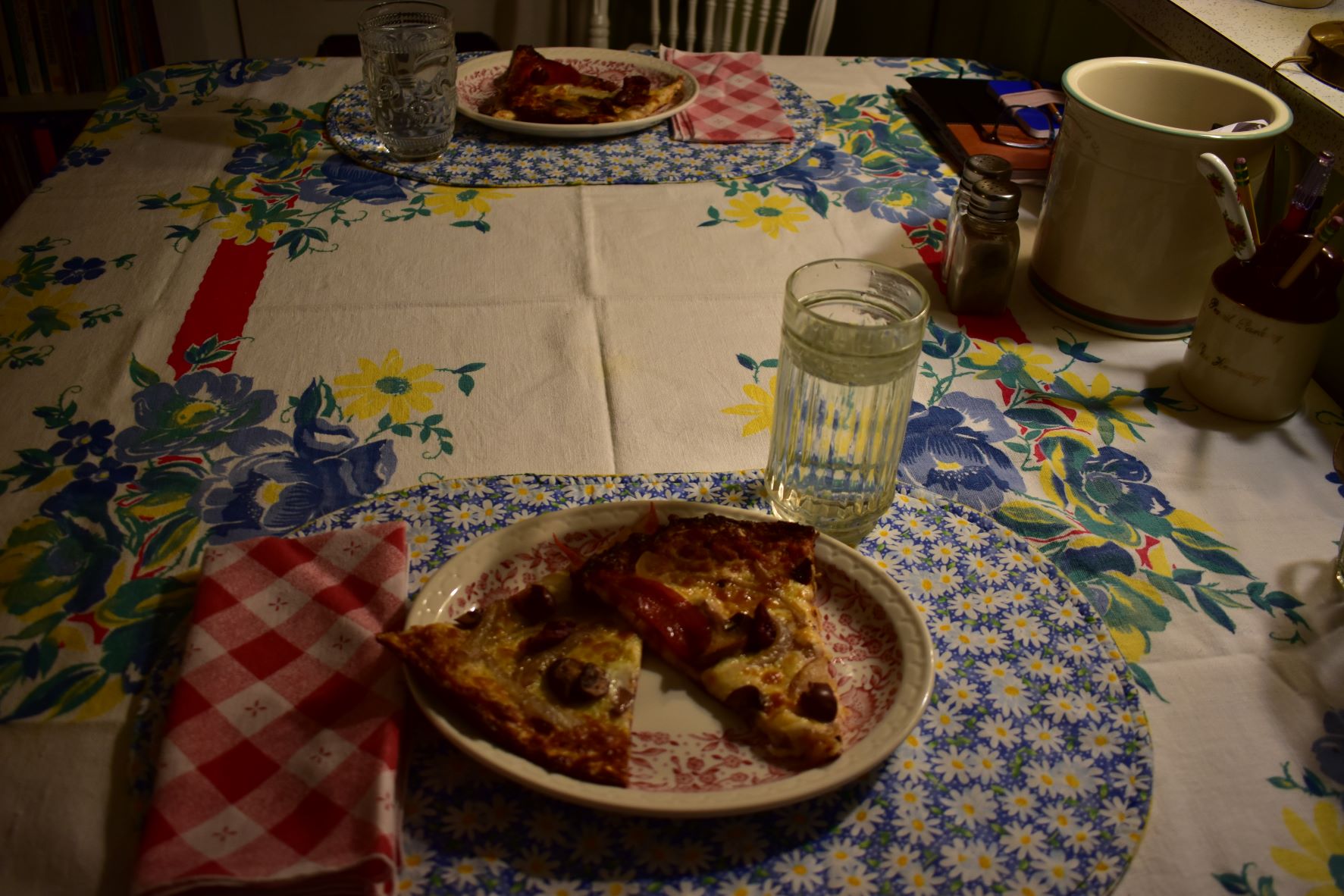 We have eaten this pizza with different toppings each time and still I would think that this was a flour pizza dough but it does not have any flour.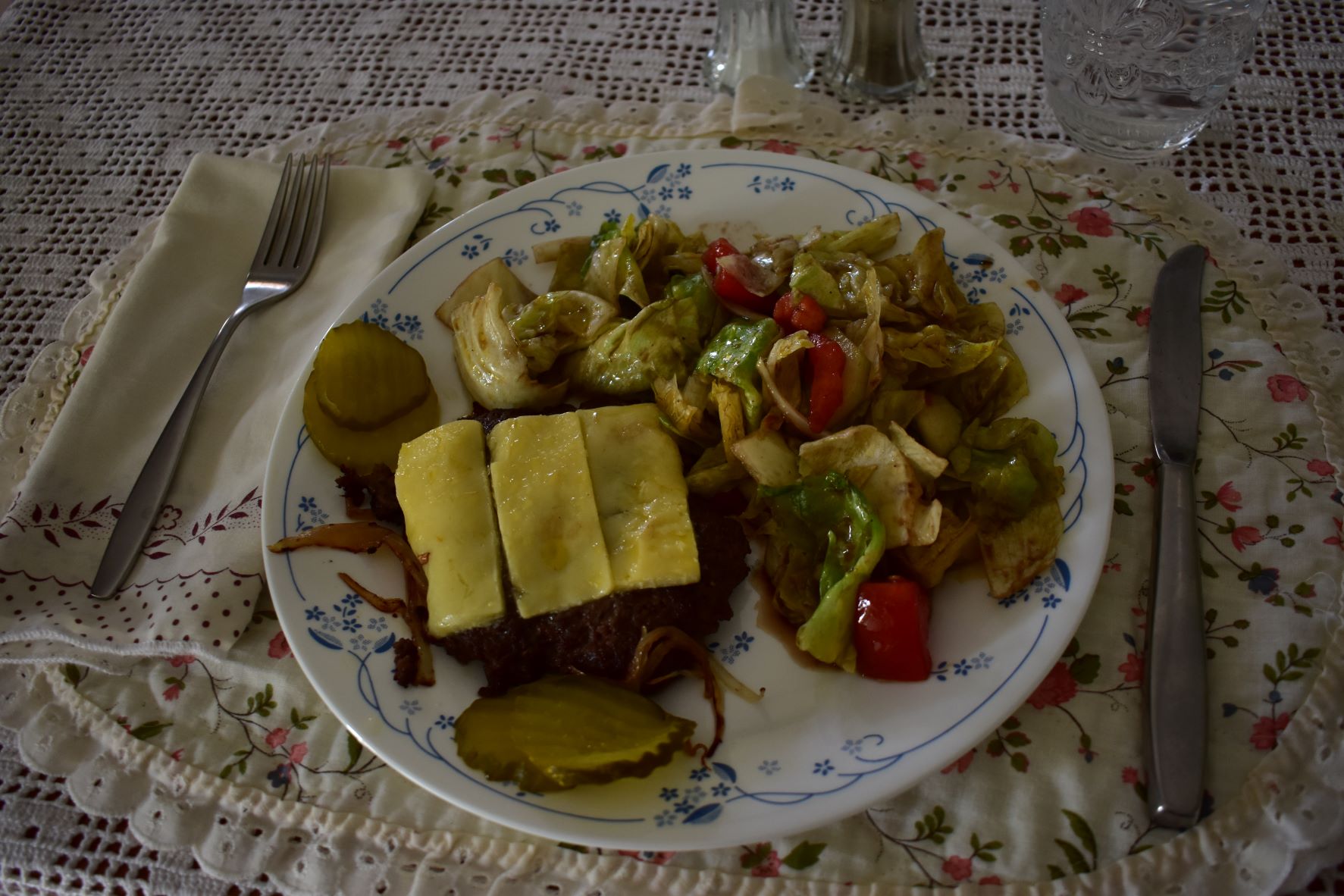 This week we had a hamburger supper with home cooked burger, salad, cheese and pickles.
Next week we plan on settling down to our regular simple old fashioned life. We have been having fun with adjusting to no history studies and organizing and moving things around in the house but now I want to get back to our normal simple life.
I am ready to start back on Monday to cleaning my One room proper way because I should be finished with the big part of the organizing. There will always be something to organize but not like it was.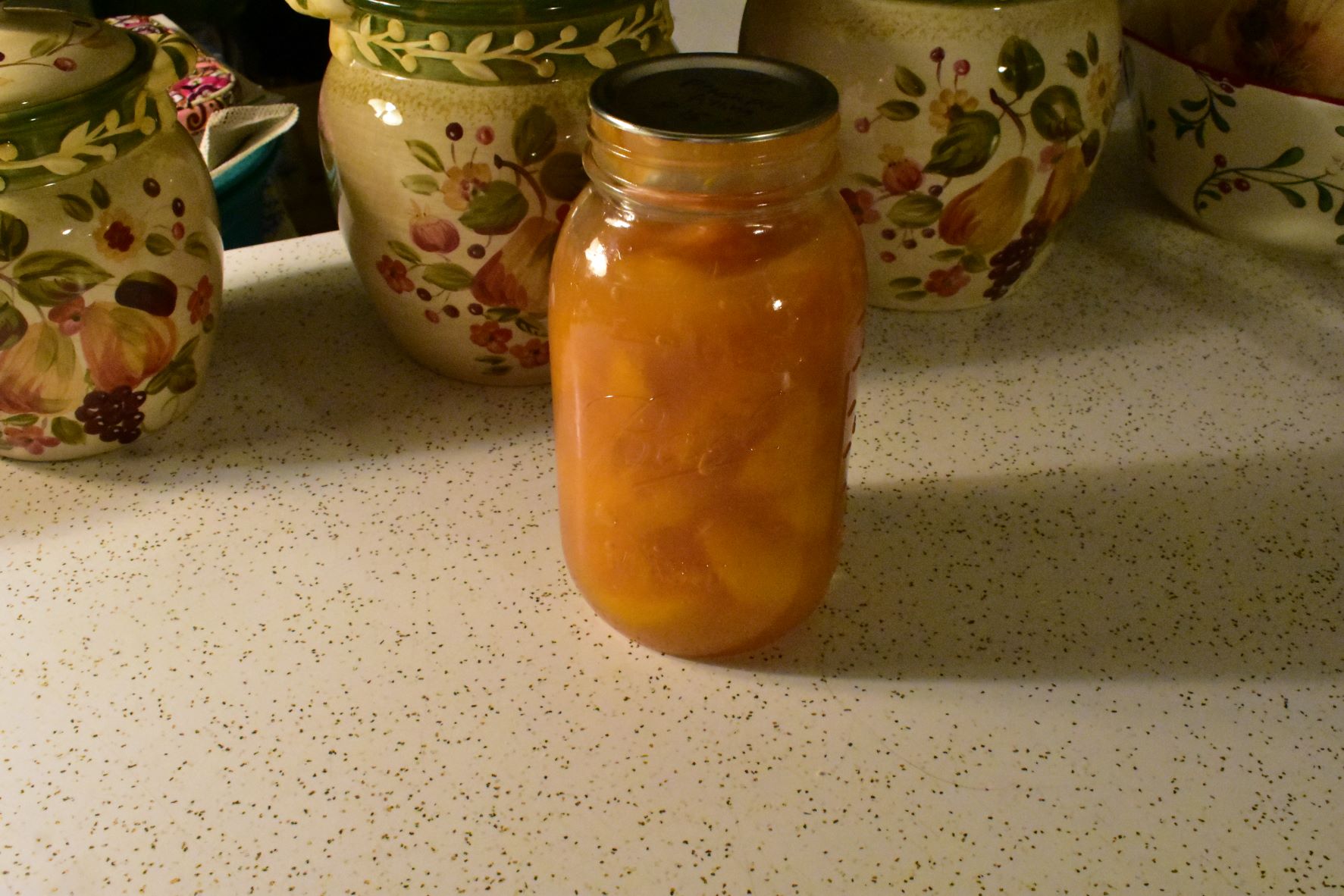 A family member, shared with Charles and I a jar of home canned peaches.
This morning before Charles left out for work, I made a peach cobbler with this jar of peaches.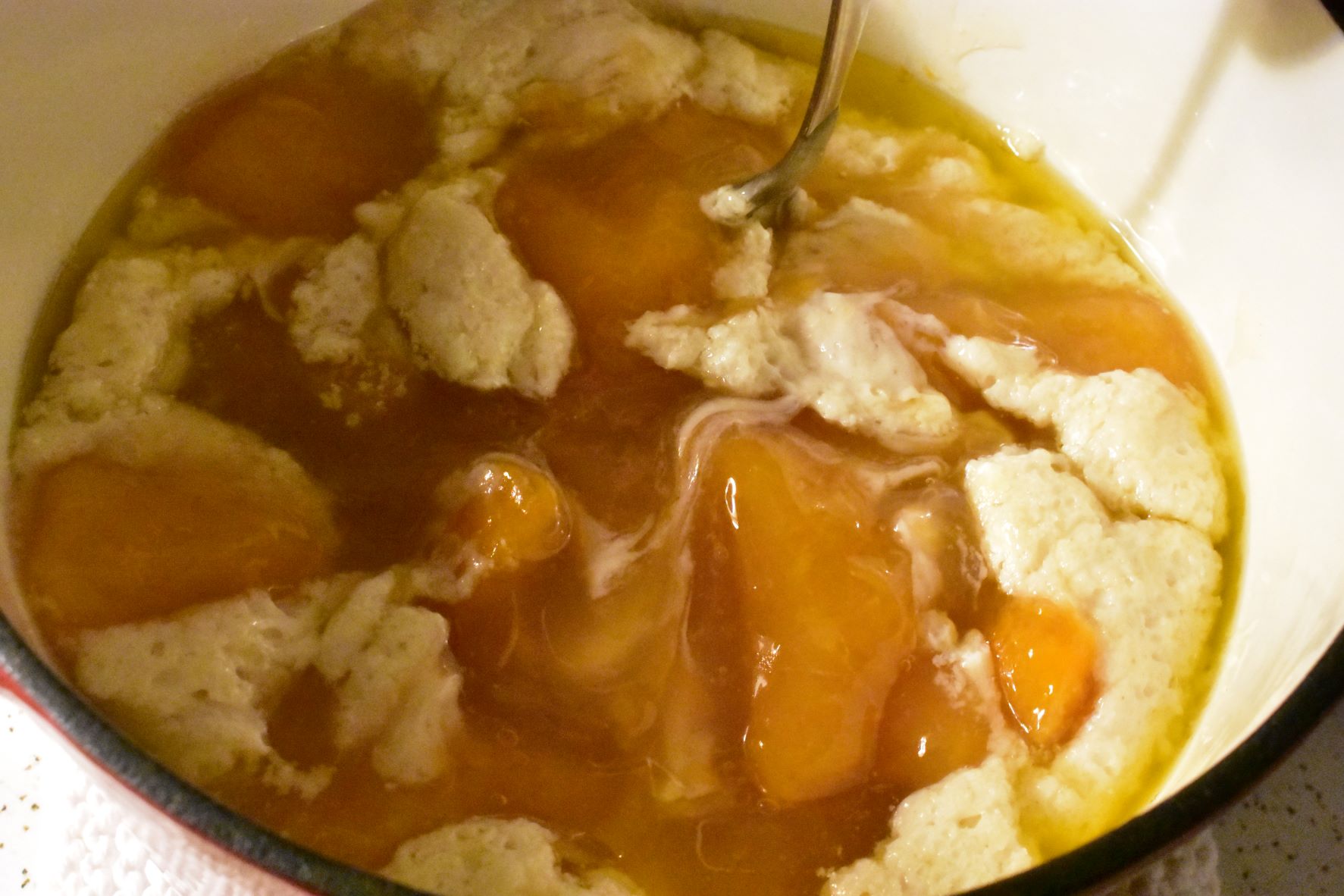 I got up early and mixed it up, as it is a simple batter. I put the stick of butter in the bottom of the pan to let it melt and then pour the batter into the hot melted butter and then added the peaches, the whole while the batter is starting to cook.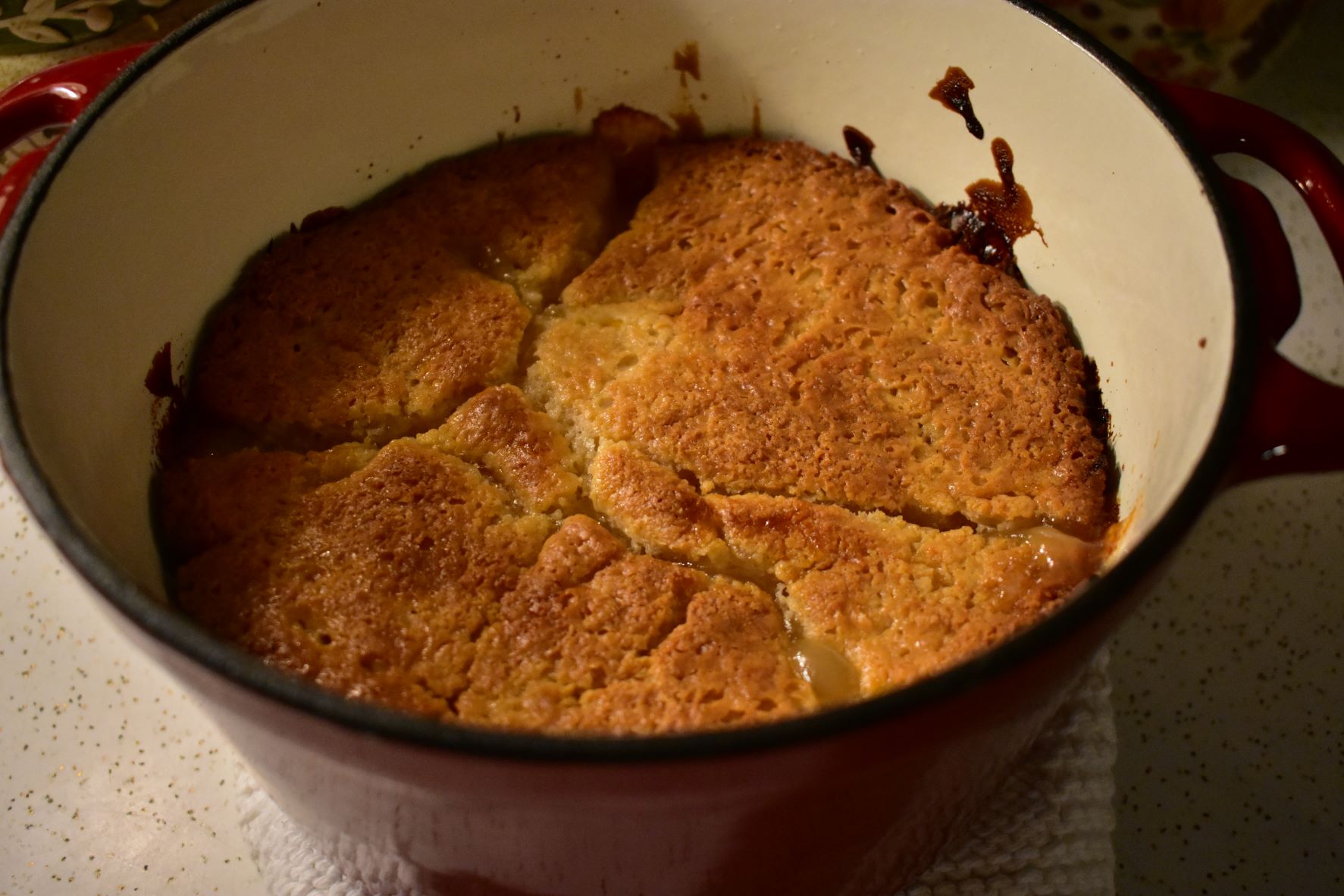 I popped it into the oven for one hour and we get a delightful peach cobbler.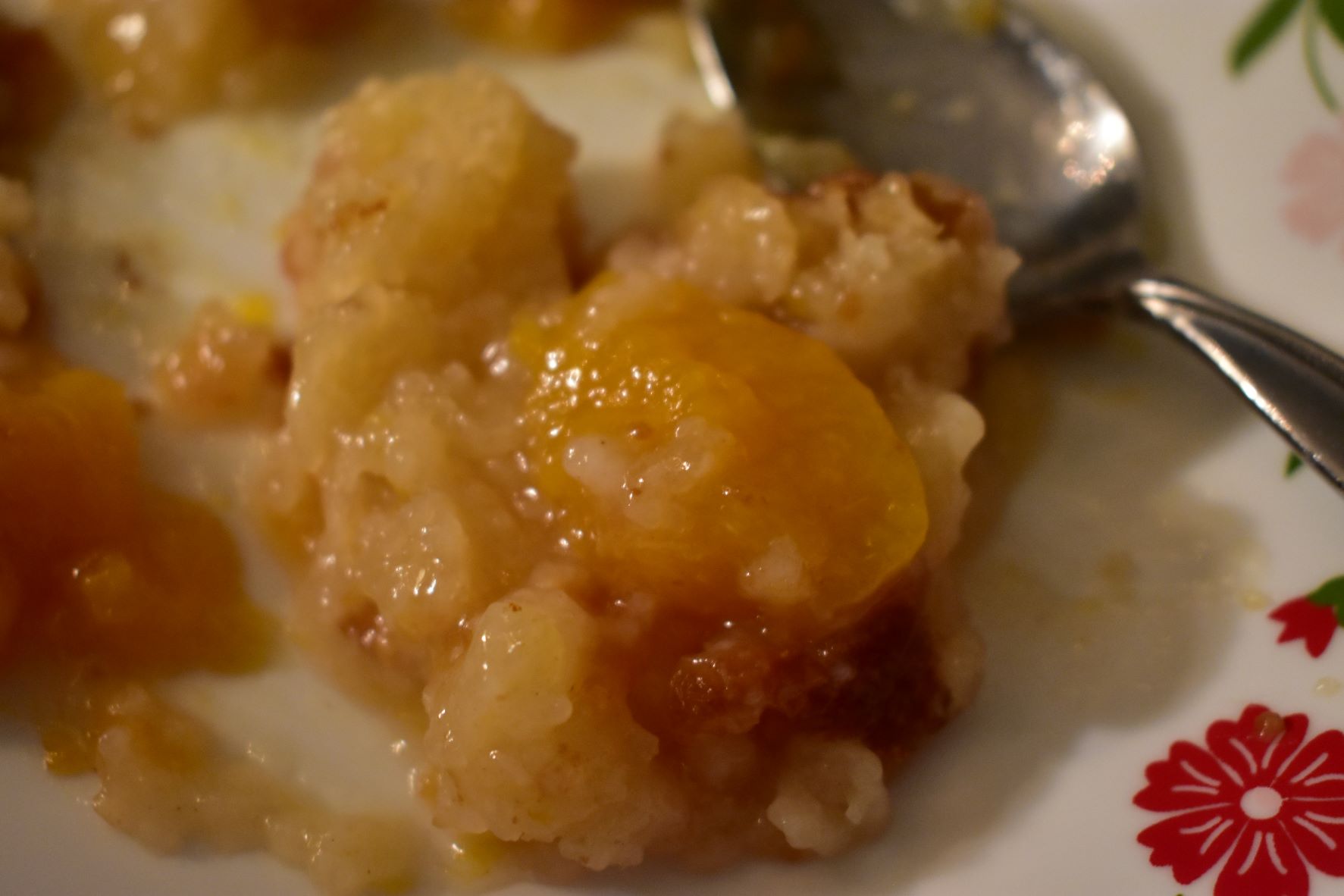 Being this is Friday, and Charles always goes up on Friday to take groceries to Madge, he took her some warm cobbler, along with a letter and a homemade crochet dishcloth that was given to us by a family member to take to her.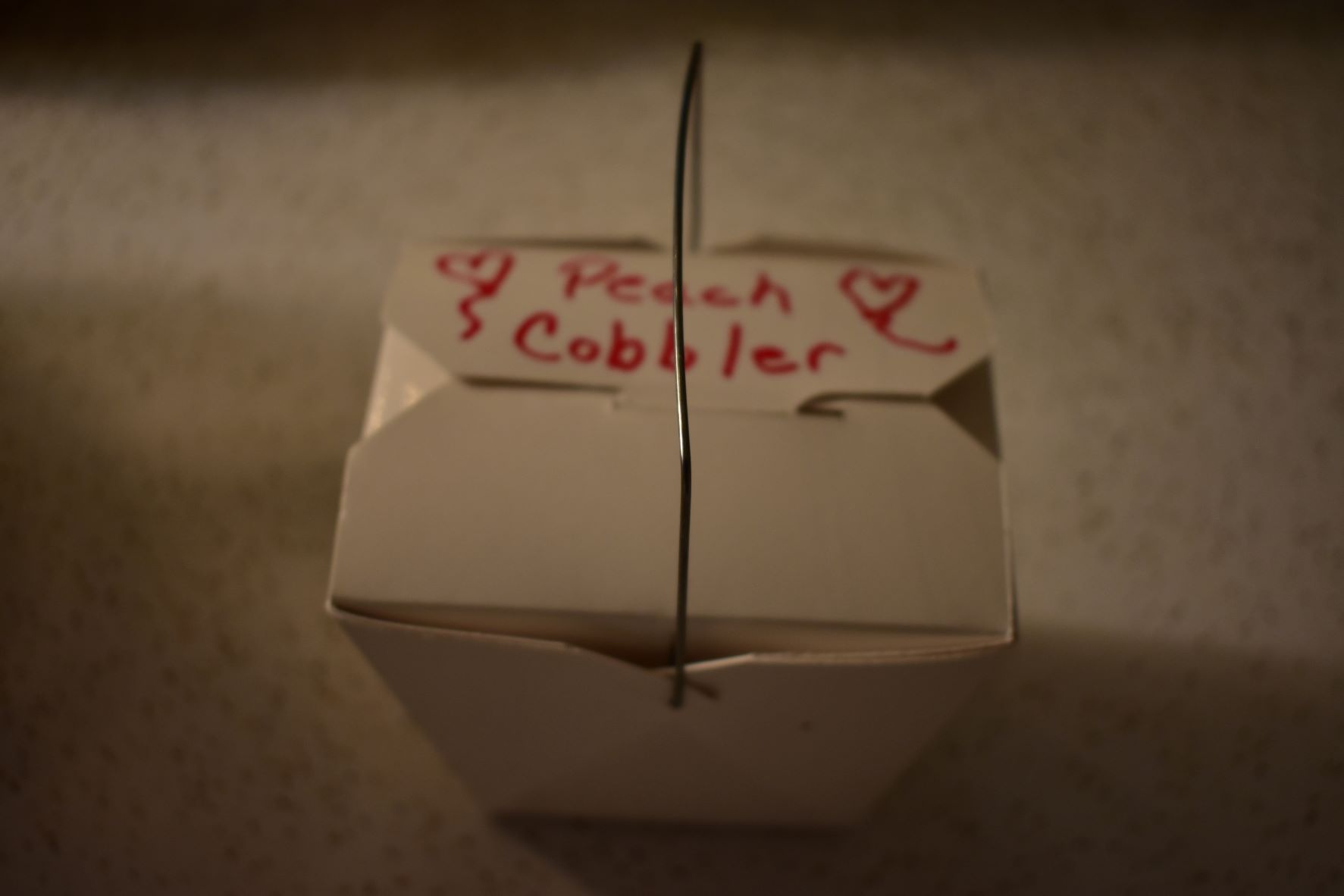 It is the most simple things in life when shared can bring a feeling of being loved. The dishcloth and letter that Madge received today was unexpected and it made her happy.
An update on my Doctor's appointment.
I went to the hospital yesterday and was hooked up to the large pacemaker computer to see where we stand on when I will need surgery. Last time they ran the machine it said the longest that I could go before a replacement was August 2023 and possibly less. Well less it was, the longest it has left now is three months and possibly shorter so the longest now is June and could be earlier.
They are going to consult with some doctors in Birmingham to determine what is needed to be done with the lead concerns. The doctors in Birmingham can do lead extractions using laser. The plan is I go back over to the hospital to get checked again in about 8 weeks (month of May) which at this time the surgery will need to be scheduled. So the next update will be after that check up. There is a possibility that I might have to go in earlier but I hope not because...
I am happy that I will have more time with the garden and the house and getting our routine back as we like it to be and so when I do come home from the hospital, things will be more calm and relaxing, that is after Katherine, Elizabeth, Bernadette and Belle settle down from me getting back home.
I will start working on Sarah's diary for the month of April this coming week, she will be into spring this next reading.
Here is a link to my recipe and how to make a homemade peach cobbler.
https://gdonna.com/cooking-from-scratch/old-fashioned-peach-cobbler/

Grandma Donna