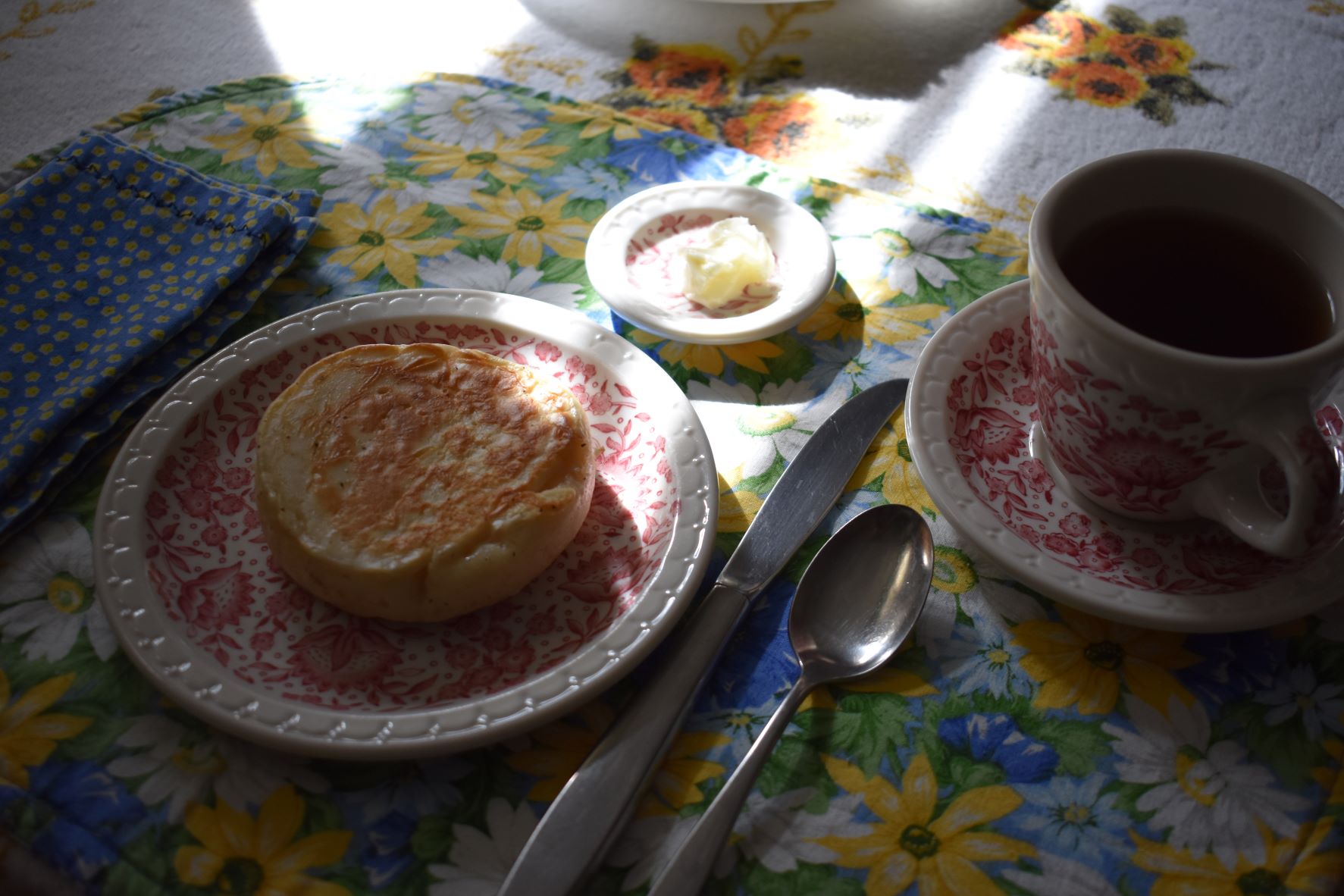 Several of you have asked for my crumpet recipe. So this post is to share how I make crumpets.
I started making crumpets as part of our genealogy study and decided to cook recipes our ancestors would have eaten.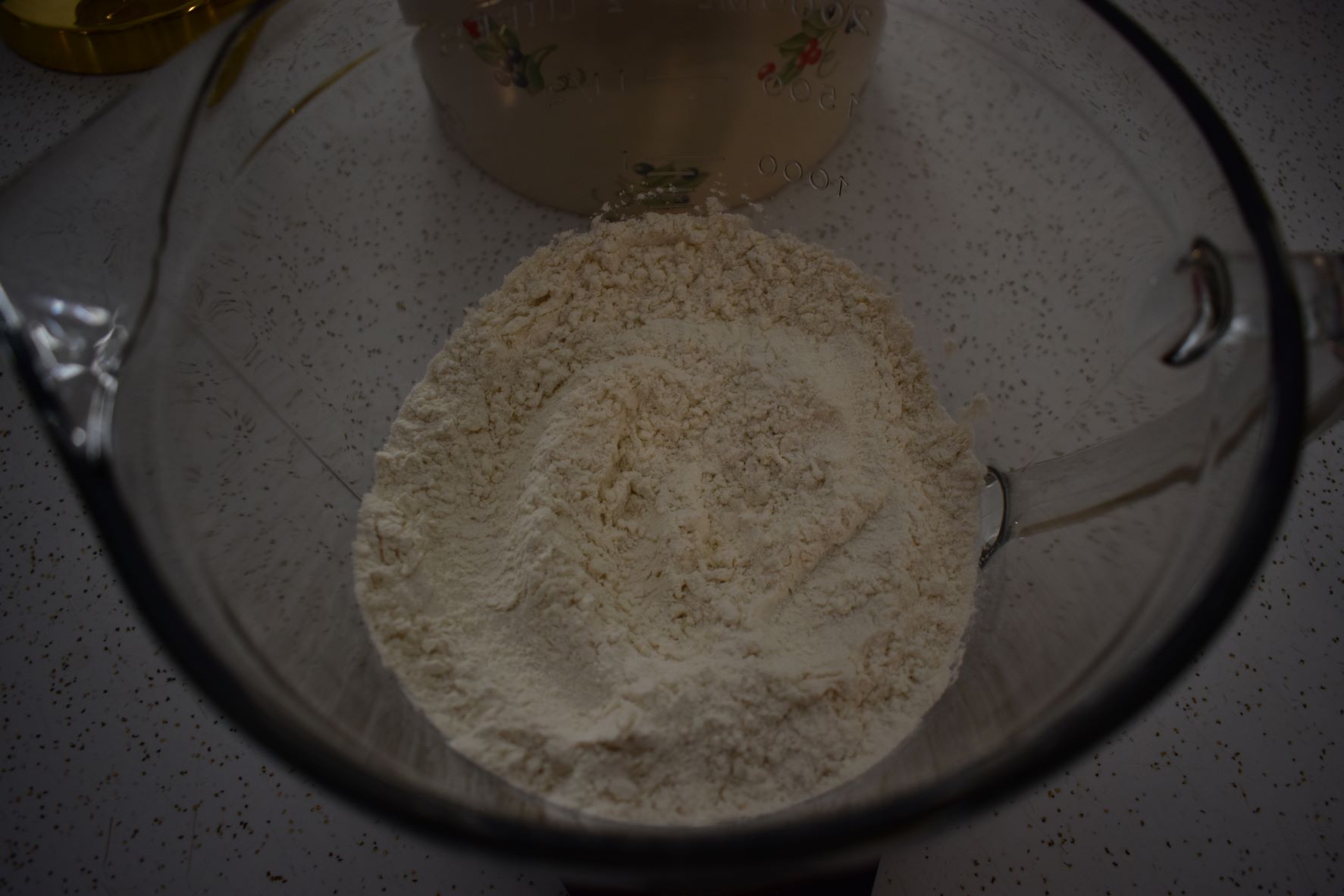 This is a very simple recipe with few ingredients and I measure in grams because it seems to be more accurate when baking and very traditional.
All purpose flour, active dry yeast, sea salt and warm milk. Butter for the skillet.
225 grams all purpose flour
5 grams active dry yeast
4 plus scant grams sea salt
320 grams whole milk or also called full fat milk
I figured out the measurement's in cups and teaspoons just in case you do not have a scale.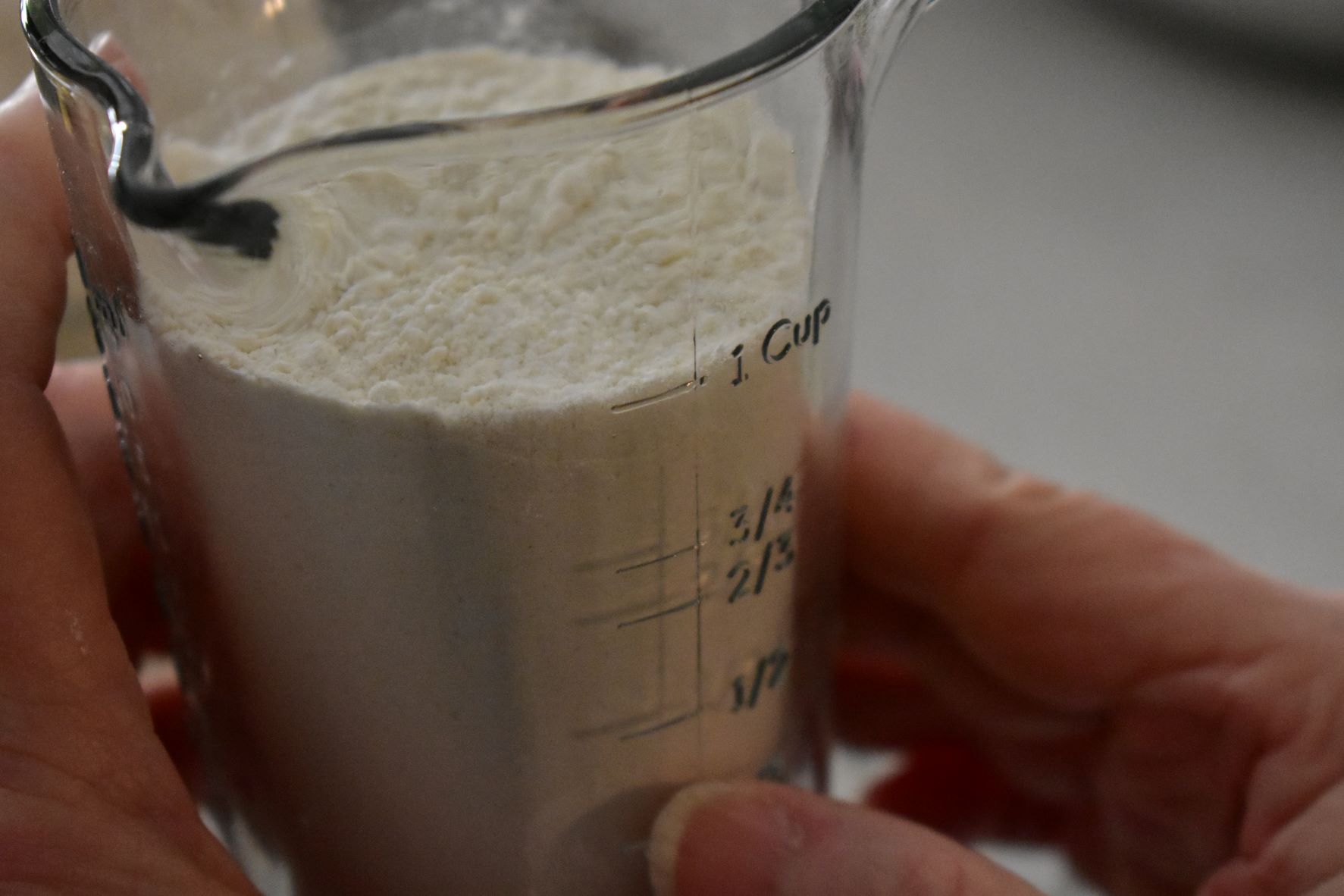 Flour is a bit tricky so - 1 cup plus 1/2 cup plus 1 tablespoon plus 1 teaspoon.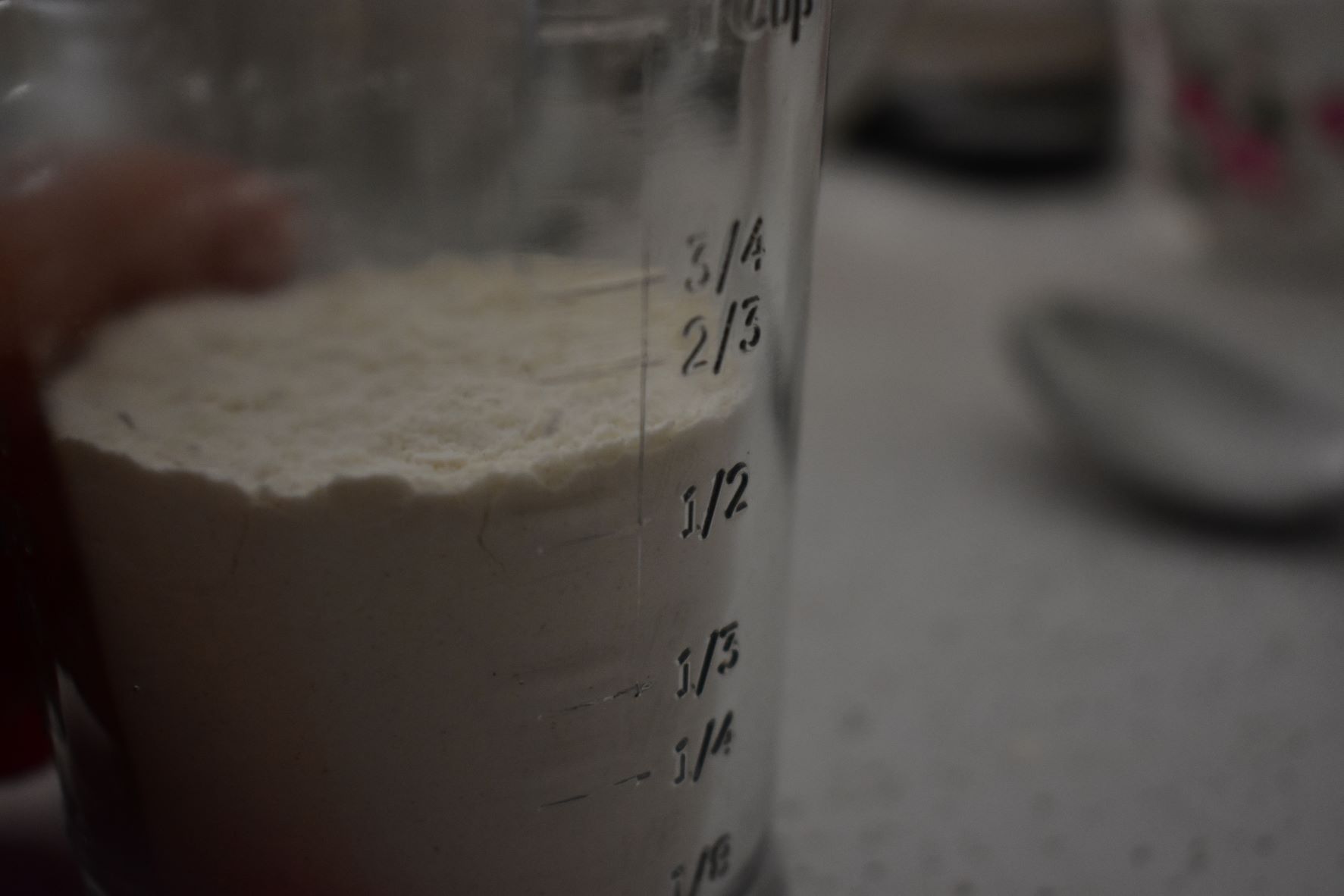 It sounds silly all these measurements but grams and cups are quite different.
So here is the if you do not have a scale that measures grams recipe for the crumpet recipe
All Purpose plain Flour - 1 cup plus 1/2 cup plus 1 tablespoon plus 1 teaspoon
Active dry yeast 1 teaspoon plus 1/4 teaspoon
Sea salt 1/2 teaspoon
Whole milk or full fat milk - 1 cup plus 1/3 cup warm to touch, not hot. Warm just until you touch it and it feels just slightly warm to touch.
Measure the flour into the bowl, add the salt and whisk around then add the yeast and whisk and then the warm to touch milk and whisk. Thin if needed but not too thin, I do not normally have to thin and if so a tablespoon at a time.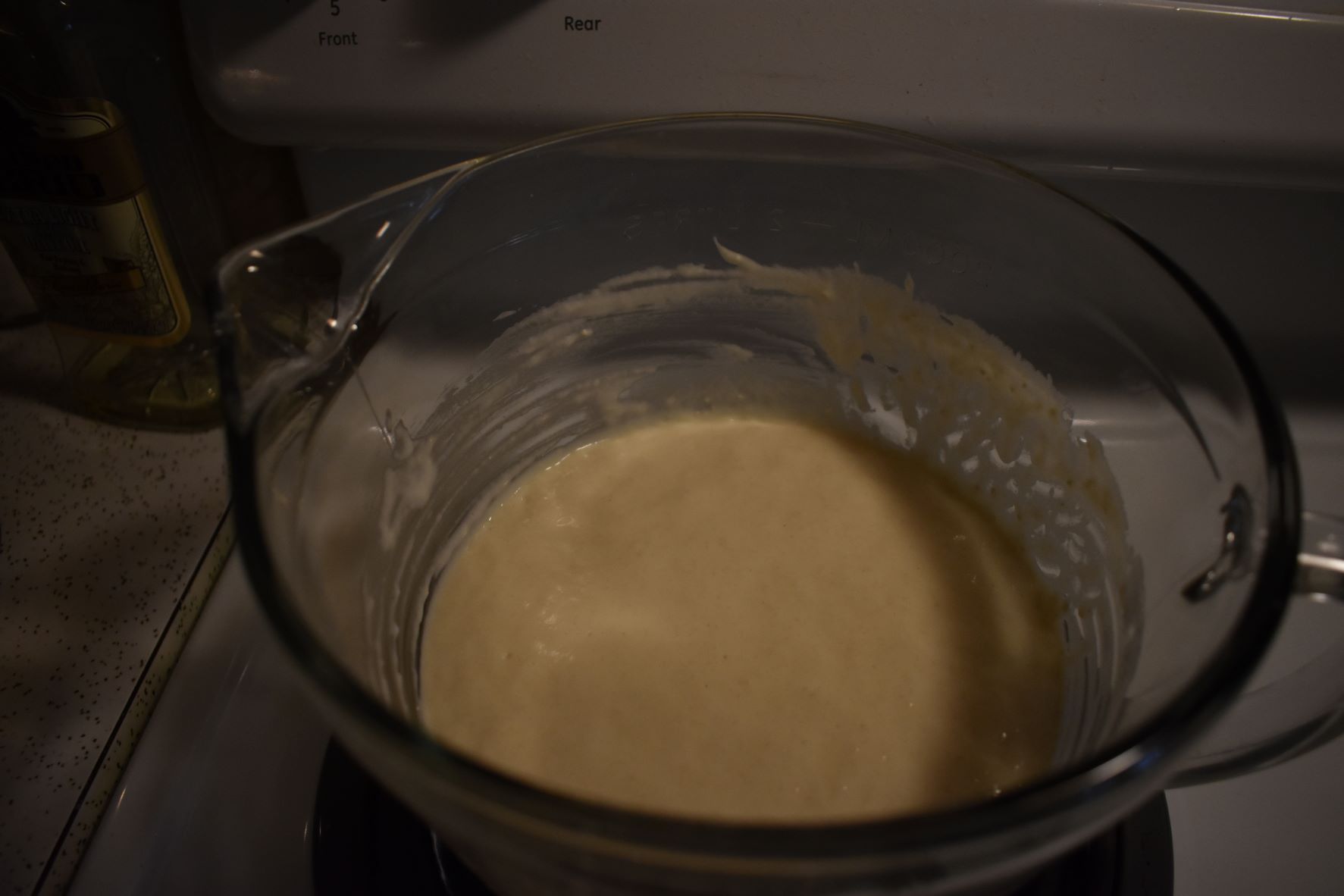 Stir with a whisk, spoon or fork but do not over whisk. Set aside and cover with plastic wrap or slightly moist towel.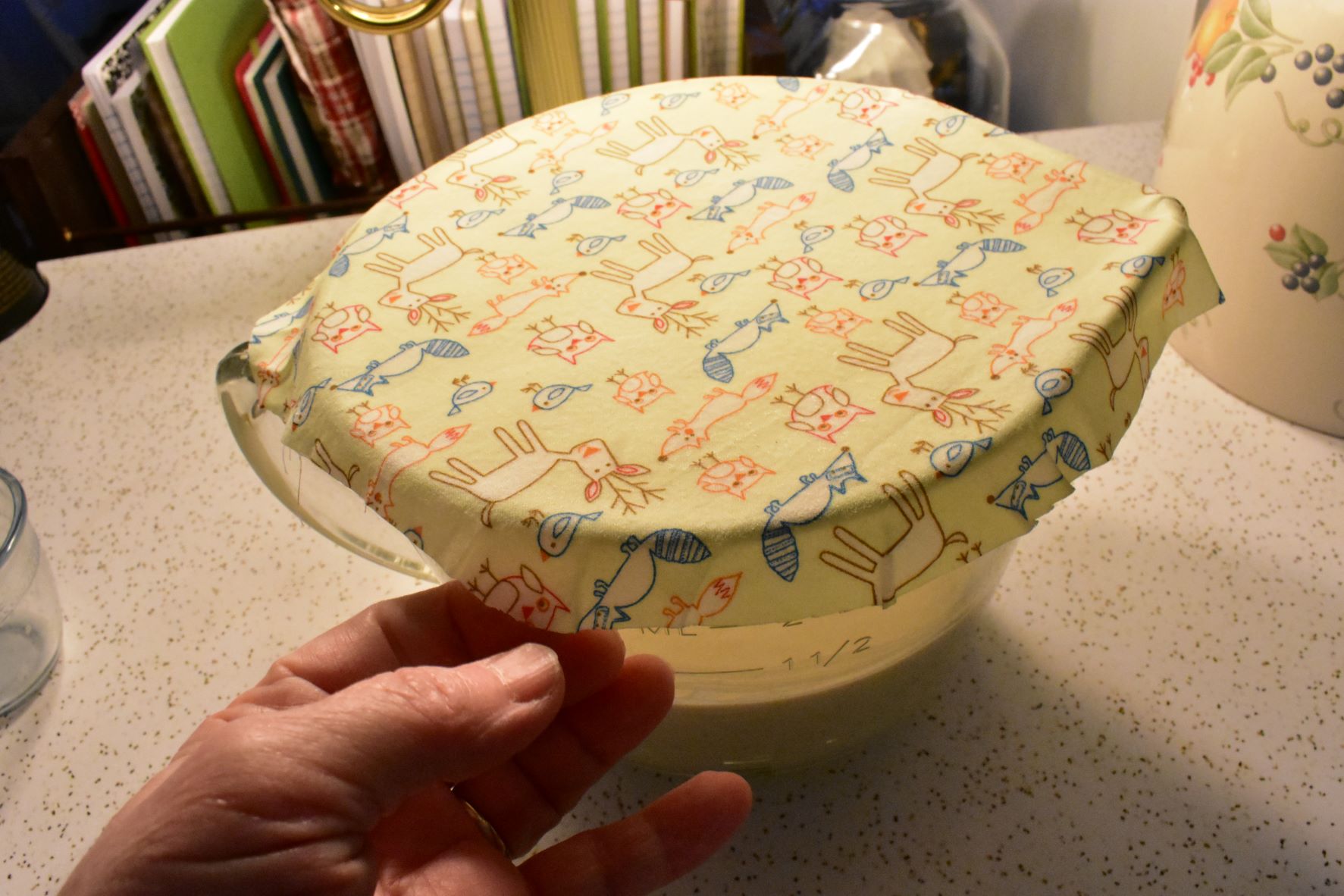 I use a beeswax cover I made for my mixing bowl that has a pour spout. I cut it to shape over the bowl.
Place in a warm place in the kitchen and set a timer for one hour to see if it has bubbled and risen.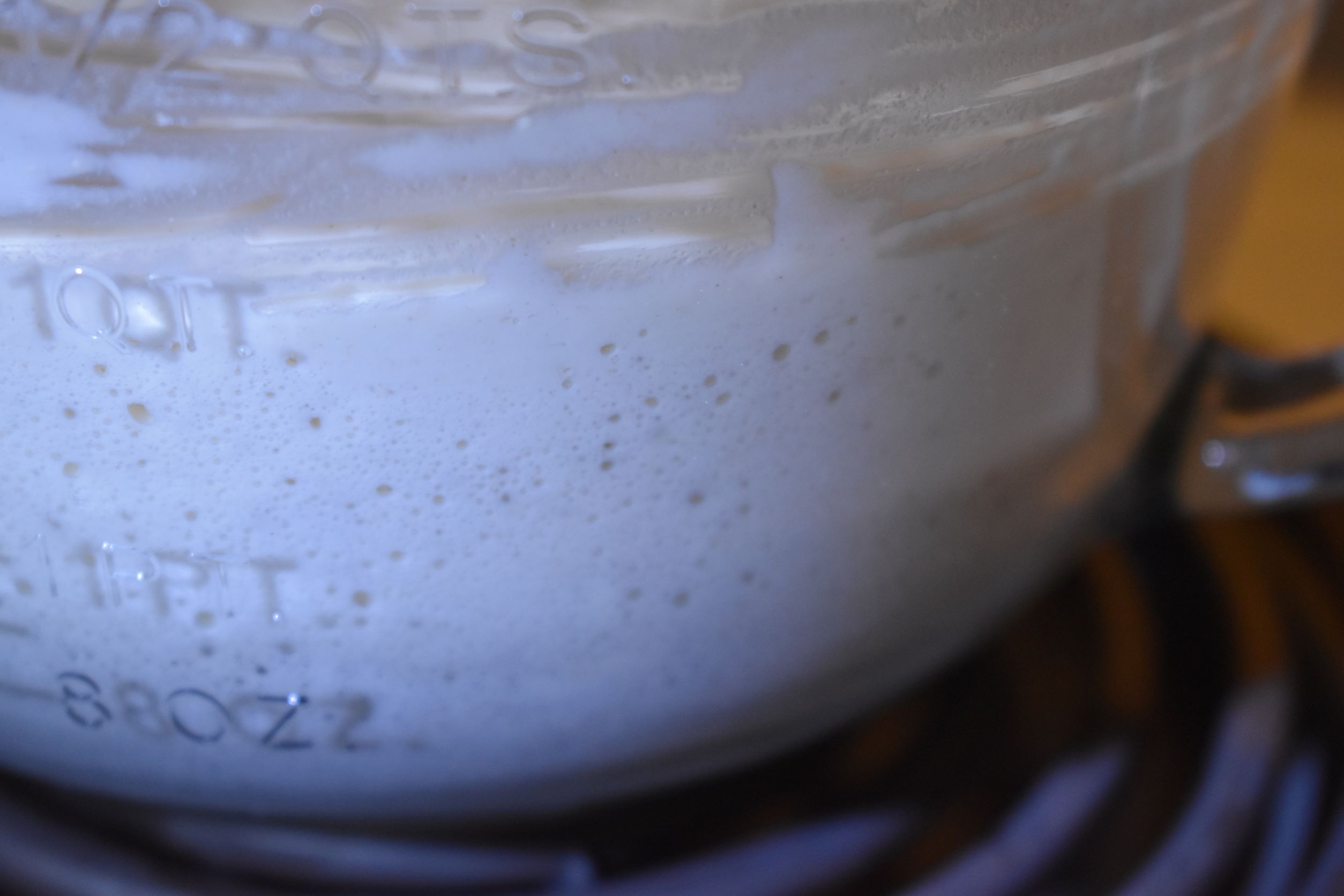 Give it more time if it has not risen to about twice the size it was. It normally takes about 1 hr and 10 minutes for my kitchen.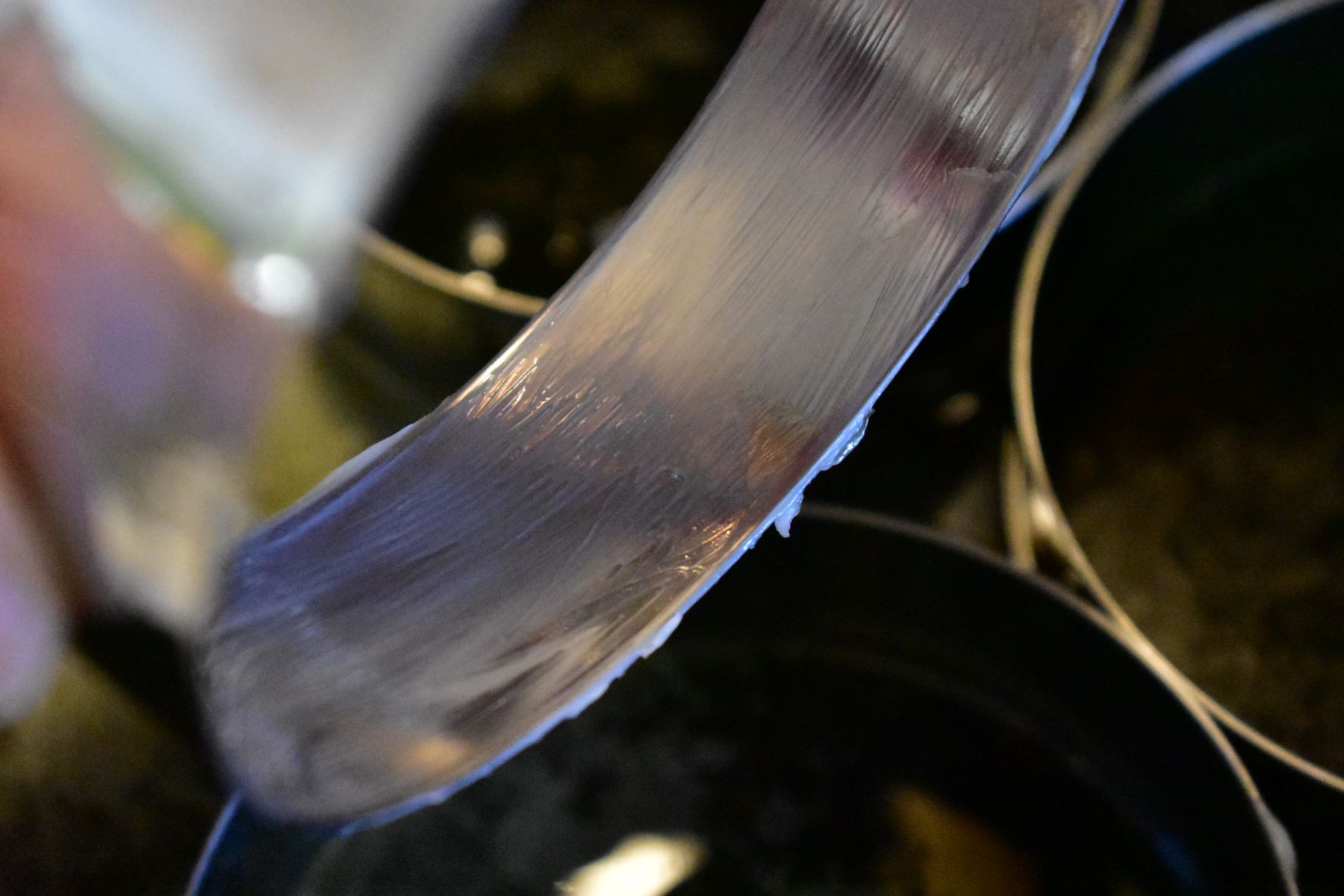 Butter the inside of your crumpet rings.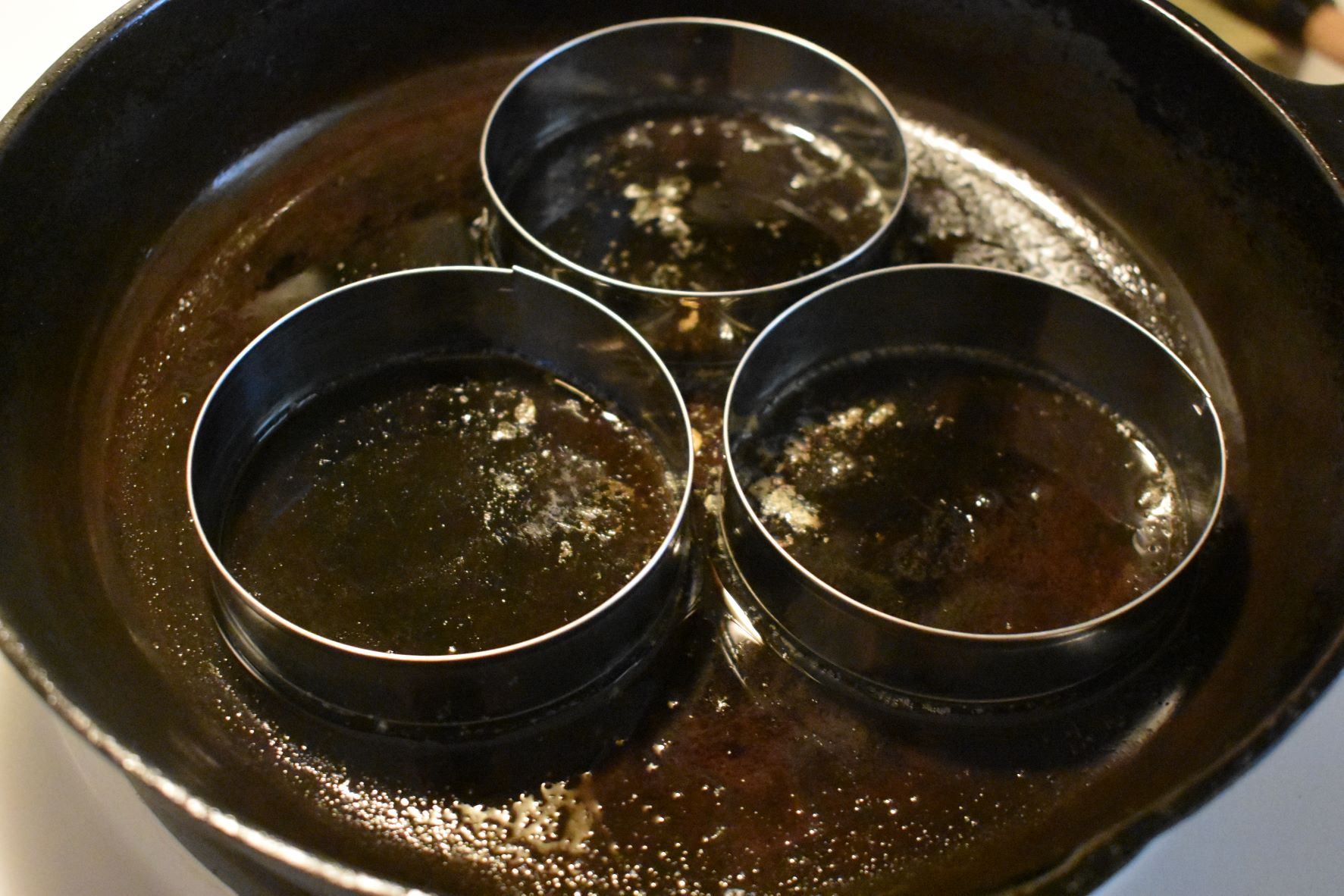 I do not know why the coloring makes the skillet look rusty but it is not, maybe just the butter trying to clarify.
I use a cast iron skillet and I butter the skillet with a dab of butter and then place the rings inside of the skillet so they can heat with the pan. I turn it on medium and after two or three minutes I lower it to low and let the temperature even out on low. Before I pour the batter into the rings. Very important to cook them on low.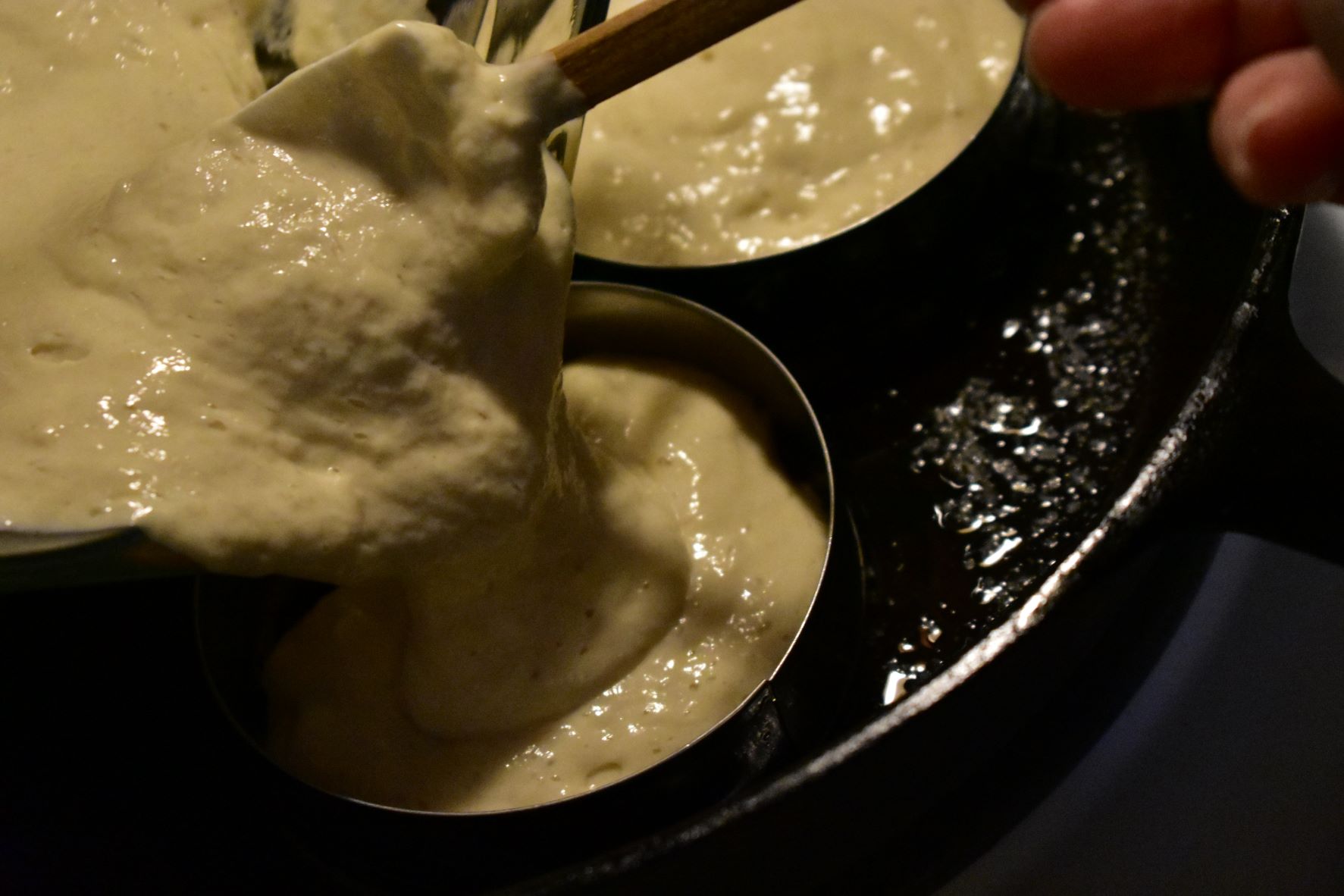 Fill each ring only half way.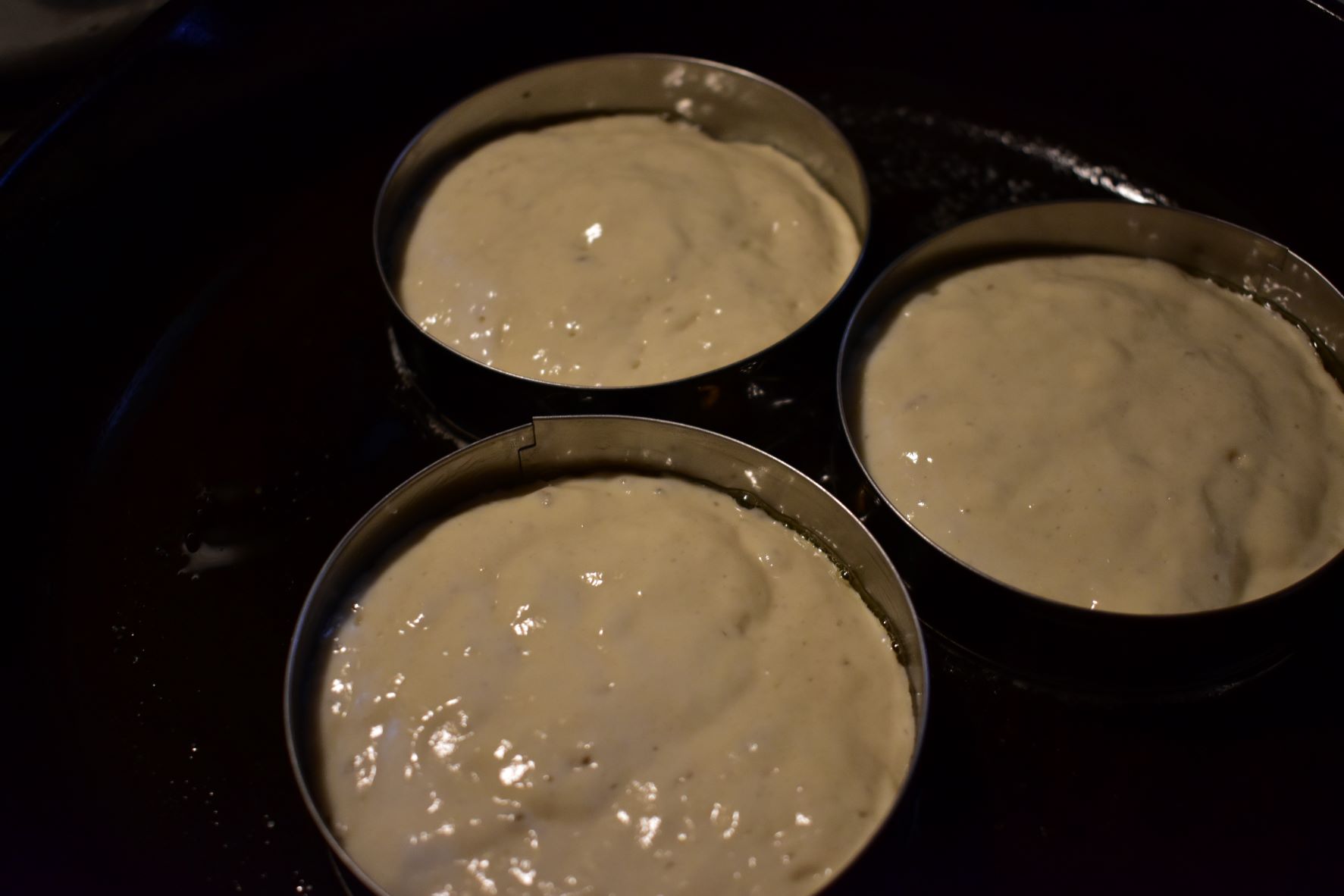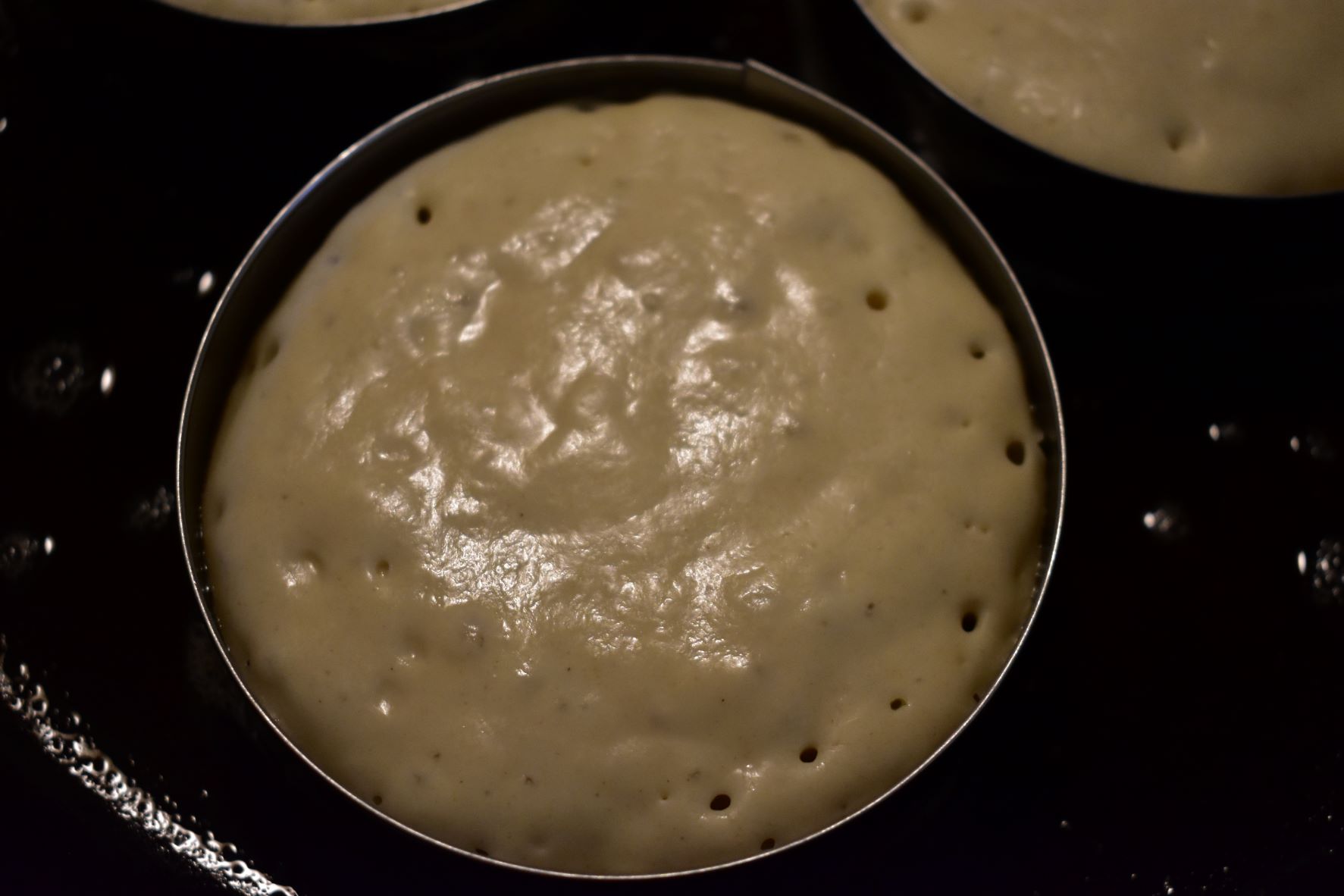 As they cook they will bubble and start to dry around the edges and on the top see next photo below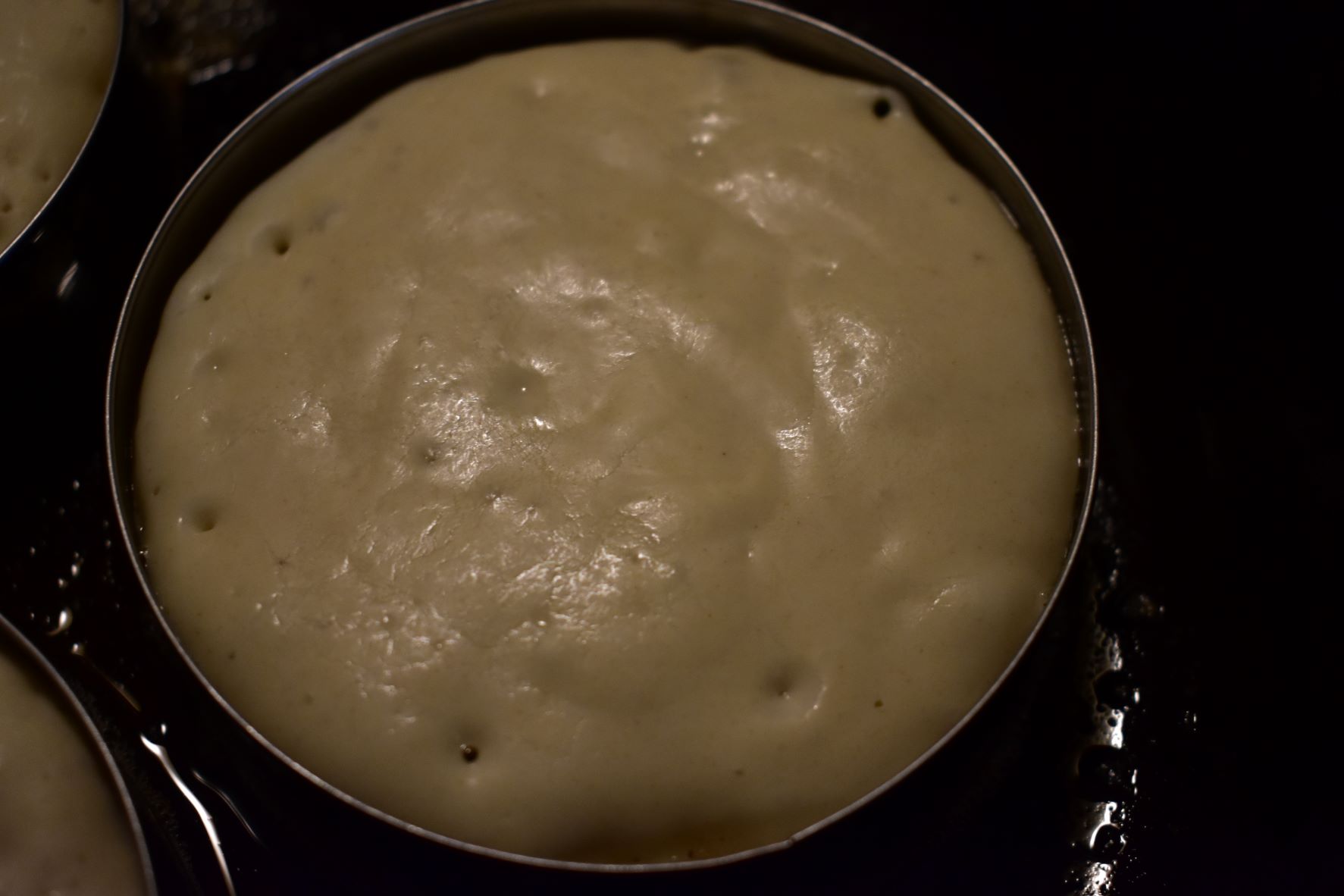 This one is a little dryer and it is starting to pull away from the ring on the sides.
The rings slip off easily if they have been slow cooked and slightly pulled from the sides. I remove the rings with tongs and then flip them over with a spatula to cook until golden.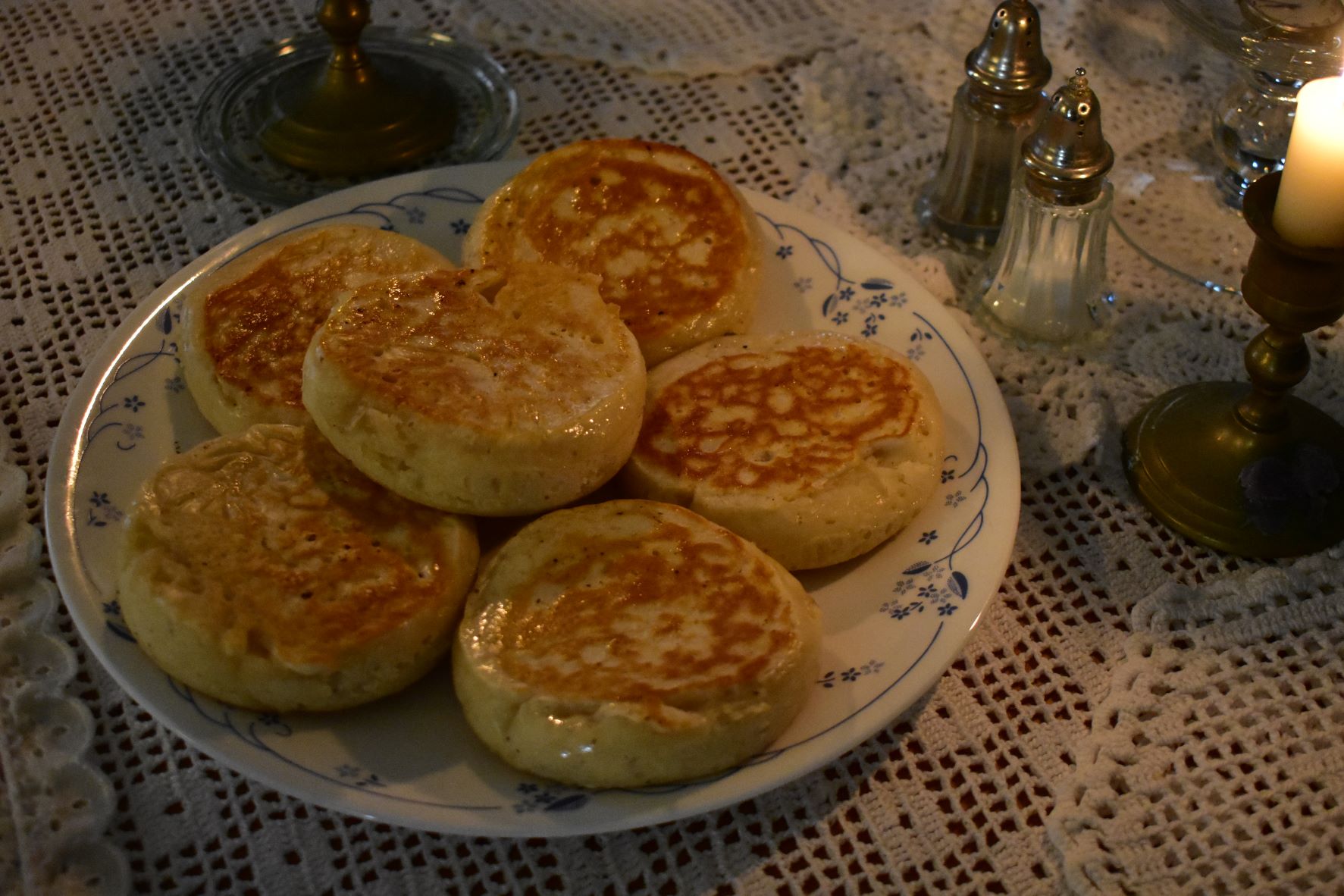 Like this.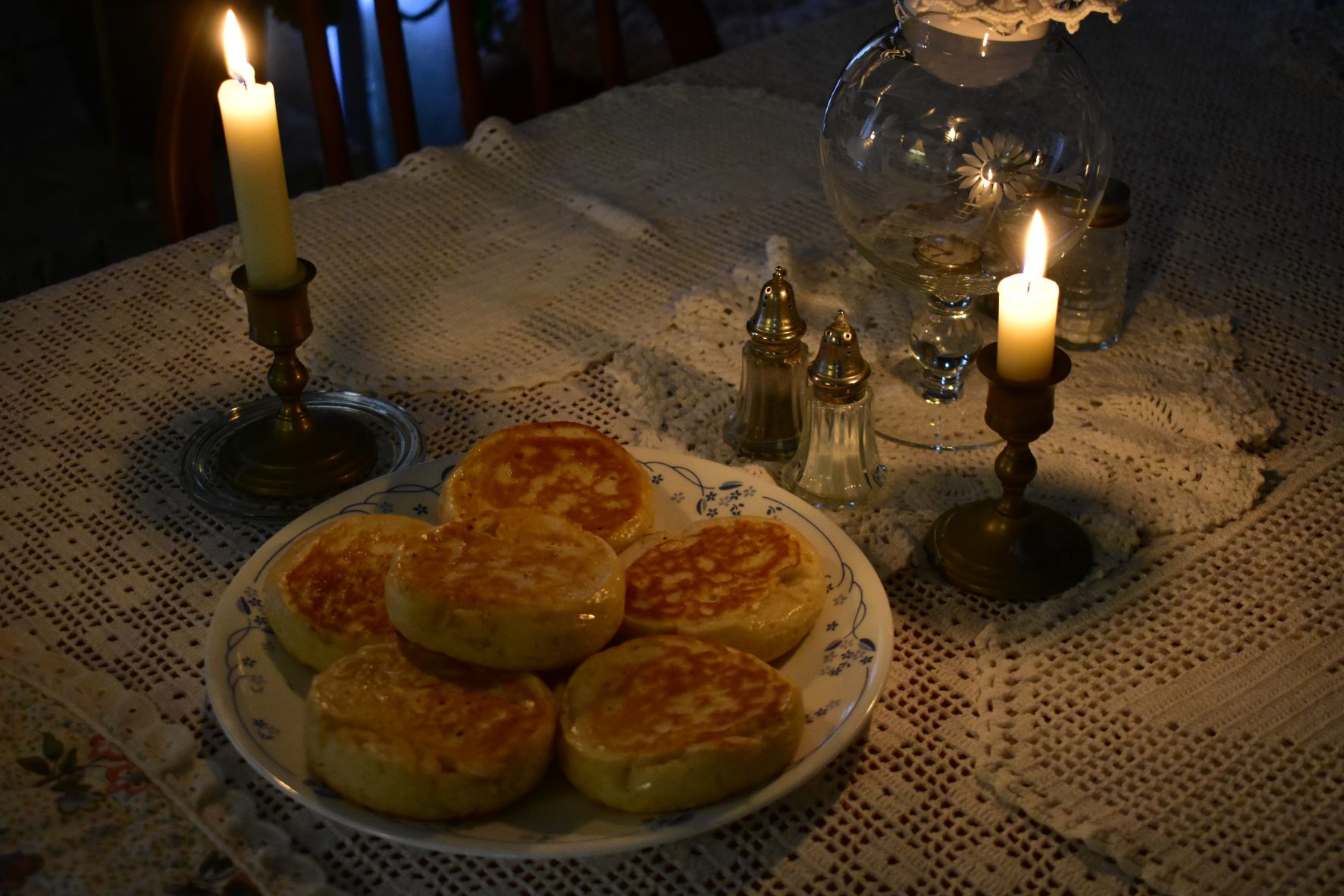 The steps are easy...
Mix the dry ingredients, then the milk. It will be a batter. Set it aside in a warm place in the kitchen and cover the bowl. It will rise and get bubbly. An hour or little over, if the kitchen is cold maybe two hours. So I plan ahead knowing it needs rise time.
When it is bubbly and risen, put the skillet on the stove, a dab of butter spread around the pan. Butter the rings, turn the stove top on medium just to get the pan started heating but not too hot. Turn to very low heat, it took me three times making them before I realized just how low I had to get the heat. A cast iron skillet holds heat. Pour the batter into the rings half way and give it time, do not rush it to rise, form bubbles start drying around the sides and top and pulling away from the side of the rings. Remove the rings with tongs and then flip over the crumpets and cook for 3-5 minutes and they are done.
You are welcome to share your crumpet recipe in the recipe section in the forum.
I hope you enjoy. Grandma Donna