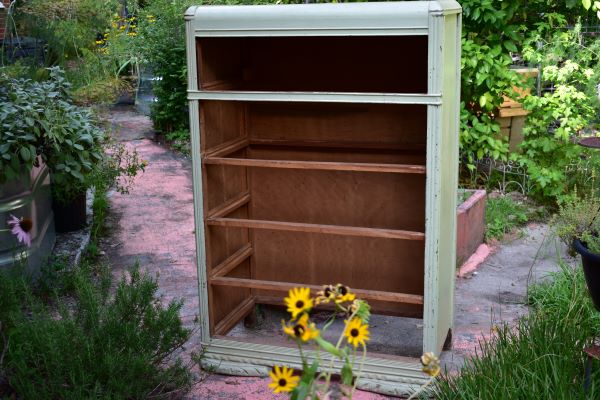 This old waterfall chest of drawers was in Charles wood shop holding tools and he is reorganizing and asked me if I wanted this in the house. Of course I did!
For those of you that read my blog regularly, you know that I have been organizing in the house, gardening outside and also Charles and I have been working on converting an old wood shop into a tiny house about an hour away on some land by a lake. We are doing that to be able to stay over night or a few days at a time to help out a family member that is older than us. Also for a place to go when we want to get out of the city.
When we are home we are living like the year 1943 and studying this time in history to figure out how it was on the homefront during world war 2. For two old folks we have quite a bit going on.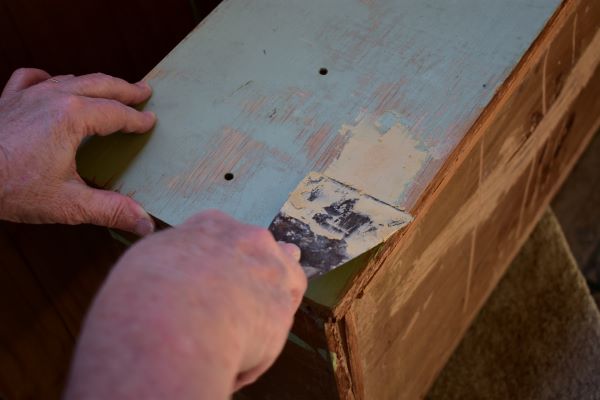 This redo of the old chest of drawers has helped to give me more space for fabric and sewing notions.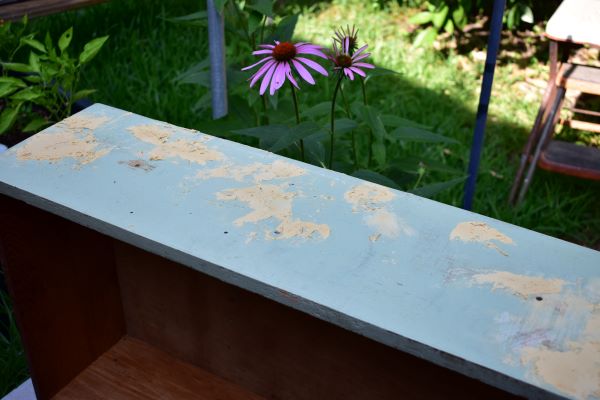 The old chest of drawers was pretty banged up and needed quite a bit of wood putty. We found this on the side of the road put out for trash and realized that it was made around 1930s.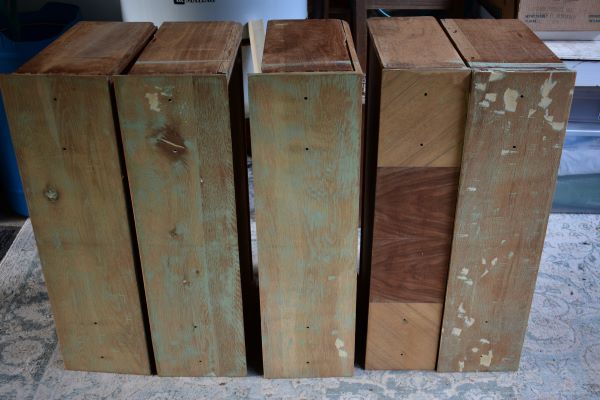 I patched, sanded and sweated profusely because it has been a terribly hot and humid week. I realized while doing all of this work that just because we are getting older doesn't mean we stop doing the things that we would do when we were younger. We just do it slower and complain about how bad we hurt for a week after.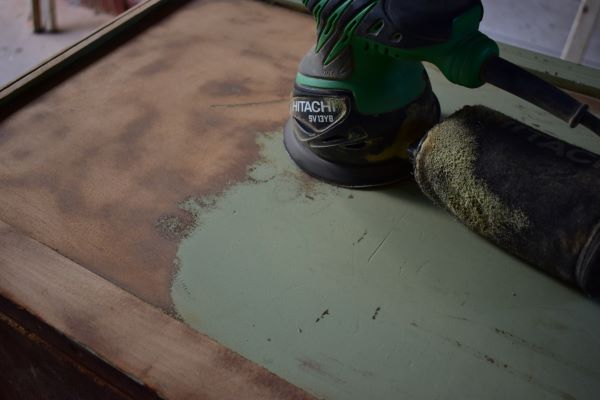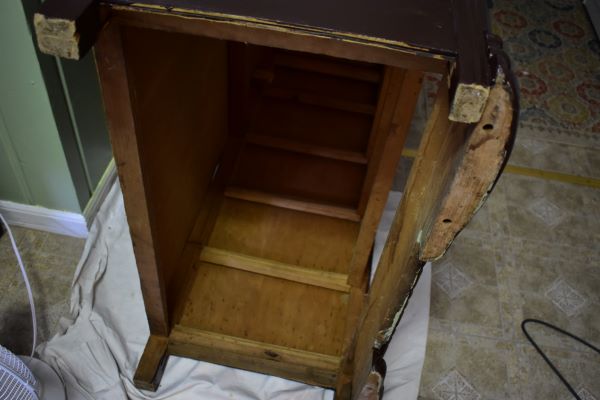 I thought about painting it something crafty for a sewing area but painted it brown because brown goes well with blue. The bottom of the cabinet was open and many of these old pieces have screen wire on the bottom to keep bugs out and let ventilation through. So Charles lent me a hand and stapled some screen on the bottom.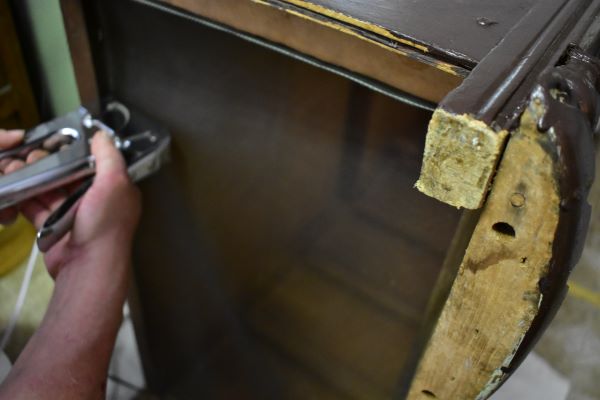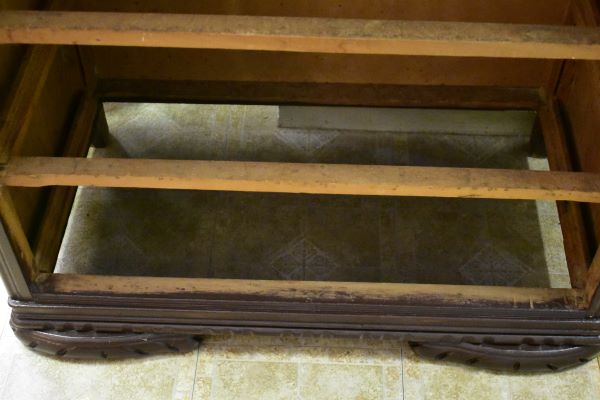 The screen is now on the bottom and I hope we don't have bugs but if we did they wont be crawling into the drawers.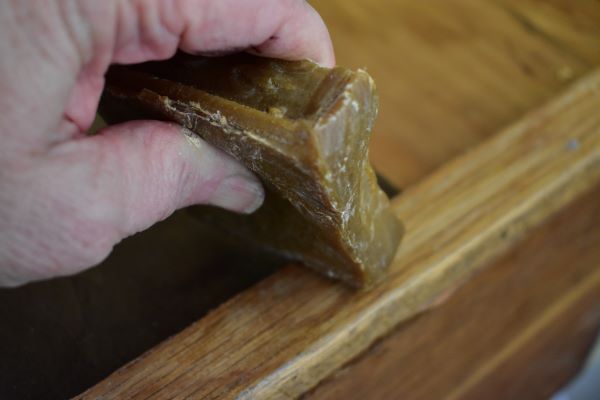 I soaped the bottom of the drawers so it slides easily, I did a blog post about soaping drawers a long time ago. This is what they did in the past.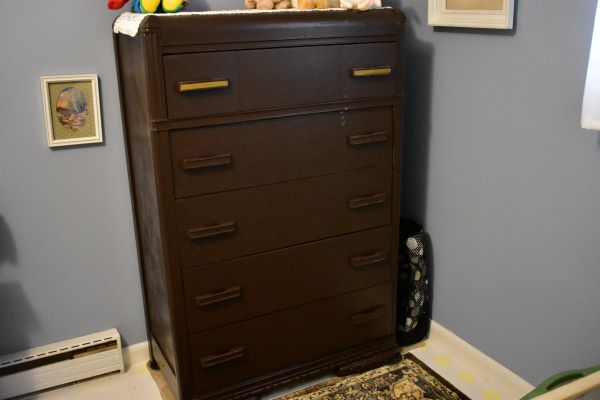 Now I have a place to tuck my rolling sewing bag next to the chest of drawers. Not bad for a trash pick up chest of drawers with no bad smell at all and I am happy that Charles decided he no longer needed it in his work shop.
While I was sanding I sanded down the inside of the drawers and painted them as well and put some paper drawer liners in the bottom.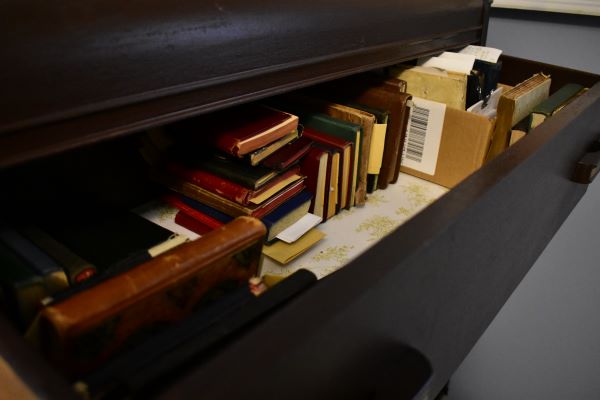 Now we have a place for my old diaries and I really feel good about that. I will reorganize them at another time.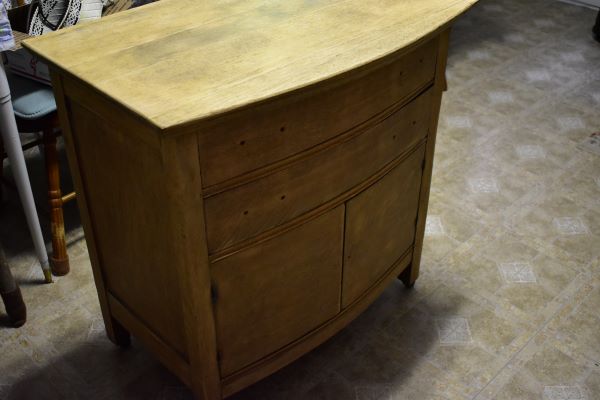 Since I had my creative motor running again after being frozen up for so long I decided why not go ahead and sand down the wash stand, something I have wanted to do for a long time. So the next day I got this checked off my to do list and what a good time to do this when everything in your house is turned upside down right? Well, I would not recommend it but that seems to be the way I work.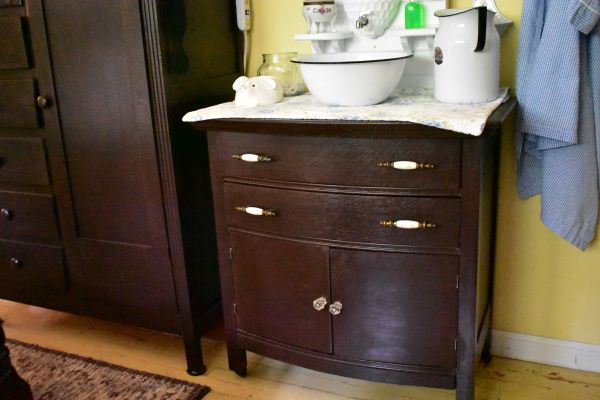 Now the washstand matches the chiffarobe I painted a week before and I am happy with that.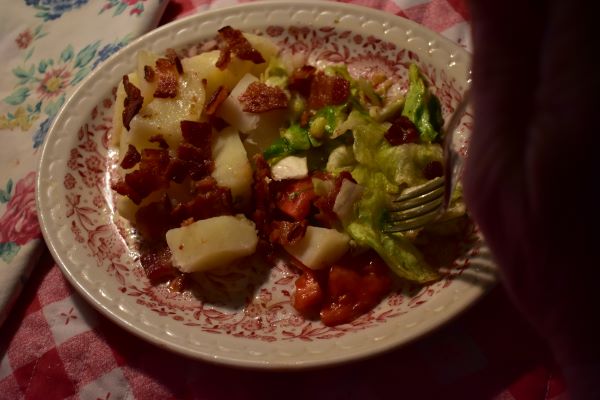 One of my favorite meals, boiled potatoes, simple salad of lettuce, tomatoes, cucumbers, onion and bacon crumbled over it. Oil and vinegar dressing.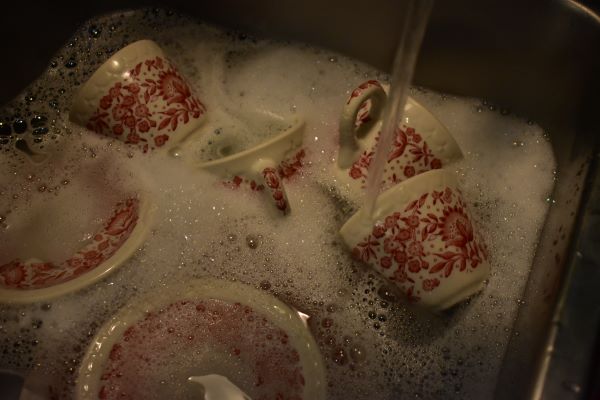 All this organizing and then sanding and painting the furniture has made me miss how I had the house about five years ago. I had our pretty things out and the house was more interesting and since I have been scaling everything down there are certain things that I miss.
An old friend stopped by one day and she was disappointed that I had changed the house so much because she loved it like it was. The problem was, I am the one that has to clean the house. I saw the look on her face when she came in and I have thought about that ever since. Am I becoming generic? I don't want to be generic, I like a romantic and whimsical look and I do miss the pretty things.

Now I have to find balance but that will come with new homemade curtains with the fabric that has been waiting to be used. I have unpacked some of the things that I did not donate and added back some vintage dishes. This sure is a process to declutter when nothing in me is minimalist.
This one pattern that Charles and I both really like we decided to figure out the pieces we needed to complete the set.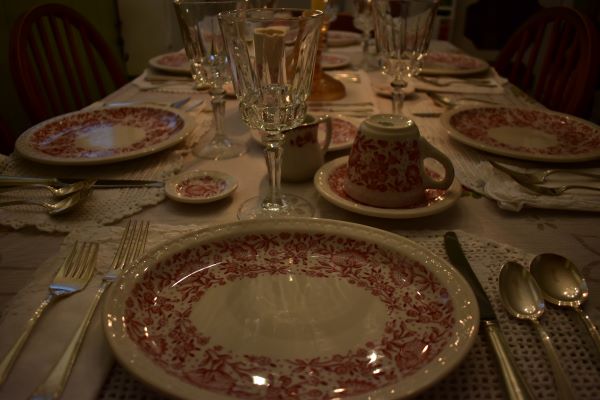 I set a full formal table so I could see what pieces we are missing to complete our six place table setting. We have some birthdays coming up and I am ready to have guests!
Charles loves a dressed table, when he was growing up he spent time with his Great Grandmother after she came back home from living in Washington D.C. She had moved up there to work for many years and then moved back home when she got older.
She would set a formal table, even when she ate by herself. She taught Charles to cook and he really enjoyed his time with her and it left an impression on him all his life. Our table feels empty if it is not dressed with a table cloth and cloth dinner napkins.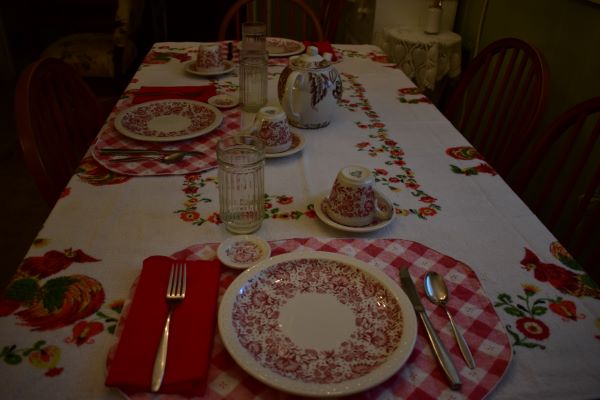 We are not after a formal look but we like having the pieces to do that for special occasions. It seems to me the last several years has drained us so much of our creativity and joy and I want that back. I have found that when the bed is made, the table is set, the floors are clean the day goes better.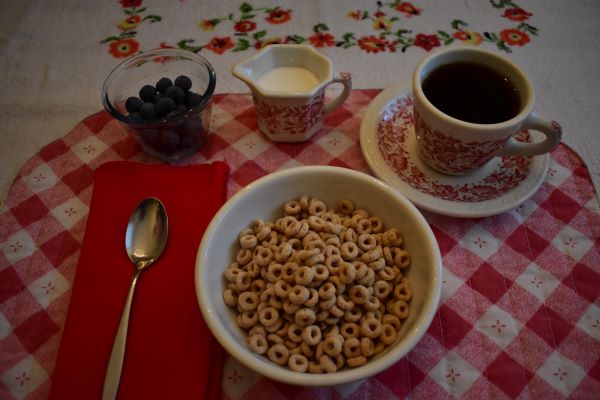 Even a bowl of cereal can be made extra special with only taking a moment to give it some eye appeal. We ate this cereal and blueberries this morning and played train dinning car meditation sound. I will put a link below, it was relaxing before starting our day.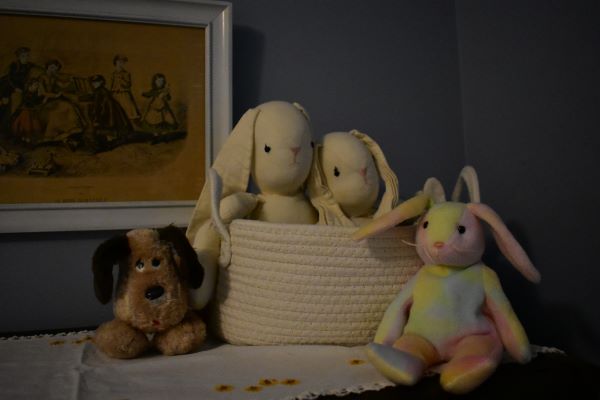 The sisters have this look on their face like they are mad at me because I still have not made them clothes. Never give up!
A simple home, a vintage look and less clutter is not all that easy to do but each day is going to go by no matter what, so we might as well make it special.
I feel like I am digging a hole in sand and the grains keep falling back in. Will I ever get there? We will see soon I hope. I will invite my friend to come back to visit for the true test to see if I captured organized but romantic, charming and comfortable.
I am up to the challenge to figure this out. I just needed to get over the the bump in my road and redoing the chest of drawers has helped me get going again.
Let's not give up, Grandma Donna
Dining on a train sounds click here . https://www.youtube.com/watch?v=5iRcSaP0gHk&t=582s