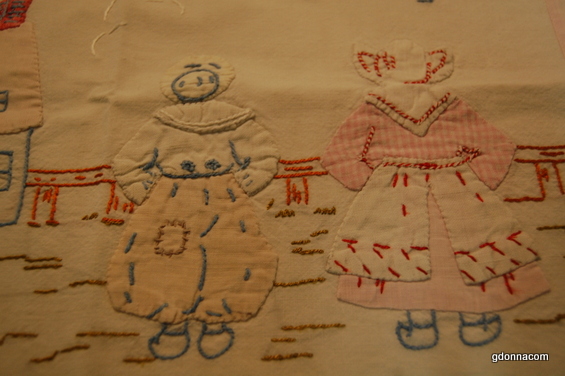 There seems to be a trend that some people are looking for older pieces of embroidery, sewn pieces and older accessories for their home. I have been asked how to recognize that it is truly old?
First I am no expert but I do have some old pieces that I can show for those of you looking for older pieces.
I have several very old pieces such as the one pictured above. This is a very old baby pillow. There are several things that would be different about this and one is the old embroidery designs. The texture of the fabric and also...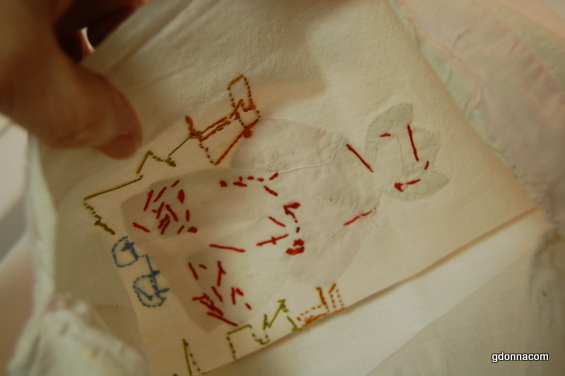 Taking a peek on the inside shows us this embroidery has been sewn by hand.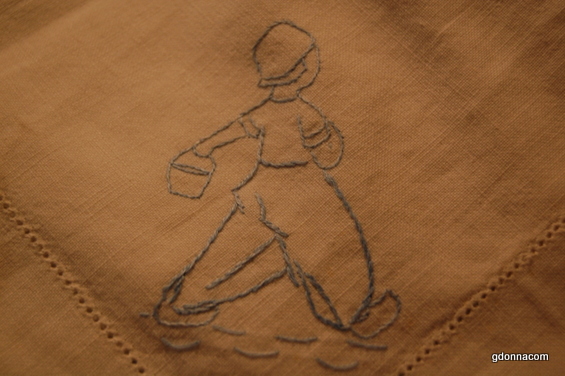 Look at the embroidery that is on the corner of a small table cover.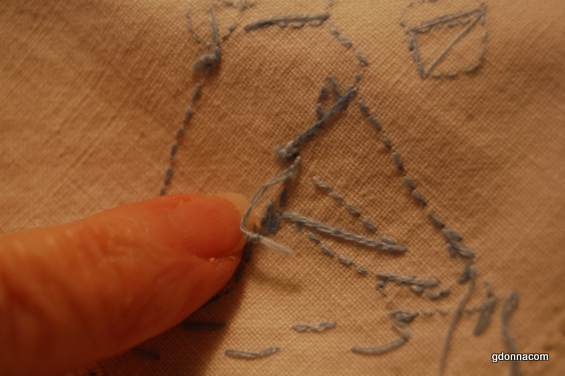 When we turn it over we see uneven stitches, loose ends and how the thread pulls across in some areas.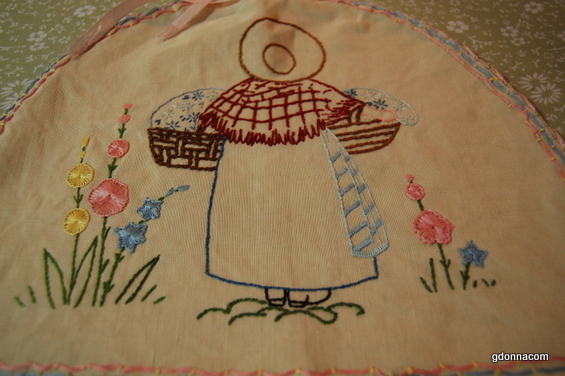 Here is a very old tea cozy that we have.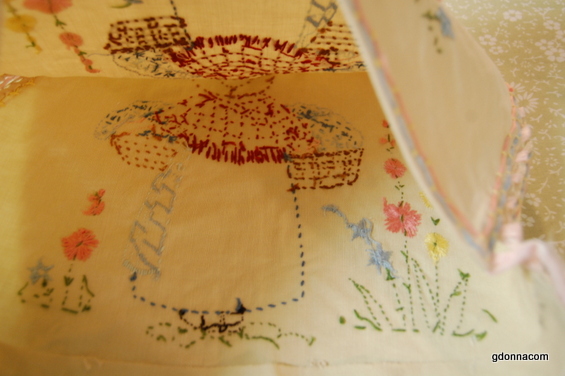 A look on the inside shows how hand work is more unfinished looking on the inside. It is not unfinished but the look from being embroidered by hand.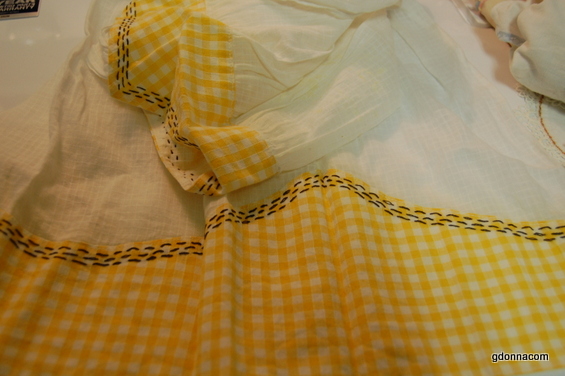 Here is a simple half apron I have, notice the black stitching.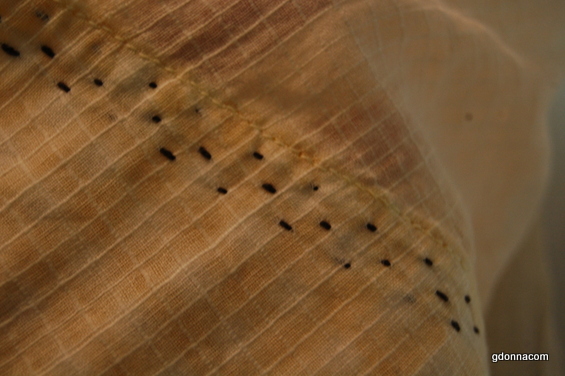 Here is a close look at the back of the apron. The black thread has been sewn by hand.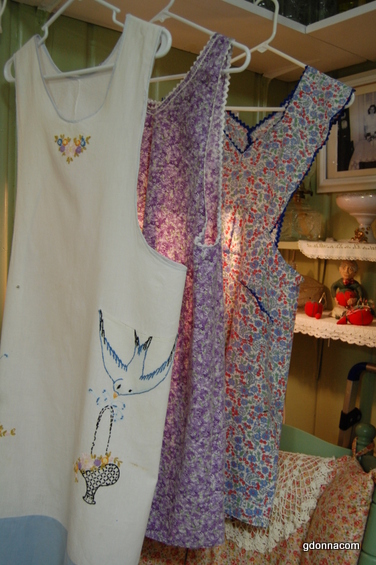 Here are three of my favorite aprons. I wear the one in the front a lot and is the oldest apron, this apron dates back two generations before me. Notice the embroidery design.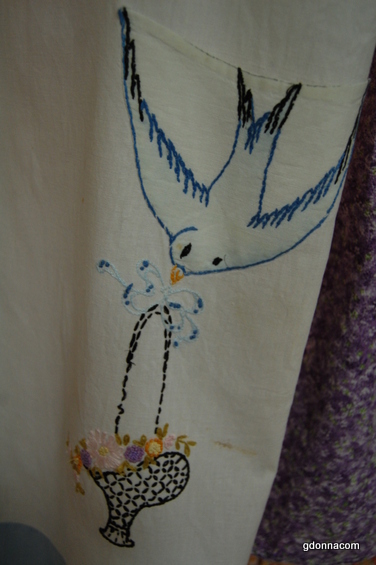 I think this was a popular design because I have seen this embroidery on other things. The bird is a pocket.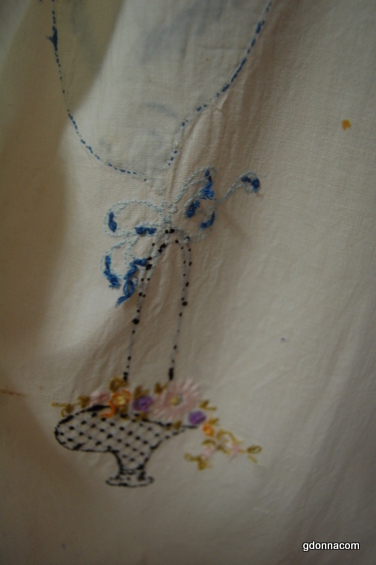 Again the back has the unfinished look with uneven stitching.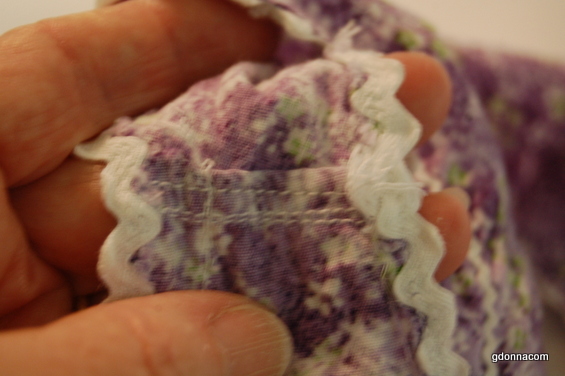 The purple apron is home sewing machine made. There was no surger then.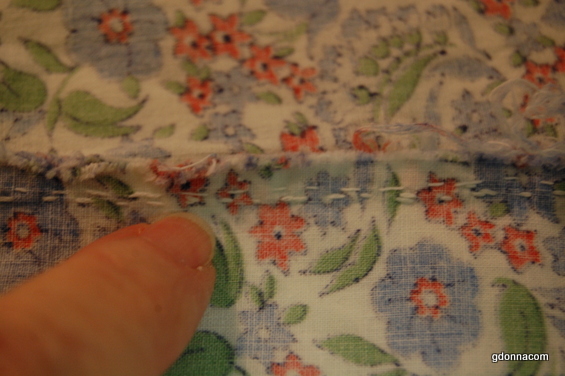 This flower pattern apron is completely hand sewn. This design uses up smaller pieces of flour sack cloth. Every seam on this apron was hand sewn.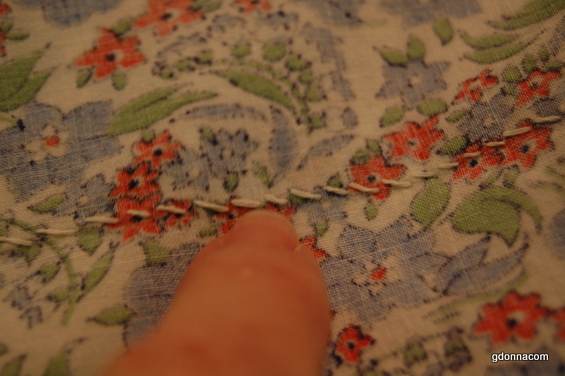 This is the back of where the pocket was sewn on.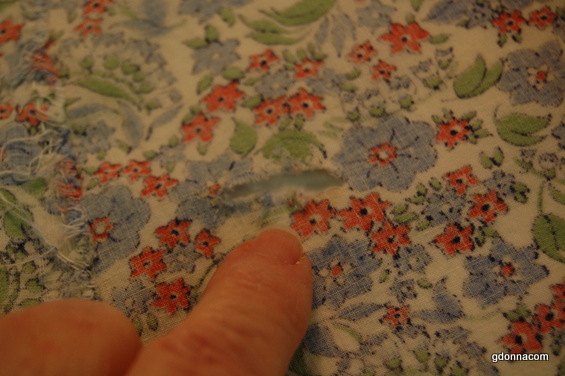 This is where I will have to patch and mend this apron. It is getting very thin now from use. That is another thing that was done in the past, patching and darning. In today's time people tend to be disposable or throw away and when something rips or is torn it gets thrown away. My husband and I wear clothes with patches and don't think a bit about it. That's when the clothes start getting the most comfortable.
So the answer to the question about how to tell if something is old or sewn by hand, look closely at the fabric and then turn it over and look at the back.
Older hand sewing will have a more uneven thread and many times the seams are raw seams and not finished. I would not turn down something hand sewn with raw edges because that just means it was made by someone ordinary like me. My Great Aunts might not agree with me though because several of them were very accomplished seamstress. To sew as they did it took much care and patience.
If you want to make your house look more vintage another idea is to start doing as our generations before us did and start sewing by hand, embroidery some table runners and adding simple stitching to pillow cases and things like that. Then your family can have some pieces passed down to them that were made by you.
I hope this helps, Grandma Donna