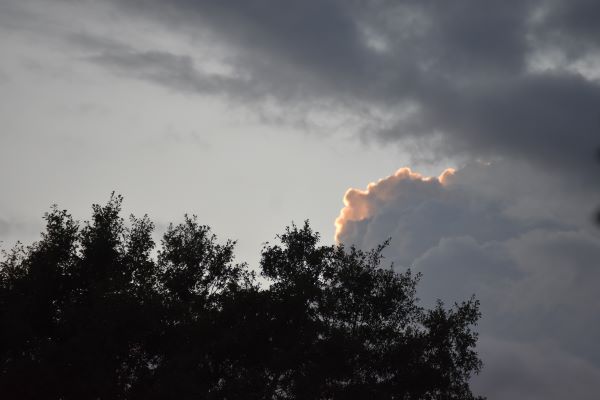 We have been having our typical summer thunderstorms and hot and humid days. Even on the days that the temperatures have dropped the humidity makes it difficult to do much of anything that requires exerting.
I am dreaming of cool weather and the need for a sweater, warm socks and blankets and snuggly pajamas and night gowns.
I don't want to rush time because I am thankful for each day that I am still here but daydreaming of winter brings me happiness during this hot and humid time of year.
It seems to me that we have been skipping spring and fall here in this part of the U.S. and have gone to two seasons, winter and summer.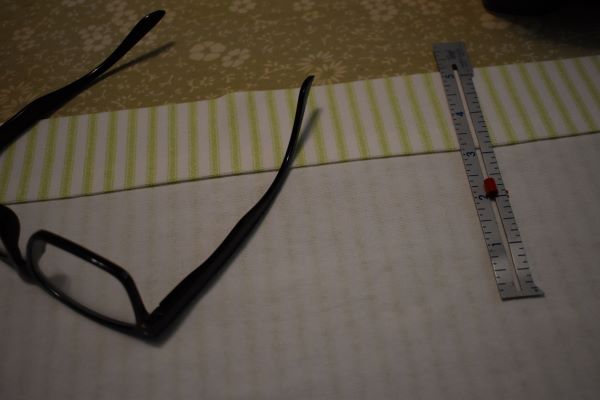 I finally started my sewing projects... Life is very simple here at our house right now, we are trying to work on easy projects except Charles project is not so easy since he has been cleaning and organizing his small workshop and around the outside of his shop.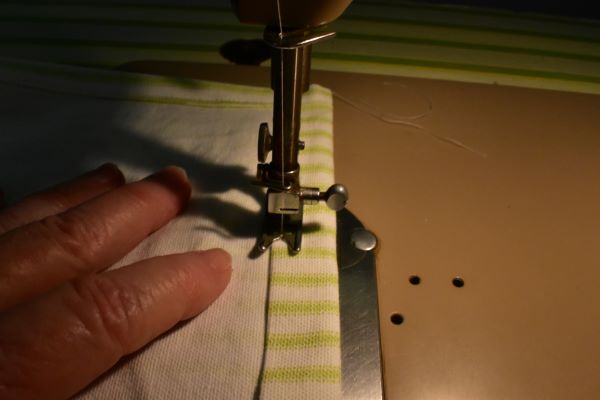 I have two sewing machines, my old 1923 treadle I call Clara because that name was scratched into the wood of the cabinet. I also have my mothers old electric singer that has a good strong motor. The treadle is strong as well and I am always torn between which one to use so I alternate using them. The treadle does not reverse so I sew the old way turning and taking a stitch the other direction and tying the threads at the end.
The treadle is my favorite because it costs nothing to use since it does not require electricity to run. I love the sound of the petal and the rhythm of the well made metal parts as I sew.
My mothers machine brings much happiness because my mother loved sewing and made some beautiful clothes, curtains and decorative table coverings with this machine and I can visualize her sitting at her machine. When I sew on this machine I recognize the sound it makes from when my mother used it.
I also like to hand sew as I did long ago before I had a machine and there is something very special to sit and sew by hand with only a thimble, needle and thread. :) I have an apron that is hand sewn with uneven stitches and I plan on making another one the same way.
My best memories of hand sewing was making baby clothes for my first child, I used to hand sew his little cotton shirts and then an elderly lady gave me her treadle because she upgraded to an electric. I did not have it long because I had to leave it behind when we got out of the military and it would not fit into the small moving trailer because the space was needed for the baby bed which at that time was more important. It was years later before I got another treadle.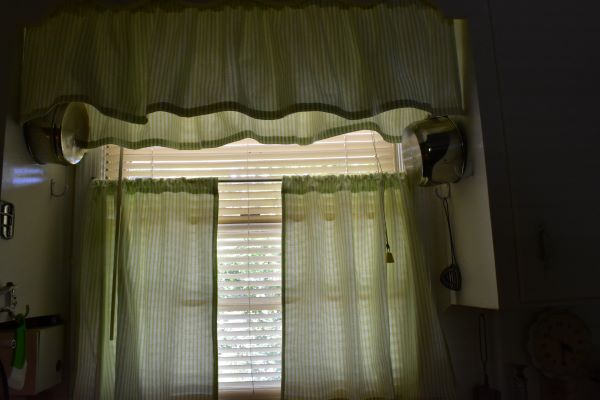 I used a green and white stripe ticking fabric for the kitchen curtains, I wanted a simple curtain. I made a double valance at the top, one in back and one in front of the old fluorescent light. This light always gives an unpleasant glare and with the front curtain it makes it a softer light.
I feel that today our projects are rushed because we want the end result faster since we are used to having things right away. I have to remind my self to have patience and slow down and just enjoy the moment of time and do it right.
I am old enough to remember that time when people completely understood that things take time and sitting down to sew or knit, crochet or embrodery was something that was done when the chores were finished. If something we were making was for a special occasion then it was started well ahead of time.
This does not apply to just womens projects but mens projects as well. I can remember many of my family members working on furniture for the home that took months to make or making a childs wooden toy would be started well ahead of a birthday. I remember Charles father refinishing a pie safe and he worked for a full year on that piece.
We do not need to live in a rush and we truly should never rush a child.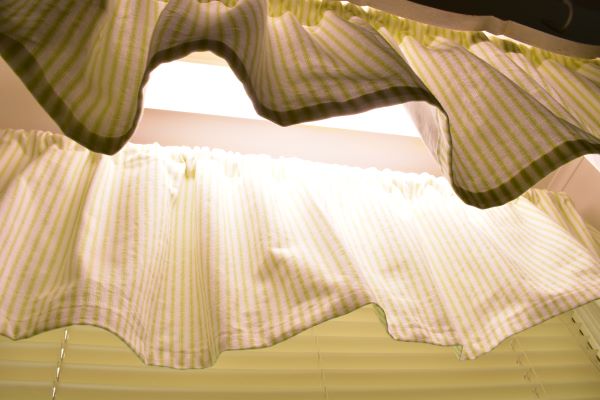 Looking up in between the two valances where the fluorescent light is. The extra valance stopped the glare and the light shines right over the sink.
Each day is a new day in our life and we adjust with the changes. Nothing will remain exactly the same and we never know what will come next but we keep going and embrace our new experiences. I look back at all the changes and I am glad that I was born when I was so I experineced a more old fashioned time before electronics. Now I am trying to figure out how to live this somewhat overwhelming time as simple as I can in a good way. For me that is to keep learning but remember where I came from and resemble more like the past.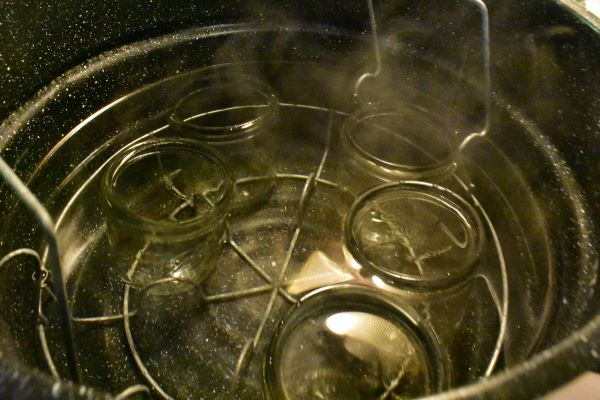 Our peach trees made a small harvest and not all ripe at the same time so I have been canning in small batches the last two weeks. Here I am sterilizing jars.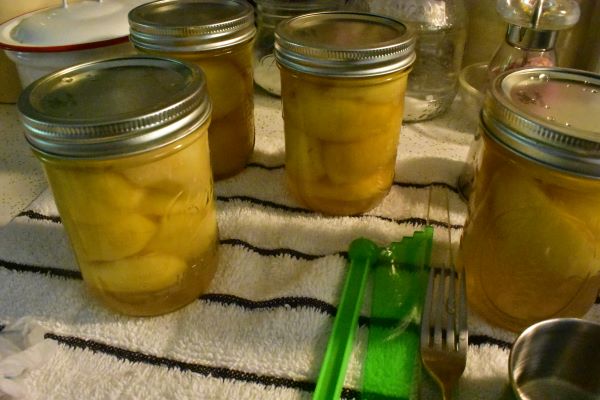 Getting ready to put the peaches into the canner to water bath. these peaches are a light colored peach. Our other peach tree makes a yellow peach.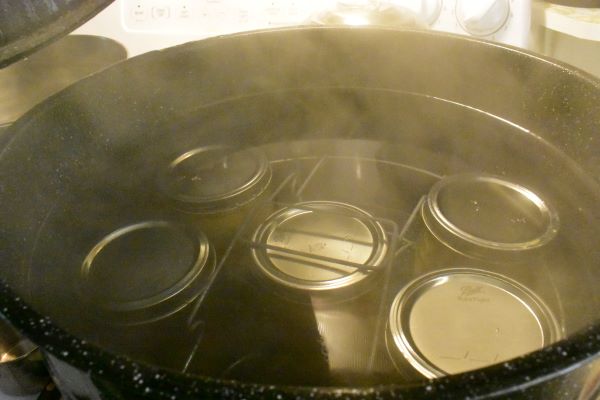 Waiting for the water to come back to a boil. A water bath canner requires water to cover the top of the jars one to two inches above the jar lid/rings.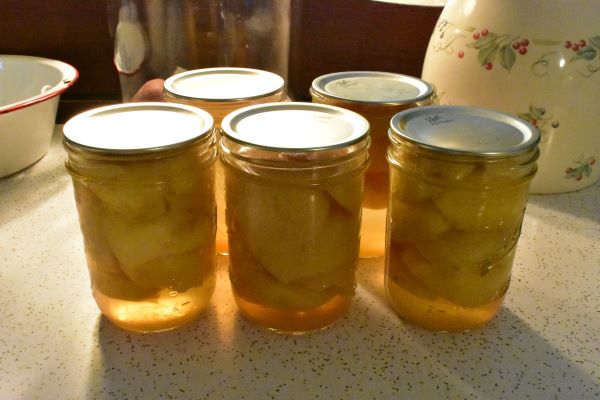 Small or large harvest, each jar is important to add to the pantry. This is a good way to preserve food to have later and prevent spoilage. I have a small tall pot that I can use to water bath just one jar if needed.
Strawberries were on sale this week buy one get one so I will be canning a small batch of strawberries tomorrow. :) It is easier for me to can small batches when it is hot weather.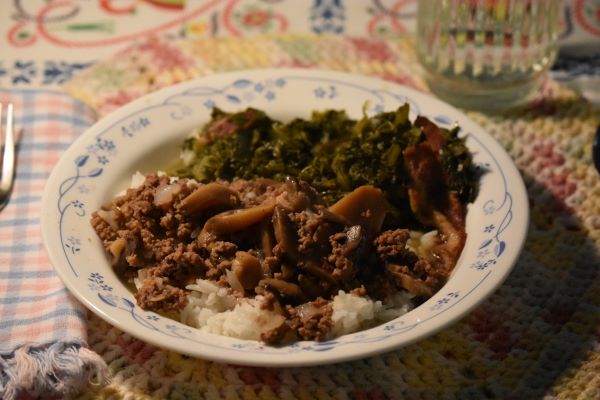 This is ground beef, mushrooms, rice and turnip greens with a slice of bacon that was cooked in the greens.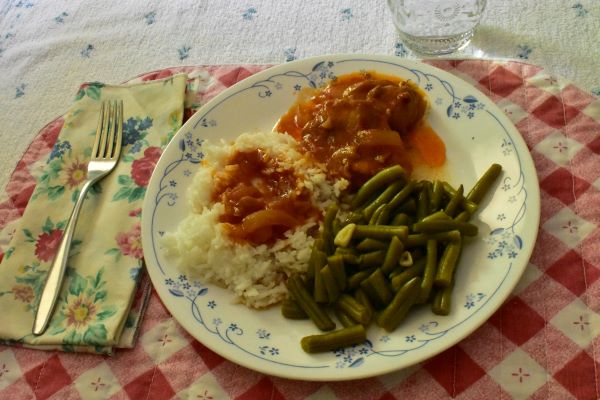 Our lunch today was chicken with a BBQ sauce over rice and green beans.
I will continue to sew curtains for awhile since I have three more windows in the kitchen and dining area. Then I move to the curtains for the blue guest room. I hope that you are doing what you have been wanting to do and if not I hope something in this posts helps give you a boost to get started on your projects. Grandma Donna