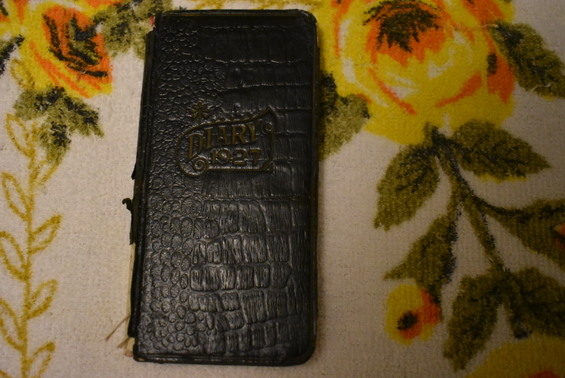 We return to the diary of Lena a school teacher that writes mostly about her activities after school and some about her school activities. Lena has a very busy life. You can go back to the Diary of Lena, a school teacher January through March to find more about Lena or to catch up if you have not read that post.
I try my best to understand what Lena is writing but it is difficult so I am sure there are some mistakes. If you find something that needs changing please send me an email. She abbreviates quite a bit due to lack of space in her diary.
It is amazing to me to read such a busy diary from the year of 1927.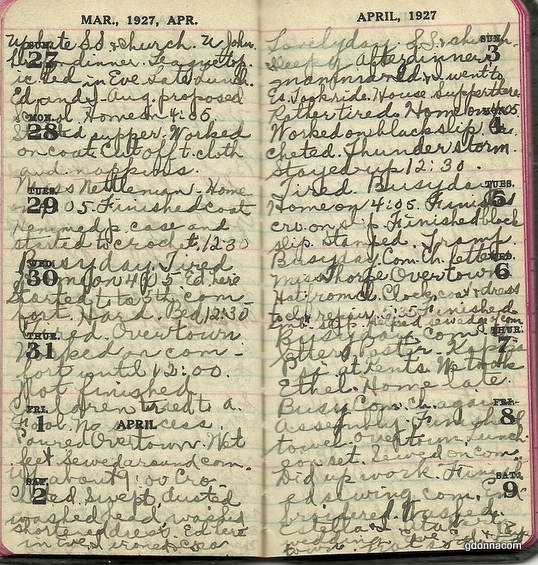 This was the last page we read in the last posting of Lena so this page is a refresher.
Sunday March 27, 1927
Up late. S.S. and church. W John here for dinner. League topic. Led in Eve. Late Lunch. Ed and I - Aug. proposed.
March 28 School. Home on 4:05 Started supper. Worked on coat. Cut off t. cloth and napkins.
March 29. Miss Nettleman. Home on 4:05. Finished coat. Hemmed pillow case and started to crochet. 12:30.
March 30 Busy day. Tired. Home on 4:05. Ed here. Started to to ta 5th comfort. Hard. Bed 12:30.
March 31 Tired. Overtown. Worked on comfort until 12:00 Not finished.
Friday April 1 1927 Children tried to April fool. No success. Poured overtown. Wet feet.Sewed around com.
April 2 Up about 9:00 Crocheted. Swept, dusted, washed head, washed, shortened dress. Ed here in Eve. Ironed and Crochet or cora.
April 3 Lovely day. S.S. church. Sleepy. After dinner Mamma, Ed and I went to Es. Took ride. House Supper there.
April 4 Rather tired. Home on 4:05. Worked on black slip. Crocheted. Thunder storm. Stayed up 12:30.
April 5 Tired. Busy day. Home on 4:05. Finished crochet on slip. Finished black slip. Stamped.
April 6 Busy day. Com. Ch. letters. Miss Thorne over town. Hat from Cl. Clock, coat and dress to cl and repair. 5:35 Finished. Embroidered slip, helped sew edge of com.
April 7 Busy day. com, I letters, Poster. Kapha Psi at Kents. We took Ethel Home late.
April 8 Busy Com. ch again assembly. Finished towel. Over town. Luncheon set. Sewed on comforter..
April 8 Embroidered. Washed. Estella and I Ata Wertz wedding. Eve Ed and I uptown. not so good.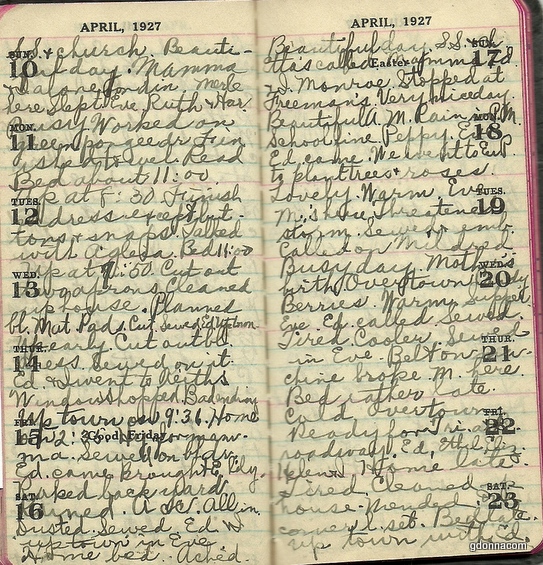 Sunday April 10, S.S. and church. Beautiful day. Mamma and I alone for dinner. Merle here Slept til Eve. Ruth and Harold.
April 11, Busy Worked on green pongee dr Finished towels. Read, Bed about 11:00
April 12, Up at 8:30. Finished dress except buttons and snaps. Talked with Agleia. Bed 11:00
April 13, Up at 7:50. Cut out two aprons. Cleaned up house. Planned bl. Mat Pads cut sewed. Ed uptown.
April 14, Up early. Cut out bl dress. Sewed on it. Ed and I went to Keiths Window shopped. Bad ending.
April 15 Uptown on 9:36.. Home on 2:35. Hg for mamma. Sewed on bl dress. Ed Came Brought Elily Raked back yard.
April 16 Rained. A ac all in. Dusted. Sewed. Ed and I uptown in Eve. Home bed Ached.
April 17, Beautiful day. S.S. and church. Etta's called. mamma Ed and I. Monroe. Stopped at Freeman's very nice day.
April 18, Beautiful a.m. Rain in P.m. School fine. Peppy. Eve Ed came. We went to Eu P to plant Trees and roses. Lovely Warm, Eve.
April 19, M's here. Threatened storm. Sewed and embroidered called on Mildred.
April 20, Busy day. Mother's birthday. Over town ? Berries. Ed called. Sewed. Tired. Cooler. Sewed in Eve.
April 21, Belt on ? chine broke. M. here. Bed rather late.
April 22, Cold. over town. Ready for Fri at the roadway. Ed, Ethel. Eliz, Helen and I Home late.
April 23 Tired. Cleaned up house. Mended on cover L set. Bed late. Uptown with Ed.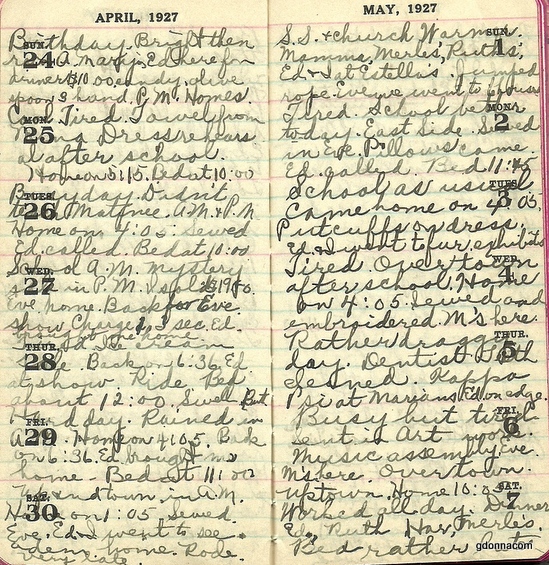 April 24, 1927, Birthday. Bright then rained. Mary and Ed here for dinner. $10.00, candy, olive spoon, 3 hand. P.M. Homes, c?
April 25, Tired. Towel from Nina. Dress rehearsal after school. Home on 5:15. Bed at 10:00.
April 26, Busy day. Didn't teach Matinee a.m. and P.M. Home on 4:05. Sewed. Ed called. Bed at 10:00.
April 27, School a.m. Mystery sale in P.M. I sold $19.00. Eve home. Back for Eve show. Charge 1.3 sec. Ed Brought me home.
April 28, Tired Ice cream sale. Back on 6:36. Ed at show. Ride Bed about 12:00. Swell But hard day.
April 29. Rained in a.m. Home on 4:05. ack on 6:36 Ed brought me home. Bed at 11:00
April 30. Uptown in a.m. Home on 1:05. Sewed. Eve Ed and I went to see Aden home. Rode very late.
May 1, S.S. and Church. Warmer. Mamma, Merles, Ruth's Ed and I at Estella's. Jumped rope. Eve we went to C House, tired.
May 2, School better today. East side. Served in Eve. Pillows came. Ed called Bed 11:45.
May 3 School as usual. Came home on 4:05. Put cuffs on dress. Ed and I went to fur exhibits. Tired.
May 4 Over town after school. Home on 4:05. Sewed and embroidered. M's here. Rather draggy day.
May 5, Dentist. Teeth cleaned. Kappa Psi at Marians Ed on edge.
May 6 Busy but tired sent in art work. Music assembly Eve. M's here. Over town. Uptown. Home 10:05
May 7 Worked all day. Dinner. Ed, Ruth Har, Merle's Bed rather late.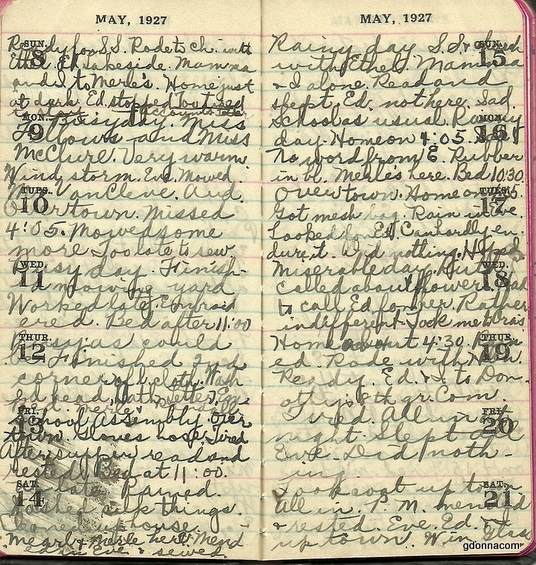 May 8, Ready for S.S. Rode to Chi with Ethel. Ed Lakeside. Mamma and I to Merle's. Home just at dark. Ed stopped to tired to start.accounts later.
May 9, Busy day. Miss Fellows and Miss McClure. Very warm wind storm. Evening Mowed.
May 10, Mr. VanCleve. and Overtown. Missed 4:05. Mowed some more. Too late to sew.
May 11, Busy day. Finished mowing yard. Worked late. Embroidered. Bed after 11:00.
May 12, Busy as could be. Finished 2nd corner of L cloth. Washed head. Bath, letter Em Randall. Merle.
May 13, School Assembly. Over town, gloves, hose Tired. After supper read and rested Bed at 11:00.
May 14, Up late. Rained. Washed silk things. Cleaned up house. Mearl and Merle here. Mended in Eve and sewed.
May 15, Rainy day. S.S. and church. With Ethel. Mamma and I alone Read and slept. Ed not here. Sad.
May 16, School as usual. Rainy day. Home on 4:05 Sad. No word from E. Rubber in bl. Merle's here. Bed 10:30.
May 17, Over town. Home on 4:05 Got mesh bag. Rain in Eve Looked for Ed. Can hardly endure it. Did nothing. Hoped.
May 18, Miserable day. Ruth called about flowers. Had to call Ed for her. Rather indifferent. Took me to Ora's.
May 19, Home about 4:30. Rained. Rode with Helen. Ready. Ed and I to Dorothy's 8th grade Com.
May 20, Tired. All in at night. Slept all Eve. Did nothing.
May 21,Took coat up town all in. P.M. mended and rested. Eve. Ed and I uptown.Win glass.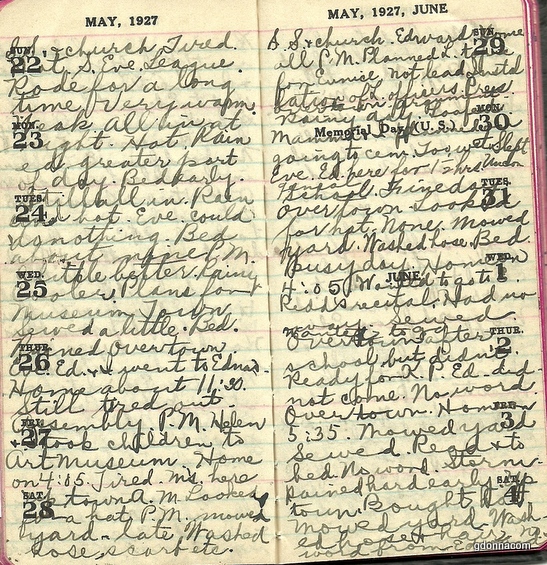 May 22, S.S. and church. Tired. ? S. Eve. League. Rode for a long time. Very warm.
May 23, Weak all in at night. Hot. Rained greater part of day. Bed early.
May 24, Still all in. Rain and hot. Eve could do nothing. Bed about nine P.M.
May 25 A little better. Rainy cooler. Plans for Museum Town. Sewed a little Bed.
May 26, Rained over town. Eve, Ed and I went to Edna's. Home about 11:30 Still tired out.
May 27, Assembly. P.M Helen and I took children to Art Museum. Home on 4:05. Tired.
May 28, Ms. here up town a.m. Looked for a hat. P.M. mowed yard.late.Washed hose, scarf etc.
May 29, S.S. and church. Edward home ill P.M Planned L.topic for Eunice. Not lead Installation of L officers. Press over town Argument.
May 30, Rainy day. Loafed. Mamma and I alone. Planned on going to cemetery. Too wet. Slept Eve. Ed here for 1 1/2 hrs. Under general.
May 31, School. Fine day. over town. looked for hat. None. Mowed yard. Washed hose. Bed.
June 1, Busy day. Home on 4:05. Wanted to go to E. Redd's recital. Had no way. Sewed.
June 2, Wanted to go overtown after school but didn't. Ready for K.P. Ed did not come. No word.
June 3, Over town. Home 5:35. Mowed yard. Sewed. Read and to bed. No word.
June 4, Storm Rained hard early . up town. Bought hat. Mowed yard. Washed hose and hair. No word from Edward.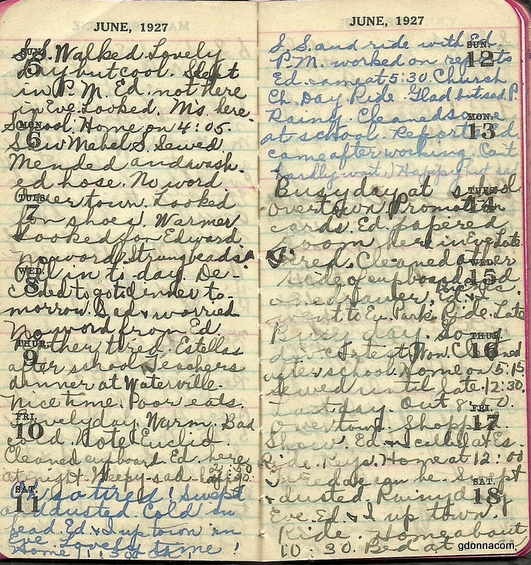 June 5, S.S. Walked. Lovely day but cool. Slept in P.M Ed. not here in Eve. Looked. M's here.
June 6, School: Home on 4:05. Saw Mabel S. Sewed. Mended and washed hose. No word. June 7 Over town. Looked for shoes. Warmer. Looked for Edward. No word. Strung beads.
June 8, All in today Decided to go to dinner tomorrow. Sad and worried. No word from Ed.
June 9, Rather tired. Estella's after school. Teachers dinner at Waterville. Nice time. Poor eats.
June 10, Lovely day. Warm. Bad cold. Note Euclid. Cleaned cupboard. Ed here at night Weepy sad 2:50 happy 3:30.
June 11, Oh so tired! Swept and dusted. Cold in head. Ed and I uptown in Eve. Lovely time Home 11:30 Oh.
June 12, S.S. and rid with Ed. P.M. worked on reports. Ed came at 5:30. Church Ch. Day Ride. Glad but sad. P.
June 13, Rainy. Cleaned some at school. Reports. Ed came after working. Can't hardly wait. Happy but sad.
June 14, Busy day at school. over town. Promotion cards. Ed papered room here in Eve Laate.
June 15, Tired. Cleaned other side of cupboards and one drawer. Ed and I went to Eu. Park. Ride. Late.
June 16, Busy day. Long division contest Won, Cleaned after school. Home on 5:15. Sewed until late. 12:30.
June 17, Last day. Out 8:50. Over town. Shopped. Show. Ed and I called at Es Ride. Keys. Home at 12:00.
June 18, Tired as can be. Swept and dusted. Rainy day. Eve Ed and I up town. Ride. Home about 10:30 Bed at once.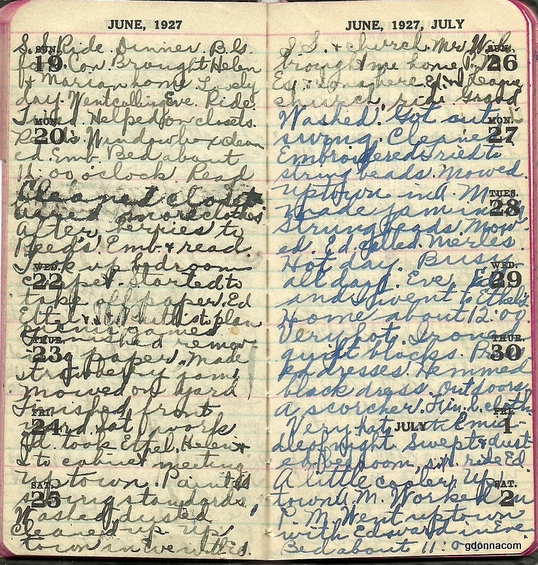 June 19, S.S. Ride. Dinner. B G for Con. Brought Helen and Marian home. Lovely day. Went calling Eve. Ride. Tired.
June 20, Helped on closets. Reed's. Window box cleaned. Embroidery. Bed about 11:00 o'clock. Read.
June 21, Cleaned closet. Tired. More clothes. After berries to Reed's Embroidery and read.
June 22, Took up bedroom carpet. Started to take off paper. Ed, Ethel ? ? to plan picnic games.
June 23, Finished removing paper. Made strawberry jam. Mowed on yard. Finished front yard.
June 24, Saturday work, Ed took Ethel, Helen and I to cabinet meeting. Uptown.
June 25 Painted. Spring Standards. Washed, dusted, cleaned up. Uptown in Eve with Ed.
June 26. S.S. and church. Mr Wil's brought me home.P. W, Esf and Sona here. Ed and I League Church. ride Grand.
June 27, Washed. Got out swing. Cleaned. Embroidered. Tried to string beads. Mowed.
June 28, Uptown in a.m. Made jam in a.m.. Strung beads. Mowed. Ed called Merle's.
June 29, Hot day. Busy all day. Eve Ed and I went to Ethel's. Home about 12:00.
June 30, Very hot. Ironed quilt blocks. Pressed dresses. Hemmed black dress. Out doors a scorcher. Finished L cloth.
July 1 Very hot until middle of night. Swept and dusted bedroom, sit room. Ride Ed.
July 2, a little cooler. Up town a.m. Worked in P. M. Went uptown with Edward in Eve. Bed about 11:00.
I will stop here and we will continue with July through September in a few weeks because we will be moving on to Lena's 1929 diary as soon as we finish this one. I wonder what we will read about in Lena's life during 1929? Will she and Ed be married? Has Lena learned to get better sleep? Whenever I get those pages scanned and typed up I will be posting so we can finish the 1927 diary.
After the 1929 diary we have two more diaries of Lena's to read as we move further into the great depression. Grandma Donna