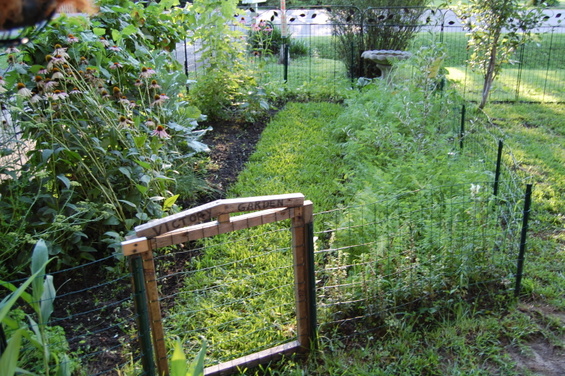 Yesterday I cleaned up the victory garden, carrots gowing on the right, raspberries, parsley, beans, cilantro, basil and coneflowers to the left. Oh and an olive tree in the middle of the right side. Today I will stay inside.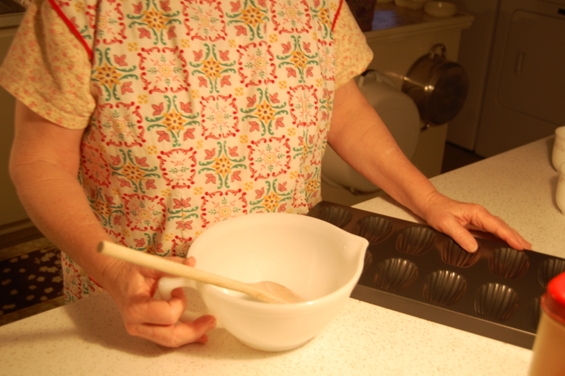 Today will be in the 90's so early this morning before it got hot I decided to make some Madelines and share the recipe with you. Madelines are a very old dessert but is making a come back. It is a cross between a cookie and a cake. I prefer to make mine more like a cake but I will show you both ways.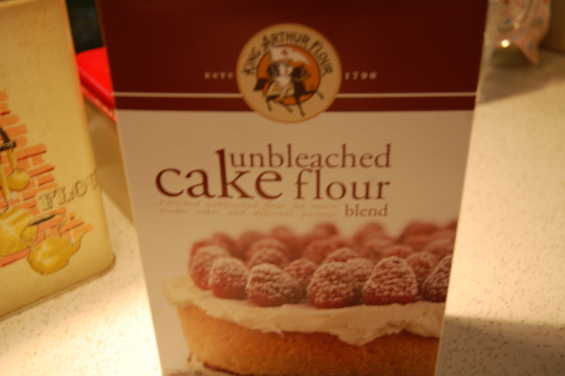 I use cake flour but you can use all purpose flour and either of then are to be sifted.
Pre- heat your oven to 350 degrees
You will need a madeline pan or some kind of pan to make small bite size pastry. I have a madeline pan, the normal size, NOT the mini size.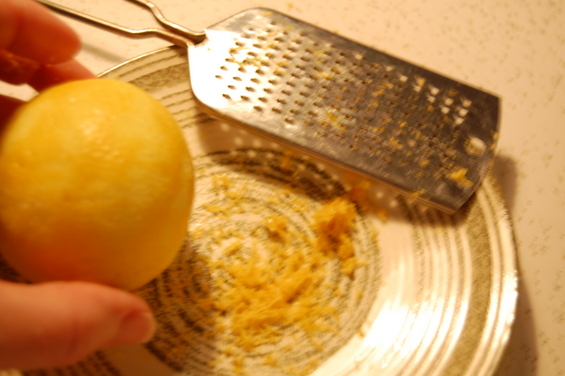 We will zest a lemon which is grating the outer part of a lemon. Just rub it over a small hole grater.
Here is the recipe
2/3 Cup cake flour
1/4 teaspoon baking powder
1/2 cup butter that has been gently melted and cooled (1/2 cup is 1 stick).
2 Eggs
1/2 teaspoon pure vanilla extract
Zest from a lemon
1 Cup of powdered sugar
Preheat the oven to 350 degrees. Butter the madeline pan. Sift together flour and baking powder and set it aside.
Place 2 eggs, vanilla and lemon zest in a mixing bowl and beat on high speed for 5 minutes. Gradually add powdered sugar and beat another 5 minutes.
Gently fold in flour mixture then melted butter. Mix until smooth but not too long.
Spoon the mixture into each madeline cup filling it about 3/4 full. Bake for 8 minutes.
Cool for 1 to 2 minutes, no longer, and then gently ease them out of the pan using a knife and place on a cooling rack. When cool you may sprinkle with a bit of powdered sugar.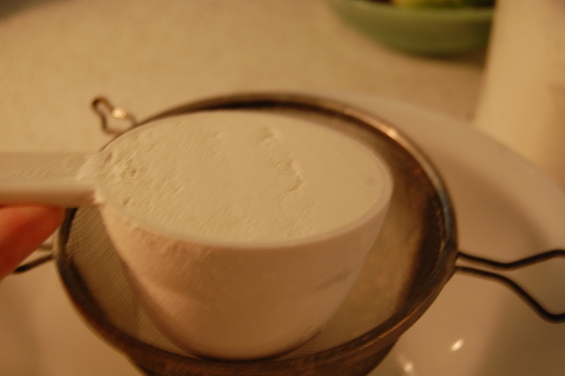 Measure out the ingredients, here is powdered sugar. When baking desserts it helps to measure carefully. So here I took a knife and removed any access sugar.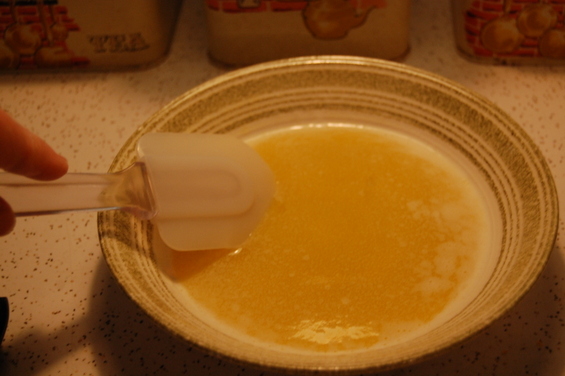 Melt the butter gently on the stove then cool the butter. You can cool it in the pan but I poured mine in a small bowl and set it aside.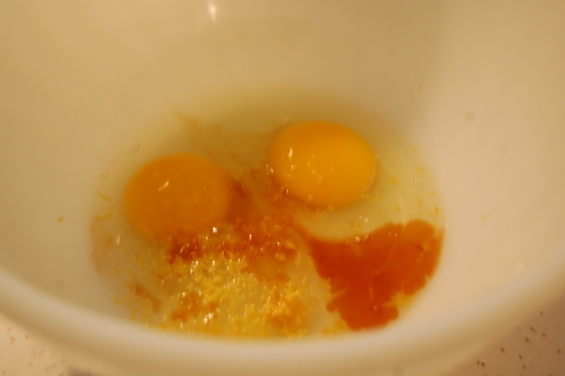 In a mixing bowl put two eggs, the vanilla and the lemon zest for beating.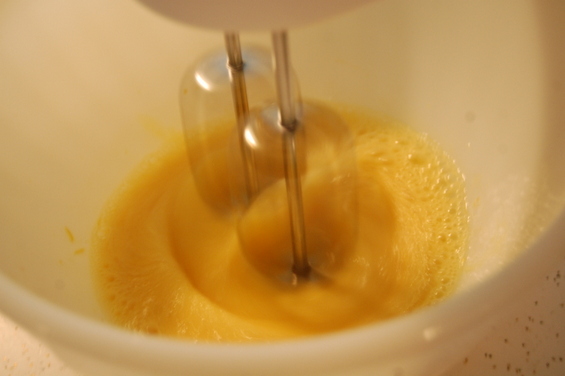 Then beat the mixture, it is important to beat it on high for 5 minutes.....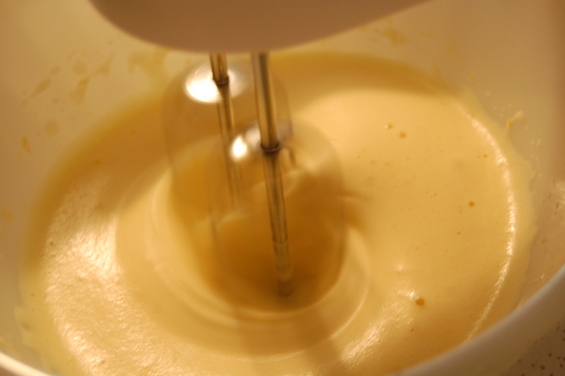 Notice how fluffy it is getting and creamy. To make the Madelines light it needs this high speed and longer time to fluff.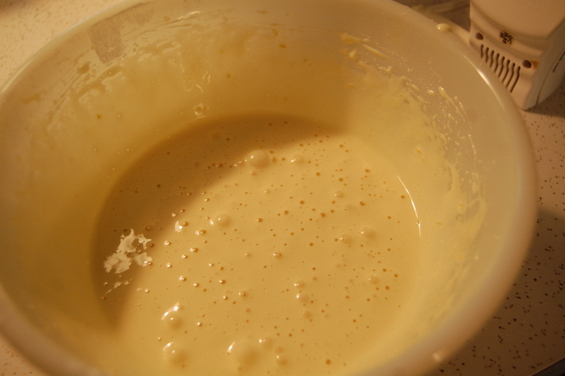 Add the powdered sugar and beat on high another 5 minutes. Important to beat until fluffy.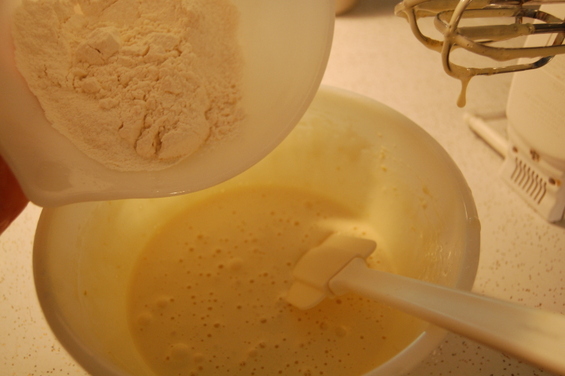 Now we are going to fold in the flour. Folding with a spatula so as not to over mix.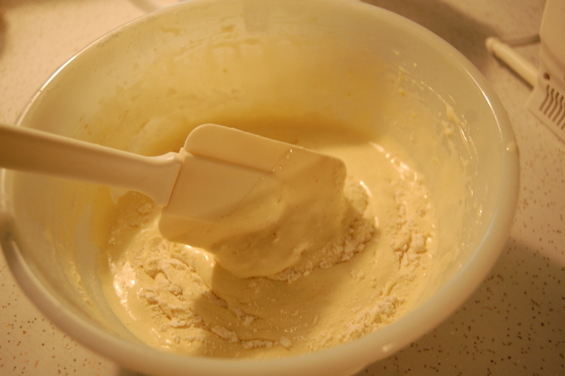 Folding.......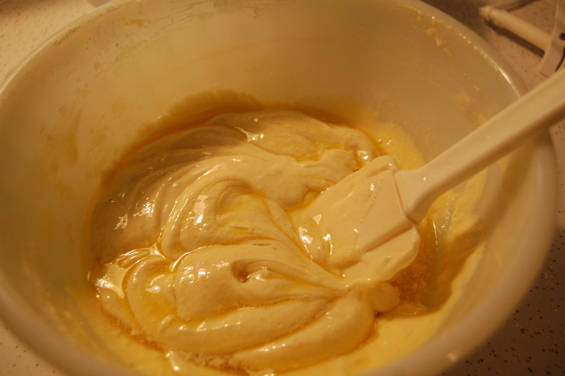 Here I am adding the butter and gently folding. Then I take the mixer and gently beat just to get the butter creamed in. This photo is before I beat with mixer...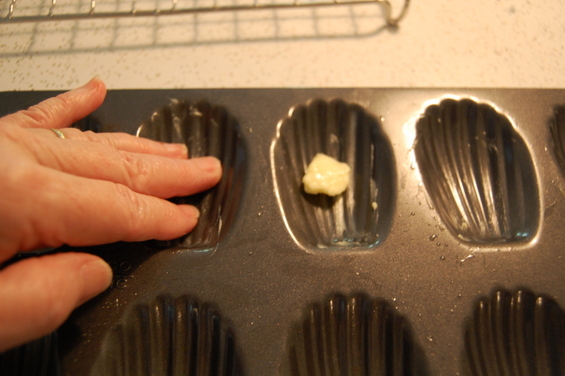 Butter the pan, I move a small pat along and take my fingers and rub it into the pan smearing the butter evenly over the cups. Some people use cooking spray and that is ok to do. We are a family with food allergies and we don't use things that have multiple ingredients that we are not sure of so I just use butter.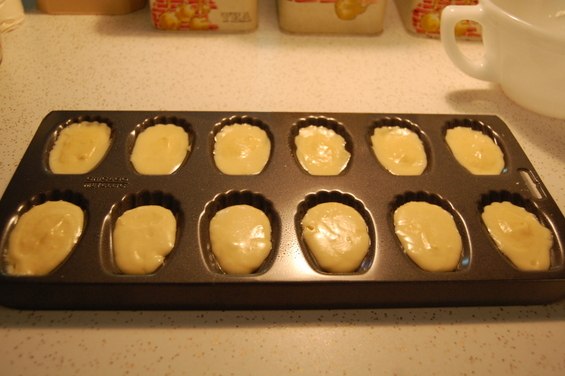 Fill the cups about 3/4 full....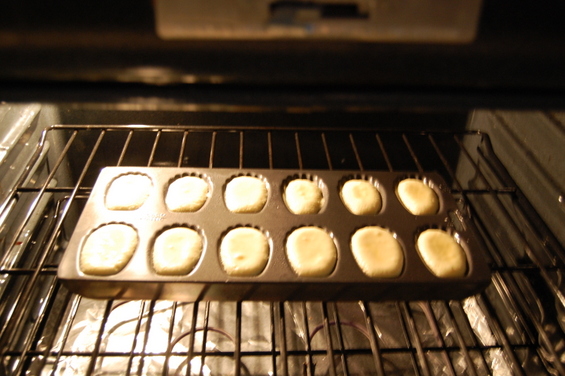 Bake in a 350 degree oven for 8 minutes.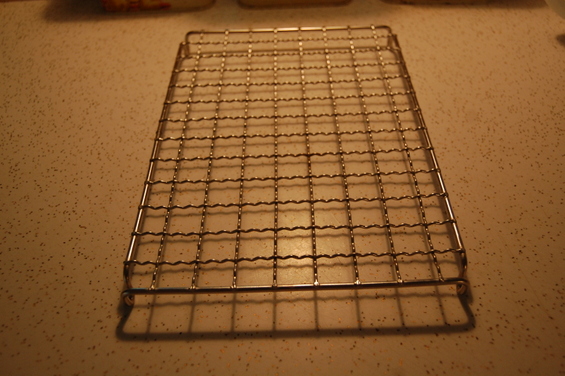 Have a cooling rack ready or a cool eye on the stove., Remove from oven quickly. Let then rest for 1 minute to 2 minutes then ease the madelines out of the pan and place on the cooling rack.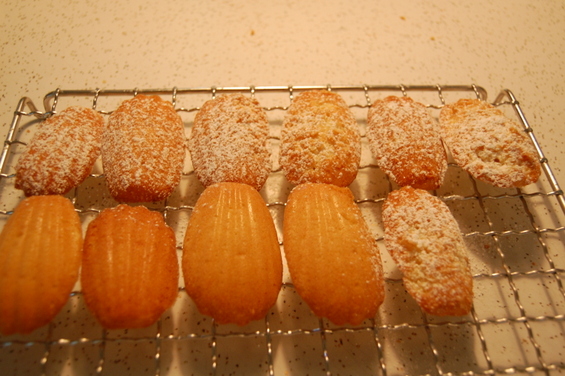 Here are the madelines as I am adding powdered sugar after they cooled.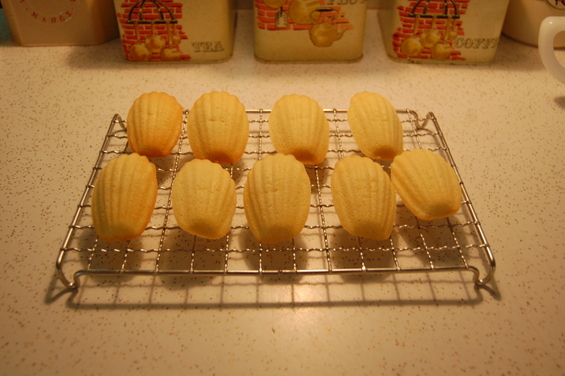 This is the Madelines the way I like them, not waiting for the edges to turn brown. I like them more cake like. In my oven I bake them 350 degrees for exactly 8 minutes. Everyone has to adjust for their oven and time.
Just practice with a few batches and you will get the hang of it.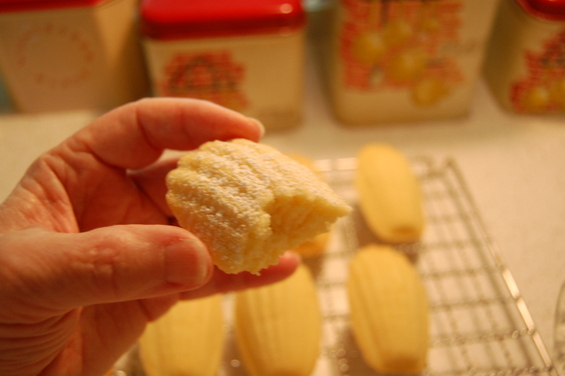 Here is what the inside looks like.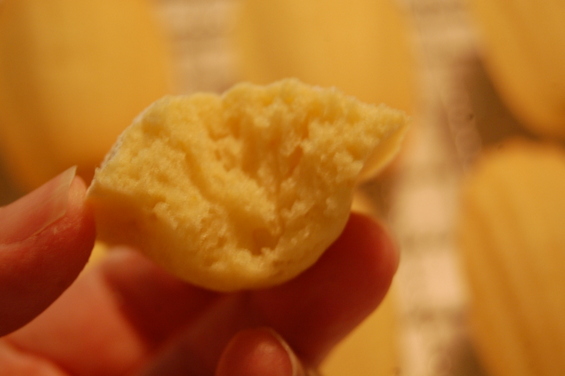 A yummy small cake.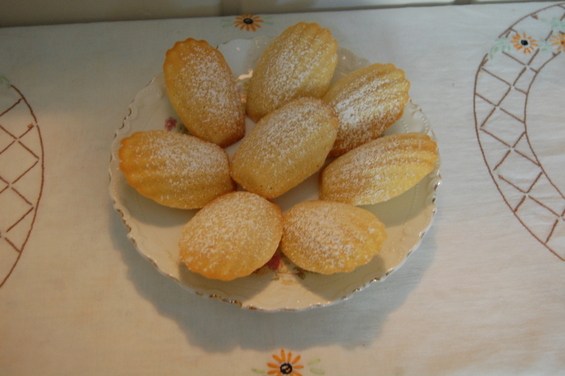 Madelines are a very delicious light dessert and especially good with coffee or tea.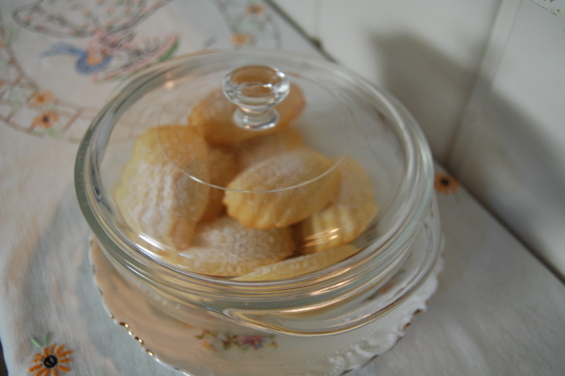 I keep ours in a covered dish after they have thoroughly cooled.
I hope you have found this helpful, Grandma Donna