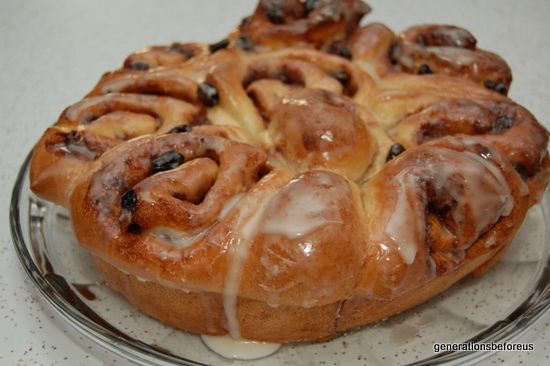 "This was an experiment" for Sarah and Jazlyn
It turned out really yummy!
The first part of this page is about making the dough.
First let me say making homemade yeast dough from scratch and by hand for bread, rolls, cinnamon buns or whatever you are making is really not hard to do.
Once you have made the bread or rolls you understand more. After a couple of times making this dough you get the feel for it and you will be able to not even look at the recipe.
This dough can be used to make loaf bread, rolls, buns etc. This is my basic bread dough.
Recipe for Bread Dough which is the same for cinnamon rolls
First I use bottled water due to the high amount of chlorine in our tap water.
1/2 cup warm bottled water(between 100 - 110 degrees) to use with yeast
1/2 cup warm bottled water (between 100 - 110 degrees) to add to the bread
2 Tablespoons active dry yeast
3 Cups Bread Flour (Whatever type of bread flour you use that is free from your allergies) You will only use 2 cups of flour at first then the other cup later.
( For cinnamon rolls you will need cinnamon, sugar, olive oil, confectioners sugar and vanilla)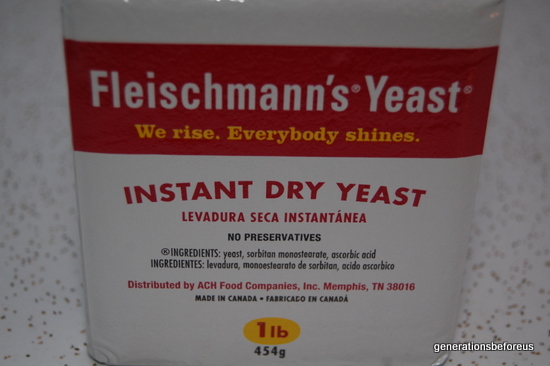 This is the yeast I use. You can use whatever yeast you like for this recipe. I proof my yeast, not sure that is the right term but I will show you.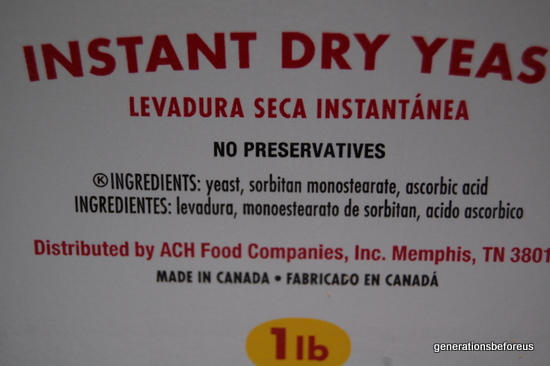 Here is the Ingredient list on this yeast. I keep my yeast in the refrigerator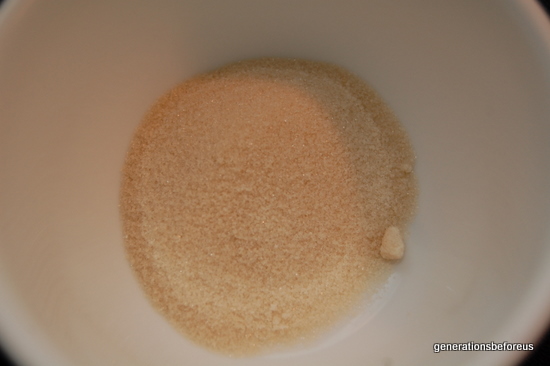 I use organic sugar but any sugar will do. Add 2 full Tablespoons sugar into a medium size bowl. This will be the bowl that will proof the yeast and the yeast needs room to rise.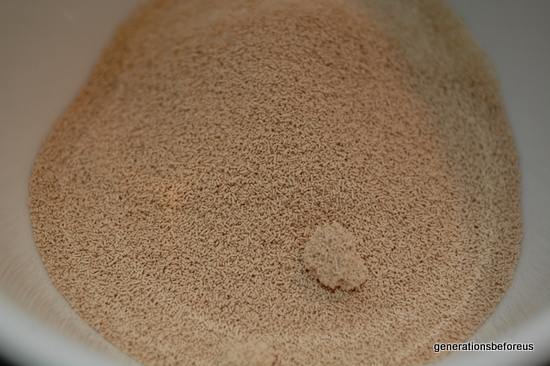 Add the 2 Tablespoons of the active dry yeast on top of the sugar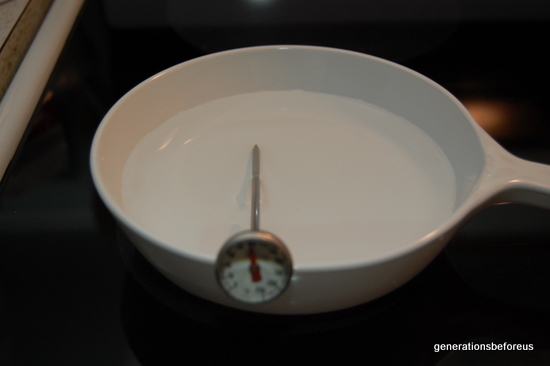 I warm my water to about 105 degrees. You can use warm tap water but I like to use spring water so there is no chlorine. This is not really necessary but this is how I do it. You will be warming 1 cup spring water. Like I said if you don't have bottled water just use tap water.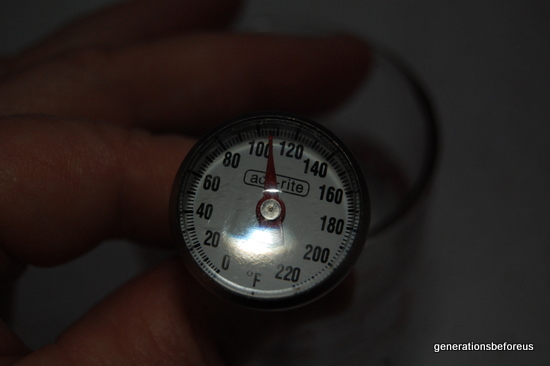 The main thing to remember is don't go over 110 degrees. Between 100 degrees and 110 degrees is just fine. Too hot and it will kill the yeast, too cold and the yeast might not rise.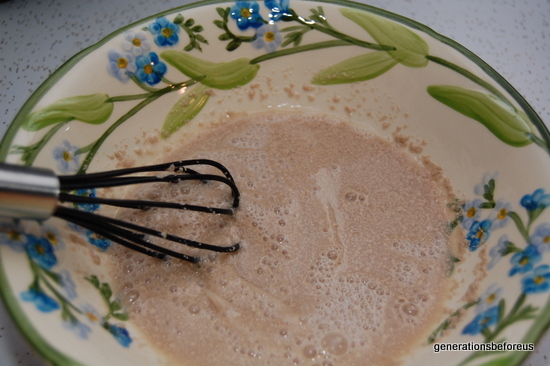 Add

1/2

cup warm (105) water to the yeast sugar mixture and whisk together. Set it aside for 10 minutes. This mixture will bubble and rise.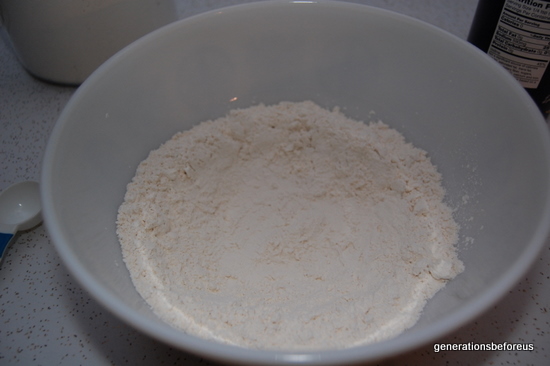 While your yeast is rising, In a large bowl add two (not three) cups bread flour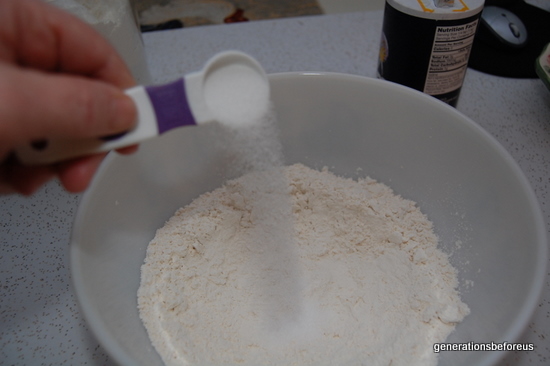 Add 1/2

Tablespoon

salt. I have a half tablespoon measuring spoon. It is my understanding that there are three teaspoons in a tablespoon so if you don't have a 1/2 Tablespoon measurment just guess. A little more salt will not hurt the dough.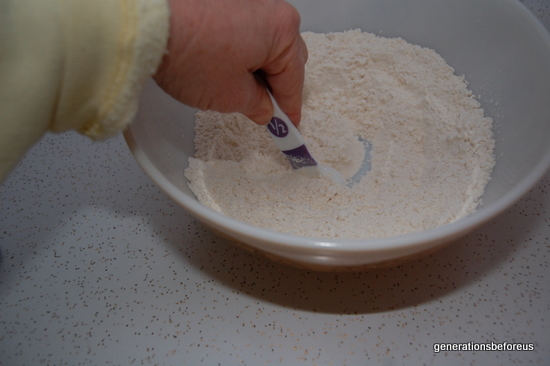 Stir the salt into the flour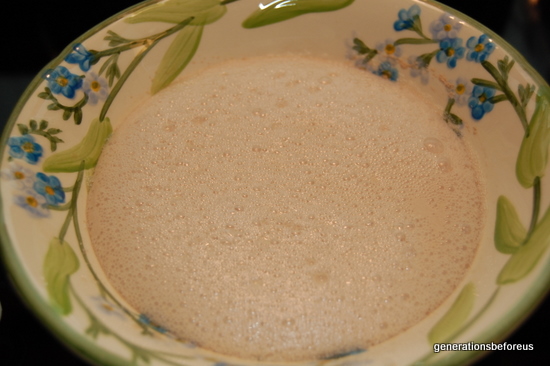 Now after 10 minutes the yeast should look like this. It will have increased size quite a bit.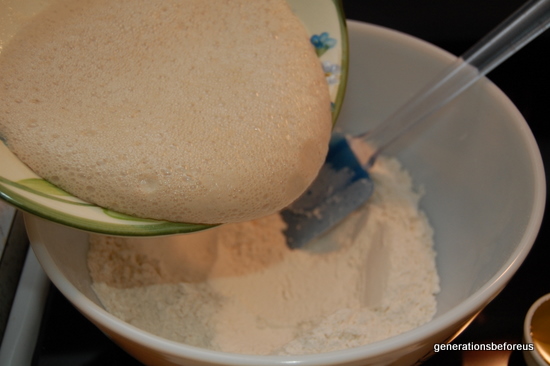 Pour yeast into flour salt mixture.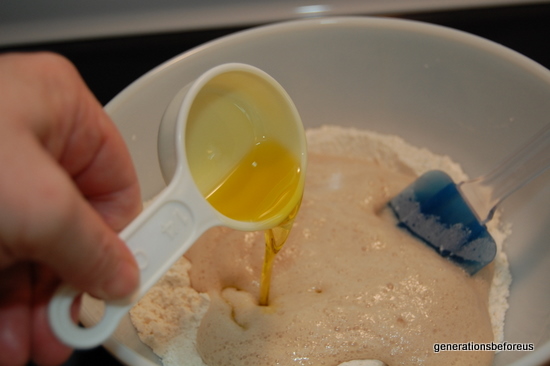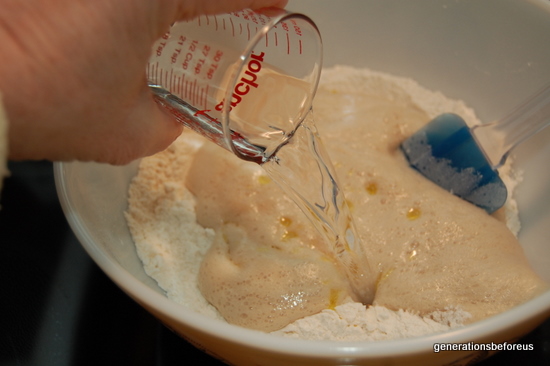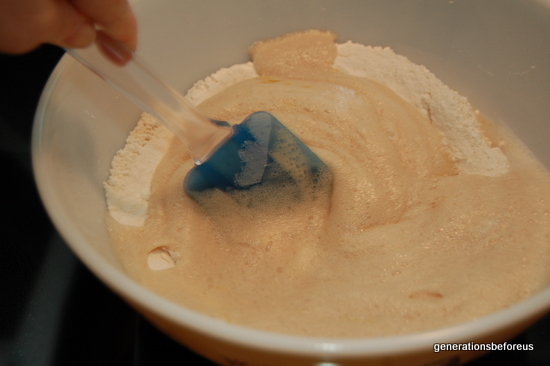 Start mixing together with a spatula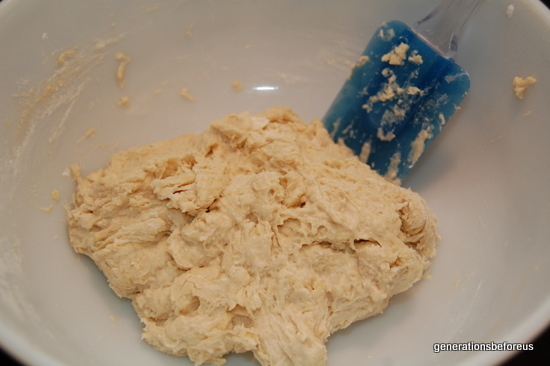 Once the mixture is moist and incorporated you can start the third cup of flour. You will only add a little at a time. We will go to the next picture.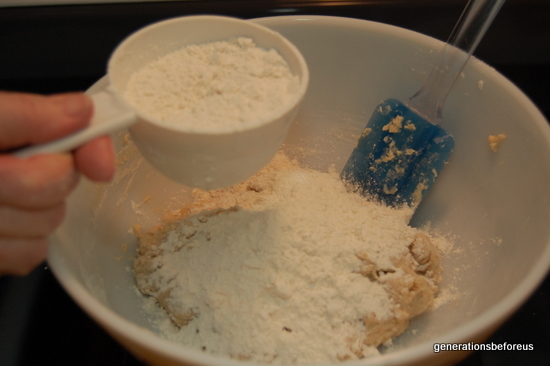 Only add a small amount of flour at this point because you want to keep the dough soft. Just work this in to the point that the dough is not sticky.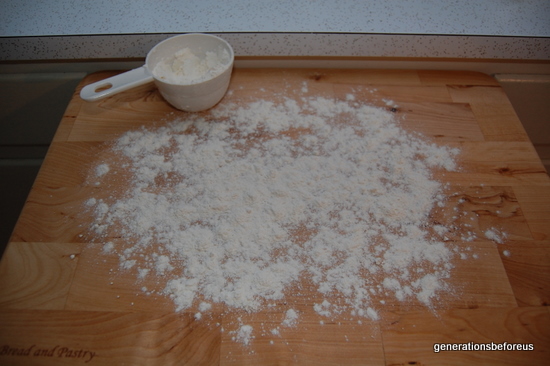 If you have a bread board then flour the board. If you don't have a bread board, simple use your clean counter top.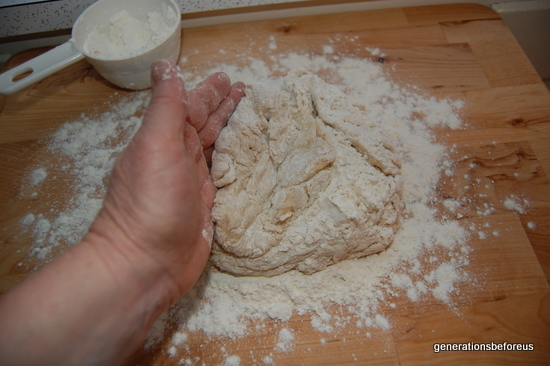 Now this is difficult for me to knead this and take a picture. This is when I need Chip home to snap the pictures. Just imagine I have two hands here and start working the flour into the dough. Push with the bottom of your hand. You will be working this remaining third cup a little at a time.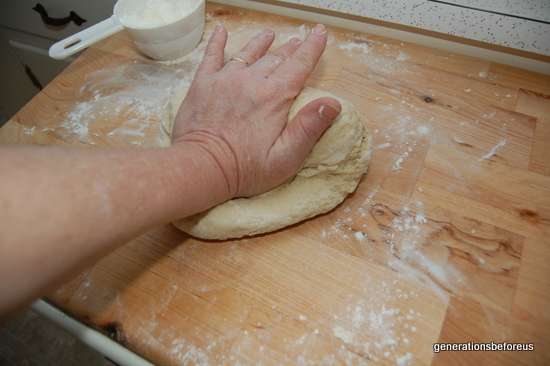 I have now incorporated what was on the bread board. I still have at least a half cup flour left in my measuring cup. You may not use all of that third cup. Then again you might due to weather etc. You will knead this bread 5 - 10 minutes.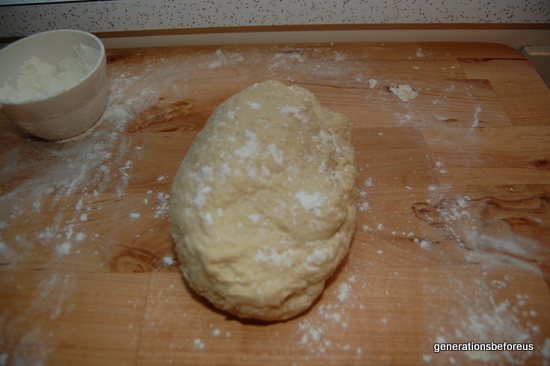 Add only small amounts of flour just to keep it sticking to your hands and board. Keep kneading so the gluten developes. You want a soft dough so don't use a lot of flour.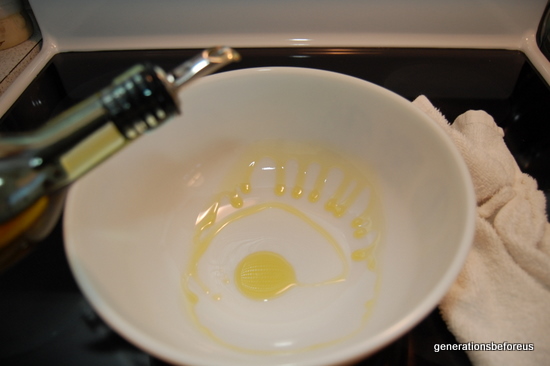 After kneading is done add olive oil to a large bowl and spead the oil all over the bowl.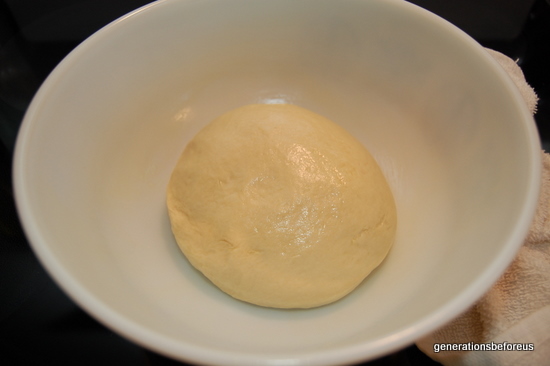 Plop your dough into the greased bowl, roll the dough around in it to oil the bottom, top and sides of the dough.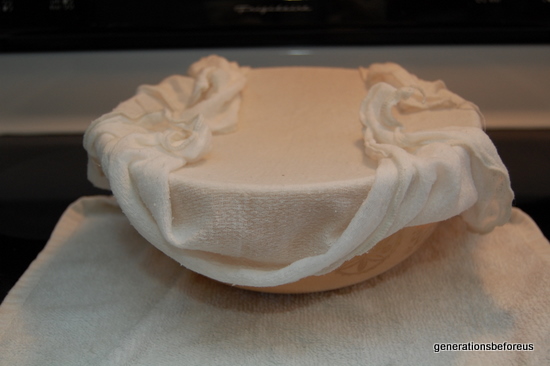 Cover the bowl with a damp cloth. I bought a pack of cloth baby diapers and I use them all the time for making bread.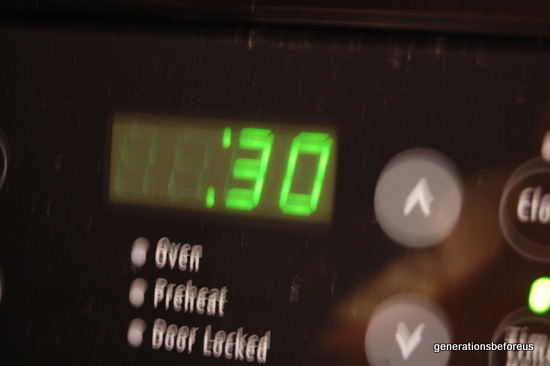 Set the timer for 30 minutes to let the dough rise. Keep the dough in a warm area of the kitchen.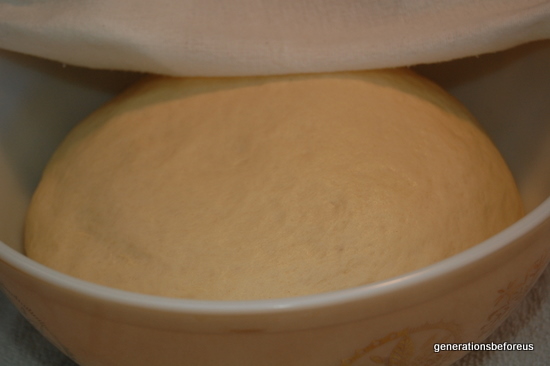 The dough has risen and is double in size. Thirty minutes has passed and this dough is ready to punch down. I don't really punch it down, I just press it down. Take it to the counter and add a little olive oil to that area you are going to use to flatten the dough.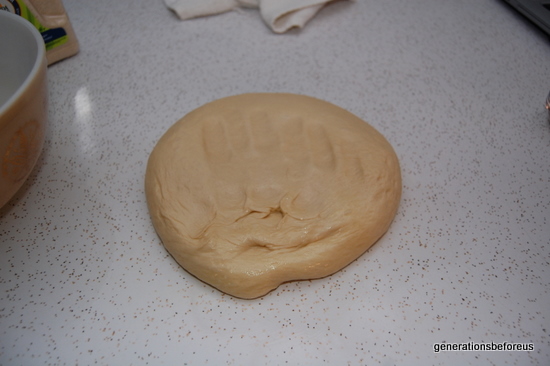 *** Ok here is where you either make bread, rolls, cinnamon rolls buns etc. Just shape into what you need. To make a loaf of bread you roll this flattened dough and place into a oiled loaf pan.
Let it rise uncovered in a warm area for 30 minutes. You will need to pre-heat your oven during this rise time to 350 degrees. You will then bake the bread for 30 minutes, remove it from the pan to cool on a cooling rack.
For the cinnamon rolls you now need to press
down the dough onto this oiled area you need to shape it to make a rectangle.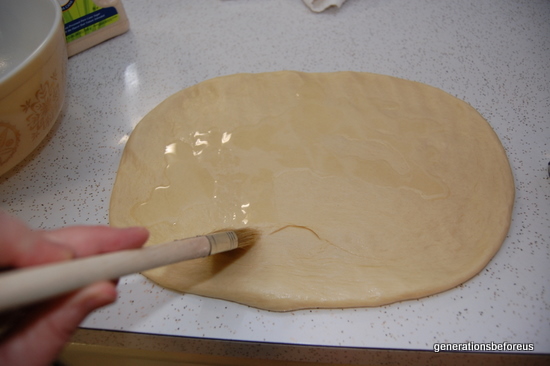 Spread regular or light olive oil over the dough. This will replace the butter that is normally used at this point.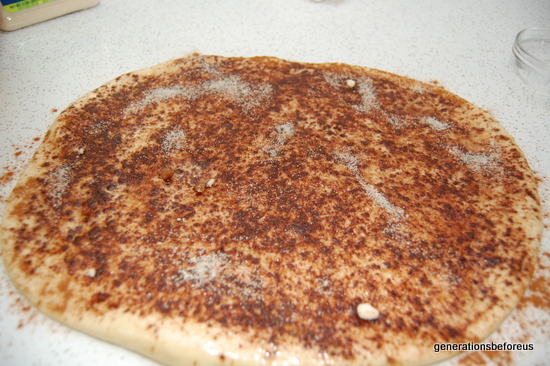 Spinkle cinnamon and sugar over the dough. I use quite a bit of cinnamon maybe a tablespoon or so and a couple of tablespoons sugar.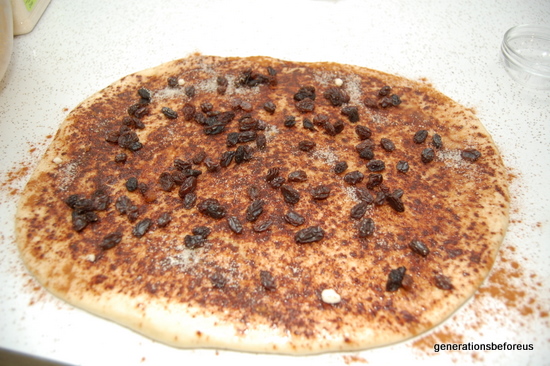 Top with raisins if you like them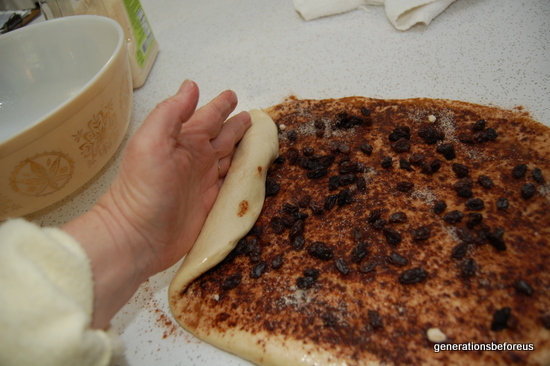 Again, one hand here on dough and one on camera is difficult but start at the end and start rolling the dough.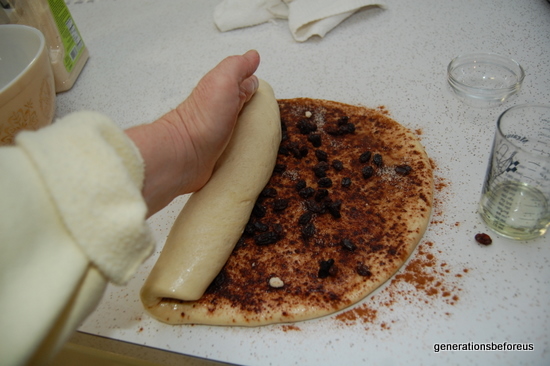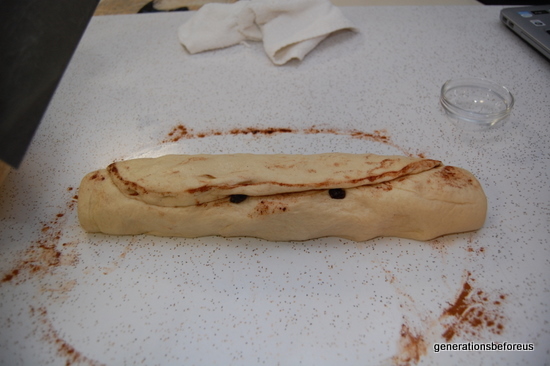 Then turn the dough towards you, stetch and shape into a log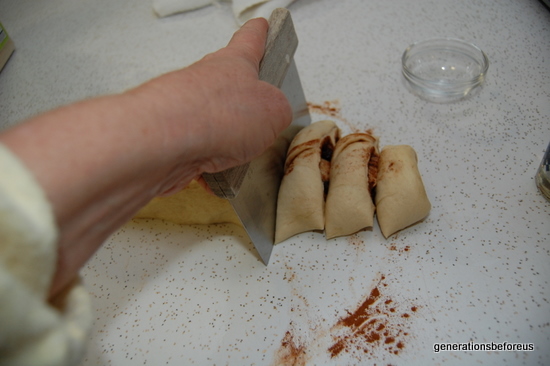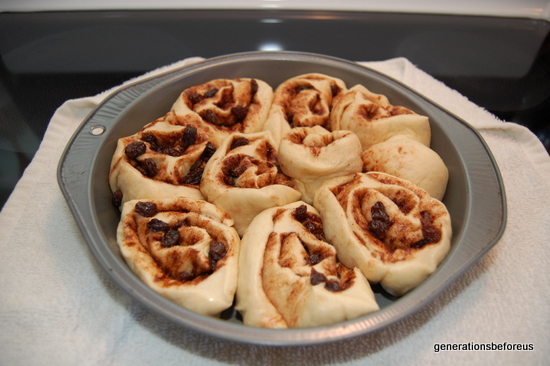 Put in a oiled pan, set aside in a warm place to rise for 30 minutes. You will need to pre-heat your oven to 350 degrees during this last rise time.
After the rolls have risen again, your thirty minute timer has gone off place the rolls in your pre-heated oven to bake for 25 to 30 minutes.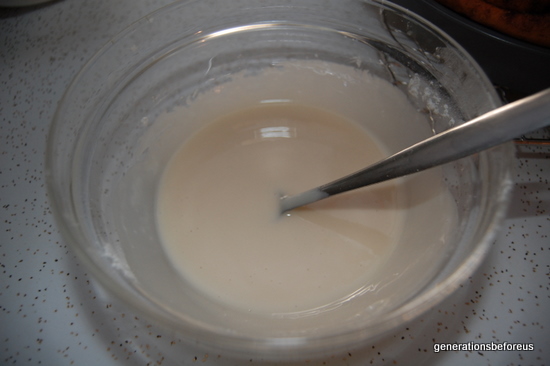 In a bowl mix 1 cup confectioners sugar, 1/2 teaspoon vanilla and about 2 Tablespoons water. If too thin add more confectioners sugar. This will be used to pour over the top of the warm cinnamon rolls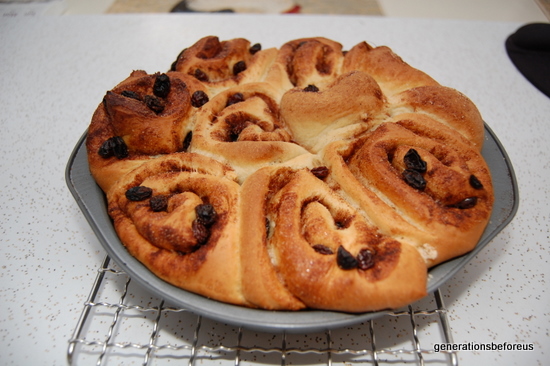 Place on cooling rack then remove the rolls to whatever plate you will use. I put mine on a cake plate so I can cover them when they are cooled.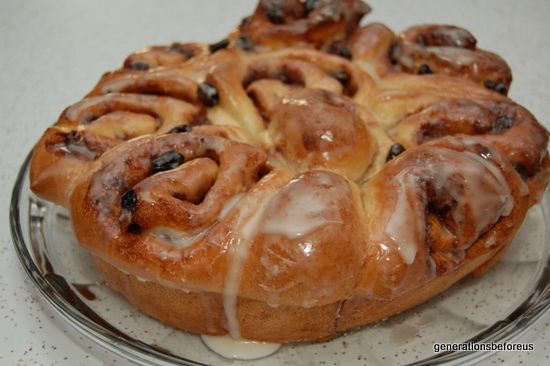 Pour icing over the warm rolls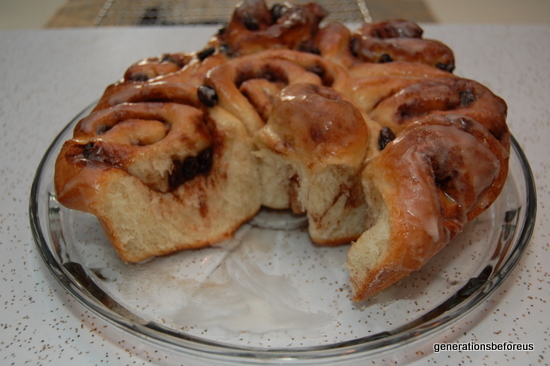 Since there is no butter in this recipe you may need to mix up a little more icing than I suggested. After the rolls have cooled and you can cover them the icing should moisten the rolls better.