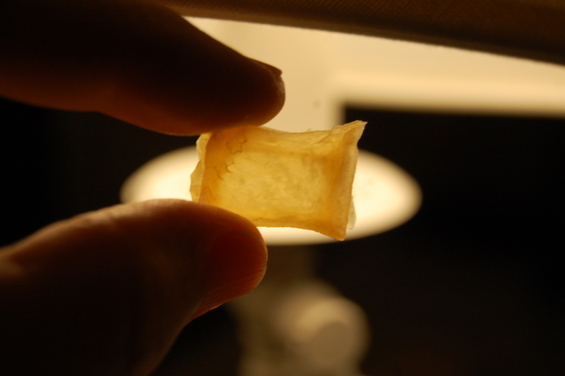 I did a bit of a study with some of the foods that I dehydrate to see what works best here in our kitchen.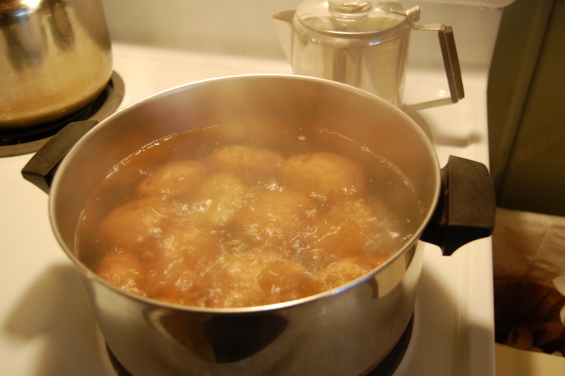 I boiled the potatoes whole until I could pierce a skewer through the potato then drained and plunged them in cold water to stop the cooking. I drained them and then put them in the fridge for a bit to cool.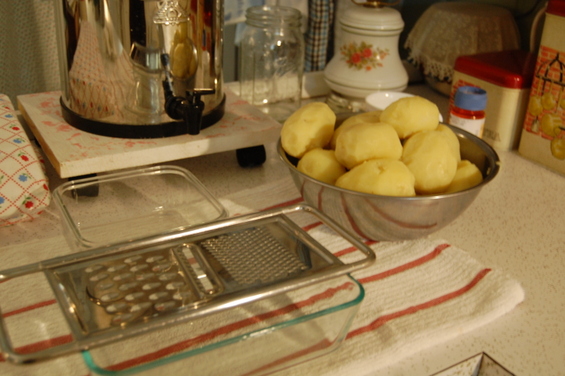 Then I sliced them and laid them on the dehydrator trays to dry at 125 degrees. I do not give a time because I normally dry them over the time in most books. I check them by looking through them then dropping them and listening to that click sound that says they are dry.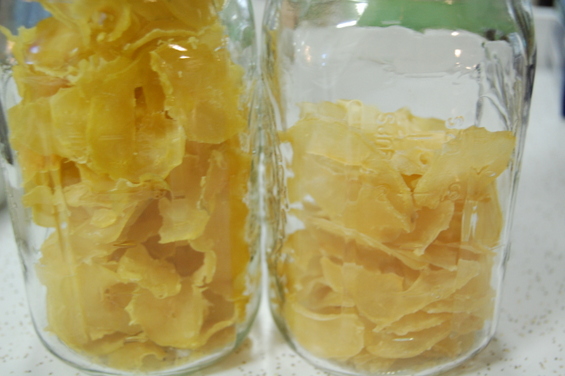 These are red potatoes and Yukon Gold. You can see the golden color in the yukon gold. I prefer the red potato for dehydrating.
***** I then did the potatoes a different way.
I peeled them before cooking, sliced them on the mandolin and then blanched them until I could pierce them easily. I did not want to over cook them and wanted them al dente. They must be cooked enough or they will turn black during dehydration but you don't want them too done or they will mush up.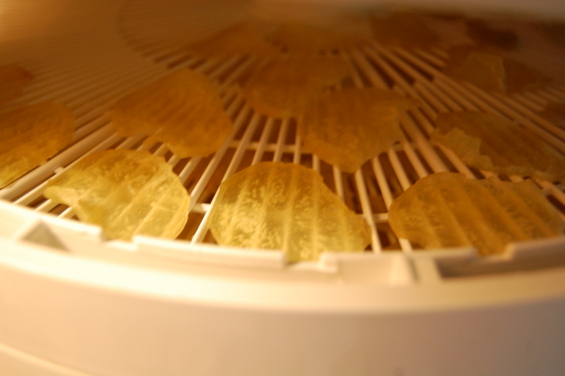 We peek inside the dehydrator and see they are starting to become translucent. We do not want any white left inside as you can see this still has. I dehydrate potatoes around 12 to 15 hours. It all depends on where you live and your climate.
***** :) For me the peeling, slicing, blanching, plunging in cold water was easier.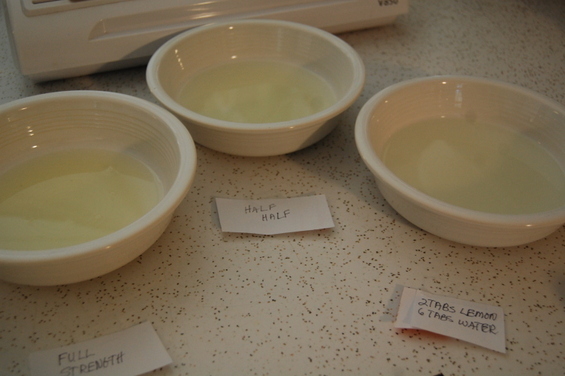 For the bananas, I did a study. After slicing the bananas I did a tray with nothing done to them, I just sliced them and laid them on the tray. Then I did one tray dipping the sliced bananas in full strength fresh squeezed and strained lemon juice. Then one tray was done slicing and dipping the sliced bananas in half water half lemon juice. Another tray was 2 tablespoons lemon juice and 6 tablespoons water and the last tray was done dipping the banana in water.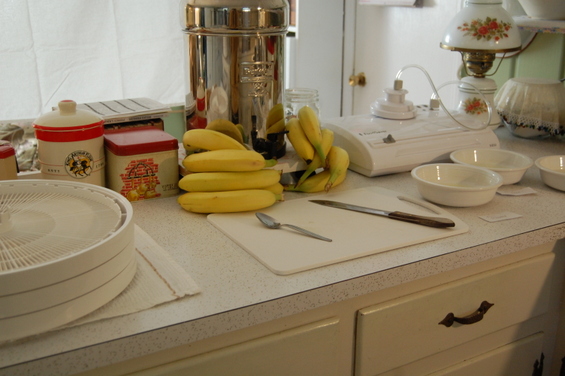 I always set up an assembly line of sorts so I can move through the things I am doing.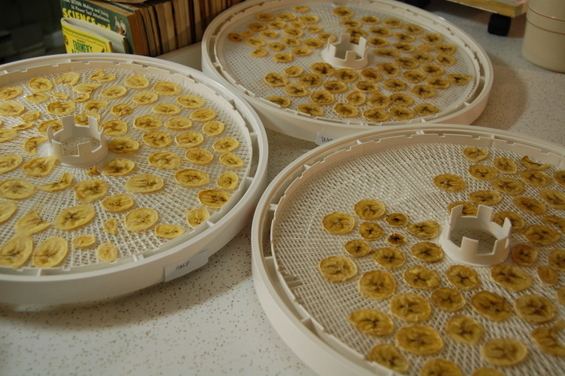 The outcome for me for the best dehydrated bananas for color was the banana dipped in the half lemon half water solution, top left. You can see the difference in color. As far as crispy and not chewy was the plain ones. I think the lemon juice makes it have a caramel type texture when the lemon juice is dried on.
I don't squirt or spray the lemon juice because I don't use store bought lemon juice due to food allergies in our family and I like to use everything as is. Hand squeezed lemons even strained have a tiny bit of pulp and stop up the sprayer. Possibly the sprayed on store bought lemon juice might not be as chewy? I don't know.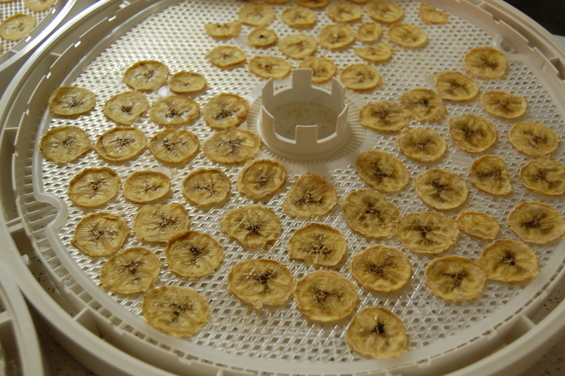 This tray was nothing put on them front and the small batch to the back was water.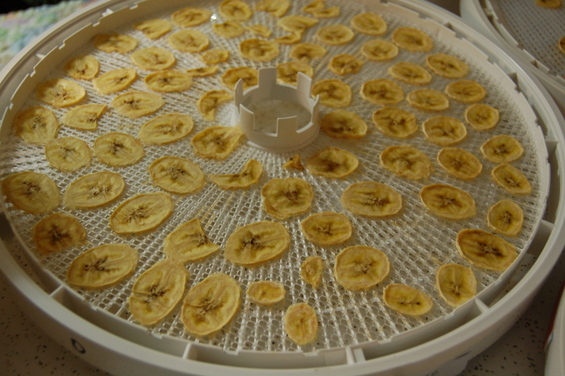 Store bought dried bananas are very tasty but have been processed in a different way. Some are fried and some are freeze dried.
Home dehydrated bananas are a bit chewier and darker but that does not stop our grandson (Sean) from wanting to eat an entire jar in one sitting. We have to remind him there are a lot of bananas in a jar. He is now 19 and still loves these bananas. :)
Sean, if you are reading we have just re-stocked the pantry with dehydrated bananas :)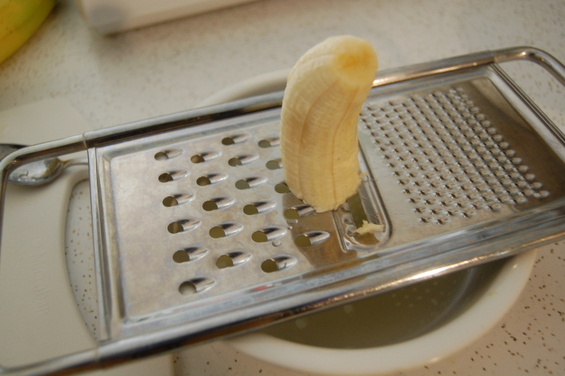 For the banana I use this mandolin to slice thin and even banana slices. I let them drop into my mixture of fresh squeezed and strained lemon juice and water. Half and Half. Some people spray the lemon juice on the bananas and if that is easier for you that is how you should do it. For me it is easier to scoop them up and place them on the dehydrator once they have been dipped.
* Note, I always air seal the foods that I dehydrate before putting them on the pantry shelf.
I hope this little study has helped in some way. Grandma Donna