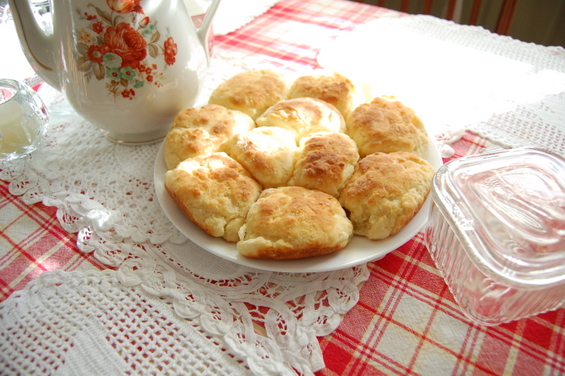 I have had several requests for my biscuit recipe since my last post showing us cooking biscuits over the camp fire. I posted the recipe two years ago so it is buried many posts back so I am bringing this forward for those asking for the biscuit recipe. It is a very easy recipe and those that have had a hard time making southern biscuits this one is for you. :)
On this website I have posted a couple of articles about biscuits including sourdough biscuits. This recipe is for all purpose flour biscuits. We use our same method as our other biscuits but we use baking powder and baking soda in these biscuits. This is the way we prefer to make them.
Preheat the oven to 495 degrees
Baking time 15 minutes
2 cups all purpose flour
3 teaspoons baking powder
1/2 teaspoon baking soda
1 teaspoon salt
4 Tablespoons real butter
Buttermilk ( hard to say how much but about heaping cup of so) see photos below.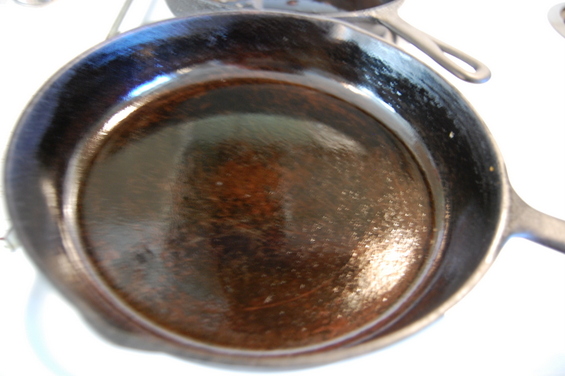 Grease a iron skillet, just a good wipe down not a lot of grease/oil.
Start with a bowl and a sifter and sift the flour, salt, baking powder and baking soda together.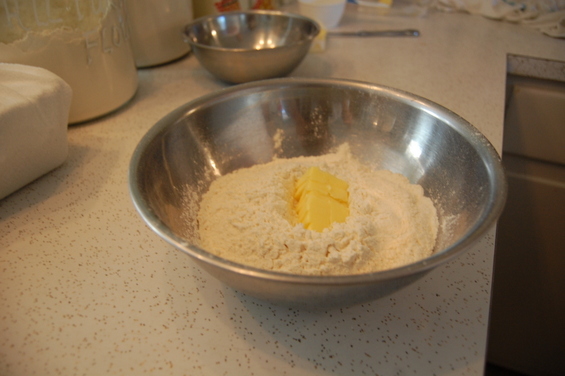 Add 4 tablespoons real butter and cut or rub into the flour mixture until a soft crumble.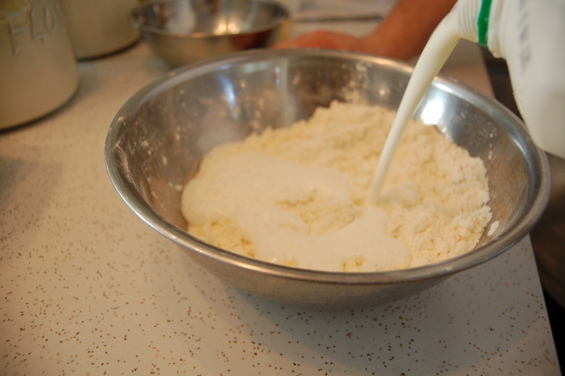 This is where it is hard to tell you because we do not measure but pour enough buttermilk to make it a bit like cottage cheese. Not too thin,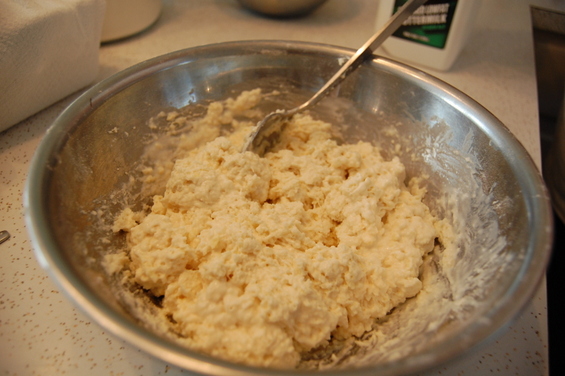 When it looks like this. Do not mix this too much. Just add the buttermilk and work it gently with a spoon.
With a spoon, dip out a clump and put it in a small bowl of all purpose flour that has been sifted.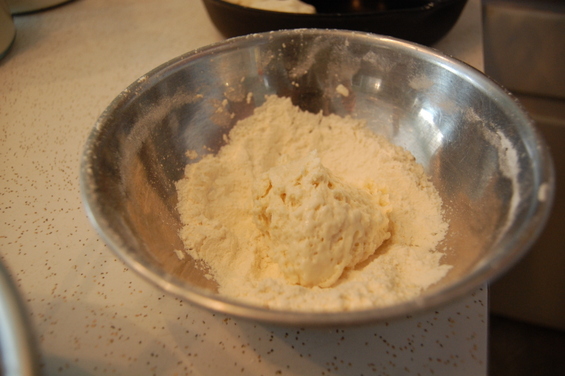 Like this. Shake the bowl a bit with a tossing motion to toss the flour over the biscuit ball. You can use your fingers a bit. Just do not handle it much.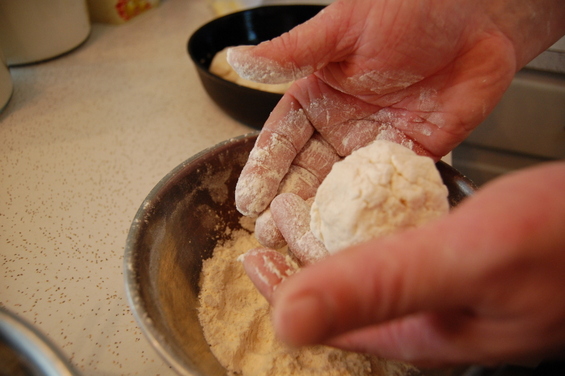 Very gently toss it around your hands back and forth in floured hands to get it into a bit of a round shape.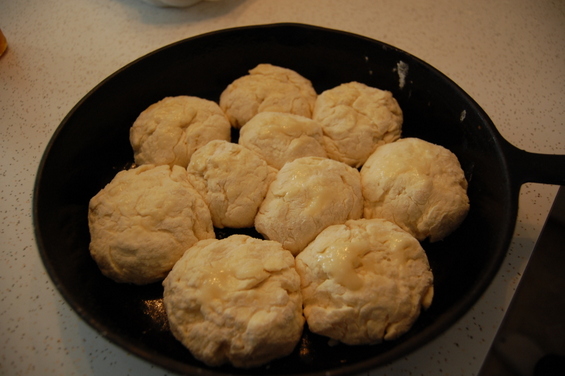 Put each ball into the greased pan until you fill it up. Touch a bit of oil or bacon grease on the back of your fingers and gently tap the top of the biscuits with a dab of grease. Not much, just a little. You will learn how much of things each time you make them. Put it in the oven for 15 minutes.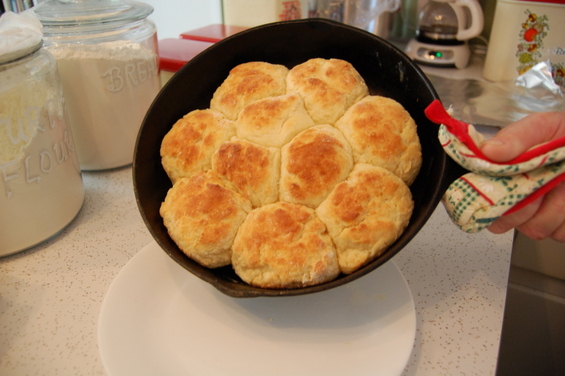 Remove from the oven and shake the pan a bit and slide the biscuits out of the pan. If your skillet is seasoned and was greased they should pretty much slide out.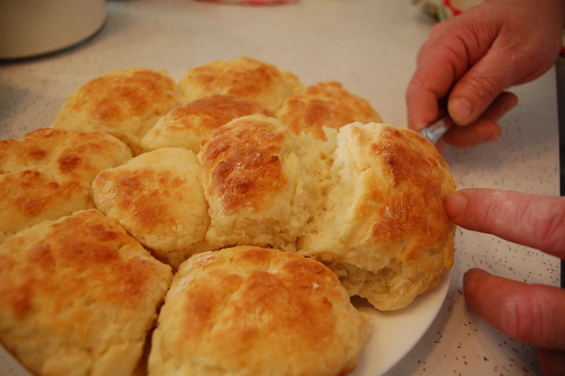 We gently pull the hot biscuits apart and while still warm and we open and butter the biscuits. This is optional.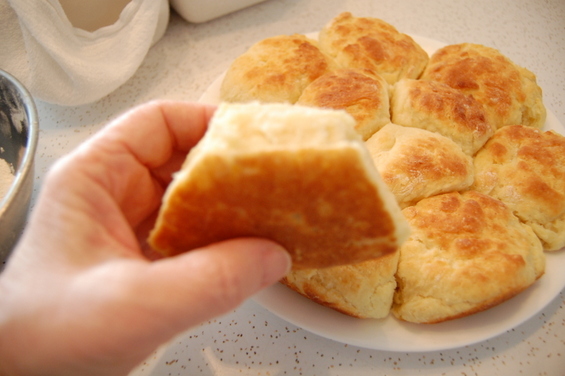 The bottom of the biscuit should look like this. If it looks darker either lower the temperature just a bit when you cook them or reduce the time by one minute or so.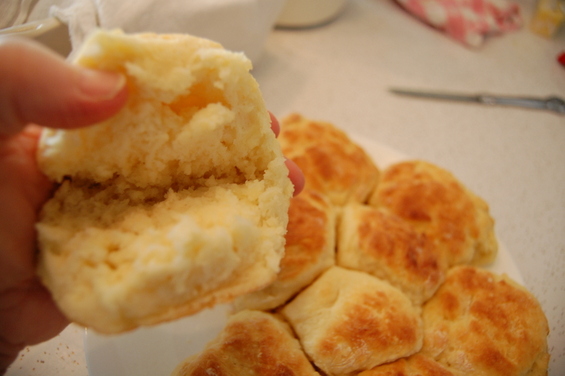 The inside should be light and fluffy.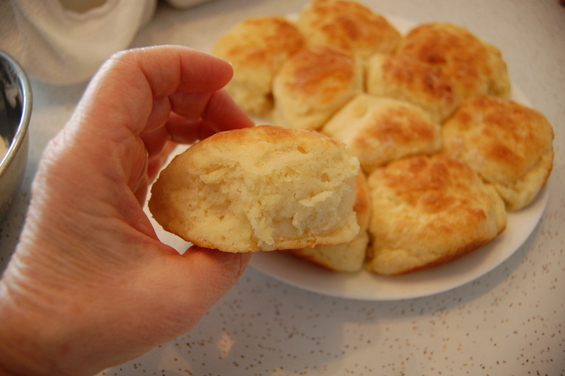 In the cooking from scratch section on this website the recipe homemade southern biscuits has more photos of this same method only that recipe uses self rising flour and does not call for baking powder or soda as this one does.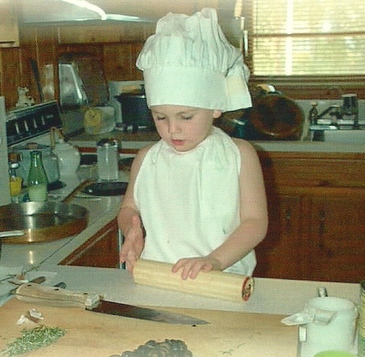 Our Grandson Sean has been in our kitchen watching, poking, stirring and rolling out things ever since he was tall enough to stand on a stool at our kitchen counter.
Now at the time I am posting this biscuit recipe he is a senior in high school and he makes biscuits just as pretty as these are in the photos above. He has the basics about cooking skills and that is something very important for our children to learn.
I hope you have much success making your biscuits. I love to share these traditional recipes with all of you. Grandma Donna