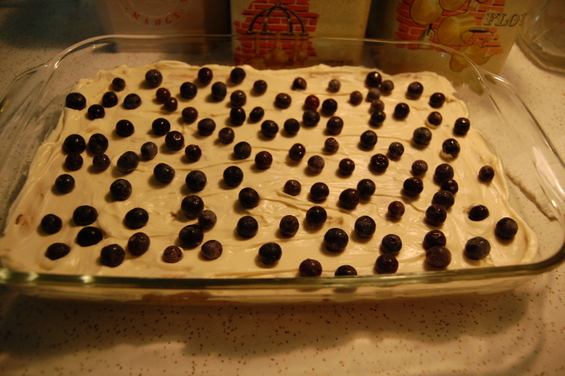 This is the recipe for the blueberry dessert seen in a recent post and recipe has been requested...
This is a dessert I have made since my children were young. We called it fruit pizza and it was very popular many years ago. I would make it with different fruits but blueberry was the favorite so this is what I stuck with and call it blueberry dessert.
preheat oven to 375 degrees.
The bottom crust is a cookie crust.
2 and 3/4 cups all purpose flour
1 teaspoon baking soda
1/2 teaspoon baking powder
1 Cup softened butter (two sticks)
1 and 1/2 cups granulated sugar
1 Egg
1 teaspoon vanilla
Mix flour, baking soda and baking powder in one bowl and in another bowl cream butter and sugar, add egg and vanilla slowly and beat and then very slowly add flour mixture until combined. Mash down into pan and bake about 10 to 15 minutes at 375 degrees. The pan I used was 9 inches by 13 inches but that does not have to be exact.
Topping
1 package cream cheese
1/3 cup sugar
1/2 teaspoon vanilla
Beat well and spread over the top of the cooled, cookie crust.
Then add blueberries to the top and chill.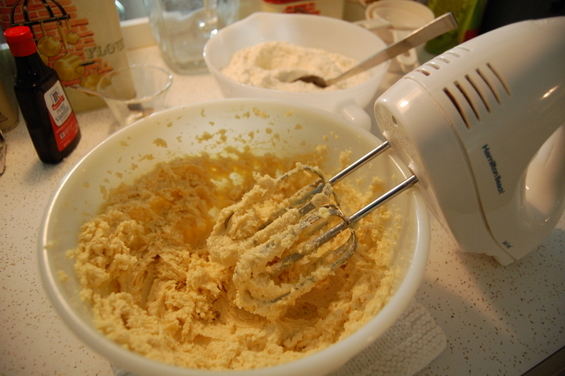 Making the cookie dough use mixer until it is getting thick then work in the rest of the flour with a spoon..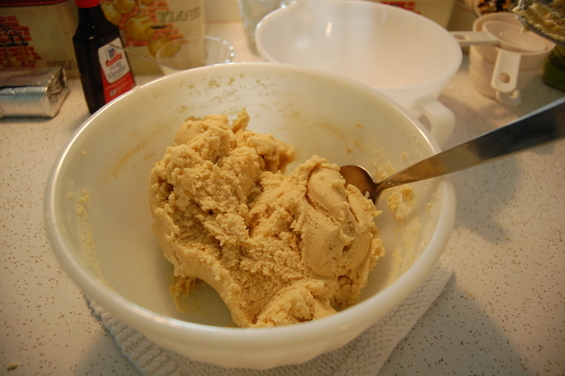 like this.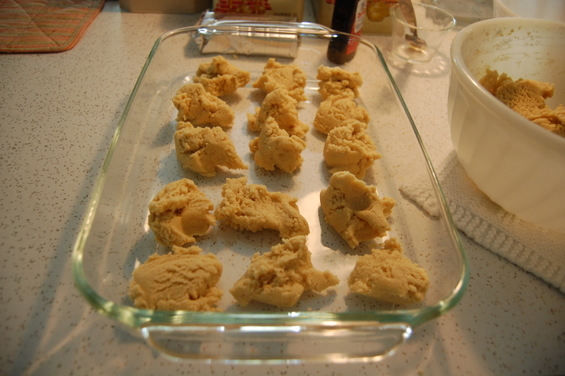 drop into bottom of pan... Notice extra dough in photo above in bowl, I used this to cook extra cookies...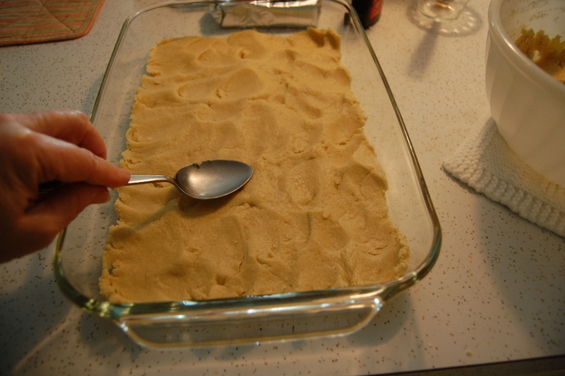 Press down...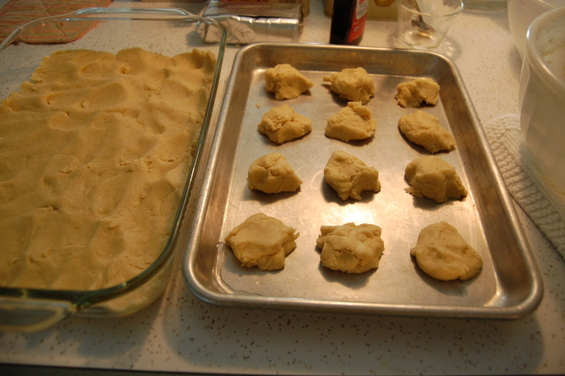 This pan on the right is the extra cookie dough and I am making cookies with this. I always baked some cookies for the children to keep them satisfied while the dessert was cooling in the refrigerator. Now my husband is the one that enjoys the extra bonus cookies. :)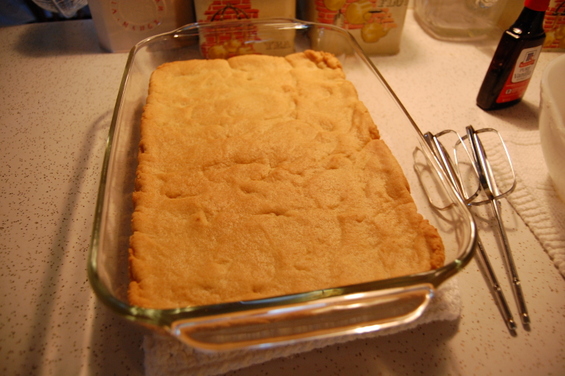 The baked crust..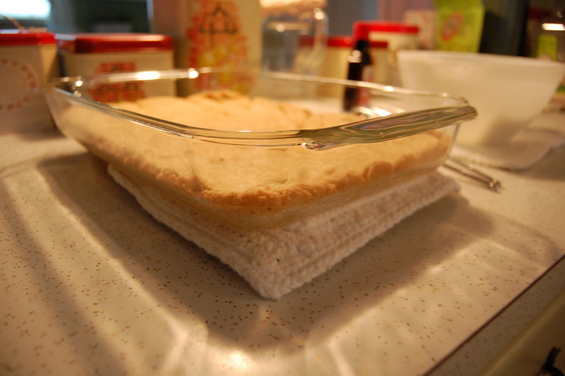 Cooling the crust and so you can see the thickness..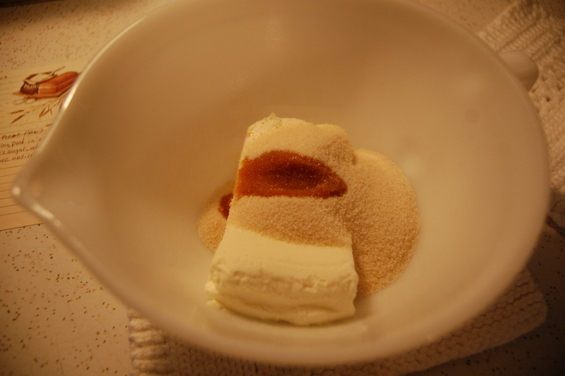 The frosting, cream cheese, sugar and vanilla...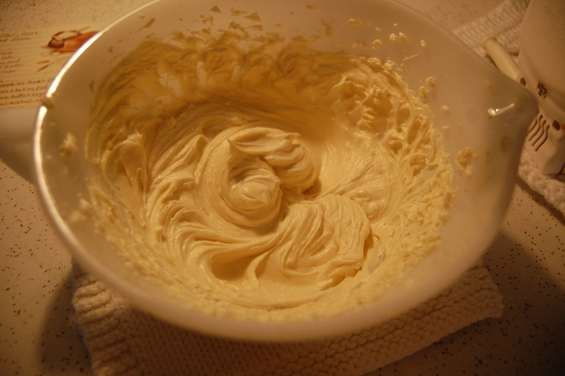 Frosting mixed....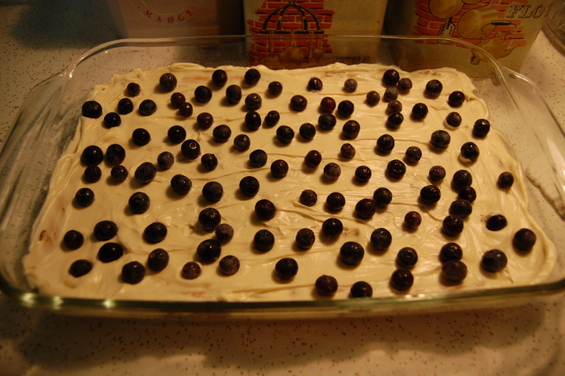 Blueberry dessert ready to go in the refrigerator....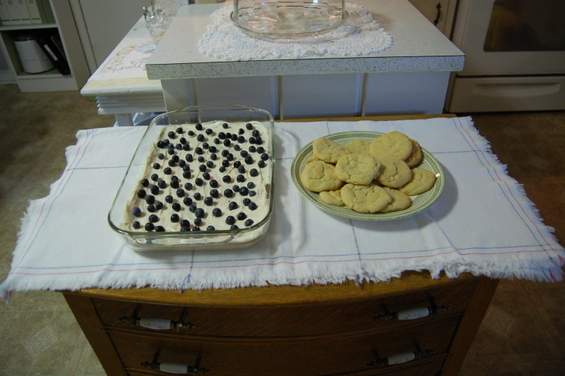 I hope you enjoy, Grandma Donna