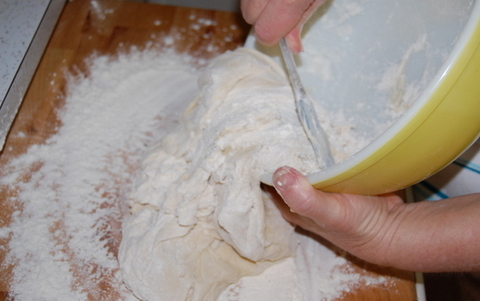 Today I made hamburger buns....
I have several posts about making bread. This time of year is a good time to go back over a simple basic bread dough recipe. We can make our bread by hand or by bread machine or both. I have trouble kneading sometimes due to a back problem so sometimes I use the bread machine just to knead my dough and on a good day I just knead it by hand, the way I prefer.
But what is important is having a good basic dough recipe that will make many things which will help you to not rely on the grocery store for processed food.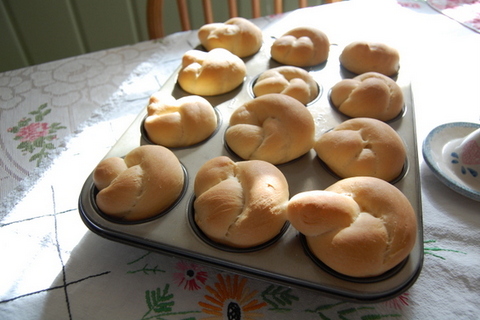 We can make basic rolls...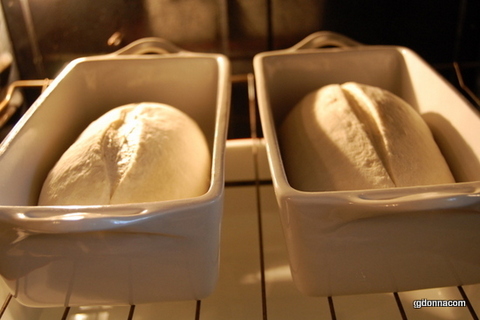 Bread......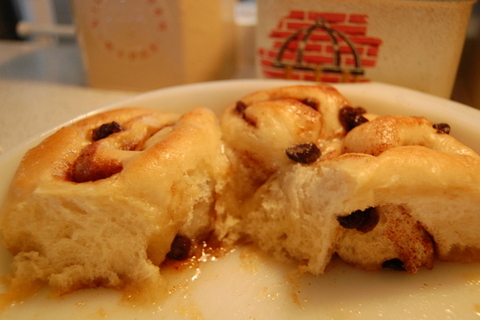 cinnamon rolls....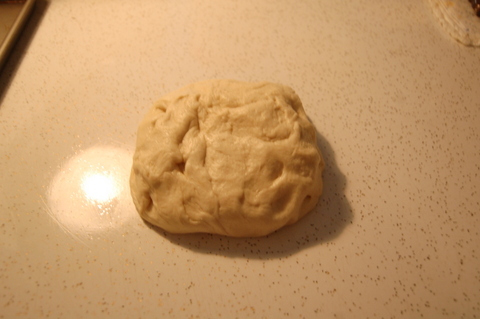 and this morning the dough is going to make hamburger buns.
This recipe can make all of these mentioned above and plenty more.
If using a bread machine,
2 Tablespoons extra light olive oil in the bottom of the pan. (you can use vegetable oil)
1 teaspoon bread machine yeast
Just under 2 tablespoons Sugar
2/3 cup warm water 105 to 110 degrees
2 Cups all purpose flour
1/2 teaspoon salt plus a pinch. Don't leave out the salt or it will taste bland.
Put on dough cycle and turn on....
Remove from pan after the machine has kneaded the dough and had first rise.
Remove the dough and use for either one loaf of bread, cinnamon rolls, buns, meat buns, anything you want.
It will need to rise one more time, whatever you are making and should rise for 45 minutes in a warm area of the kitchen.
Making by hand below
These are the same ingredients as above just in different order.
1 teaspoon yeast
just under 2 tablespoons sugar
2/3 cup of warm water 105 to 110 degrees
---------------------------------
2 cups flour
1/2 teaspoon plus a pinch salt.
2 Tablespoons extra light olive oil
Put the first three ingredients above into a small bowl and gently whisk just to combine and let sit 10 minutes so the yeast will start up.
In another bowl, put 1 and 1/4 cups of flour saving back the other 3/4 cup flour add the salt to flour in the bowl.
After the 10 minutes is up in the small bowl with yeast mixture, pour the yeast mixture into the flour, then pour the 2 tablespoons of oil and blend with spatula. Add the extra flour a little at a time until you can move the dough to a floured kneading board or clean counter that has been floured.
Work in the extra flour and knead by hand for 5 to 8 minutes... The amount of flour is all in how you work (knead the dough and the humidity).
I have other pages on making bread that you can refer to if needed.
Cover and let rise for 45 minutes in a warm place. I use my oven with the light on.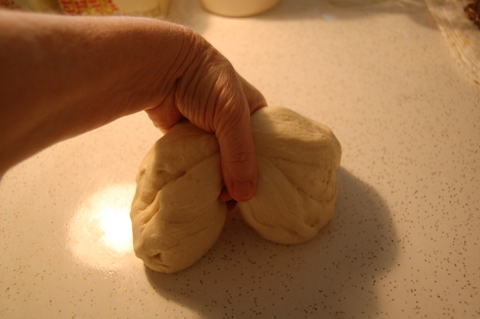 I am making buns....
I lightly grease my clean counter top....
after the dough has had its first rise, take the dough and pinch in half.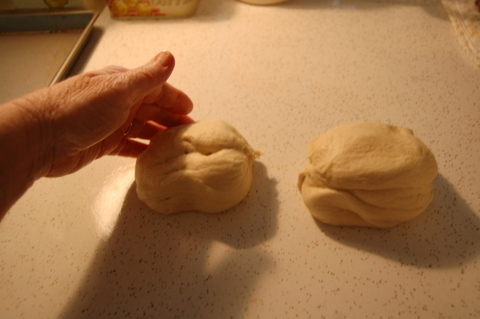 Now I am going to divide each of these 4 times.
Pinch in half and then pinch those two in halve then do the other piece until you have 8 pieces.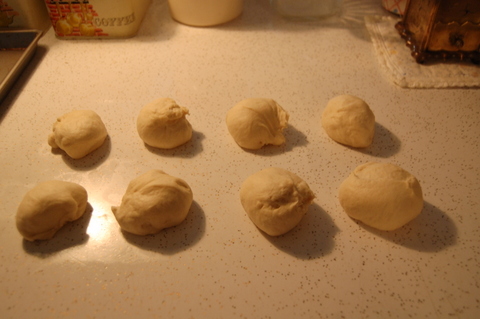 Like this....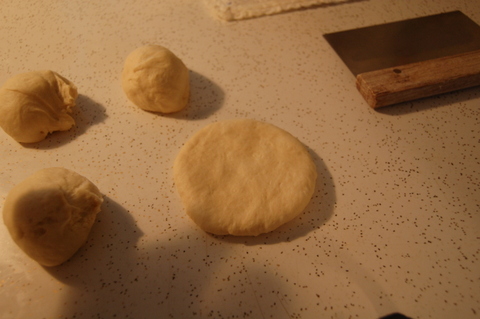 Press down...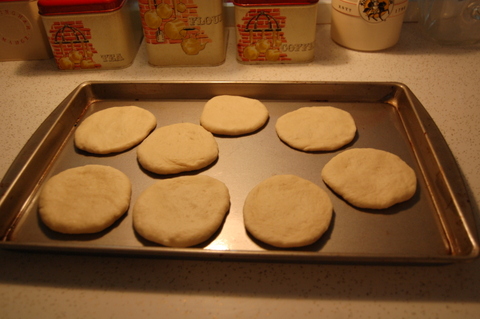 place on an oiled pan....
Place in a warm place for 40 to 45 minutes...... I use our oven with the light on. Then after the 45 minutes and they have risen it is time to bake. pre-heat oven to 350 degrees and bake 15 to 20 minutes, I normally put a piece of foil on the top after they have browned before the 20 minutes is up so they don't get too dark. Just watch them while they are baking.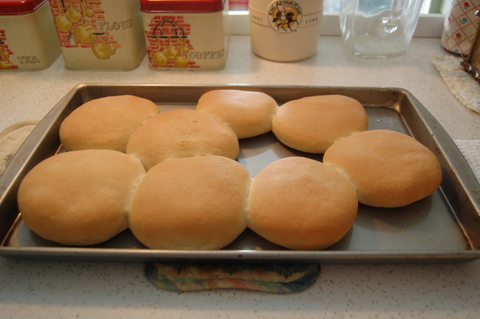 remove from the oven and remove quickly to a rack...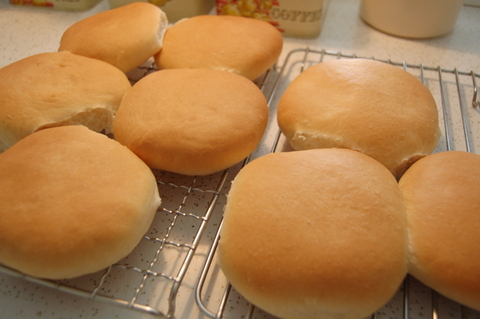 and let them cool.....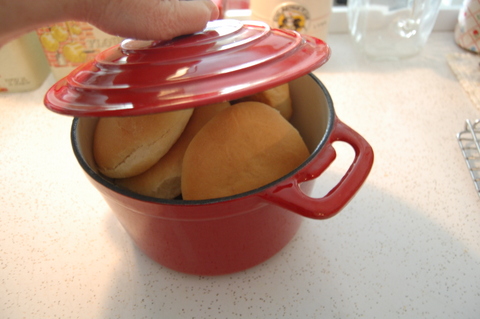 I keep ours in a large dutch oven after they have cooled....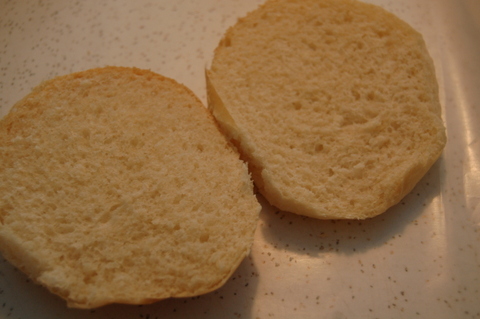 They are lovely soft hamburger buns...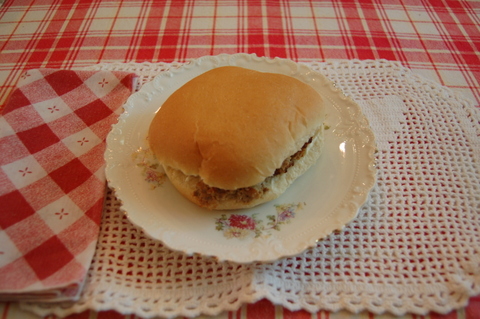 For lunch we had meatloaf and mayo burgers.... Grandma Donna