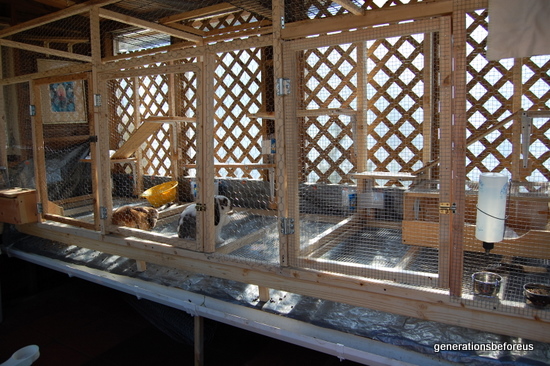 We currently have three bunnies. Carley, Cookie and Sugar. We adopted all three from situations. Carley is a dwarf lionhead bunny that stayed outside in a small cage and did not get much attention because her teenage owner was allergic to her.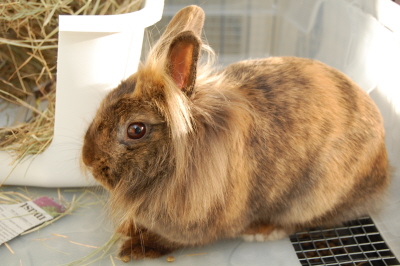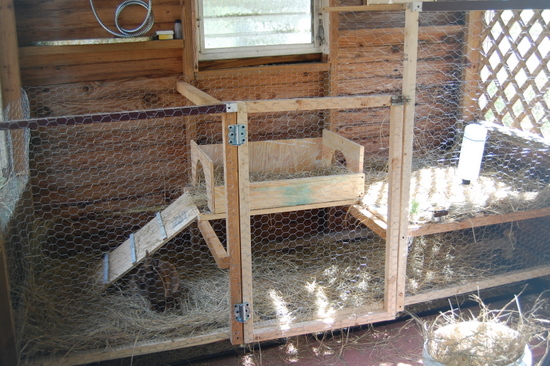 This was Carley's first cage. Looks good but not easy to clean due to the urine went back behind the cage and missed the floor pans. It always smelled and was not sanitary.
Then we adopted two neglected bunnies from the humane society that had been left in a much too small cage in a garage and did not get any attention. Cookie the floppy eared bunny was much too big for the shared cage and could not stretch up due to her height. Neither developed the use of their back legs very well. Sugar (brown sugar color) had very bad ear mites and a raging red bleeding ear. I was interested in having rabbits to use their poop for compost and gardening and to have rabbits for the grandchildren and generally for pets. I knew I did not want to keep them inside but did want them to have the best outdoor cage that they could have and get the attention they needed.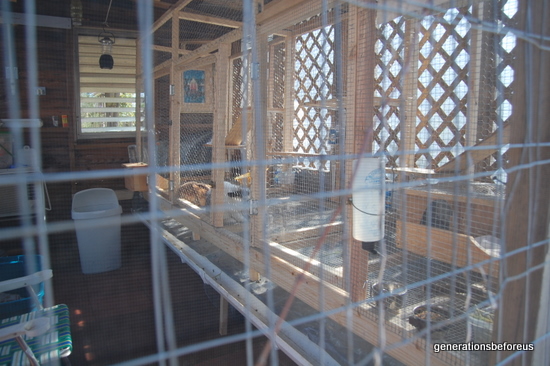 So we took a small screen house building that we had built a long time ago and converted it into a bunny house. Cookie and Sugar have a 8 foot long, 3 foot wide by 4 foot tall run/cage and Carley the little dwarf has a 4 foot long, 3 foot wide by 4 foot tall run/cage. We went through several cages before settling on what to do. I could not clean the others properly so I invented a new style cage.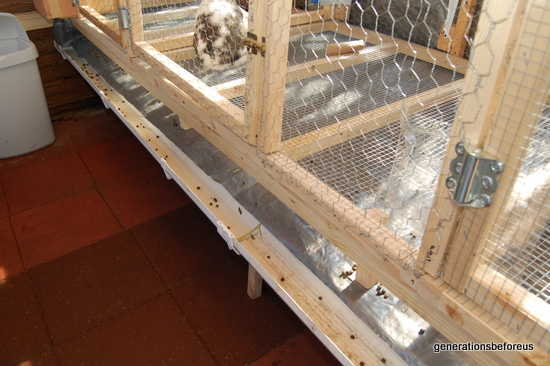 We built a lower tilting frame before building the runs so the poop and pee can roll down into a rain gutter and into a bucket and be sanitized and washed regularly. Now there is no more smell and very clean happy bunnies. I am soooooo pleased with their clean environment. They have plenty of play area and very high platforms to jump onto and to lay on to get off the wire bottom. We grow them fresh carrots, radishes and parsley and they get plenty of timothy hay and pellets. They also get cabbage and many other herbs like cilantro, mint, dandelions.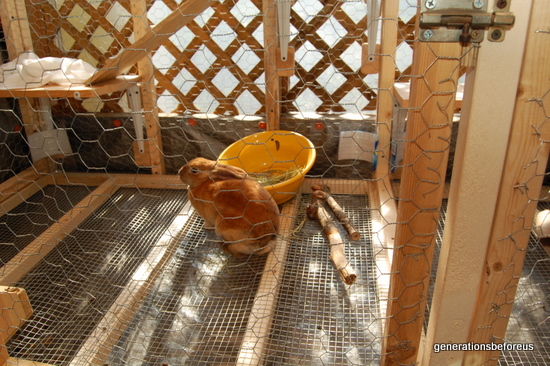 These bunnies did not know how to eat fresh food but learned very quickly.


This is one of their feeder boxes. It has a slotted board that drops the feed inside for a quick feeding if I am in a hurry or have an emergency and someone else can stop by and add feed from the outside of the cage. Otherwise I just put it inside the box.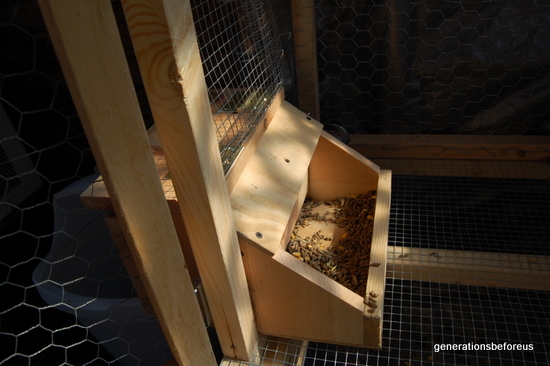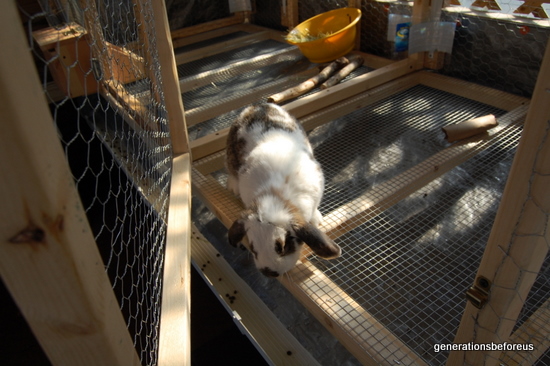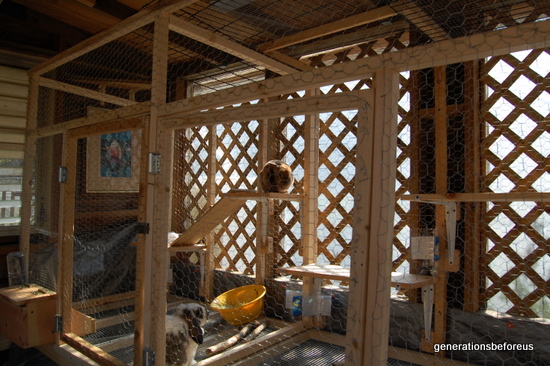 Sugar is up on the top platform and Cookie is looking up at her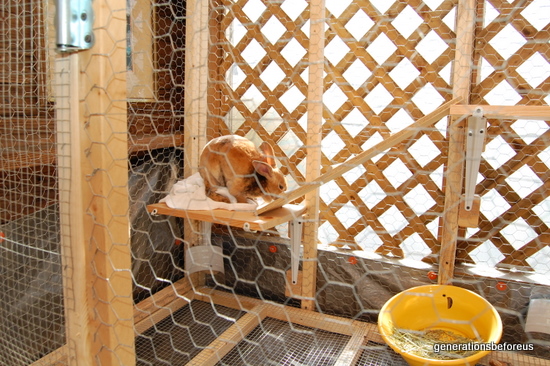 Sugar likes to run up and down on the slide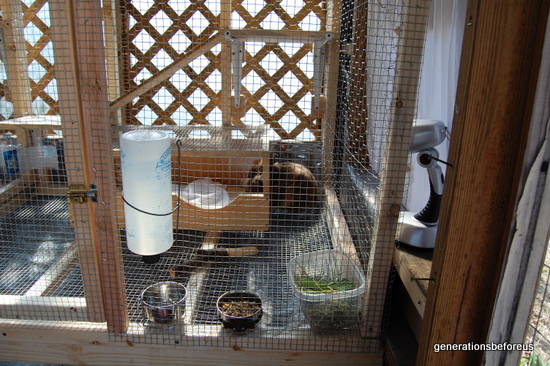 We would have put them all together but being all girls they did not get along. Carley guarded her territory with much threatening warnings so we gave her private space. Cookie and Sugar were already friends but were just annoyed with each other from living in cramped quarters. So this is our little set up at our little bunny house.
Since posting this page our Carley has passed away. We took her to the doctor but there was nothing he could do. Our house was Carley's second home so we do not know her living conditions before living with us. It appeared that she had cancer. We miss our little Carley.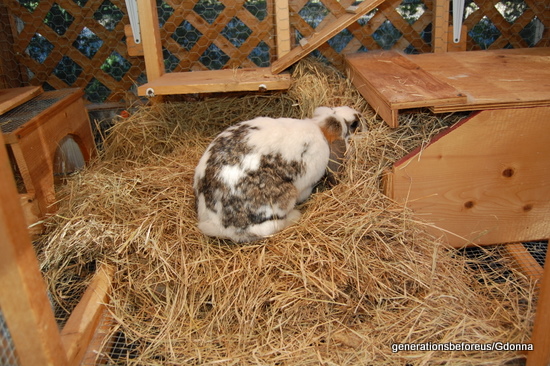 Cookie is so happy to see the new hay in their winter section of the cage. They can now re-arrange things and get their home ready for cold weather. I know they are happy the hot weather is leaving because their cage has been closed up with airconditioning most of the summer. Now Fresh air, cool temps and fresh bedding hay.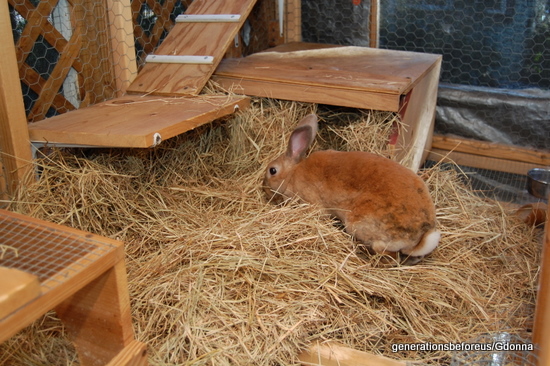 Sugar has found her area she will decorate while Cookie is in the box shifting hay.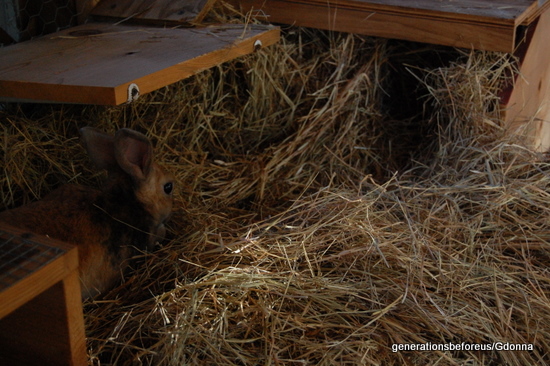 Sugar decides to nibble for awhile.