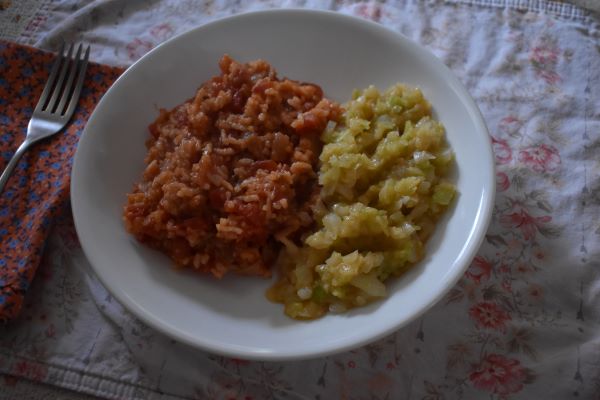 For those of you that are new to this blog, my husband Charles and I study history and we pick a particular year and try to live like that year for one year. We do not try to look the part or or pretend, I in particular have a desire to know and understand what it was like long ago in the home. Charles has always loved and studied history.
I have fond memories of life before it became complicated as it is today with modern things all about us. I do not like the sounds and smells today. Everything seems too loud and unleashed. Stores and homes smell of plastic and things that gas off and chemicals. I remember a time when life was not like this. Shoes were made from real leather and cobblers sewed them together and laundry was always hung on a clothesline outside in the sunshine or inside if it was raining and something needed to be washed.
But I wanted to know more about what life was like during my mother and Grandmothers and Great Grandmothers time before me and yes, I do wish so badly I had asked more questions.
We also wanted to feel it the best we can and understand it at a different level than what we read in books.
A friend of mine, Catherine, brought up maybe we could study and try and live like they did during world war 2 with the rationing and learn about war rationing. Catherine wanted to do this too so we did and then Charles and I kept kept going. But we jumped around to different years.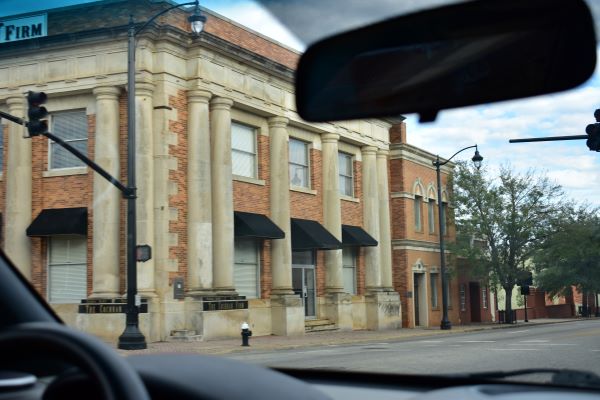 So this year is a repeat of 1932 because we were doing 1932 last year but the covid virus started and it was so difficult to focus.
But then there was something that happened this past Saturday and now everything changed. We made a discovery and we are moving to 1937 right away, actually this week.
Let me explain.
Each year we do these history projects we approach it differently. The first year we started we had no clue how to go about it and I found myself downtown every week trying to get a spot in the microfilm room at our library. We have to take turns and can only stay an hour. So I went back and forth to look through and print out the microfilms and I started books, lots and lots of books.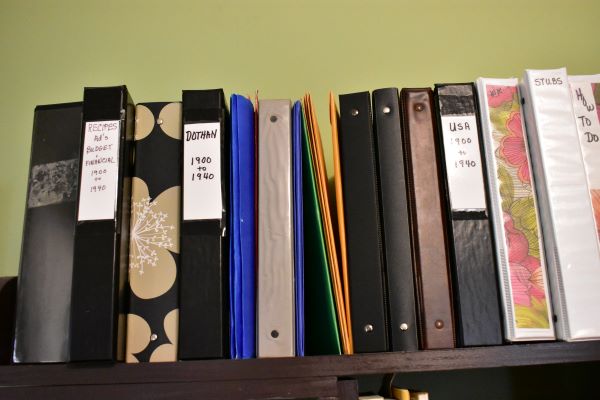 Then I started filling up the book shelf with notebooks I was filling with information from the microfilms. Then I did not have room so I put some things in boxes. Later I found journals and diaries. That is when things started making sense. We combined what we found in microfilms with the journals and the diaries and we started getting a better picture of what went on in the home.
I was excited about doing 1932 over again and mostly because I realized that this year we are on the same day. In other words what I read in the 1932 newspaper on Saturday January 23, it is Saturday January now in real time. I was most excited because I like to read the grocery ads and wanted to follow along shopping what was on sale even though it really is not on sale but interesting to know what kind of food they could purchase.
The paper I follow is the microfilms from our local paper.
But then this past Saturday I was reading Fridays paper because I had not read it and I saw this.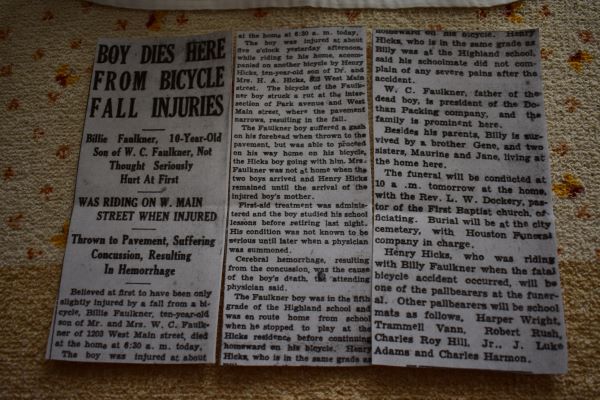 I read this article above. (I will type out the article so you can read at the bottom of this post)
A ten year old boy named Billie had fallen off his bike and had died from a unrealized head injury. He had fallen off his bike very near to where we live!
Then I read, he fell off the bike on Thursday and his funeral was Saturday. This Saturday that I was reading the paper! I actually yelled out, we have to go to Billie's funeral!! I explained to Charles the article and looked at him and said, we have to go find Billie! He is being buried today, 89 years ago!
Now I understand you might think I have lost my mind doing these studies but this was emotional for me because in seconds I realized that most likely Billie no longer has family around to visit his grave.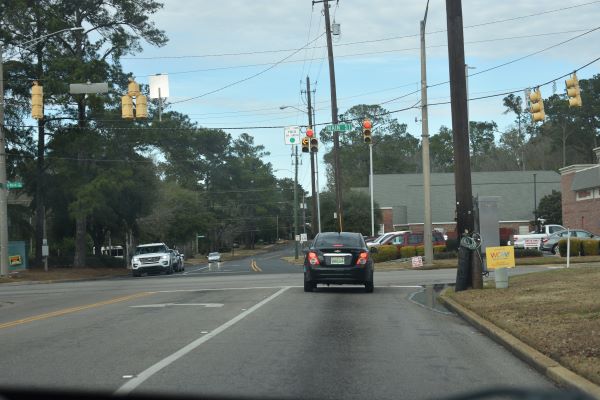 This intersection would look much different in 1932 but this is where Billie fell off his bike. This road would have been dirt and Main street was pavement. This would be most likely a stop sign but this is something I have not studied as of yet, when did Dothan get red lights.
Billie was riding along with a friend named Henry. Billie had abrasions on his head but seemed okay. He got on his bicycle and rode home, Henry followed along and stayed with Billie after they got to Billie's house and when his mother got home she cleaned his scrapes. Later they had to summons the doctor and unknown to them, ten year old Billie had a concussion and died early the next morning from his injuries.
So we went to find Billie's grave.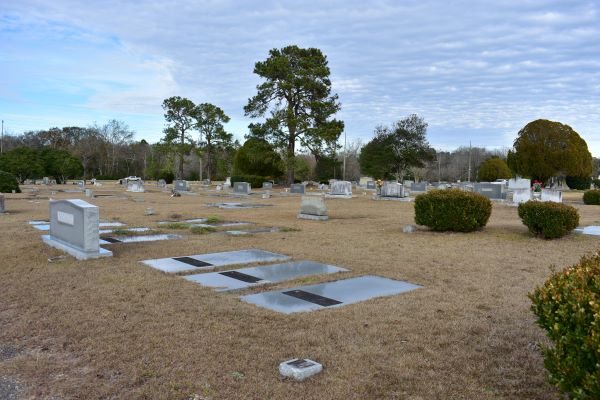 It is a large cemetery and well kept. This is a very old cemetery in Dothan. The city cemetery and it is maintained regularly.
Charles and I walked up and down and split up a few times and kept searching.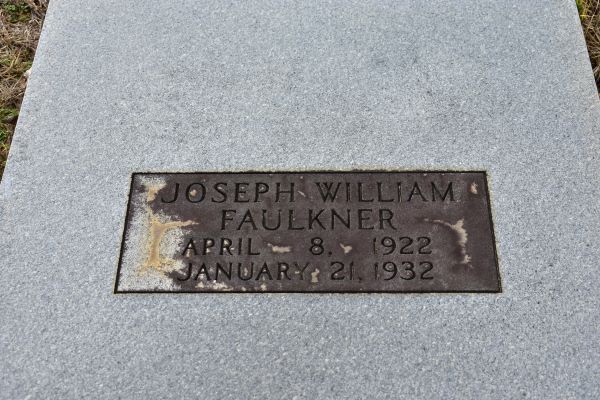 Then we found Billie. His formal name, Joseph William Faulkner. We were standing at his grave on the exact day and month 89 years later. He was buried next to his parents but his parents were still alive for many more years after Billie was buried here.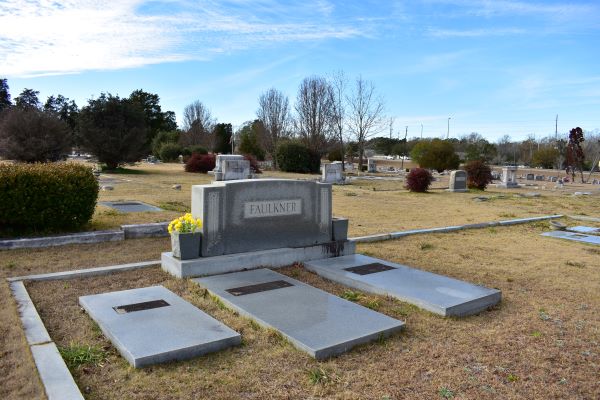 We put flowers on the grave. I could tell the urns had not had flowers in them for many years as many of the vases are empty of flowers in the older sections.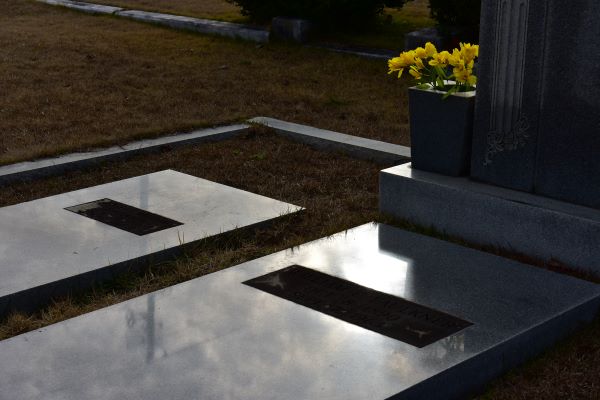 I have studied our family genealogy for many years and so Charles and I often go to graves looking for our ancestors and the information that may be on their headstone.
This gave me a different perspective of these graves. Billie's family was a well known prominent family in Dothan. His father was the president of Dothan Packing company. But time goes by such as this 89 years and families scatter. New generations come and older pass away and before long there is often no one to visit the graves. Maybe we should adopt a grave? Possibly find a grave that needs tending to and also find out about that person that is buried in that grave.
If everyone would just adopt one grave it would make a difference. It just seems the right thing to do. Billie's grave is kept well because of where it is but so many are not. At least this past Saturday Charles and I stood at Billie's grave on the day and date he, 89 years after he was buried and left behind some bright yellow flowers.
I am certain that BIllie is not in that grave, he was in a wonderful place we call heaven that instant he departed Friday January 22, 1932 and this was only his earthly tent buried in this grave.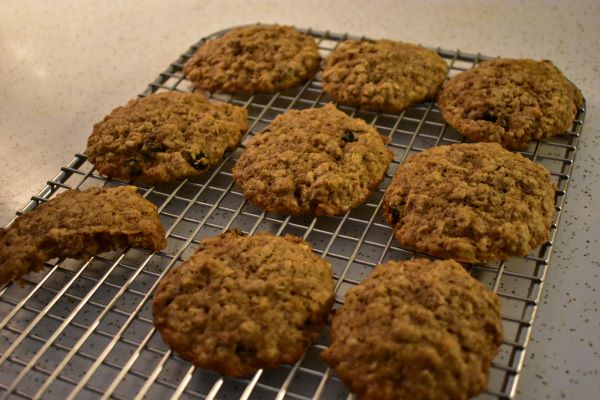 We came home and Charles decided to make the oatmeal cookies that were in the 1932 recipe I posted the other week.
We continued on our weekend together but something was on my mind. I was thinking about how important it was for this study to follow along the year we are studying to be on the same day as the paper so we can get the grocery ads on the same day we really are on. I had known this when we started this year but then Charles and I discovered that we can only be on the same day until February 28th and after that we would be one day off.
It was due to last year being a leap year. It is too complicated to explain, complicated for me that is, but 1937 is the only time we can get back on track to be able to use Journals, Diaries and news Microfilms.
If we move there now, we will be on track to do this for 4 years in a row before it changes again.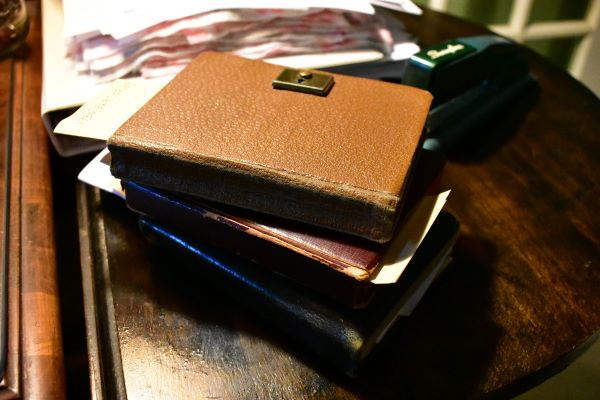 I have three 1937 diaries I can follow along and then the microfilms.
I have to read and absorb what I learn then sometimes I make a change to our home to make it feel more like the time we are studying and why our home is a mismash of different eras. This is the way I look at it.
If I am an adult and living in a certain year, let us say 1937 ( I am talking about someone really living in 1937) Then my home is like it has been for many years.
My furniture is not new, the dresses in the paper are not the ones I am wearing. I may or may not try the recipes in the paper because I already cook the food that I have for years and times are difficult because of the great depression.
If I am 40 years old in 1937 then I was born in 1897. I lived most of my life without a automobile, electricity and running water and most likely used a wood, oil stove or still do use one as many people did depending where one lived.
But some of the people were changing but very slowly because in 1937 the great depression was just ending and things had been very difficult. If there had been a change it was most likely in the 1920s because people felt or were led to spend more freely and modernize.
Modernization was always being pushed along. Advertising was really pushing change during these years. But at the end of the 1920's things fell apart and people with debt were in big trouble.
So if I were truly living in 1937 I would be cautious and little did they know that they were not finished as another world war was about to happen sooner or later depending on what country one lived.
All of our studies have led us to understanding so much more than we ever did because what we learned was from books and school. This way that we study we are not just reading but we are starting to understand it a lot differently.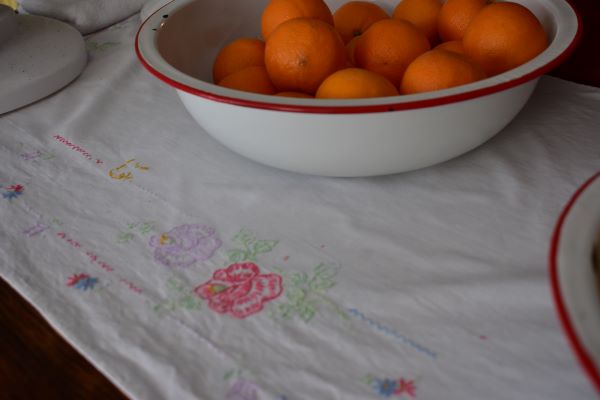 The article for Billie.
BOY DIES HERE FROM BICYCLE FALL INJURIES
Believed at first to have been only slightly injured by a fall from a bicycle, Billie Faulkner, ten year old son of Mr. and Mrs. W.C. Faulkner of 1203 west Main Street, died at the home at 6:30 a.m. today. The boy was injured at about five o'clock yesterday afternoon while riding to his home, accompanied on another bicycle by Henry Hicks, ten year old son of Dr. and Mrs. H.A. Hicks 803 West Main Street. The bicycle of the Faulkner boy struck a rut at the intersection of Park avenue and West Main street where the pavement narrows, resulting in the fall.
The Faulkner boy suffered a gash on his forehead when thrown to the pavement, but was able to proceed on his way home on his bicycle, the Hicks boy going with him. Mrs. Faulkner was not at home when the two boys arrived and Henry Hicks remained until the arrival of the injured boy's mother.
First-aid treatment was administered and the boy studied his school lessons before retiring last night. His condition was not known to be serious until later when a physician was summoned.
Cerebral hemorrhage, resulting from the concussion, was the cause of the boy's death, the attending physician said.
The Faulkner boy was in the fifth grade of the Highland school and was en route home from school when he stopped to play at the Hicks residence before continuing homeward on his bicycle. Henry Hicks, who is in the same grade as Billie was at the Highland School, said his schoolmate did not complain of any severe pains after the accident.
W.C. Faulkner, father of the dead boy, is president of the Dothan Packing company, and the family is prominent here.
Besides his parents, Billie is survived by a brother Gene, and two sisters, Maurine and Jane, living at the home here.
The funeral will be conducted at 10:00 a.m. tomorrow at the home with the Rev. L.W. Dockery, pastor of the First Baptist Church officiating. Burial will be at the city cemetery, with Houston Funeral company in charge.
Henry Hicks, who was riding with Billy Faulkner when the fatal bicycle accident occurred, will be one of the pallbearers at the funeral. Other pallbearers will be schoolmates as follows. Harper Wright, Trammell Vann, Robert Rush, Charles Roy Hill Jr., J. Luke Adams and Charles Harmon.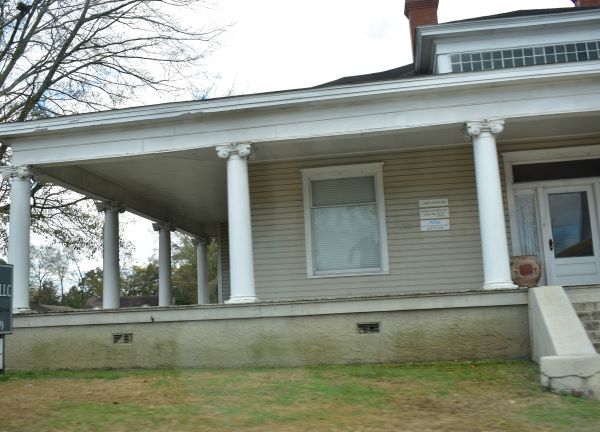 I did some research and found that Billie's friend Henry lived in this house above. His Father was a Dentist. Dr. Herbert Hicks. I was snapping pictures of houses on the way to the cemetery and accidentally caught a quick picture of Henry's house. When I looked up the address when I got home I realized I did get a picture. I could not find Billie's house but it was only two small blocks from where he fell off his bicycle.
Henry went to Auburn University to study dentistry but then world war 2 started and Henry joined the Navy.
Billie's parents and siblings have all passed away now. His father in 1963 and his mother in 1950 and his siblings before we turned another century.
I have some catching up to do, I am trying to read all I can for January 1937. I need a new plan on how I will do this year, last night I was not all that excited about going to 1937 but then I realized I will be studying the years between 1932 and 1937 anyway.
I hope I have not confused you with our changes. We will simply continue living more like the past as we have been doing and when I find something interesting I will share it with you. Grandma Donna