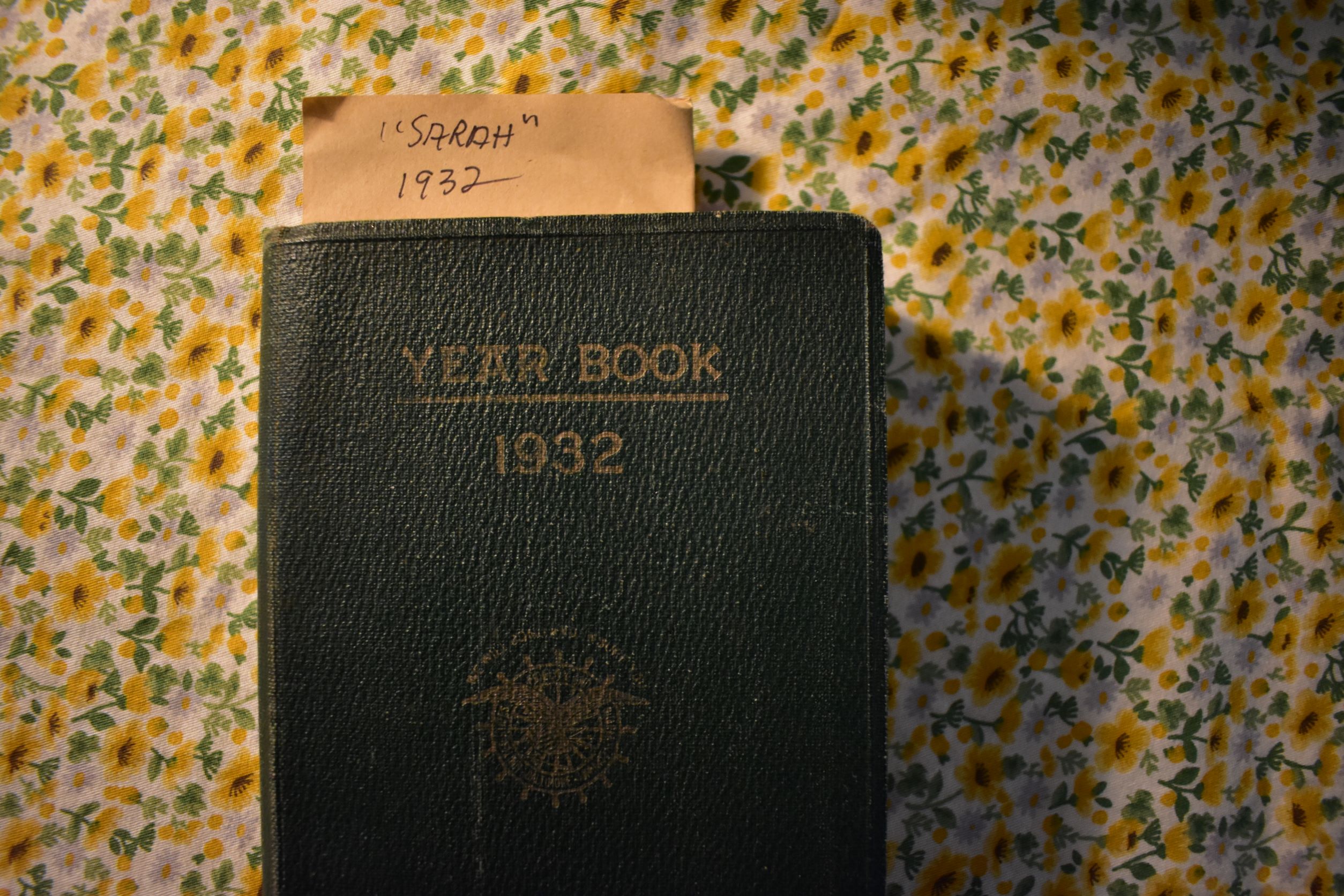 We continue this weeks diary reading of Sarah. When we left off last week Ernest was there for supper and Sarah had made Cherry Tapioca.
Sunday, January 17, 1932. Rain, Rain, Rain the whole day through and heavy at that - don't know if I ever saw so much water fall in one day. Arose almost 5:20 as usual & attended to the breakfast work - then devoted my time to dinner preparations. We entertained to dinner. Mr. & Mrs. Henry Cooper and fam, Mr. & Mrs. Ellison Taylor, Mr. and Mrs. Ralph Green and Esther, Mr. and Mrs. Ralph Dickey and daughters, Mr. and Mrs. Harry A Sutter & family, Sarah Farmer & Edwin Harbach. The dinner was quite a success in every way. After dinner we all visited the rest of the afternoon. Usual evening tasks. Ernest called to say they would not be here until Monday evening 10 o'clock.
Monday, January 18. A beautiful day - bright, clear, & cold. Got the breakfast and early morning tasks out of the way and planned to get at the washing quite early but then that and the other hindered until it was 10 o'clock or later before I got started. Had a big washing which too me until after 12 o'clock, Dinner. This P.M. I hung the line full and also the rack and still had more in the basket. Collected items of news this P.M. Usual evening tasks. Supper, Ernest, Vera & Jimmie here.
Tuesday, January 19. Still clear and cold about as fine winter as we have had. Got through with the preparations and breakfast then settled. Down to copy the news items as I did not ever get a start last evening. Have copied only a short time when Roy and Harry arrived and,, as the men had both gone butchering I went out and lent a hand helping to load the calf. Finished my news and took it to the mail -box. Sat to the morning work - eat dinner, made preparations and ironed all this P.M. usual evening tasks & supper.
Wednesday, January 20. Warmer and cloudy all the day. Had the usual morning tasks to see to. Helped father get ready for town got the hog & calf checks settle up with Frank and baked bread and Kuche. Had dinner ready when the men returned and after dinner I fixed up the check book and they left for Lebanon to pay the tax. Finished the ironing this P.M. and got things put away. Usual evening tasks and supper. The men went to Germantown when they got back from Lebanon and sold their trash tobacco. Today turkey here from L.M. Waller to replace the one that died about a year ago.
Thursday, January 21. Cloudy all this A.M. and raining all the afternoon and evening. Had the usual early morning tasks, and just after breakfast, settled down to finish mending father's black Jacket which took me some time. Carried some of the things upstairs rooms in order. Prepared and served dinner which was late and the Raleigh man called just as dinner was ready. This P.M. father & I were busy all afternoon cleaning up the chicken house & breeding room. Evening task, sleepy and tired.
Friday, January 22. Cloudy but no rain. Had the usual morning tasks to see to. Put quite a number of new hens nests in the Breeding Room. Mrs. Green and Ralph made us a visit. Prepared and served dinner. Gave over bedroom a special clean - up while the inner was cooking. This P.M. I cleaned out the parlor stove & started a fire. Worked in there for a time. Went with Joseph to make a call on Dan Singer & found him quite a bit worse today. Home for evening tasks and supper . Sleepy
Saturday, January 23. Cold and cloudy again today. Had the usual early morning tasks to see to and helped Joseph off to town. Baked pies, bread and Kuche. Dinner. this P.M. I made some cream tapioca, dressed and cut up a chicken, started a fire in the parlor - preparations of cleaning up the room. gave the living-room and kitchen an especial clean - up usual evening tasks to see to. Ernest, Vera and Jimmie here for supper and the evening mending. A bath.
End of this weeks diary reading from Sarah's diary. See you around about next Tuesday to continue the diary reading of the diary of Sarah. Grandma Donna