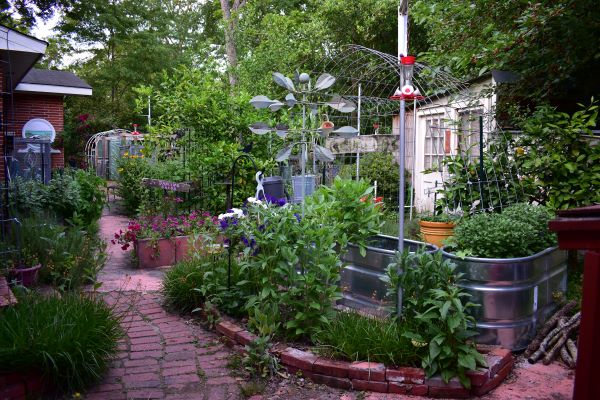 This is our backyard from what we call the bottom end. Our yard is like a triangle. It is not a big yard. Each year we change and add new things after observing what worked and did not work. Gardening is different each year because of wet or dry or hot or cold, pests are worse some years.
We are at a point in our small space that our perennial plants are set. These produce each year on their own now. These are lemons, satsumas, berries, plums, pears, peaches, apples figs. Some are still young and some mature. Then we have our annual beds where we plant our vegetables and a few annual flowers. We do have vegetables that are perennial such as our asparagus.
Our herbs either stay all year around or come back in the spring. We have reduced the variety of vegetables we grow. Now we grow potatoes, zucchini, beans, tomatoes, cucumbers, lettuce, cabbage, carrots, okra and onions and garlic. Occasionally we will try another vegetable.
We are trying to have some kind of food growing all year around. Winter is challenging but there are a few things that will grow such as carrots and kale, sometimes cabbage will hang on, our celery grew all winter this past winter and things such as that.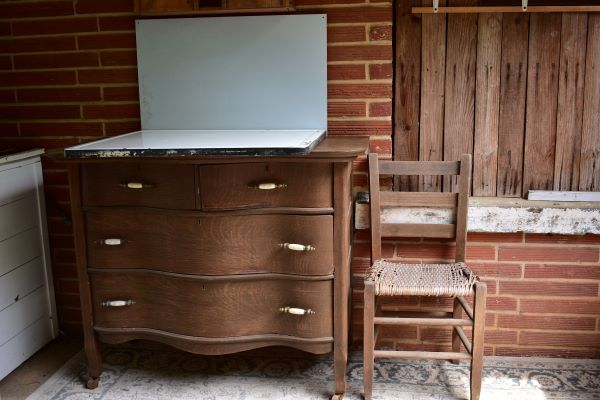 We are finding ways to cook without using electricity or fuel, I mentioned that in another post. Charles made us a different version of a wood burning stove with a vintage touch.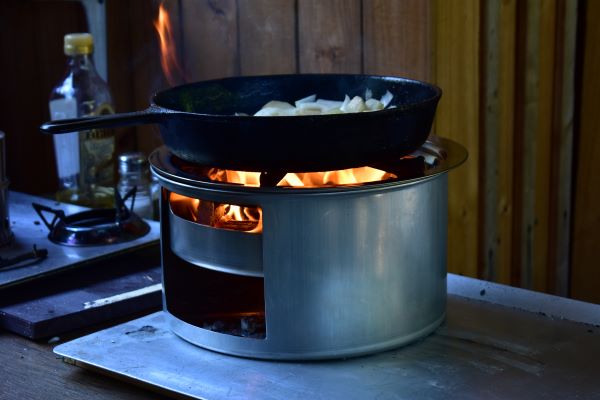 We started experimenting a new way with cooking with wood. We would love to have a real wood cook stove but we do not at this time, so this is called a wood burning stove and we got it from Amazon. They make small ones and large ones and this was a more expensive and it is called a Yoler and was $69.99. We are not affiliated in any way with this item, just sharing what we do here.
When doing things that are new for us we have to practice first and we learned the best way to use a new to us item. Charles found that to cook on this kind of stove is to start the wood and make some coals and then add the small pieces of wood to it when it is hot. It keeps the smoke down and controls the heat.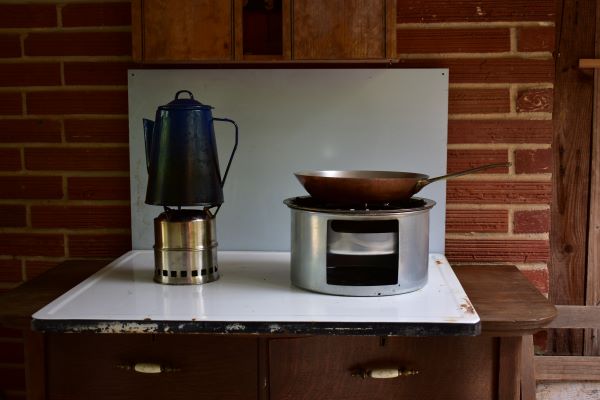 So he used this old dresser that has issues with it's drawers and an old enamel table top that we had without a table and an old enamel back splash that we had. Any meals cooked here under our carport can be cooked without any fuel or utility cost or we can set our fuel stove on it as well. This is completely off grid cooking. This was our budget way of having a wood burning stove.
Of course cooking with wood must be monitored until everything is finished and completely burned out and why we have two rocking chairs near by this cooker.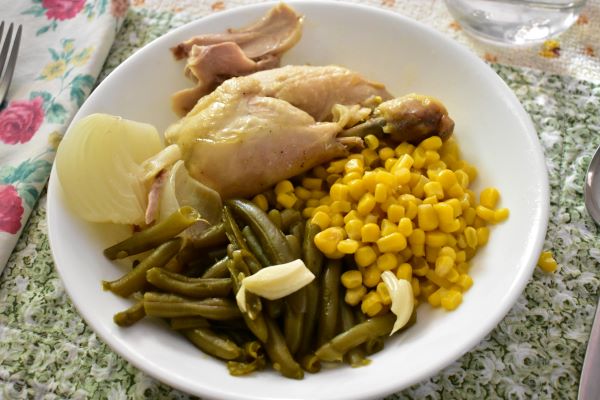 This chicken was cooked in the sun oven. It was a whole chicken baked in a dark pan with a dark lid in the sun oven.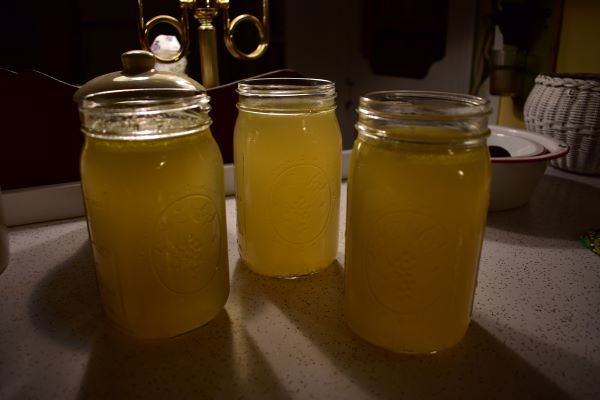 I took all the bones and carcass from that chicken and boiled and then simmered it to make bone broth. I have already made chicken and dumplings with some of this using the left over chicken.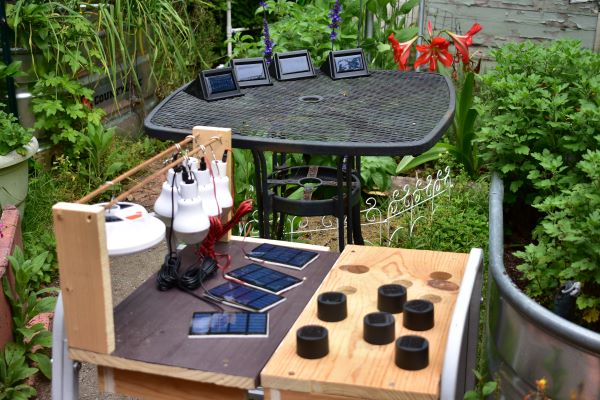 For some of our not so vintage living, Charles built a rolling cart to charge our solar bulbs and lights. we can roll it to where the sun is. This is for living with less electricity and also for power outages.
The lights on the black iron table are lights we use on our floor at night so when we walk through the house, the sensor turns them on so we do not trip in the dark. These are simply outdoor solar lights that go completely off and then turn on when someone or something walks by the sensor. Got them on Amazon.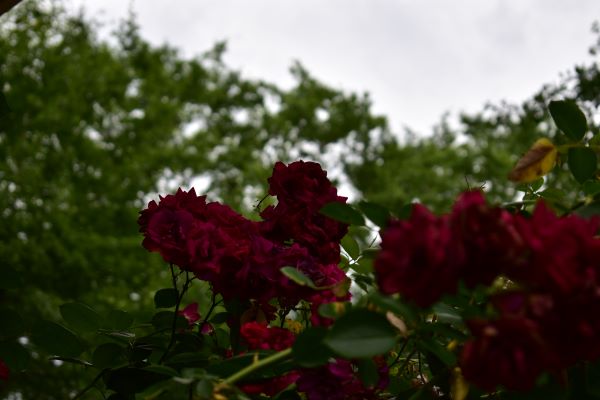 The rose arbor has been just beautiful. I barely could snap this shot of the top of the arbor.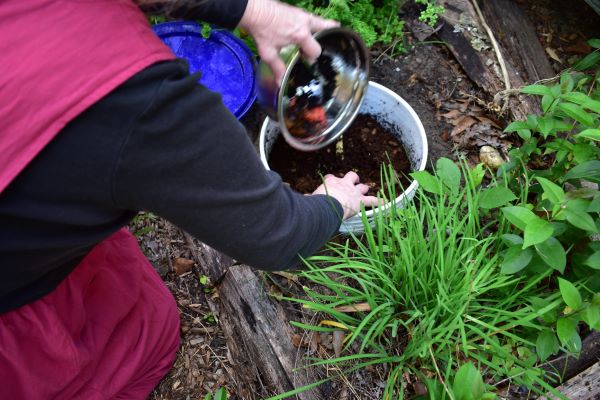 I am out feeding scraps to the composting worms. They are hanging in with us as we are figuring out how often to feed them. I am monitoring the moisture in the bucket.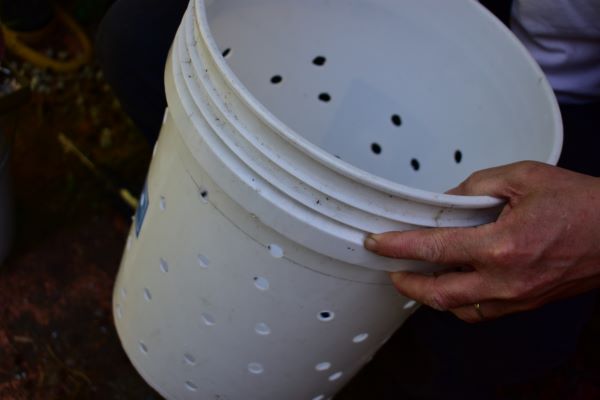 Charles drilled holes in the sides and bottom before putting it down in the ground. The worms can go in and out making castings as they move around in the beds.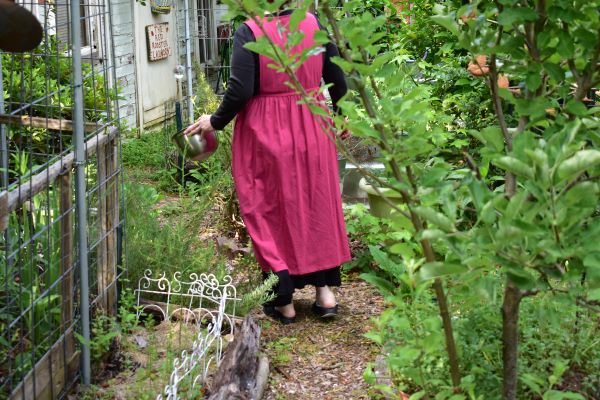 We have two worm compost bins buried in the garden. It has been breezy the last couple of days and so I have been out and about stopping to pull weeds and peeking in on how everything is doing. Waiting for the zucchini seeds to germinate.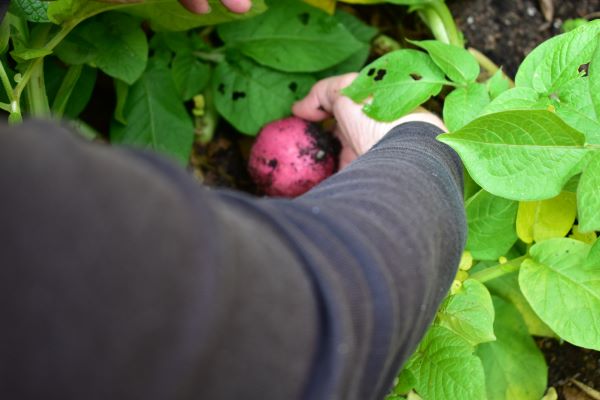 I was surprised to find our red potatoes are ready to be harvested.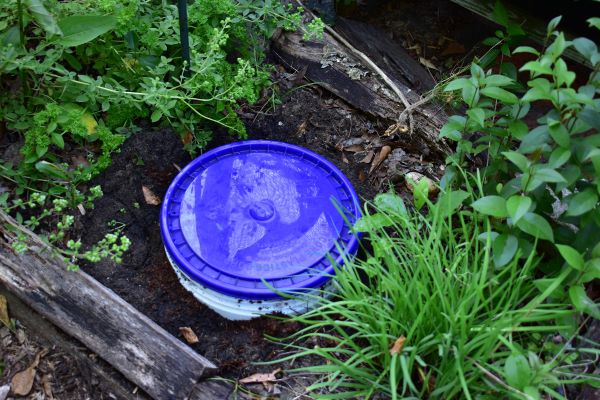 Here is another worm composting bin. It is new garden fun to walk outside and feed the worms. :)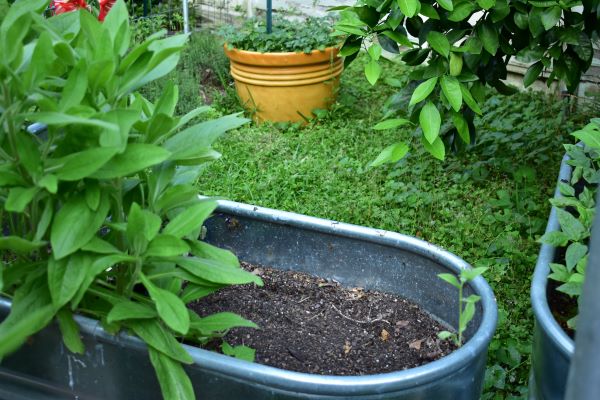 There are very few blank spaces in the garden but this one is where I have just planted zucchini seeds. The zucchini's are planted in different locations. I am trying a bit of polyculture gardening this year. Gardening is never boring around our house because it is more of a science lab.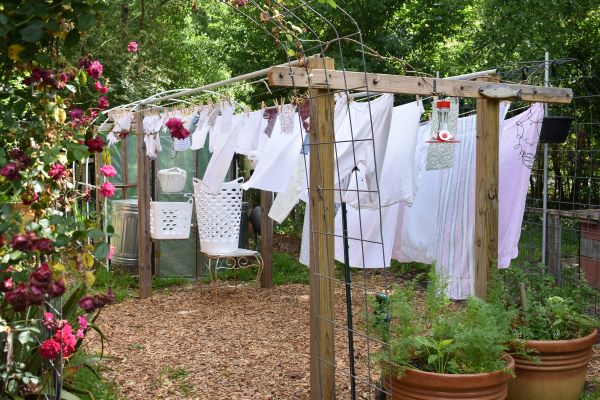 Another no cost area of solar drying. :)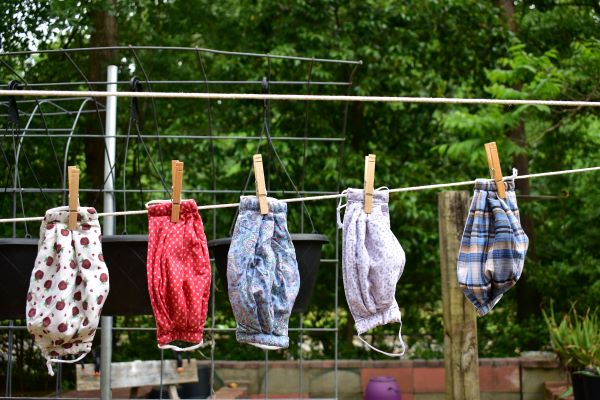 These masks hanging to dry remind me how I love Charles attitude about life. He flows with it, does not argue about it, he is the person that slides over on a bench to make room for someone to sit. He says yes sir when something new is added to his work. He listens pretty well considering most people do not listen anymore.
He does whatever it is that needs to be done and he has never complained once about wearing a mask 5 or more days a week, many hours per day for fourteen months at this time. Thank you Charles for protecting us, I love you.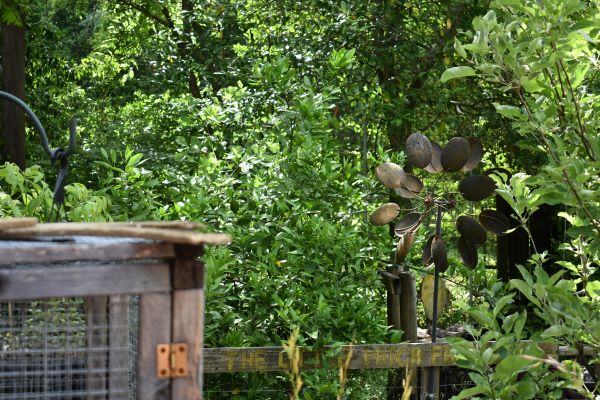 We are trying to use every bit of our space that we are living on. If something does not work we try something else. But trying is the most important thing to do.
We wasted a lot of money when we first started because we did not see the whole picture. It is too expensive to garden if we do not understand what the garden needs. We must have a way to amend the soil or otherwise we will be constantly purchasing soil. We must make the roots and stems strong so we need to be careful about watering too much so they will dig down deeper for water. Don't put a compost bin near trees if it is not going to be turned because tree roots will take over the compost bin.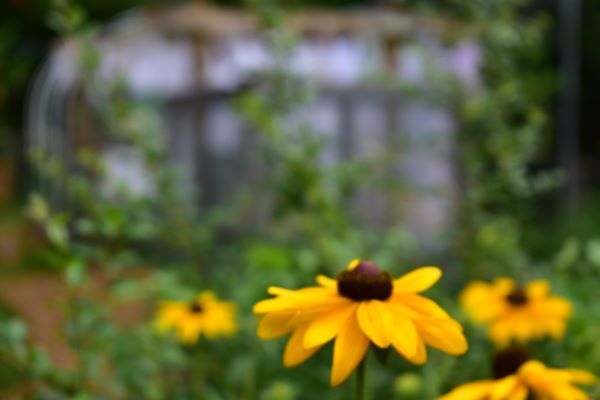 We need to learn how to save seed so we must study and practice. Some seeds need to go through a cold period so we find a way to do this but first we must study.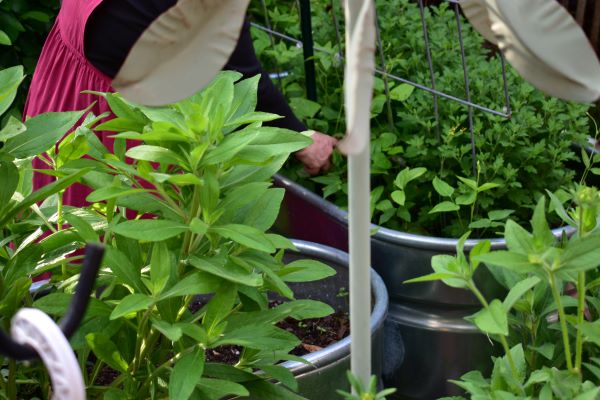 I don't know how much longer I have here on this earth but I want to experience so much more. I do not want things of today, I want knowledge, peace that comes with knowledge and joy from watching nature. We do not have open land or beautiful cliffs, an ocean to watch. We do not have a farm or farm animals. But we do have a plot that is a simple lot that our house sits on. And that is just enough to make a small food forest. It is not the forest yet but becoming one.
If I had only a balcony or patio I could still have a food forest in a micro way.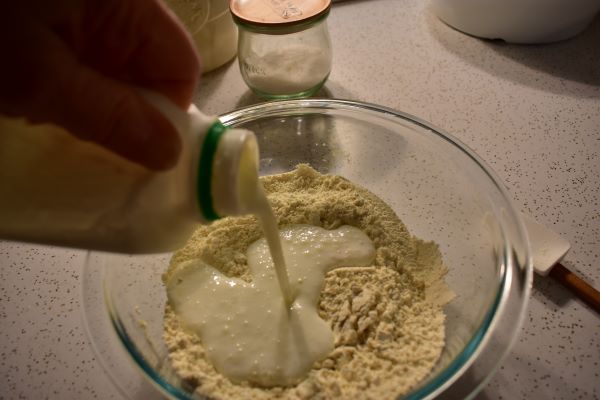 On days that it is rainy or too hot there is plenty to do inside. The outside of the home is just the extension of the home. Our inside is as interesting as our outside because we make it that way.
I hope that you find happiness in something in this post.
I will leave you with a wonderful video about waiting for something to happen. Are you waiting for something to happen? I like the part about we live within the limits we set for ourselves.
https://www.youtube.com/watch?v=pAhXxfOhsmM
Grandma Donna