I am hoping this will be easier to read the way I have done the diary this time. This is the diary of Theodore and Nellie 1905 that we read last month, the month of January.
If you missed January it is at the bottom of this post linked here. http://gdonna.com/living-like-the-past/how-do-we-f...
Now to Theodore, February 1, 1905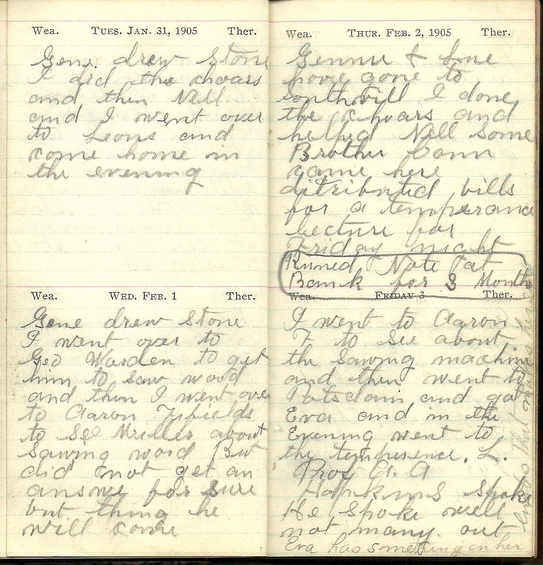 Family, Theodore (writing diary) wife Nellie, daughter Eva, son Gene and his wife Lila and baby Lucille. They drive horses and wagon also have buggy. When Theodore says they drew stone, it is my understanding that he is meaning drove or carried. Imagine hitching the team of horses and wagon loaded with stone or wood and drew (drove/ carried) the stone to a location. They also drew as in carried it from the river. Theodore uses the term Gennie and I cannot find anyone in the family called Gennie and possibly he calls Gene, Gennie as a nickname such as someone would call Timothy Timmy or Tim or William as Will, Willy etc. We are considering the time also being it is 1905.
Feb 1
Gene drew stone. I went over to George Warden to get him to saw wood and then I went over to Aaron Fairfields to see Mr Ellis about Sawing wood but did not get an answer for sure but think he will come.
Feb 2
Gennie and Lyn have gone to Southville, I done the chores and helped Nell Some. Brother Conn came here distributed bills for a temperance lecture for Friday night. Runned note at bank for a month.
Feb 3
I went to Aaron Fairfields to see about the sawing machine and then went to Potsdam and got Eva and then in the evening, went to the temperence L prof A.A. Hopkins spoke well, not many out. Eva has something on her legs that makes her itch.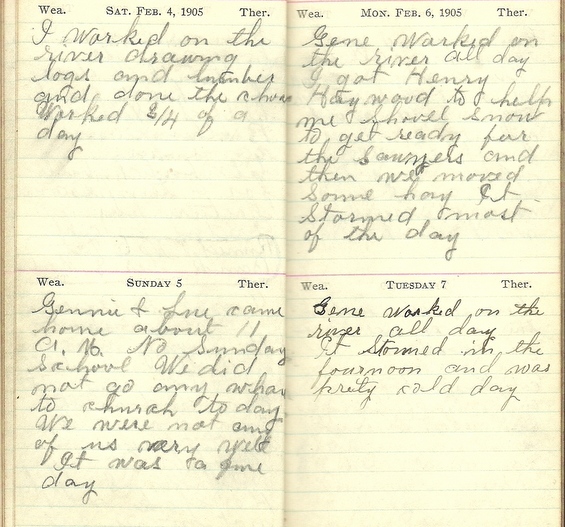 Feb 4
I worked on the river drawing logs and lumber and done the chores. Worked 3/4 of a day.
Feb 5
Gennie and Lni came home about 11 A.M. No Sunday School. We did not go anywhere to church today. We were not any of us very well . It was a fine day.
Feb 6
Gene worked on the river all day. I got Henry and Haywood to help me Shovel Snow to get ready for the Sawyers and then we moved some hay. It stormed most of the day.
Feb 7
Gene worked on the river all day. It stormed in the fournoon and was prety cold day.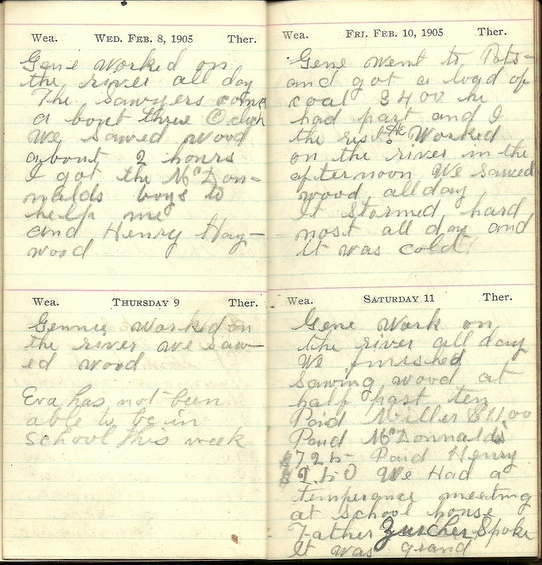 Feb 8
Gene worked on the river all day. The Sawyers come about three o clock. We sawed wood about 2 hours. I got the McDonald boys to help me and Henry Haywood.
Feb 9
Gennie worked on the river we sawed wood. Eva has not been able to be in school this week.
Feb 10
Gene went to Potsdam and got a load of coal. 84.00 he had part and I had the rest. He worked on the river in the afternoon. We sawed wood all day. It stormed hard most all day and it was cold.
Feb 11
Gene worked on the river all day. We finished sawing wood at half past ten. Paid miller $11.00 Paid McDonalds $7.25 Paid Henry $2.50. We had a temperance meeting at school house Father Zuscher Spoke it was grand.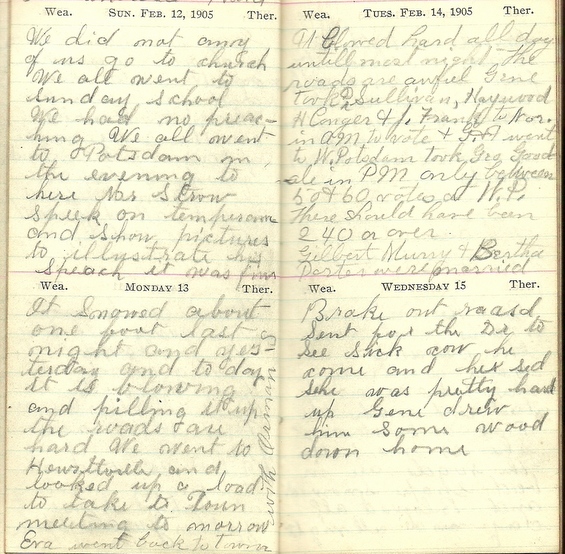 Feb 12
We did not any of us go to Church. We all went to Sunday School. We had no preaching. We all went to Potsdam in the evening to hear Nas S Crow speak on temperance and show pictures to illustrate , his speech it was fine.
Feb 13
It Snowed about one foot last night and yesterday and today it is blowing and pilling it up the roads are hard. We went to Hewitville and looked up a load to take to town meeting tomorrow . Eva went back to town with Orman S.
Feb 14
It blew hard all day until most night. the roads are awful. Gene took? Sullivan, Haywood H Conger and J. Frank to Nor. in A. M. to vote and G.A went to W.Potsdam took George Goodale in P.M only between 50 & 60 votes at W.P. There should have been 240 or over. Gilbert Murry & Bertha Porter were married.
Feb 15
Broke out road Sent for the DR. to see sick cow he come and he said she was pretty hard up. Gene drew him some wood down home.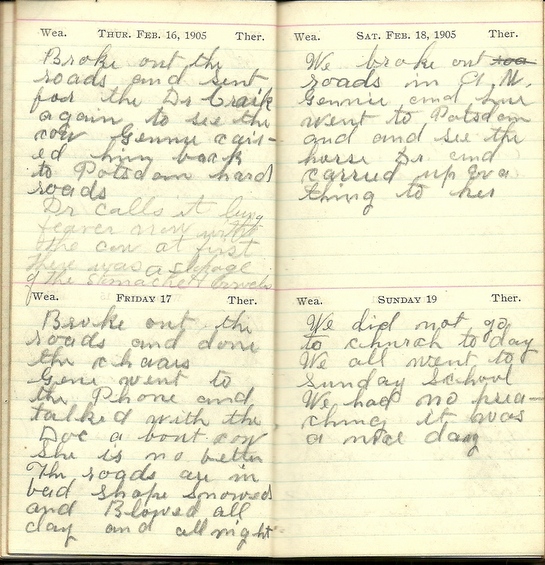 Feb 16
Broke out the roads and sent for the Dr. Craik again to see the cow. Genni carried him back to Potsdam hard roads. Dr. calls it lung fever ? with the cow at first there was a slepage of the stomach and bowels.
Feb 17
Broke out the roads and done the chores. Gene went to the phone and talked with the Doc about cow. She is no better. The roads are in bad shape. Snowed and Blowed all day and all night.
Feb 18
We broke out the roads in A.M. Gennie and Lui Went to Potsdam and and see the horse Dr and carried up Eva thing to her.
Feb 19
We did not go to Church today. We all went to Sunday School. We had no preaching it was a nice day.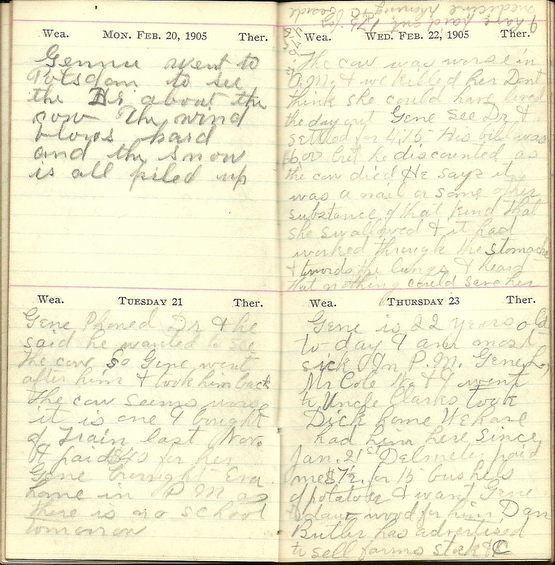 Feb 20
Gennie went to Potsdam to see the Dr. about the cow. The wind blows hard and the snow is all piled up.
Feb 21
Gene phoned Dr. and he said he wanted to see the cow so Gene went after him and took him back. The cow seems worse. it is one I bought off train last Nov and paid $40.00 for her. Gene brought Eva home in P.M. as there is no school tomorrow.
Feb 22
The cow was worse in A.M. and we killed her. Don't think she could have lived the day out. Gene see Dr. and settled for 4.75 His bill was $6.00 but he discounted as the cow died. He says it was a nail of some other substance of that kind that she Swallowed and it had worked through the stomach and towards the lungs I heart that nothing could save her.
I have paid out 1.75 for medicine, phoning and etc. beside the doctor.
Feb 23
Gene is 22 years old today I am most sick. In P.M. Gene L Mr. Cole, w & J went to Uncle Clarks took Dick home. We have had him here since Jan 21, Delmete paid me $7 1/2 for 15 bushels of potatoes I want Gene to draw wood for him. Dan Butler has advertised to sell farms stock & C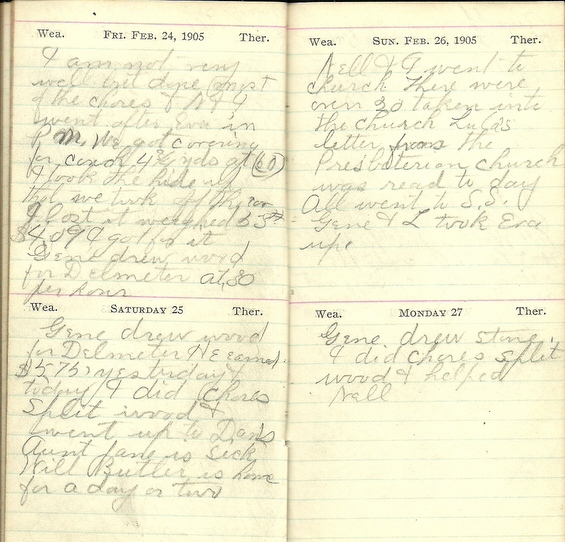 *** Note I would like to add here that from here out we notice that Theodore is sick a lot and I wondered why. But towards the end of the diary I learned that he had Asthma as well as a heart condition and why he is sick a lot. Also consider the time of 1905, the hard work, the hay to feed the livestock, the extremely cold weather and hot weather in the summer. Now back to the diary...
Feb 24
I am not very well but done most of the chores and M& J went after Eva in P.M. We got covering for couch 4 3/4 yds at .60 and took the hide up that we took off the cow. I lost it weighed 53# $4.09 I got for it. Gene drew wood for Delmeter at .30 per hour.
Feb 25
Gene drew wood for Delmeter. He earned $5.75 yesterday and today I did chores, Split wood and went up to Dan's. Aunt Jane is sick . Will Butler is home for a day or two.
Feb 26
Nell and I went to Church. There were over 30 taken into the church. Lula's letter from the Presbeterian church was read today. All went to S.S. Gene & L took Eva up.
Feb 27
Gene drew stone. I did Chores split wood and helped Nell.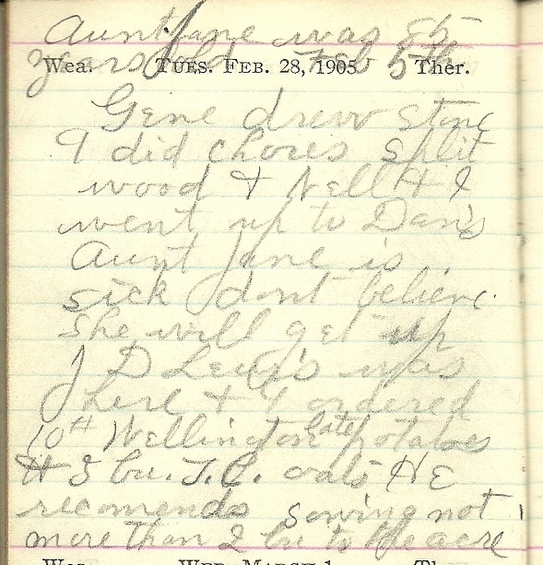 Feb 28
Aunt Jane was 89 years old Feb 5th. Gene drew stone. I did chores, split wood and Nell and I went up to Dan's. Aunt Jane is sick, don't believe she will get up. JD Lewis was here and I ordered 10# Wellington late potatoes # 5 bu. T.C. Oats. He recommends sewing not mere than 2 bu to the acre.
This is the end of February for this diary.
I know that this diary is a little hard to understand but as we go through the diary each month we start learning a little more of what they did for a living and bits and pieces that form a picture of the time.
We have been reading January and February and it is very cold where they live so there is no gardening or anything like that going on yet but I am surprised at the work they are able to do considering the freezing cold and snow and ice.
We have Phoebe's diary we started in January, we will be reading the month of February this week and I will hopefully be adding another new diary this week if I can get it all scanned in. We are studying the life of Theodore and Nellie during 1905, Phoebe and William that we already started and the way they lived in 1939. We have Albert and Gladys Journal and I will be adding more people so we will be covering each era from 1900 to 1939. I am working to get this all scanned in so I can start releasing it.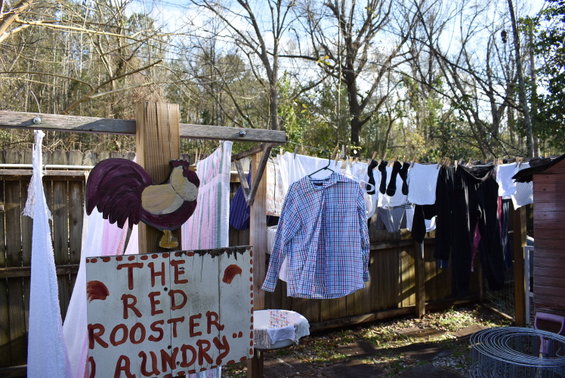 We have been making some changes to the garden and moved the clothesline area this weekend because a mulberry tree was encroaching in on my line drying space and we did not want to cut down the mulberry tree so the laundry drying area has moved. This is the old location so I will soon have pictures of the new clothesline area. I also planted snow peas, cabbage and more lettuce this past week. We moved an arbor to go to an area to grow cucumbers for the spring and summer.
I will be back soon. Grandma Donna