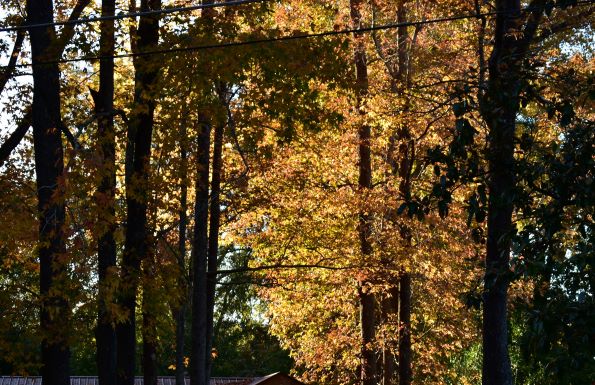 As the weather cools we change the type of clothing we wear and often the food we eat. In the past they certainly ate seasonal. Today we can purchase the same food all year around, at least in most places. But is that how we are suppose to eat?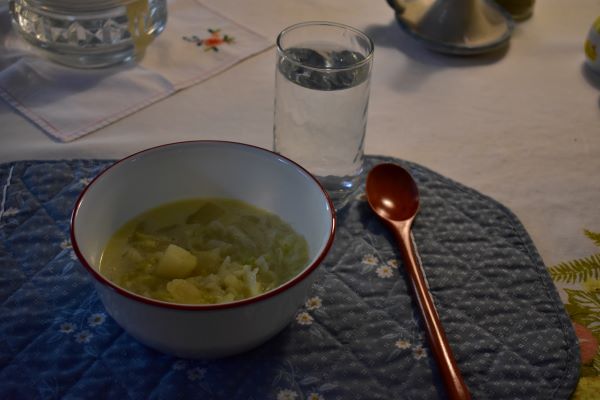 Charles and I had a quiet Thanksgiving this year. Everyone was spread out and many in our family work right up to Thanksgiving day and then the day after making it difficult for travel.
This year Charles and I broke tradition and started a new tradition. We ate Potato Cabbage soup for our Thanksgiving meal and I cannot tell you how many times we stated how much better we felt.
I did make one special food item for Charles.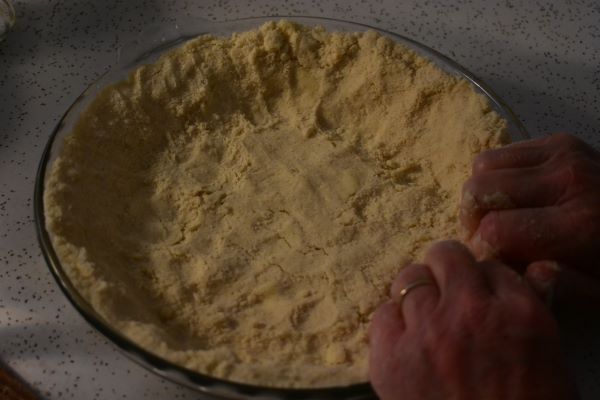 I made a pie......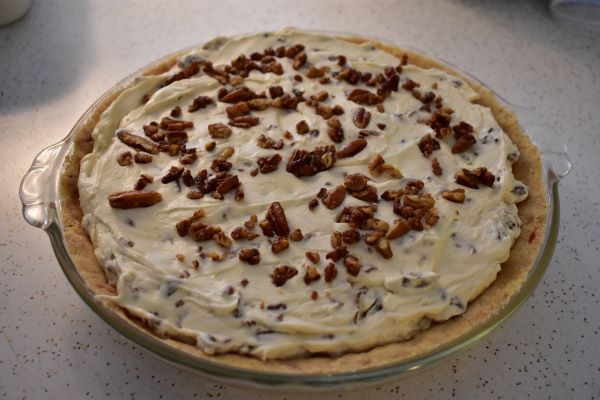 I made a butter pecan pie....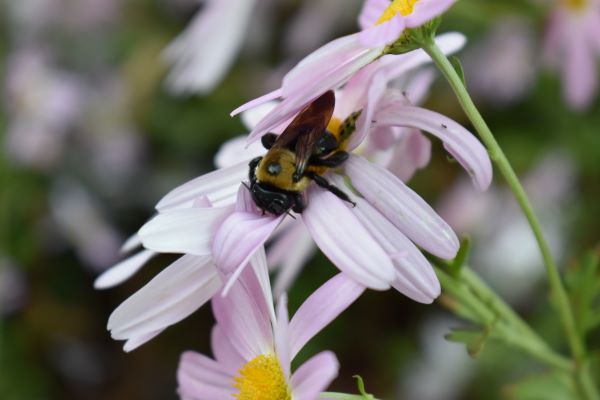 Charles and I have been watching this very large bumble bee in our Chrysanthemum bed. He is asleep here early in the morning. He does not get up until the sun is up and can warm his body. The next morning he was on another flower sound asleep and each morning we find him somewhere asleep on a Chrysanthemum and late morning he is moving from flower to flower.
The flowers will be gone soon and so will be our bumble bee.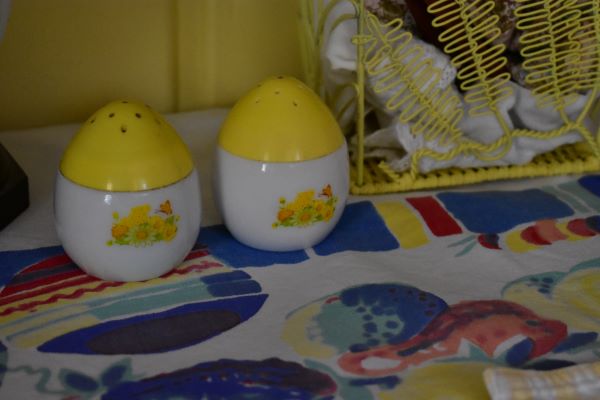 I have been thinking much about food lately and where I want to go with our history research this coming new year. Charles and I have talked and we want to stay in the early 1930s for now and keep doing more research. We like where we are.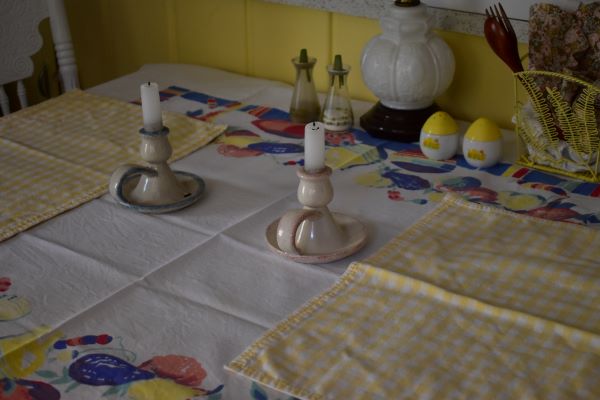 Many things in our house are not 1930's but they did have salt and pepper shakers and candle holders and table linens and so on, ours just look a little different than the real 1930's.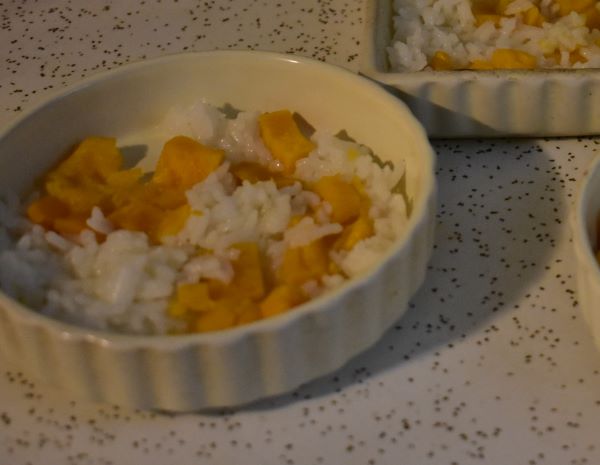 Our doggies Katherine, Elizabeth and Bernadette get real food off and on and their dog kibble. So on Thanksgiving they got some rice and boiled sweet potatoes for a snack.
Yesterday was Catherine and her brother Frank's 12th birthday and we celebrated with gingerbread cookies and sang happy birthday. Charles asked me to make him some gingerbread cookies now because he wanted to eat some of their cookies.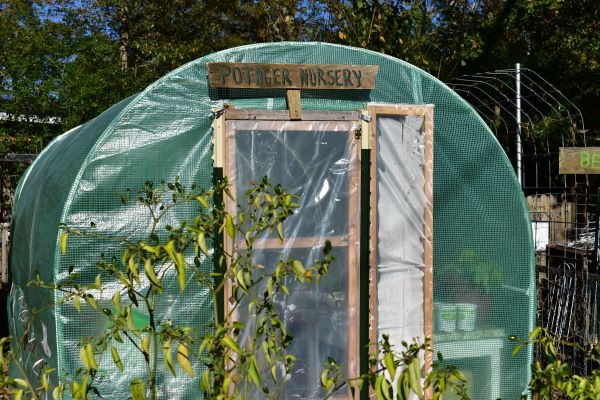 Now that we have exchanged extreme heat to bouncing temperatures we are outside a little more often. We are working on the Potager Garden area. Charles has been working on doors to replace the zipper doors that are difficult for me to open. He surprised me with this new door that I can just walk up to and open the door.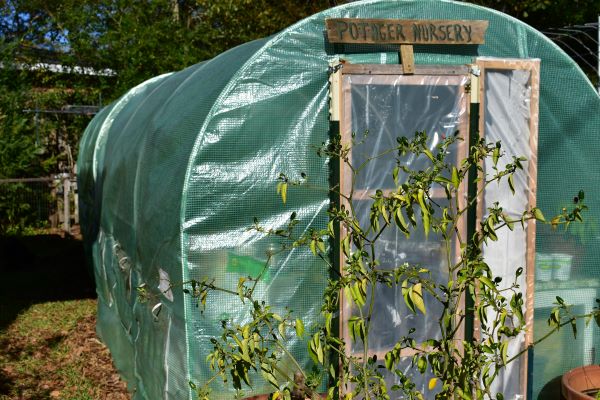 If you look to the left in this picture we have added a new greenhouse to the back of the first one. We just put this one up and are starting to work on it.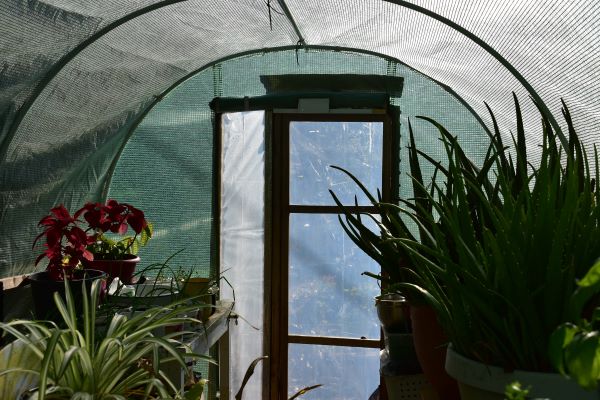 When the sun is up the greenhouse heats up quickly so we have to ventilate it often by opening and closing the door and air flaps. I am going to grow some vegetables in the ground inside the new greenhouse.
We bought this one identical to the first one. It needs extra tie downs or it would go flying off so we added metal fence posts all around the greenhouse and screwed the post to a 2x2 on each side and then zip tie greenhouse frame to the metal posts and 2x2. It holds it down very securely. It only takes about a half hour or less to put it up unless you are two old people and spend part of that time telling the other that "No, it goes this way".
We bought the greenhouse from Amazon and it is called
Quictent 2 doors Reinforced PE Cover 12x7x7 feet Portable Greenhouse Large Walk-u=in Green Garden Hot house
I have no affiliation at all with this, some have asked about it in the past so I am just saying what kind it is. It is a good price but does need extra support in my opinion and why we add support. If we wanted to buy one with extra support it would cost a lot more so we like this greenhouse.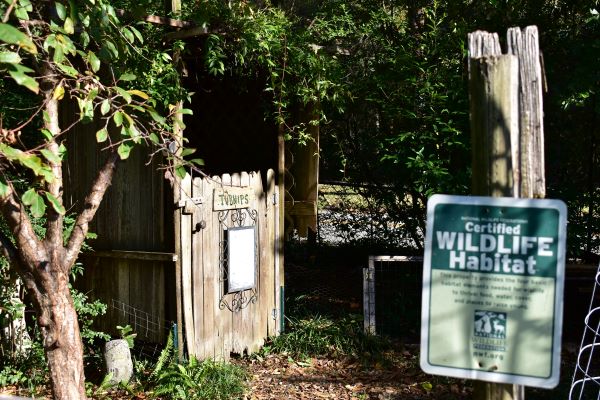 The photo above is the wildlife area of our backyard.
The reason we have a Potager Garden is we have a wildlife area in our backyard and because we live in the city and we feel we need to give the wildlife a place to nest and build homes. We try to leave some natural areas and when we clean up in that area we try to not disturb their area too much but keep it tidy as well. So a Potager Garden is a garden within a garden, a kitchen garden so to speak.
A potager is where vegetables are planted along with flowers, fruit trees, herbs in a separate area from the rest of the property. It is known for it's tidy appearance but ours is a bit whimsical and casual.
The wildlife area in our yard does have fruit trees and blueberries and we share with them these food items and we add food for them with bird feeders and such. Our property sounds large but it is not, quite the contrary it is a small yard.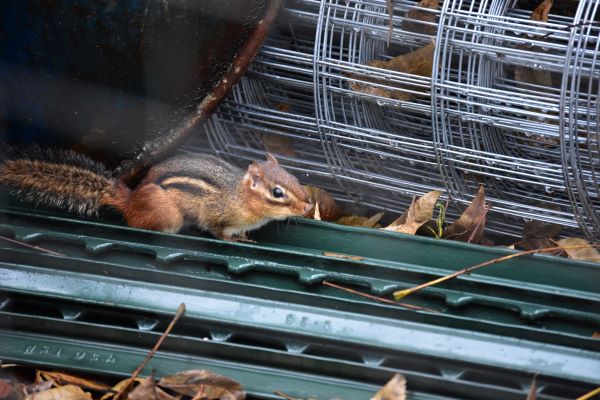 I will be glad when we finish the areas of the yard where Hurricane Michael destroyed but everything takes time. We love to watch the Chipmunks scurrying around in the wildlife area.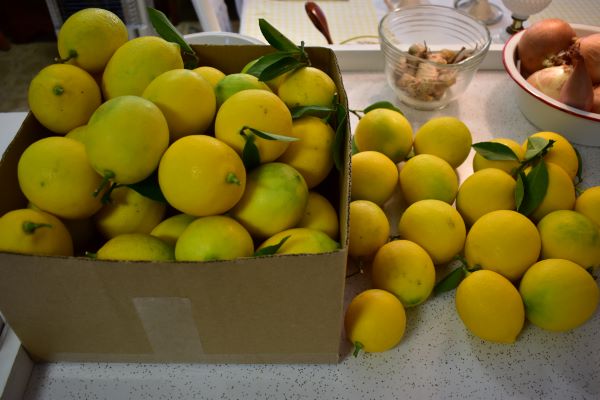 I just could not wait until the lemons were all turned because we keep having these warm days and then down to freezing so I harvested them instead of covering and uncovering the tree. I am going to salt preserve some and freeze juice with the other as well as zest.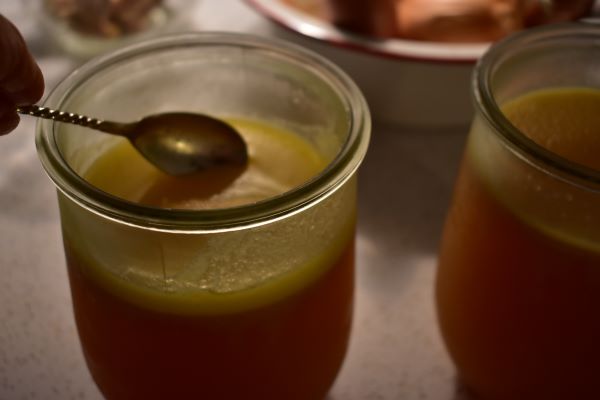 Cold weather brings more soups and stews, bone broth and hot bread into our home.
Here are jars of bone broth and I am about to skim off the fat.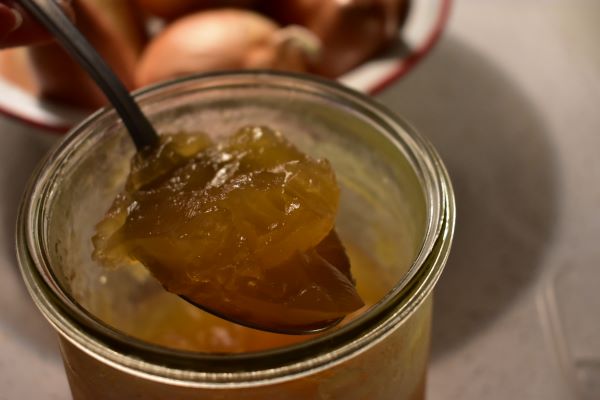 Under the fat is the good gelled bone broth that is so delicious and we believe that it is good for us. We drink bone broth, put it in soup and other food that I cook such as anything that calls for a broth.
This above is chicken bone broth. Many people cook bone broth in a crock pot but I simmer mine on the stove in a stainless steel pot for around 8 to 10 hours. I do this on a day when I am home all day.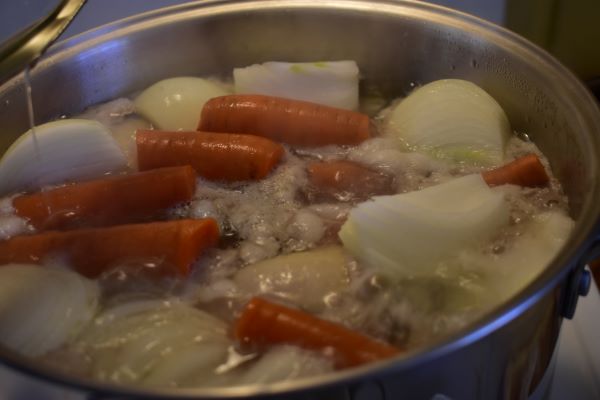 If I am not boiling a whole chicken I boil chicken legs because chicken legs make a nice bone broth. For 12 or so chicken legs cover the chicken with water, add one onion quartered, 2 to 3 carrots and if you like add celery but I have been leaving the celery out lately as it seems to taste better. I do not add salt or pepper but add it when you use it. If the onion is small you can add another or a half. You do not need to peel the carrots, just wash them and cut the ends off.
Bring to a slow boil then skim and frothy stuff on top and reduce to a nice light bubble and put the lid on. Check again and make sure it is not boiling but simmering with a light bubble because once the lid is on it will boil harder. Simmer for at least 8 hours.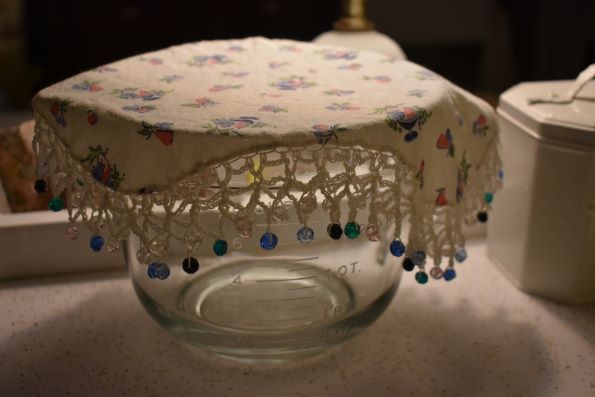 This is a busy time of the year. I hope you have made where you live a home that gives you a place of refuge and peace and inspiration. If not, then we can start right now and we can start by stepping over that imaginary line I have described before. Just look down, step over and we have a new beginning to correct our mistakes or tackle those things that have been put off.
We are moving through the seasons, we cannot stop time so we might as well get on with it.
Grandma Donna