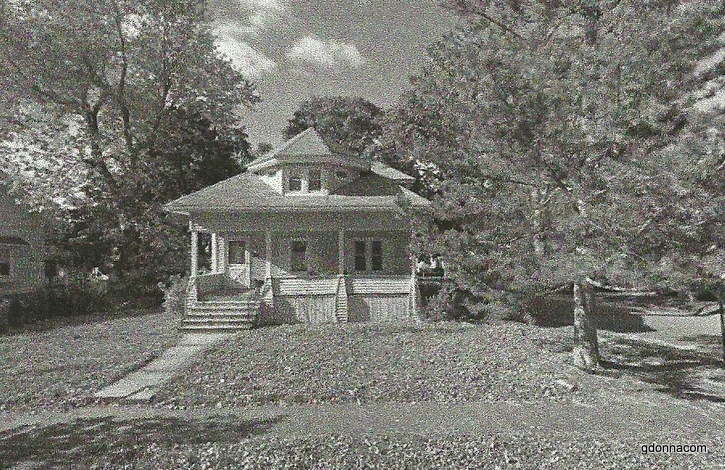 This above is the real home of Leona, this is what it looks like now but imagine what it looked like in 1937.
I am going to be late with the first of the Month diary entries that I have been posting for the last 4 months. I have had much to do with gardening so I chose to post 3 months of a very special diary that I hope you enjoy.
I have acquired several diaries to help with our research projects and mostly because of my intense desire to know all I can about what life was like before the 1940's.
My own memories take me to a time where life was so much calmer, housework was more routine and the house was most always ready for visitors, doing laundry because it was laundry day not because everything is dirty and homemade meals were just part of the day.
In many of the diaries we find there was time left to visit others or receive visitors often or to read or listen to a radio show at the end of the day. Something has changed to make our homes less manageable rushing to pick up before someone comes over and having to eat out because there is nothing cooked or time to cook a meal.
I have been hoping that going back even further would clear up what has changed to cause such a imbalance that we seem to have today. Between Elizabeth's diary that I have been posting on two previous posts, Leona's Diary, it is starting to show a pattern that has helped me immensely and I hope it will help you too in some way.
Leona lives in Massachusetts, she is a teacher that works at the state teachers college. She has never married and lives with her Mother. Her mothers name is Alma. This is the first time I have posted about Leona, do not confuse her with the teacher Lena that I have also posted part of her diary.
This first month of January pretty much sets up for us to see what Leona does during the week with her Teaching Supervisor work. Then we will start seeing how they have good cleaning and baking routines.
Friday Jan 1, 1937
Nellie B and I went out to the Higgins Museum but found it is not open on holidays, so we came back and went to the Capitol to see Gary Cooper in "The Plainsman", a vivid take of Indian fighting.
Sat, Jan 2
Nellie went on the 12:10 train to Pittsfield. I went down to the station with her, had some lunch at Woolworth's then Mother met me just before one and we went out to see Lord and Taylor. Stayed to Supper but were home before eight. Snow.
Sun Jan 3
A cold rain much of the day. I went to Church on the 9:20 car as I have charge of the office work for S.S. this month. Mrs. Dempsy absent because of illness. High school classes at 10 younger children during Church service. Paid teacher this year.
Monday Jan 4
Back to school and everything as usual. Home early and then down to Levana Council supper. Had an unusually good time. Home before nine. Mother washed as usual.
Tuesday Jan 5
Lots of mail today including letters or notes from Ellen Emery, David, Ruth, Nellie, Mrs Groth, Edith, Lydia, and Barbara Williams
Wednesday Jan 6
To Canterbury Street and Grafton Junior High in morning and out to N. Grafton to see Helen Henson in the afternoon. A whole bushel of citrus fruit came from Arthur today.
Thursday Jan 7
A sleety rain and very slippery going. Mother having trouble with one leg as stayed pretty quiet, but cut out her new percale dress.
Friday Jan 8,
A very warm day for this time of year. I came home for lunch and put on my suit before going out to Harlow Street (Leach and Loft) and then was very uncomfortably warm part of the time.
Saturday Jan 9
Still warm. I washed two dresses and had a shampoo, otherwise spent rather a lazy day though I did do many little odds and ends. Mother has been having a very lame leg but it is somewhat better today.
Sunday Jan 10
Again the office work for S.S. Mother not able to go. We're reading Bliss Perry's and Gladly Teach aloud and I am reading "Let the King Beware (Honore Morrow) by myself. Both good.
Monday Jan 11
Dr. Aspinwall's father has just died at 93 so Dr. A is away and there was not teacher's meeting as scheduled. I went to Ed. Com Mtg at Ch only 4 present but we accomplished quite a bit.
Tuesday Jan 12
Mother's seventieth birthday! Mother ironed but kept pretty quiet the rest of the day. I came home a bit early and got a birthday supper. We had a very happy time. Mother had lots of mail, Florence M at school in morning.
Wed Jan 13
To Grafton Junior High and Lake View. Found Mother worse at night. Had the doctor. He pronounces it Phlebitis and says she must keep off her leg.
Thursday Jan 14
Mother in bed all day with what is probably intestinal grip as well as the bad leg. I had two exams at school but came home for an hour at noon and then early at night.
Friday Jan 15
Worked at home all the morning. Rainy in P.M. I went to Canterbury St. but hurried home to look after Mother. She's no worse, but I am afraid is in for a siege.
Saturday Jan 16
Busy all day. Up and down stairs countless times. Mother better. Sat up in bed and knit some. I did the weekly cleaning and made a sponge cake, plain doughnuts and orange marmalade.
Sun Jan 17
Mrs. Friedman absent from S.S. and though Mr Woody was there it is his last Sunday. He's going back to Carolina this week. Mrs. Hall over in afternoon and Lucy and Raymond Haywood called.
Monday Jana 18
Apprentices in the morning as usual and the platform exercises. Home for lunch and to look after Mother but back for awhile in the afternoon. Mother has beautiful flowers.
Tuesday Jan 19
E. math exam this a.m. my last one but many papers yet to do. Home in the afternoon. How nice that it's examination week and I do not have to be at school all the time.
Wed Jan 20
Spent the morning at Grafton Junior High but then came home to stay with Mother and work on examination papers.
Thursday Jan 21
Went out to Harlow Street and down to New Woodland as it seemed a better day than tomorrow which is the last day of teaching for this group. Very stormy morning.
Friday Jan 22
At school in morning then came home and did quite a bit of cleaning. Changed Mother's bed etc. etc. Jr. dance at school but I did not go of course.
Saturday Jan 23
Washed in the morning then made a salmon loaf, two loaves of nut bread and a gingerbread. Mother better. Down stairs all day. Very gray day. We have such a lot of them. Finished exam papers about 10 P.M.
Sunday Jan 24
Mrs Dempsy at S.S. today and though I shall go one more Sunday, she has relieved me of quite a bit of responsibility. Fireplace fire. Emptied all the wastebaskets. Mrs. Hall and Lord and Taylor called.
Monday Jan 25
Second semester begins today. Busy all day. Home for lunch then Miss Alexander came for me so I could help her with the appointments. Mother gaining well now. Helped with dishes and ironed the sheets. Dr. Shaw at assembly.
Tuesday Jan 26
Tuesday is to be my supervision day this quarter but as we have no programs yet, I was at school working all day coming home only for an hour or so at lunch time.
Wednesday Jan 27
Stayed at school all day and Mother got on nicely alone. Mrs. Dolan and Mrs Reed called. A beautiful day the first for a long time. Terrible floods in the Ohio valley.
Thursday Jan 28
4 classes today and I did not come home for lunch. Mother did quite a few things about the house. Mrs. Elizabeth Richardson called. Another pleasant day but cold.
Friday Jan 29
4 classes again today, so no supervision on Fridays this quarter. Came home early as Mother didn't seem so well in the morning. Better tonight. I did the upstairs cleaning.
Saturday Jan 30
Had to go downtown in the morning. Paid income tax $14.21 and did various bits of shopping and other errands. Washed before I went. Mother helped quite a bit. We ironed in the afternoon.
Sunday Jan 31
To S.S. at 9:20 again this morning- the last time I have agreed to do the office work. Reading, "Gone With the Wind" in P.M. We each did some writing. A little snow. Fireplace fire.
Monday Feb 1
Levana Club Council supper tonight. Mary Foudy and I were to have been hostesses but she was sick so Bridget Davis and her friend Miss Millward did most of the work. Red and white decorations. Everything went off nicely.
Tuesday Feb 2
Walked to Chandler St. where we have two girls then back to Abbot (2 more) ate lunch at Newberry's and went over to Dartmouth St in P.M. A busy day which I feel amounted to something to banks at noon.
Wednesday Feb 3
Monthly Levana Club tea but somehow I didn't feel like going so came home instead. Mother seems "as good as new", but doesn't venture out of doors yet.
Thursday Feb 4
Thursdays are busy, uneventful days this quarter. No snow all winter yet. Floods abating in Ohio and Mississippi River valley. Relief Fund (Red Cross) over $50,000 here.
Friday Feb 5
Mother doing most of the work these days but I cleaned my own room after I came home from school. Beautiful weather now. No snow.
Sat Feb 6
Helped with the washing in the morning then made two loaves of nut bread and a sponge cake. We did the ironing in the afternoon. Not farther than the market all day.
Sun Feb 7
Beautiful day despite the forecast of snow. To Church alone. Mr. Harris first Sunday. Think we are going to like him very much. Text 2 Cor 4:7. The Hubleys and Anna Erickson called in the afternoon.
Monday Feb 8
A most interesting lecture on oriental rugs at assembly today. No teachers meeting as Dr. A went to a funeral this afternoon.
Tuesday Feb 9
Foggy with some rain. Went to Downing and Dix Street in morning and down to Gates Lane in afternoon. To Ed. Com. mtg in evening. Mr. Harris was there.
Wed Feb 10
Another of Dr. Winslow's lecture at Levans CLub. This time "The Spanish Civil War and its relating to European Diplomacy". I came home before I went. Mother seems so well as before she was sick but hasn't walked farther than Mrs. Kanter's.
Thursday Feb 11
Went over to May Street to see Miss Miller teach an arith. lesson between two of my own classes. No snow yet and some days like spring.
Friday Feb 12
Supper and valentine party at Levana Club and I never had a better time there. Home by 9:30 and only pleasant memories. Mother did most of the cleaning. I do hope she won't overdo.
Sat Feb 13
We washed in the morning and did some cooking. Ironed in the afternoon, made valentine favors (Roman chariots-marshmallows with life saver wheels drawn by animal cracker steeds for the neighbors. Mrs. Nelson called.
Sun Feb 14
A very rainy day and I did not venture out. Finished "Gone with the Wind" (1037 pages and had a long quiet restful day.
Mon Feb 15
Dr. Averitt gave a very interesting lecture at assembly on the psychology of Hitler. Teachers meeting after school. Calm Supervisors conference.
Tuesday Feb 16
Started to walk to Lee Street school but Mrs. Dempsy overtook me and carried me the rest of the way. From there to Midland and Winslow: Lunch at Woolworth's.
Wed Feb 17
Found Mrs. Kanter here when I came home from school. Went down to Levana Club for book reviews. Miss Belding England Speaks. Sir Philip Gibbs Miss Roe... Big Money.. Don Passos.
Thursday Feb 18
Busy at school all day but we are not to reopen until next Tuesday. Mother made me such a pretty dimity nightie yesterday and finished a crepe on for herself today,
Friday Feb 19
We did the regular weekly cleaning and then cleaned the china closet in the dining room. A beautiful day. Too bad Rufus is not in running order.
Sat Feb 20
We did not wash since I shall be home on Mon but Mother made a pie and a sponge cake and I made some nut bread. We had everything out of the toilet downstairs and gave it a thorough cleaning.
Sunday Feb 21
Went to Church alone again but Mother hopes to go next Sunday. Walked all the way home. Finished reading "Time Out of Mind" by Rachel Field in the afternoon.
Monday Feb 22
Washington's birthday so no school. We washed but it rained, so we did not put out the clothes. Anna Reed and I went to Perkins for the annual demonstration. Fine time. Home soon after seven.
Tuesday Feb 23
Visited girls at Abbott Downing and Dartmouth St. Helped put out the clothes before started and they dried so Mother brought them in and ironed before I came home. Went up to school for my notebook in morning and during the day walked several miles.
Wednesday Feb 24
Mr. Frank Craft from Park Avenue whitened Mother's room overhead today ($2.00) She is beginning early on the cleaning as it will take a long time this year. Gardening will begin almost before we know it.
Thursday Feb 25
Lost a big filling from a tooth a few days ago, so went down to Dr. Martin tonight and had another put in ($3.00) Mother working in her room and is so tired tonight.
Friday Feb 26
Down to Gray's studio on Chestnut street to have my picture taken after school, then up to school in evening for dramatic club play. "The Romantic Young Lady". Mr. Richardson, Mrs. Kanter, the Mann's and the Nelson's all went. I stayed to chaperone for the dance. Home by taxie with the Echterbecker's before twelve.
Saturday Feb 27
Cleaned the bathroom cupboard and drawers and then painted the little medicine cabinet -outside and in. Mother's room is all done and looks very nice.
Sunday Feb 28
Another beautiful day. No snow yet. Mother went to Church! Reading "England Speaks" by Sir Philip Gibbs. Mother went over to the Richardson's, I had a little nap.
Monday March 1 1937
"Scorn not the Old" was the subject of a most interesting talk by Annabel Roe at assembly this morning. Mother washed and ironed this evening while I was at Levana Council supper.
Tuesday March 2
No supervision as girls were just out to new places today. A busy day at school however. Anne Mullan and Ruth Ruane spent one period with me. I went to the bank at noon. Mother cleaned the bathroom. Olive Brook's father perished when their barn burned.
Wed March 3
Another most beautiful day. Levana tea but did not go. Mrs. Knight and Mrs. Anderson called in the evening and stayed quite a while. Mother finished piecing the blocks for her quilt.
Thursday March 4
Busy day at school then at home. I cleaned the bookcase in upper hall. Mother cleaned the two closets downstairs. Cloudy but still warm.
Friday March 5
School as usual, then home for awhile before going down to meet Margaret Olson. How our tongues did fly all the evening.
Saturday March 6
Ground covered with snow, during the day. Margaret and I went to the flower show. Unusually fine this year. The Misses Quinn came up in evening and we had a fine time. Fire in fireplace.
Sunday March 7
Margaret and I went to Church. Fine service followed by Communion. Mother listened to Dr. Roy on the radio. Quiet afternoon. Margaret left on the eight o'clock bus. I went down to see her off. Wrote to B after got back.
Monday March 8
French Club gave us scenes from life of Marie Antoinette at assembly today. Peaceful supervisors conferences lately. I'm glad to say. Mother working on more patchwork.
Tuesday March 9
Sunny day. Mother ironed and cleaned part of the kitchen cupboards. Mrs. Kanters and Mrs. Dolen called. I went to Woodland Downing, Providence and Grafton Street Schools. Used only 2 tickets!
Wed March 10
Brought my books home after school, then went down to Levana to hear Dr. Winslow in a talk on "The Constitution and the Supreme Court" Home for supper then down to mtg. of ed. com. At Church - probably my last as I "go off" this year.
Thurs March 11
Another beautiful day. Ruth lost her voice and went home before noon, so no gym. Classes and FC's wanted their class with me the 5th. Went without my lunch to get ready for 2 afternoon classes but did not mind.
Friday March 12
At 3:30 Mother telephoned to come home as soon as I could conveniently, so I did and found Mrs. Bullard, Mrs Wilson and Lord and Taylor all here. Only the last two stayed for supper. They spent much of the evening . Hadn't seen them for some time.
Sat March 13
Spent much of the day cleaning my closet and drawers in the bureau. Snowed all day nearly. A boy with scraper he had made, cleared the walks in late afternoon.
Sunday March 14
To Church alone, then I was out all the P.M. working on the every member canvass. Made 7 calls and walked miles. Good success and a pleasant time.
Monday March 15
More storms. Mother washed but didn't put out the clothes. Teacher's meeting scheduled but was postponed as everyone was anxious to get home. I cleaned the sectional bookcase in evening.
Tuesday March 16
Slush - Slush- Slush! Went first to Canterbury Street, then Miss Alexander came and took me to Ash Street. Out to Nelson Place in the afternoon. Tried to find curtains for my room but didn't succeed. Cleaned book case in den.
Wed March 17
Book reviews at Levana Club, then to Church for the "wind - up supper" of the canvassers. Lots of fun and home with the Gilley's before ten. Mother dried the clothes down cellar.
Thursday March 18
Spent most of the evening thoroughly overhauling the drawers in my desk and making them tidy. Mother went down town- the first time to shop since before Christmas.
Friday March 19
Glee Club concert at school and a Levana CLub supper and entertainment but I did not go to either - instead I pulled wallpaper off my room for a couple of hours. Mr. Baker whitened it today.
Saturday March 20
Mr. Baker working here again, this time painting all but the mopboards in my room which I did in the evening after spending most of the afternoon down town doing errands and then going to Art Museum with members from Levana.
Sunday March 21
Did not go to Church but listened to two radio services. Wrote nearly twenty Easter cards and letters.
Monday March 22
An unusually good lecture at school on "How Others See Us." Teacher's meeting so I was late home.
Tuesday March 23
To Tatnuck first stopping at school for a half hour on the way. Then out to Andover Street. Met Mother at 12:35 and we had lunch together. Down to Bloomingdale in P.M.
Wednesday March 24
Mr. Baker painted my room another coat today - not an especially good job but he tried hard to please. Ruth back in school but Florence Grinvold still out.
Thursday March 25
School closed for a ten day vacation and I'm not sorry. Seem to have grown rather tired lately. Went to Communion service at Church and stayed to talk. S.S work with Mr. Harris. Mother making curtains for my room.
Friday March 26
We did a superficial weekly cleaning, then Mother made paste and papered one side of my room. I took off old paper much of the day.
Saturday March 27
Mother finished papering my room, a fine job and she seems not too tired. Annette Person and Phoebe Peterson called. I did the cooking and other work.
Sunday March 28
Easter Sunday. Went to Church (every seat taken and 2 rows of chairs at back) but was very quiet the rest of the day. Mother went to ride with the Webbers. A yellow crocus blossomed today.
Monday March 29
Very windy morning so clothes were dry before noon. Mr. Frank Crerie made quite a call. Miss Eaton here too. I polished all my furniture, scrubbed hall floor, etc.
Tuesday March 30
Painted my closet - not a very hard or long job but a bit fussy. All my room looks so spick and span now except floor and Mr Cherie is to fix that later. We went over to Mrs. Kanter's in evening.
Wednesday March 31
We cleaned the cellar - a long hard, dirty job, we had baths and I included a shampoo. Trouble with heater and man here working on it. Saw and heard our first robin today.
I hope you are enjoying Leona's diary. I can see now how they maintain the home to keep it from becoming dirty or having deterioration as a home will deteriorate . In the past people often called on one another so the home needed to be ready for visitors on any day.
I get a sense that it is, "clean before it gets dirty" so the home is reasonably always presentable. Grandma Donna