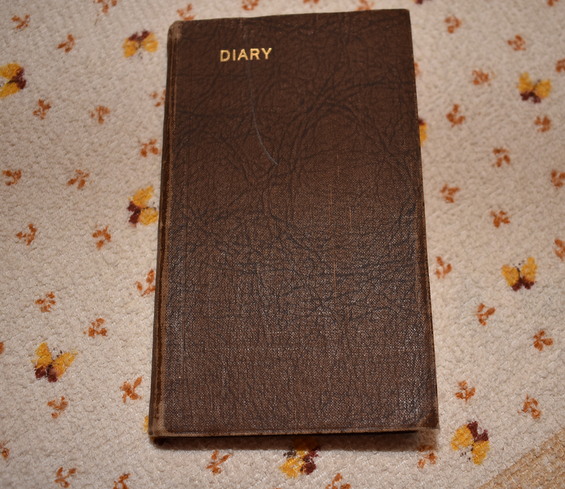 This post is going to be long because this is two months entries of a diary since I did not get this out in January.
This is a Diary of Edith and Fred, The year 1924 Jefferson County New York.
Edith has been a widow for only two months when this Diary starts. Her husband Fred died in October. Edith is 61 years.
Some of the Family and friends that are mentioned is Bradley, Dora, Gordon, Doris, Margie, Homer, Ida, Rob, Bertha ,William, Janie, Minnie, Aunt Mat. and more. Edith and Fred did not have children.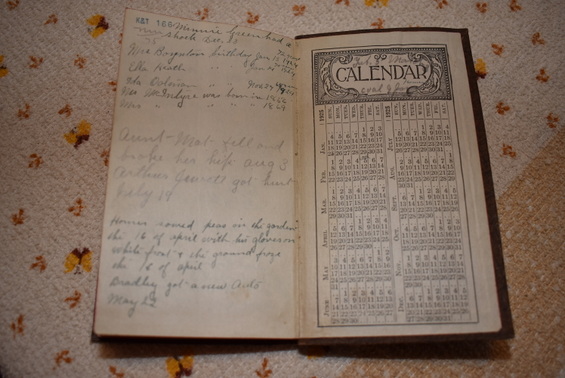 Edith and Fred have farmed and had a dairy farm for many years. In 1920 Bradley, Dora and Gordon are living in another house on this farm. Gordon is in the Dairy business with Fred. Gordon and Dora's family is growing. In 1925 we find Homer and Ida living next to Edith instead of Gordon and family so someone has made a move but Gordon and the family are still close by.
This is a close community and many of them are related and some are just close neighbors and probably have known each other most of their life. I have not been able to find the relation of Homer and Ida but they are very close and live next to each other.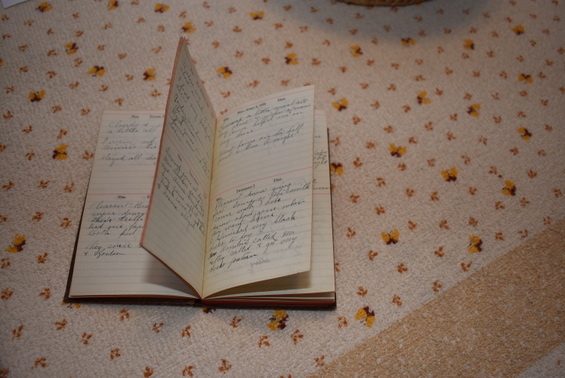 This seems like a very simple diary but as we travel we will learn the family and close community and the routines. When Edith writes about people calling she means visited. This diary as the others show how people visited regularly during this time before people had telephones. I don't know if Edith has electricity but possibly. She does not own a radio. Some communities did have telephone and some did not but each diary I own shows family and community and how they check on one another, visit and help one another.
I feel it is important for all of us to get this wonderful glimpse into the past to see what life was like before all the modern distractions came along. They visited each other day and night as this was customary for the time. We can tell that Edith misses Fred, especially when she is alone.
During this time of 1924, some still traveled by horse and wagon and buggy, some by truck or car and in this area they also traveled by bus. The towns of Rodman, Adams center and Adams are about 3 or 4 miles apart. It is just over 10 miles to Watertown from Adams.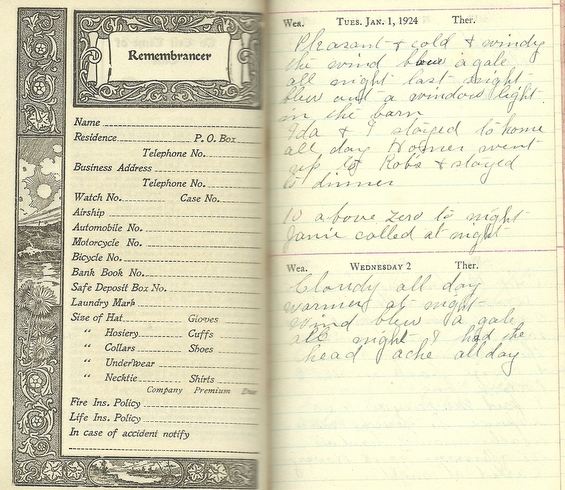 Tuesday Jan 1
Pleasant & cold & windy. The wind blew a gale all night last night, blew out a window light in the barn. Ida & I stayed to home all day. Homer went up to Rob's & stayed to dinner. 10 above zero tonight. Janie called at night.
Wednesday Jan 2
Cloudy all day. Warmer at night. Wind blew a gale all night I had the head ache all day.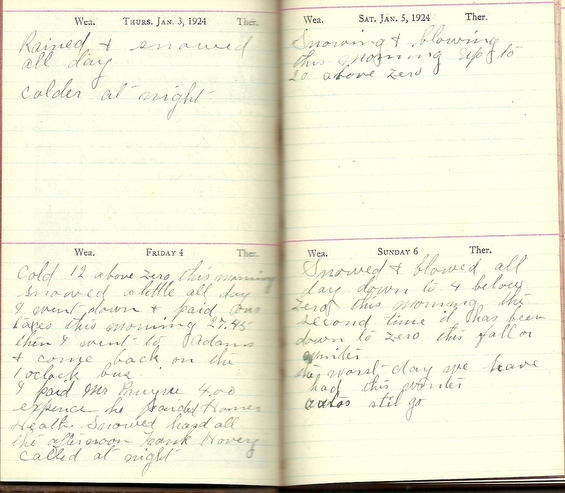 Thursday Jan 3
Rained & snowed all day. Colder at night.
Friday Jan 4
Cold 12 above zero this morning snowed a little all day. I went down and paid our taxes this morning. 27.45 then I went to Adams and come back on the 1 o'clock bus. I paid Mr. Pruyer 4.00 expense he paid Homer Heath. Snowed hard all the afternoon. Frank Hovey called at night.
Saturday Jan 5
Snowing and blowing this morning up to 20 above zero.
Sunday Jan 6
Snowed & blowed all day down to 4 below zero this morning the second time it has been down to zero this fall or winter. The worst day we have had this winter. ? stil go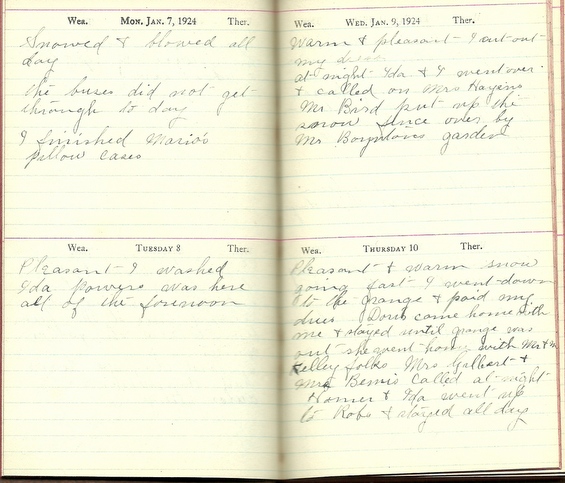 Monday Jan 7
Snowed & blowed all day. The buses did not get through today. I finished Mario's pillow cases.
Tuesday Jan 8
Pleasant. I washed, Ida Powers was here all of the forenoon.
wed Jan 9
Warm and Pleasant. I cut out my dress. At night Ida and I went over and called on Mrs. Hayens. Mr. Bird put up the snow fence over my Mr. Boyingtons garden. ( my research shows that there is a Mr. Boyoington age 83 that lives at the end of their road)
Thursday Jan 10
Pleasant and warm snow going fast. I went down to the Grange and paid my dues. Doris came home with me and stayed until grange was out. She went home with Mr. and Mrs. Kelley folks. Mrs Gilbert and Mrs Bermis called at night. Home and Ida went up to Robs and stayed all day.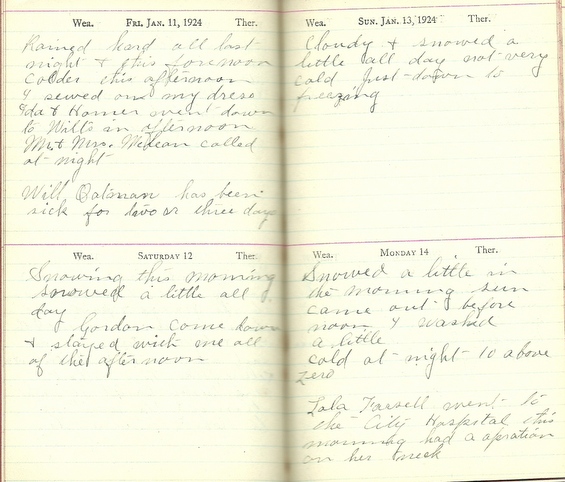 Fri Jan 11
Rained hard all last night and this forenoon colder this afternoon. I sewed on my dress, Ida and Homer went down to Wills in afternoon. Mr & Mrs. Mclean called at night. Will Oatman has been sick for two or three days. ( Will Oatman and Bertha live two doors down the other side of Edith)
Sat Jan 12
Snowing this morning, snowed a little all day. Gordon come down and stayed with me all of the afternoon. ( Gordon would be 6 years old at this time)
Sun Jan 13
Cloudy and snowed a little all day not very cold Just down to freezing.
Mon Jan 14
Snowed a little in the morning sun came out before noon I washed a little, cold at night 10 above zero. Lola Farrell went to the city Hospital this morning had an operation on her neck.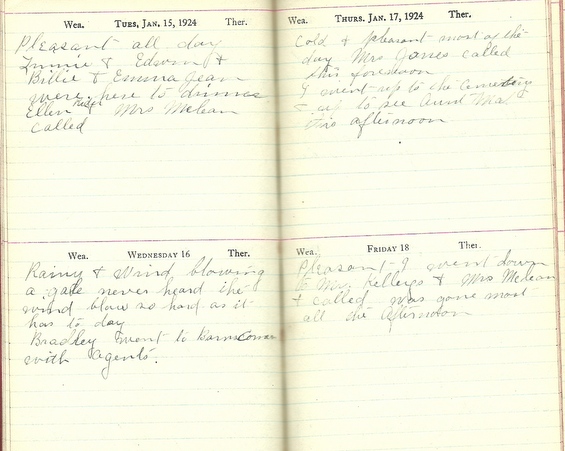 Tues Jan 15
Pleasant all day. Lunnie and Edwin and Billie and Emma Jean were here to dinner. Elen Rider and Mrs. Mclean called.
Wed Jan 16
Rainy and wind blowing a gale never heard the wind blow so hard as it has today. Bradley went to Barns Corners with agents.
Thur Jan 17
Cold and pleasant most of the day. Mrs. Jones called this forenoon I went up to the cemetery and up to see Aunt Mat this afternoon.
Fri Jan 18
Pleasant I went down to Mrs. Kellers and Mrs Mclean and called. Was gone most all the afternoon.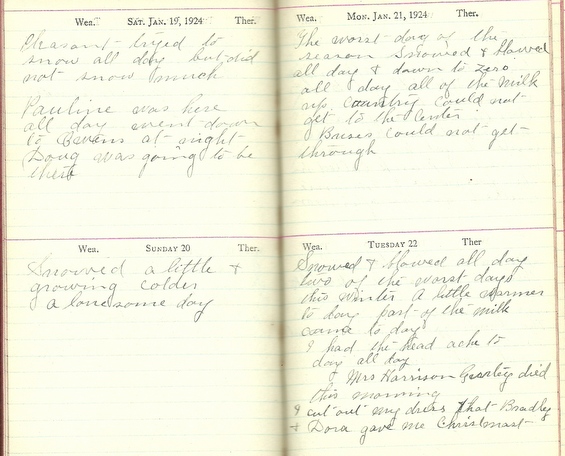 Sat Jan 19
Pleasant Tried to snow all day but did not snow much. Pauline was here all day went down to Owens at night Doug was going to be there.
Sunday Jan 20
Snowed a little and growing colder a lonesome day.
Mon Jan 21
The worst day of the season. Snowed and blowed all day and down to zero all day. All of the milk up country could not get to the center. Buses could not get through.
Tues Jan 22
Snowed and blowed all day, two of the worst days this winter a little warmer today. Part of the milk came today. I had the head ache today all day. Mrs. Harrison Gurley died this morning. I cut out my dress that Bradley and Dora gave me Christmas.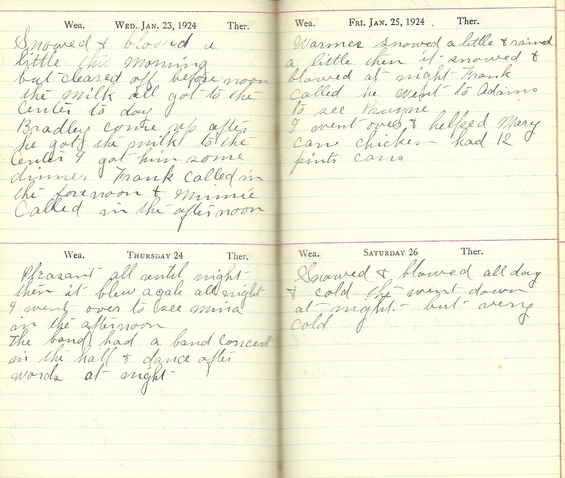 Wed Jan 23
Snowed and blowed a little this morning but cleared off before noon. The milk all got to the center today. Bradley come up after he got the milk to the center. I got him some dinner. Frank called in the forenoon and Minnie called in the afternoon.
Thurs Jan 24
Pleasant all until night then it blew a gale all night. I went over to see Mina in the afternoon. The band had a band concert in the hall and dance afterwords at night.
Fri Jan 25
warmer snowed a little and rained a little then it snowed and blowed at night. Frank called he went to Adams to see Prunne? I went over and helped Mary can chicken, had 12 pints cans.
Sat Jan 26
Snowed and blowed all day and cold then went down at night but very cold.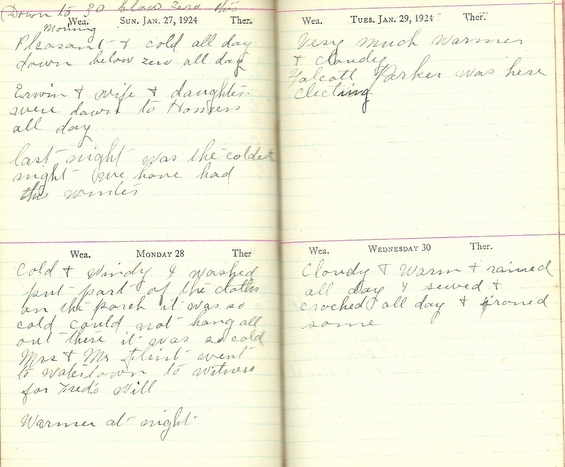 Sun Jan 27
Down to 30 below zero this morning. Pleasant and cold all day. down below zero all day. Erwin and wife and daughter were down to Homers all day. Last night was the coldest night we have had this winter.
Mon Jan 28
Cold and Windy. I washed put part of the clothes on the porch, it was so cold could not hang all out there it was so cold. Mrs and Mr. Flint went to Watertown to witness for Fred's will. Warmer at night.
Tues Jan 29
Falcott Parker was here Electing.
Wed Jan 30
Cloudy and warm and rained all day. I sewed and croched all day and ironed some.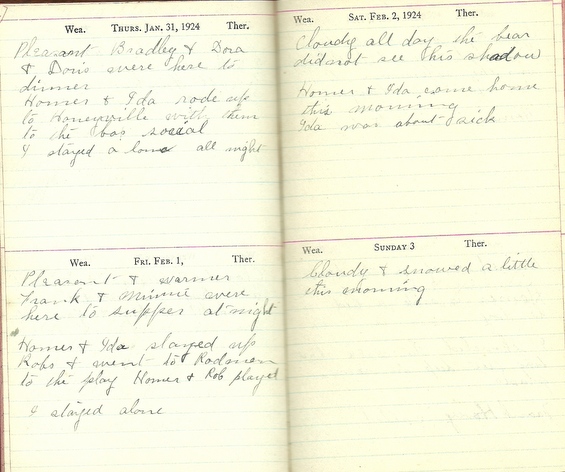 Thurs Jan 31
Pleasant Bradley and Dora and Doris over here to dinner. Homer and Ida rode up to Honeyville with them to the bar or bap social. I stayed alone all night.
Fri Feb 1
Pleasant and warmer. Frank and Minnie over here to supper at night. Homer and Ida stayed up Robs and went to Rodsman to the play, Homer and Rob played. I stayed alone.
Sat Feb 2
Cloudy all day, the bear did not see his shadow. Homer and Ida came home this morning, Ida was about sick.
Sunday Feb 3
Cloudy and snowed a little this morning.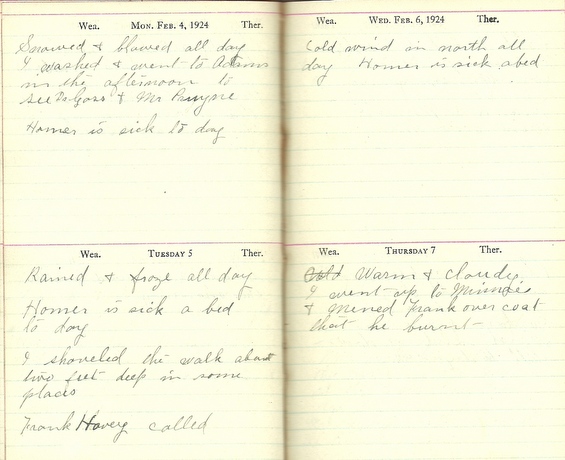 Monday Feb 4
Snowed and blowed all day. I washed and went to Adams in the afternoon to see Dr Gass and Mr. Payne. Homer is sick today. (Adams is the name of the small town)
Tuesday Feb 5
Rained and froze all day. Homer is sick a bed today. I shoveled the walk, about two feet deep in some places. Frank Hovey called.
Wed Feb 6
Cold wind in north all day. Homer is sick abed.
Thursday Feb 7
Warm and cloudy. I went up to Minnie's and mened Frank over coat that he burnt.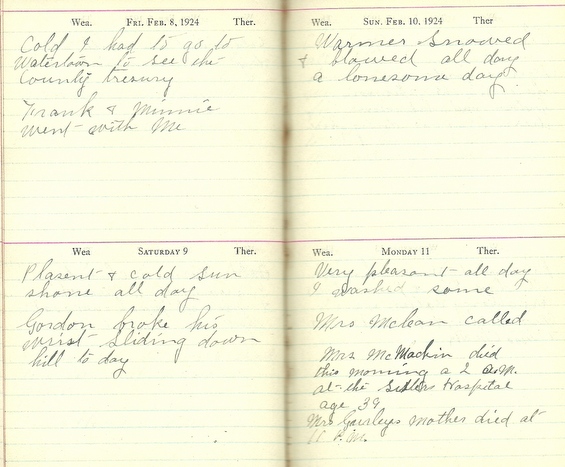 Fri Feb 8
Cold I had to go to Watertown to see the county tresury. Frank and Minnie went with me.
Saturday Feb 9
Pleasant and cold sun shone all day. Gordon broke his wrist sliding down a hill.
Sun Feb 10
Warmer Snowed and blowed all day a lonesome day.
Monday Feb 11
Very pleasant all day. I washed some, Mrs Mclean called, Mrs. McMacken died this morning at 2 a.m. at the Sister Hospital, age 39. Mrs Gurleys mother died at 11: P.M.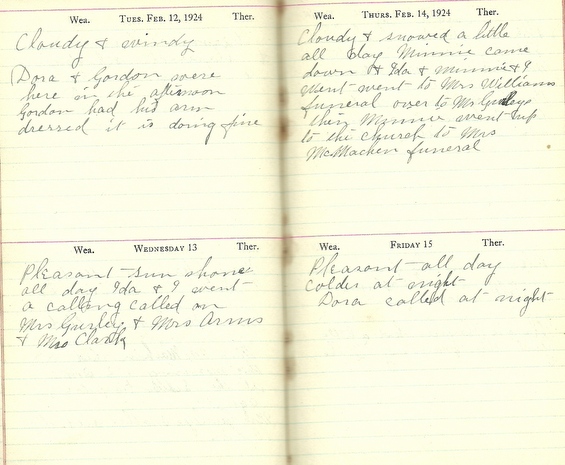 Tuesday Feb 12
Cloudy and Windy. Dora and Gordon were here in the afternoon, Gordon had his arm dressed it is doing fine.
Wed Feb 13
Pleasant sun shone all day. Ida and I went a calling, called on Mrs Gurley and Mrs Arms and Mrs. Clark.
Thurs Feb 14
Cloudy and snowed a little all day. Minnie came down and Ida and Minnie and I went to Mrs. Williams funeral over to Mr Gurleys then Minnie went up to the church to Mrs. McMacken funeral.
Friday Feb 15
Pleasant all day Colder at night. Dora called at night.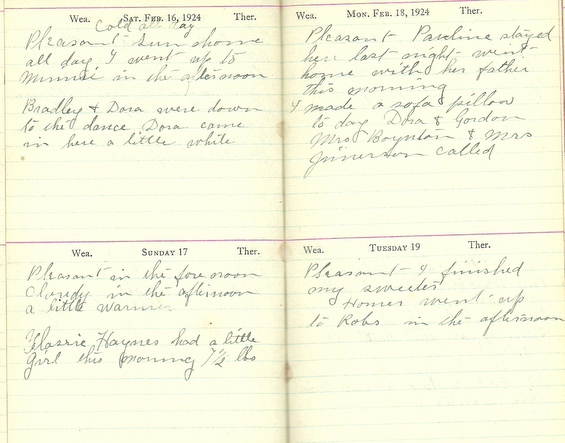 Sat Feb 16
Pleasant cold all day, Sun shown all day. I went up to Minnie in the afternoon. Bradley and Dora were down to the dance. Dora came in here a little while.
Sunday Feb 17
Pleasant in the forenoon, Cloudy in the afternoon a little warmer. Flossie Haynes had a little girl this morning 7 1/2 lbs. (Homer and Ida live on one side of Edith and Flossie and Carl live on the other side, they named the baby Beatrice).
Mon Feb 18
Pleasant. Pauline stayed here last night, went home with her father this morning. I made a sofa pillow today. Dora and Gordon , Mrs. Boynton and Mrs. Jimmerson called.
Tue Feb 19
Pleasant. I finished my sweater. Homer went up to Robs this afternoon.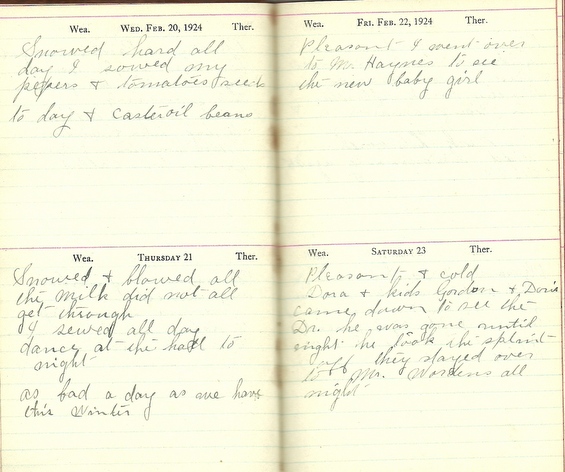 Wed Feb 20
Snowed hard all day. I sowed my peppers and tomatoes seed today and caster oil beans.
Thurs Feb 21
Snowed and blowed. All the milk did not all get through. I sewed all day, dance at the hall tonight. As bad a day as we have this winter.
Fri Feb 22
Pleasant. I went over to Mr. Haynes to see the new baby girl.
Saturday Feb 23
Pleasant and cold. Dora and kids Gordon and Doris came down to see the Dr. he was gone until night. He took the splint off they stayed over to Mr. Wordens all night.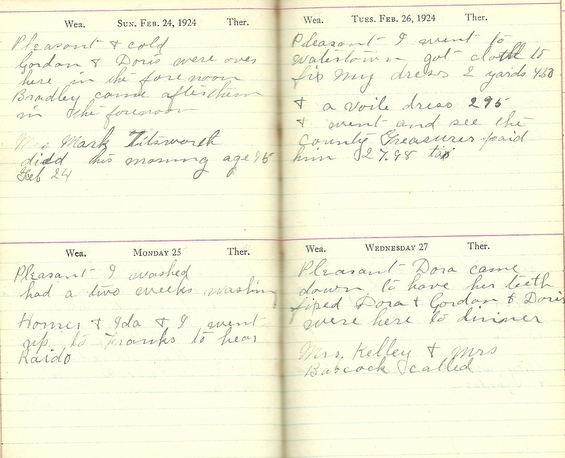 Sunday Feb 24
Pleasant and cold. Gordon and Doris were over here in the forenoon. Bradley came after them in the forenoon. Mrs Mark Tidsworth died this morning age 76 Feb 24.
Monday Feb 25
Pleasant. I washed, had two weeks washing. Homer and Ida and I went up to Franks to hear radio.
Tuesday Feb 26
Pleasant. I went to Watertown got cloth to fix my dress 2 yards 4.50 and voile dress 2.95 and went and see the county Treasurer paid him 27.98 tax
Wed Feb 27
Pleasant. Dora came down to have her teeth fixed. Dora and Gordon and Doris were here to dinner. Mrs. Kelley and Mrs Babcock called.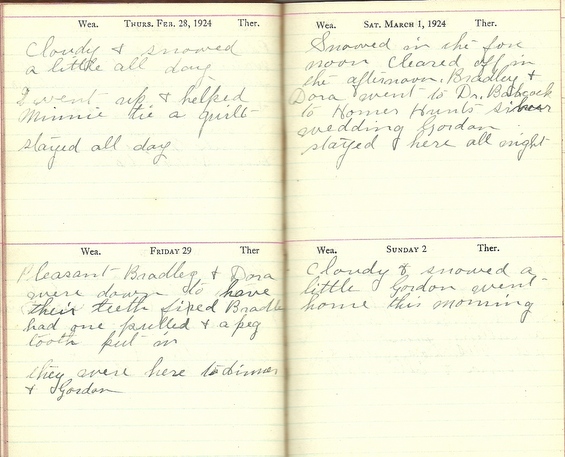 Thursday Feb 28
Cloudy and snowed a little all day. I went up and helped Minnie tie a quilt, stayed all day.
Friday Feb 29
Pleasant. Bradley and Dora were down to have their teeth fixed. Bradley had one pulled and a peg tooth put in. They were here to dinner and Gordon.
This ends this post. I will pick up in March with this diary, there are two postings above for March if you want to sneak peak. I wonder how Edith's garden will do this year once all this snow is gone and spring comes.
I hope you are enjoying the diaries. Grandma Donna