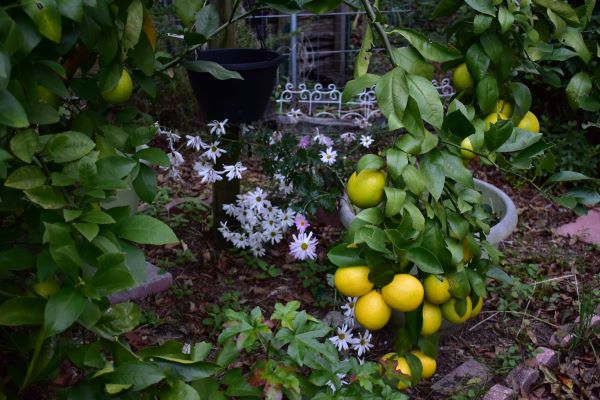 This morning we had our first frost. This time of year our citrus trees are starting to ripen but are still not ready for harvest. Several years ago I would be very concerned and start tossing blankets over the citrus and doing my best to wrap them when I knew a frost was coming but I soon realized that they would make it through a frost and I was doing more damage than good trying to help them.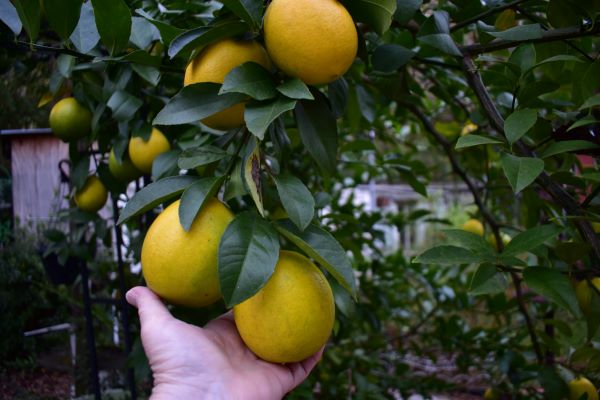 A few more weeks and we should be able to start harvesting. This coming weekend the temperature may get down to 37 Degrees / 3 degrees Celsius. That is still not a freeze so this is good.
We share our citrus with some friends from India and they are very excited that this years harvest will be soon so they can make lemon pickles. I do not have a recipe for this, I normally preserve ours in salt.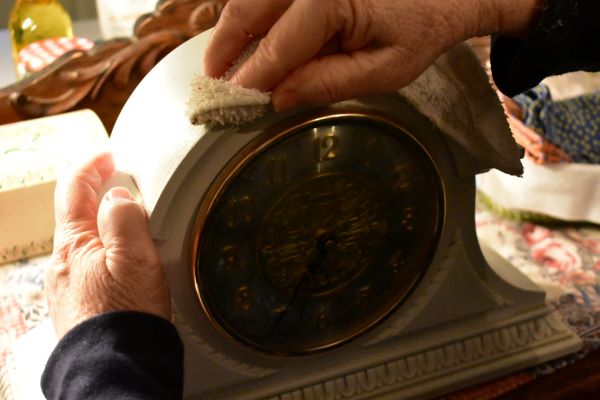 This past weekend was time to move our clocks back one hour. At our house it is also time to change batteries in the smoke detector and clean the clocks and ledges.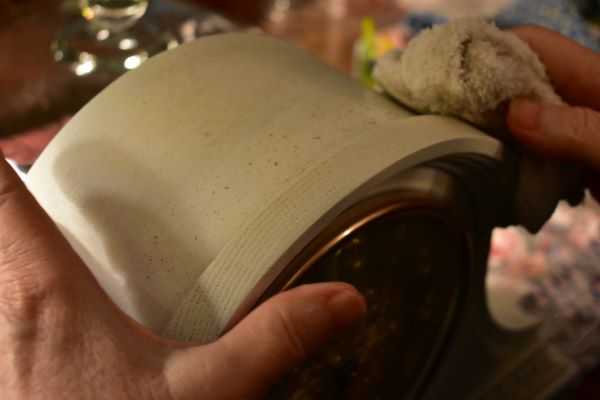 This clock really needed cleaning, it is by the back door / kitchen area but dust and dirt is something that happens in every home.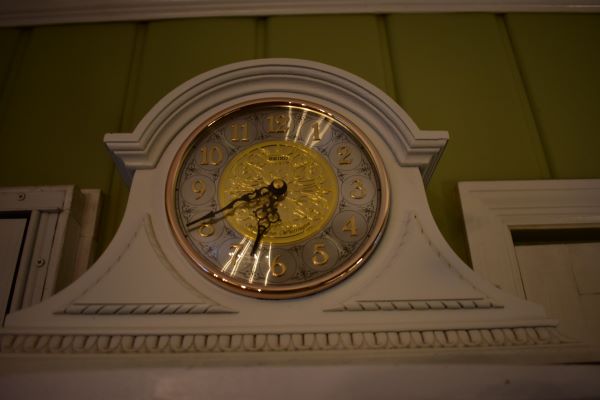 So we clean and polish until next time. I told Charles if they pass the new bill and stop the time changes we will have to put this on the cleaning schedule.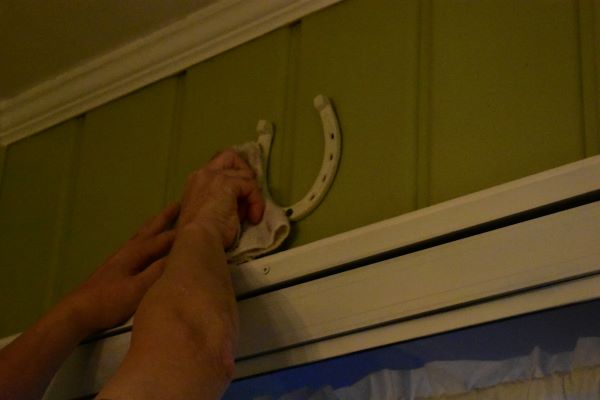 Charles helped me with the harder to reach areas to clean the walls and above the door frames.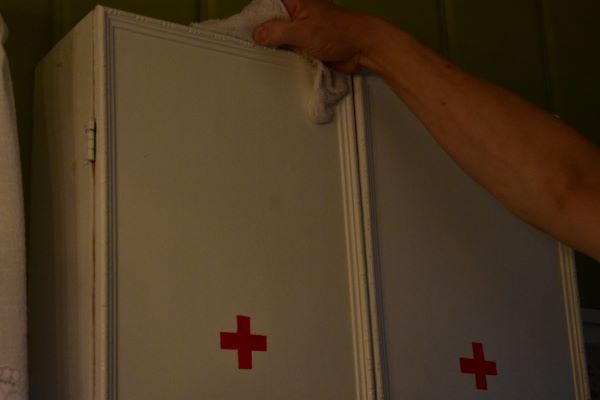 The top of the medicine cabinet was in need of a good cleaning.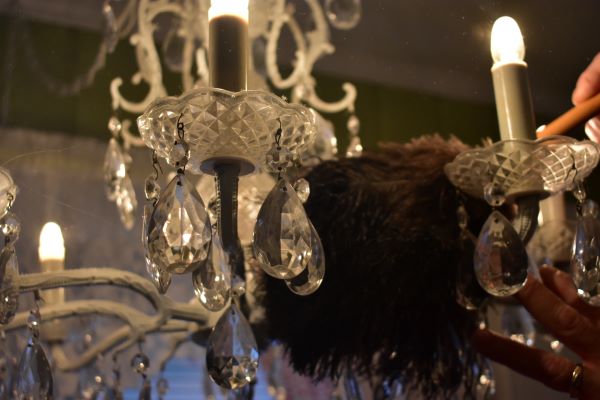 And the chandelier got a good dusting.
About once a year I wash it and it takes several hours because I have to remove the crystals and cups so they can be washed with soap and water.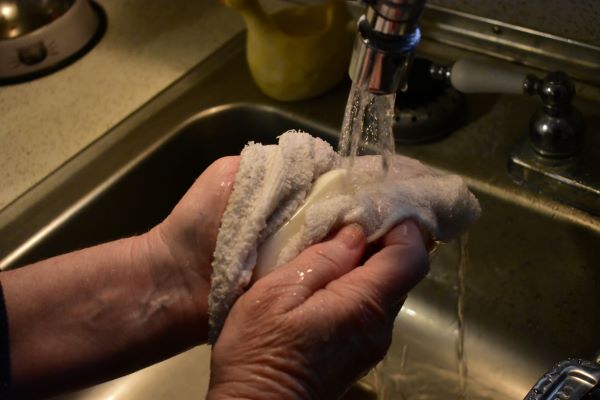 I like to clean with castile soap. If I do not have any of the soap that I make, I use kirks castile soap or Savon de Marseille.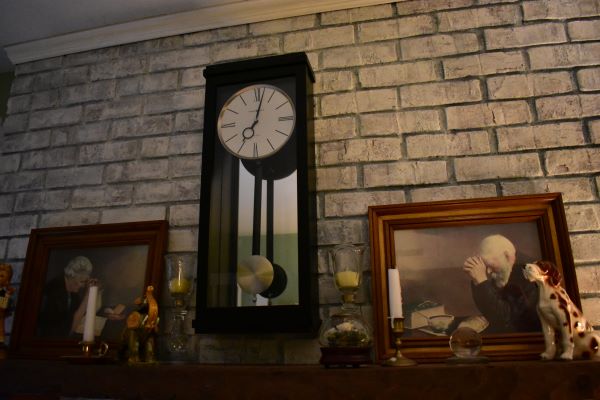 It does not take long once it gets started to change the time and wash the clocks.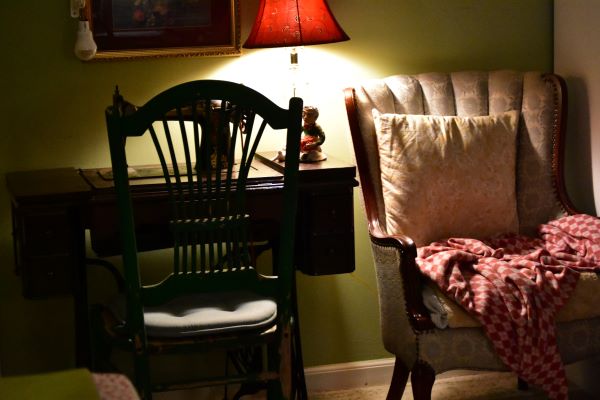 We figured out a new furniture arrangement since we moved the kerosene heater in the house. Last week we moved the treadle machine in the kitchen but this weekend we moved the treadle machine back into the living room.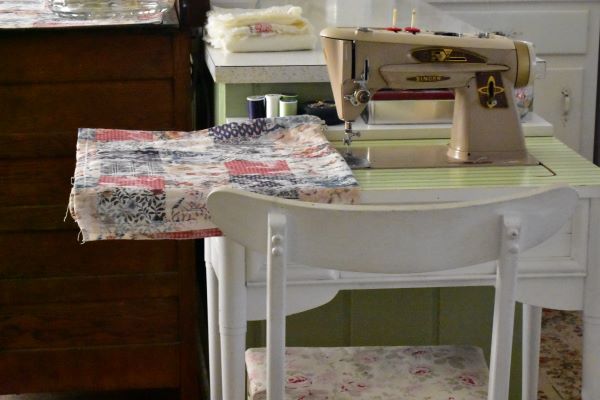 We did this so I could move the electric machine at the end of the bar. I have two sewing machines, the old treadle and this old electric that was my mothers sewing machine. It has a good strong motor and I use it when I need to zigzag. The treadle does not zigzag, and it does not reverse.
For many years the treadle was the only machine I had and I still enjoy sewing on it. When I need to work projects that need to be zigzagged or do a lot of reversing I use the electric machine.
When I use the treadle machine it feels like the old days and the rhythm of the petal is so relaxing. I would sew baby cloths for my children on the old treadle. I have a story on my blog about having to leave the treadle behind when we moved as we needed the space for a baby bed. Years later I found one like the one I used and Charles bought it for me.
I take them both to the singer place when it is time for servicing. They also sharpen scissors so it is a good time to get that done as well.
In the past people would take many items to be serviced or repaired and sadly today many people simple get rid of items and buy something new instead of getting it repaired. The really sad part of this is most of the old repair shops have closed their doors.
In the past we had our shoes and clothing and hats repaired as needed. There were little shops all around that could repair most anything. The millinery shop to get your hat repaired, the cobblers shop to get our shoes repaired, the seamstress shop, the clock repair shop, the radio repair shop and then the television repair shop.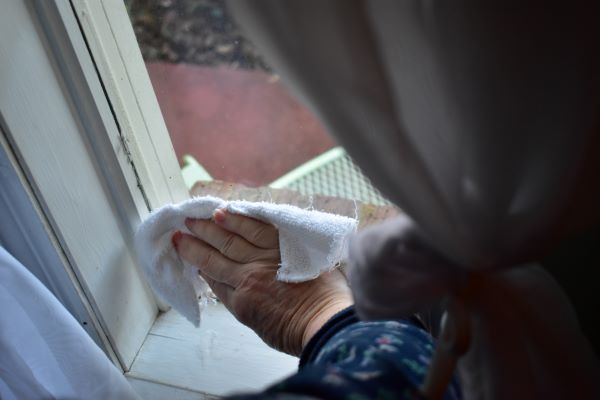 This is the girls lookout window that I am cleaning. They keep an eye on what is going on in the neighborhood.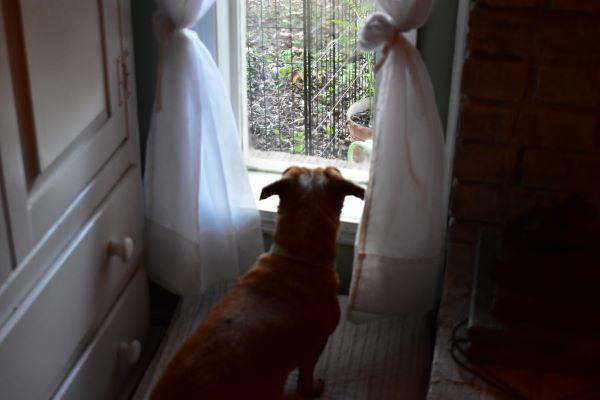 Nobody crosses this path without the doggie alarm going off.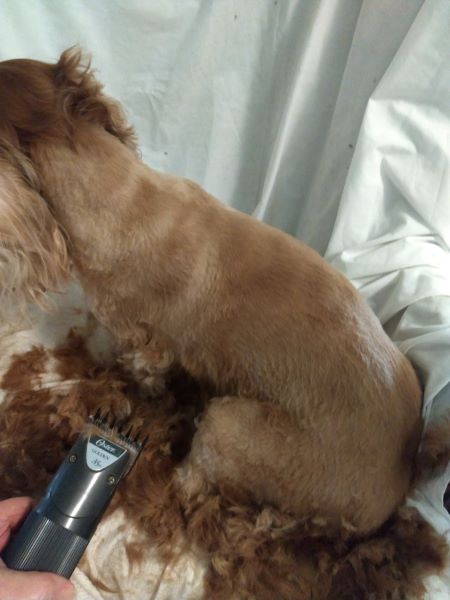 Last week was grooming week Elizabeth and Bernadette got a hair cut. They have sweaters to wear so they will not get cold but they really needed a haircut. It takes me longer than it use to but I still manage to get it done.
I had to use my phone to take these pictures so the picture placement is off a bit on these photos.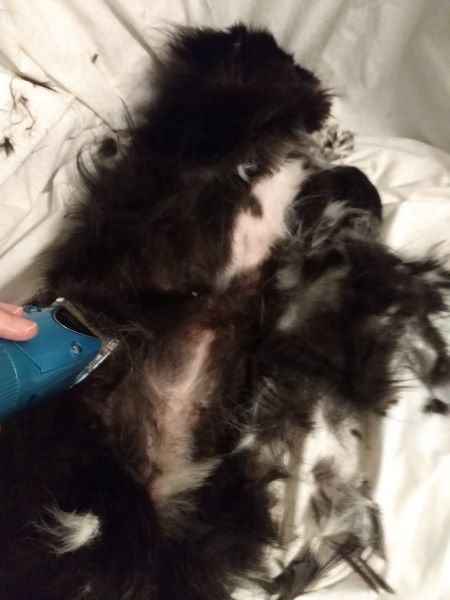 It is difficult to find Bernadette but she is on the left.
Katherine got a bath too but she has short hair so she does not get a haircut.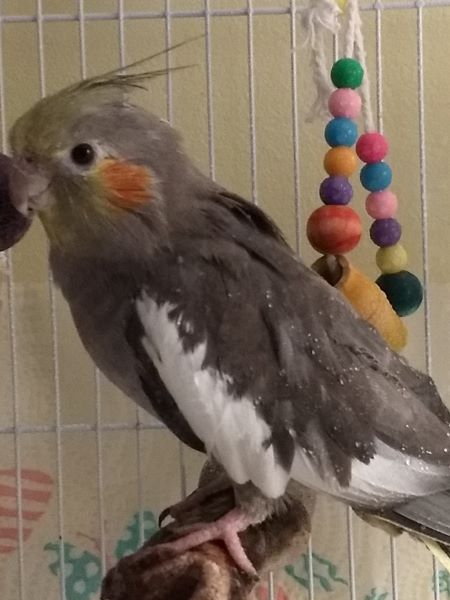 Even Belle got a bath...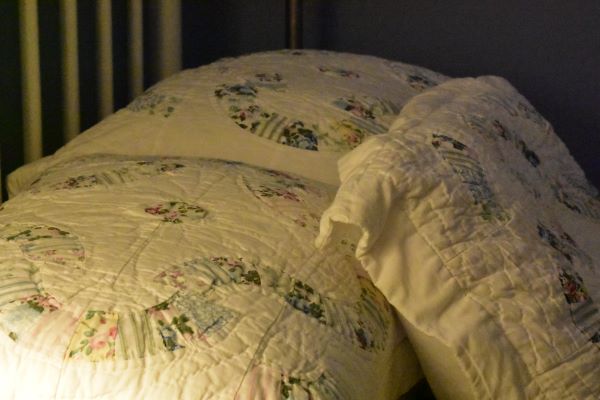 Each week I am preparing for winter and enjoying the cooler weather.
Charles and I have been talking often about retirement and this weekend we keep talking about when Charles retires we will do this and we will do that. We have both been more fatigued lately and not resting as well and I mentioned to Charles that we cannot focus only on when retirement happens because we are forgetting to enjoy each day.
So my message today is "Don't forget to enjoy today".
No matter what is happening in your life, if you are waiting for something to happen, a test result, a retirement, a new baby, buying a new house, starting a new job or a move. Do not forget we still have today to enjoy and we do not want to miss anything.
I made a video to go with this post, to view the video click here. https://www.youtube.com/watch?v=n9s2Sy1iy3I
Grandma Donna