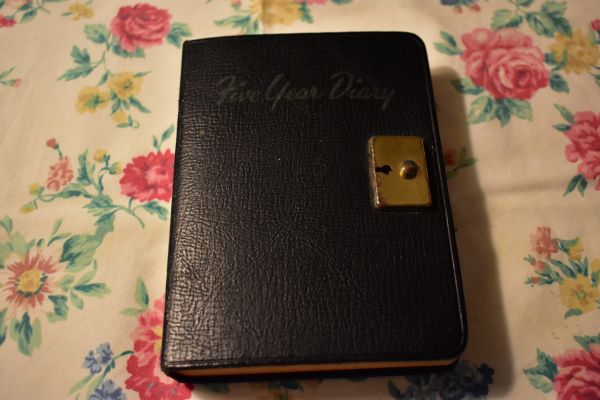 My schedule for diary readings have changed to Friday readings.
Now we pick up the reading of Lil's diary. It is 1943 and world war 2 is really ramping up, this is about the home life of Lil and Bob and they are in their 70's and Bob has war duty and goes to the roof top of a hotel to watch for war planes.
Monday May 31, 1943 Showers - Bob over at Sonoma. home at 1'0'clock Feeling some better today. B. Marshalll called.
Tuesday June 1. 1st day of June - not a very good start but looks better this Eve. Bob home late 1-30.
Wednesday June 2. Fine but lots of wind. Cleaned living room Bob home 1-P.M.
Thursday June 3. fair. High wind in P.M. Baked cookies - Bob washed car & had tires filled and got 5 gal Gas at 15 oil S.
Friday June 4. Fine day - Ruby and Babs called - watered front lawn- Down to Larkspur - Roys birthday - talk on phone to Ralph.
Saturday June 5. Fine day for our 15th anniversary - no trip this year. Shortage of gas & Bob working.
Sunday June 6. Nice quiet day - Bob up town for a chronical - cut lawns & watered the back yard -
Monday June 7. Fine day - watered lawn - Up town to shop - over to Frahms for broilers - got two & dressed them for tomorrow.
Tuesday June 8. Cloudy & cold wind - cleaned house - Bob up to vote. I did not go. too tired.
Wednesday June 9. - Fog in forenoon - Baked a bread pud - Bob home Early - Mrs. Pettygrew called - over to see Emma few minutes.
End of this reading, we will continue next week.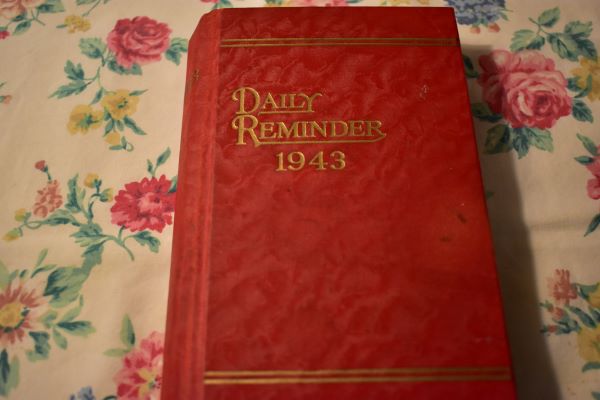 Now we continue with the reading of Lena's diary.
Monday, May 31, 1943. Didn't go out today only did my washing and cleaned the window screens and washed the downstairs windows with the brush and put in the kitchen screens. Worked all day with a little rest at noon. This was a holiday.
Tuesday, June 1. Got up early and went out in the garden. Took the hoe and whacked up some of the witch grass and if it rains think it will spade easier. Put in 2 more rows of horticultural beans and set out 14 tomato plants. I have some nice thrifty ones not very tall. I followed the way I read in the Globe plowed the sod over and let it stay and I set out the tomato plants there with sheep manure coverd with dirt and little water and put white collars on them. I didn't seem to find much grass.
Wednesday June 2. Cut worms two tomato plants in spite of white paper collars. I replaced them. Did the ironing after dinner as I went to W. Leb for fish and Haddock and mackerel also some bacon and 6 point cheese. (remember there is food rationing going on during ww2 )
Thursday June 3. Had the baked mackerel I got yesterday was nice. Rec'd a card from Hazel Knight. Graduation tomorrow night and after much figuring the florist and I together found how I could send some flowers 1 doz carnations $2. and said he could send them on the bus tomorrow morning % the principle of the school. Rather round about but hope they arrive safely and she will be pleased.
Friday June 4. Washed upstairs and kitchen curtains then went over to W. Leb for eats. Got 3 chops and 1/2 lb hamburg took 9 points and I have one left had the hamburg today will have bacon and eggs tomorrow. They had fish but we had it 2 or 3 times chowder for supper. Richard still has half the cheese I got Wednesday. I ordered a chicken for next week. It is hard to plan and keep between the points. 2 more tomato plants taken by cut worms.
Saturday June 5. This is a nice day no rain but an awful thundershower last night but scarcely any rain. Ironed Richards suit and the ruffled curtains up stairs also kitchen entrance and put them up didnt do any cooking bot rye bread and a cake at Joes and he says use cayenne pepper for cut worms. I strung the dutchmans pipe I cut down last Fall and it is growing fast. The wind slammed the front door and smashed the glass I went over to Elliots and got one.
Sunday June 6. Cold morning after being so hot yesterday. Didn't do much. Today Everything is growing even the weeds and grass. I see I have a white iris and the blue and yellow ones are coming out. I wrote to Eva today and should have written more. It is hard to write and expect Ill not always be writing letters. Must set out some more tomatoes as they are so large there isnt room in the little cheese boxes. 'Ive got some more places to prepare. Must plant corn this week and more peas if possible.
Monday June 7. This is a rainy day but I did the washing and left it in the tubs 2:30 rains more than ever. Hat thot Id go over town and do the various errands, but do not have much courage Eva wants some maple syrup and Guranos Shall try and send some. Richard put the glass in the front door which was too short. I got a piece from and old screen door and it is alright am glad it is in.
Tuesday June 8. It cleared off today. Went out and did a little in the garden. LEt out 7 more tomatoes and put in 2 where the cut worms took them making 21 in all. They are splendid stocky plants if only they will continue. Transplanted the other and the peppers 21 I think and 10 or 12 tomatoes. Must make a place for 6 asters they should be set out. The peas and beans are getting along good if nothing happens. Swiss Chard is coming but the beets and carrots must be weeded.
Wednesday June 9. I guess Ive got the hives again my neck is all rough and red and how it itches am starting on the vitamin pills again. Ive been eating rhubarb have made 3 pies and Ive eaten the most of them so wont eat any more. Thot I would try the pills while its so hard to get to a dr. and cheaper to take 100 pills at $2.39 than pay $3.00 for a dr. and take them too. Went to West Leb. and got a haddock and a mackerel. Tried to weed the beets & carrots this P.M. but didn't finish.
End of this diary reading, will continue next week on Friday. Grandma Donna