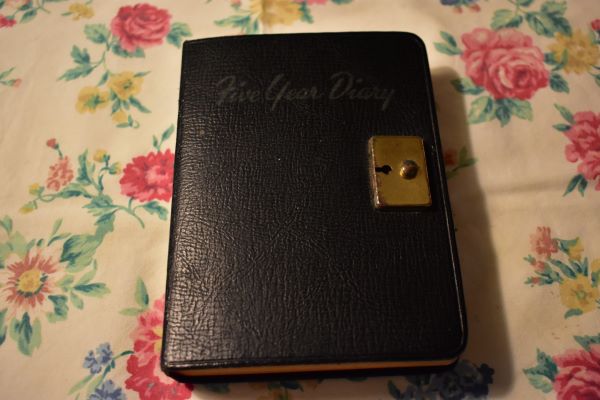 We continue the two 1943 Diary readings of Lil and Bob and Lena and her son Richard. During this year, world war 2 is going on and rationing of food and goods are everyday. We peek inside their lives and find that they continue on as usual and adjust to the changes. I type out the diaries as they are written misspelling as well.
We start with Lil's diary.
Friday, November 5, 1943. Fine day - washed kitchen curtains - called on Emma a few minutes.
Saturday, November 6. Fine day - Frost in a.m. & cooler this Eve- Bob done the shopping - Lena & Nancy in with letter from Babs -
Sunday, November 7. Fine day - Slept late - Bob up for Chronicle, over to stay with Emma till noon. Bob's friend Wayne Whatley here all P.M. took him out to dinner.
Monday, November 8. Fine & quite warm - Baked ginger bread - Marshalls here short call - Bob cut Frahms lawn & watered part.
Tuesday, November 9. Fine day watered & worked in yard all a.m. - Bob raked & burned leaves & Letter from Helen.
Wednesday, November 10. Fine day - Cared for Nancy worked nuco - up town with Bob to shop - Bob watered Frahms lawn.
Thursday, November 11. Fine & warm - Armistice day - 25 years & at it yet - Richard & Marion over in evening.
End of Lil's diary for this week, now on to Lena's diary.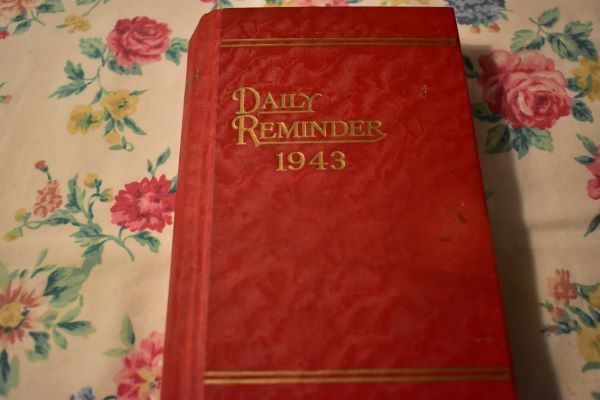 1943 Diary of Lena and her son Richard. Lena is a widow and her adult son works downtown and is in janitorial services for we know he does floors and is on his feet a lot.
Friday, November 5, 1943. Did a little washing as usual and cleaned the rugs and dry moped down stairs. Didn't go out today Pearl came in this aft. and we just visited. I wish Richard had a better appetite. I must get him something he can eat. If I can get steak for 12 points it will help him. I got 2.
Saturday, November 6. Went over street and Mailed a P.O. Order to Jordan Marsh for a pair of gloves for me and slippers for Richard couldnt get grape fruit or oranges shall make pineapple juice instead. Went to Public Market got 2 P. Chops and the rest of my 12 pts in steak Had to go in the forenoon as the P.O. chores afternoon. Got home in time to wash and wax the linoleum. Then got dinner. Vinton surprised me in a short call.
Sunday, November 7. This is a nice day and made chocolate ice cream and after dinner listened to Charles Thomas etc Then wrote 2 letters all the letter paper I had or rather envelopes. This is Georges Birthday He would be 86. Am having a touch of the prevailing distemper but keep going just a little under the weather I call it. Clifford has had his appendix removed so Vinton told me and I wrote to Barbara.

Monday, November 8. This is a real rainy day. Didnt feel very well but did my small washing and hung it on the piazza excepting some starched things over the furnace. Think Ill try the laundry when it gets cold unless I feel a lot better as I can find time to do a lot of extra things. (This is how it was written seems a little confused)
Tuesday, November 9. Another rainy forenoon but cleared off about 11 O clock and I went to Pub. Market and got liver and oranges Floridas are in but are kind of hard and white looking but they will do til the Cal. come in. Had a letter from Geneva she sent me 16 points again. I wish I might do something in return Eunice has joined the Wacs and hope she will make good. She didn't come up to weight for W.A.V.E.S was too light. Bill joined the Marines goes to school 1st of the year.
Wednesday, November 10. Did my Ironing this P.M. as I slicked up a little and had to shop a little this a.m. got hamburg and a cold ham and a couple of frankforts for Richards supper finished ironing then went to the A & P and got 3 big grape fruit 19 cents and bread & tea Tomorrow is a holiday and Mrs. D- is spending the day we may go to pictures if we feel like it. Colder.
Thursday, November 11. Very quiet today but the Public Market kept open all day. Mrs. Denison came and spent the day is staying all night. We didnt go out but I just shopped a little at Public Market. Had a call from Clemllyn Tonight and Seth seemed good to see them Seths Unkle John Hale was to be burried this P.M. (a reminder that during this time when someone came for a visit they would say they had a call, meaning a in person visit.)
End of this weeks diary reading. It seems to me that we are nearing the end of this year very quickly and soon these two diaries will come to an end.
There is an extra post this week. Another post is following this post today in the cooking from scratch section. It will be at the top of the main page. The regular post will be the next day on Friday under living like the past and also on the main page as well.
Grandma Donna