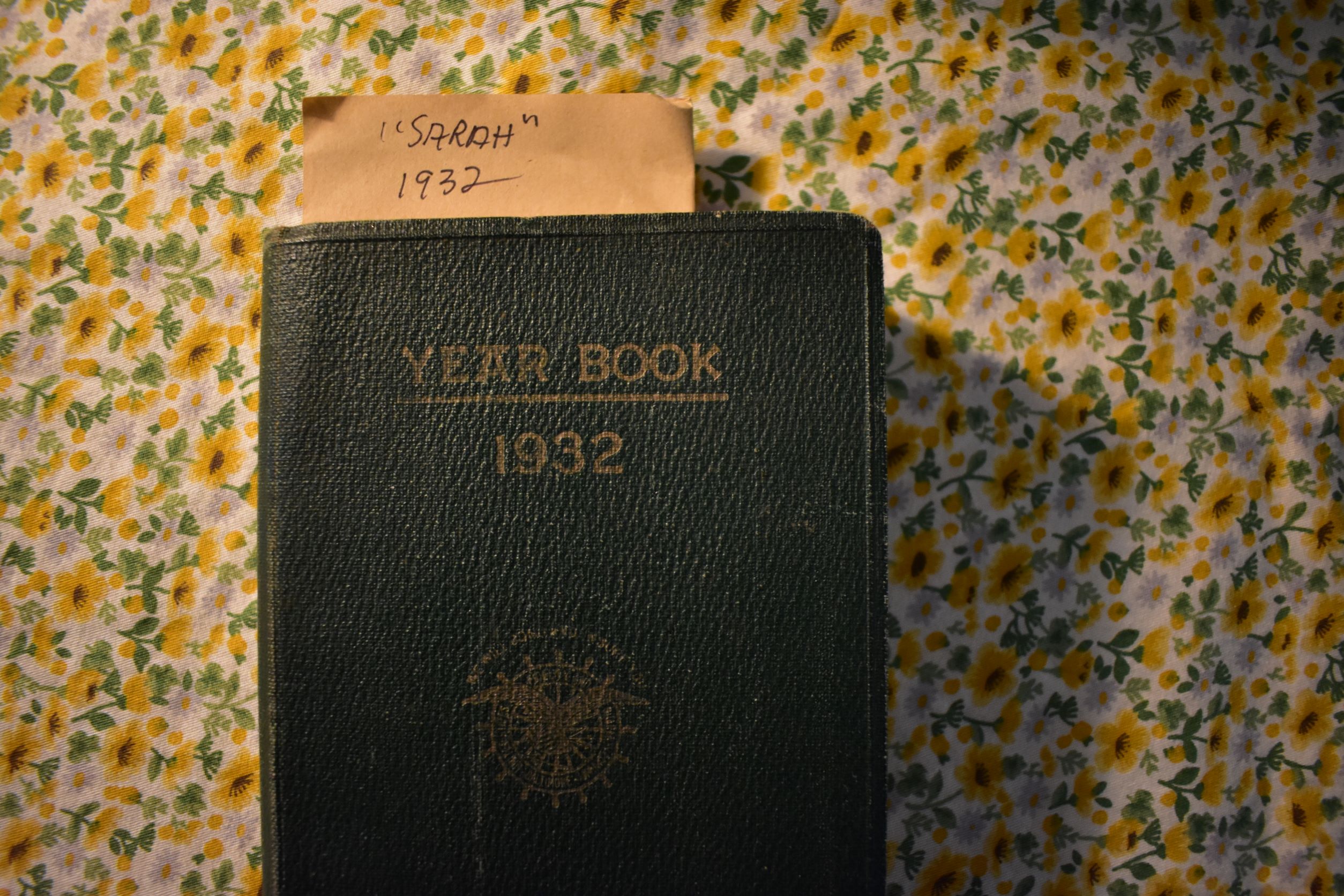 We continue our readings from Sarah's diary. Today's diary starts the beginning of the month of May.
Sunday, May 1, 1932. May the 1st and it takes a fire in the stove to make one comfortable. Had the usual morning tasks & then worked for quite a while with the chickies. Made preparations and attended the church & S.S. services. Home and prepared dinner. Harry, Polly & family here for dinner and the afternoon. Usual evening tasks to see to, tired and sleepy.
Monday, May 2, 1932. A find bright day with a good stiff breeze astir. Had the usual early morning tasks, saw to the young chickens and then got busy with the washing for both families. Finished about 10:30 and hung my own washing on the line. Dinner. Just after dinner, father & I with a lift from Joseph transferred two coops of chickens to the chicken yard back of the chicken house. Collected news for the paper & took in the clothes. Ususal eveing tasks, then supper. Did a little copying. Sleepy & tired. Late
Tuesday, May 3. Another fine day, bright and beautiful this A.M. cloudy this P.M. and sprinkling rain this evening. Usual early morning tasks outside and indoors. I then got busy & finished copying the news for the paper. Had the after breakfast work to do and prepared for dinner. Found the other coop of chickens were pecking each other so badly that we moved them into the chicken yard also. Augustine dropped in on us at noon bringing me a nice pitcher put up especially for iced drinks. Worked for a while this P.M. on the family genealogy, Harry here for supper and the evening.
Wednesday, May 4. Cloudy quite early but cleared in good time, so that one may say we had a find bright day & I think the warmest we have had. Had the usual early morning tasks to see to and the little chickens. Then set me down to write. Added a few lines to the family genealogy then sealed it & also a letter for Mrs. Miller and carried them to the mail box. Father reports that he wants early dinner, so I got busy and served dinner at 11 0'clock. This P.M. I cleared off the East porch, scrubbed it and the pavement. Wrote a long letter to the Rosses. Dampened the clothes, saw to the usual evening tasks, Set 4 hens in B.R. & 1 in lower shed. Supper.
Thursday, May 5. Bright, beautiful and very warm all day. Had the usual morning tasks and spent quite a bit of time with the poultry. Spent some time working up my topic for the meeting this P.M. Topic today Justice. Made out a seed order for the Leivingston seed Co. & then packaged a couple of dozen, lacking one rhubarb for town. Dinner. Hurried to dress & was just ready when Mrs. Green came for me to go to Franklin where the meeting was held with Ada Bunnell. Home for evening tasks, very tired. 9:40.
Friday, May 6. Bright and very warm. I think the warmest day we have had. Had the usual morning tasks to see to . Looked after the young chickens and the setting hens. Started the plant and did the wks. ironing. Opened a can of soup meat and made a kettle of vegetable soup. Polly, Harry & Bonnie here just after dinner, for a short time. then on to the Hatchery. Gave the bed-room, living-room, hall-way and stair-way a special clean-up. Baked an angel food cake. Usual evening tasks and Supper 10:20.
Saturday, May 7. Arose in good time & had the usual early morning tasks. Clipped the asparagus and got it ready for town. Baked several pies and then served dinner. After dinner work. Scrubbed the west porch and pavement and iced the angel food cake. Mopped up the kitchen linoleum. Father brought up and emptied 3 meat jars from the cellar & I cleaned them up. I also swept down the cellar way good. Usual evening tasks. Earnest, V & Jimmie here for supper.
End of this weeks reading.
Sarah, works very hard as many women did during this time in history. I wish we could see how she carried in and out her water, I wonder if the men help to draw it for her as part of the morning and evening tasks. We read all of the things she does but to think of the household tasks when you are having to do this with well/cistern water. They were so very skilled long ago and incorporated all of these things into their daily tasks.
Each Saturday that she wrote she had a bath, I can picture the washbowl being used during the week and that Saturday bath to be clean for Church on Sunday.
Grandma Donna