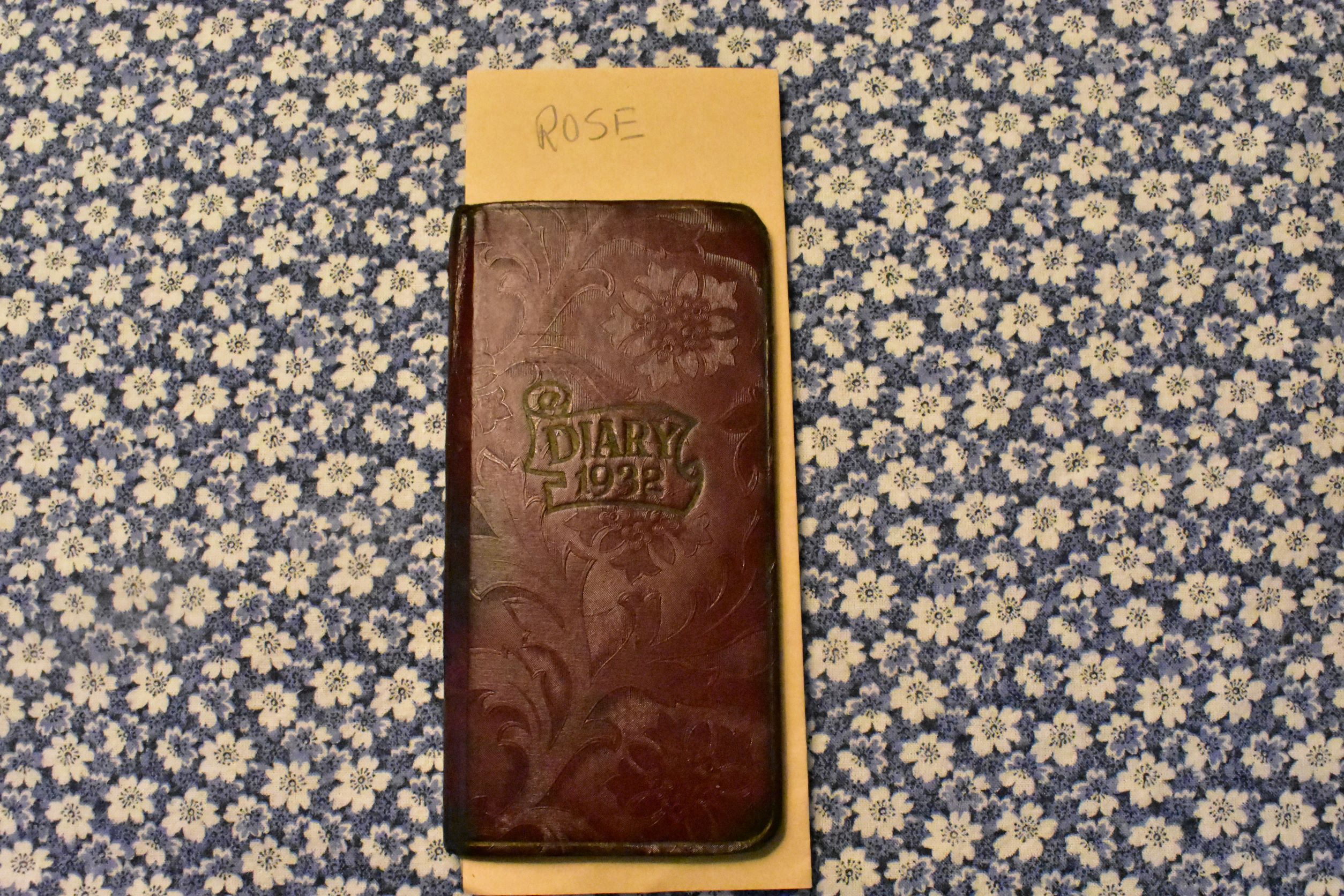 The year 1932. Rose is a thirty five year old school teacher in a country school. She is unmarried and lives at home with her parents and family in a rural area in the state of Iowa. Rose has not been teaching and we are thinking they have possibly closed her school. We are not sure of the reason why, many states, counties and cities have been having problems paying salaries during the great depression, there is also very bad flu at this time as well as scarlet fever.
The diary of Rose is a simple diary a bit like the diary of Bob and Lil. It is still part of history and we can get hints of home life during this time.
We continue our readings of this diary.
Tuesday, February 9, 1932. Fred Muir's funeral. Good day but chilly. Mama, Helen and Harland to Rasmussen's sale. Skinner got final decision.
Wednesday, February 10. Very good day. Mama, Harland and I went to sale near Jonesville. Mama got two roosters for $ 2.25.
Thursday, February 11. Rainy a.m. and cold. P.M. mama, Helen and Harland to waterloo in P.M. Thunder & Lightening last night. Mama & Helen up to Corwin's. Oyster Supper.
Friday, February 12. Cold. Took Mama to continue peddling. Helen cleaned upstairs. I have my first cold this winter.
Saturday, February 13. Rather chilly but sunny. I took Mama to Waterloo.
Sunday, February 14. Good day but cold. Harland went skating in P.M. and down to play cards in eve.
Monday, February 15. Helen baked bread. Misty a.m. quite good P.M. Thompson out to work on coup. Bill Corwin and Floyd down in eve. Sewed.
End of this weeks reading of the diary of Rose. Now we will see what Emma is doing.
We continue the diary of Emma. The year 1933. Emma has been a widow for 1 year and 5 months, she is living in the United States in the State of Iowa. Emma lives in a small town community and has a busy life. Some of her grandchildren are brought into town for school and often they stay for awhile with her. One of her grandsons stays with her longer than the others. There is much interaction that goes on with her family, her children live in rural areas and one daughter lives away and writes letters. Emma's grandchildren come to visit her often and a few of them are old enough to be helpful. Emma misses them when they are not there. You will start getting the feel of who they are as we read through the diary.
We left off with Emma's post last week. Wednesday, February 8. Eighteen below zero this morning but sun shining. Fire bell rang at 11 last night. Roland stokes house roof was afire with a new baby & a pneumonia patient inside, a strong N.W wind but fire was soon under control fortunately. Nova's got chicks home & doing fine. Very cold yet this evening eating a lot of fuel.
Now on to this weeks readings.
Thursday, February 9, 1933. This is fierce! Twenty below zero, cant do much but keep fires. None of B's children coming to school today. Sure got their hands full Lem being away, thankful we are all well Martha Galley called this P.M. They are moving to Texas soon. Wind in South west a little milder.
Friday, February 10. Two below this morn. & our darling babies six months old and so well and growing fast. Ernest just received a message from Lloyd James saying that my Dear bro. Al had passed away.
Saturday, February 11. Got a letter from Grace telling of the awful Omaha fire wind back in North 5 below this morn. Maybe there is, really is something in the ground hog saying. Have written and mailed a letter to Idella James, am feeling sad & lonely, How I will Miss Bro Al 's letters, Bessie, Sheryl, Irene & John in this P.M. B going to dentist for a finish.
Sunday, February 12. Bessie, John & Sheryl went this a.m. to meet Lem. Stoped here on their way home & took me out with them. This P.M. Oli took Bessie & I up to Abe's to see their little chicks. Edith came to Nova's and also came on home with Bessie to see the babies so good & nice. Weather moderating.
Monday February 13. Cold snowy weather, Had to order my second load of coal today. $9.10 worth, Have tried to get a little sewing done on comforter lining, Don't feel like work, am so broke up about Al going so suddenly. Grace up to library.
Tuesday, February 14. Freezing in pantry. The same cloudy wintery weather all well as usual. Has cleared off I thawing some this P.M. got a letter from Melia this noon. Have been busy working on couch robe today. Piecing striped lining & crazy top of silk & wool new pieces. Had pigeons for dinner.
Wednesday, February 15. A very pleasant winter's day Thawed a little. Lem was in this a.m. brot me a pt of cream. He isn't feeling nor looking well. Oli came in this evening from their Tea for Mothers & stayed till his Daddie came for her.
End of this weeks diary readings.
It amazes me how much they do during this type of cold. I would be hunkered down and sitting bundled up with layers and possibly knitting most of the day.
Here where I live in southeast Alabama I am planning our spring garden and starting seeds and makes me wonder if this winter of 2022/2023 has been as cold up in Iowa as it was in 1932 & 1933. Spring is on its way eventually.
We will be back next week to continue these diaries. Grandma Donna