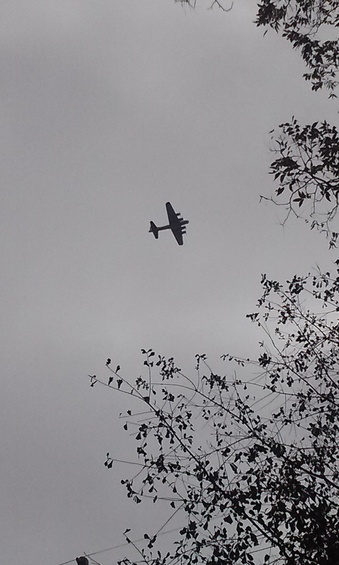 This is one article of many articles on my website. Just go to "Home" and look at the top bar or see menu depending if you are using a computer, tablet or phone to see the many articles on this website.
One day I heard my husband out in the back yard yelling for me, his voice sounded excited and I rushed out the door to see what was going on. A B17 Bomber WW2 airplane was flying over our house. It was amazing to see and hear this old plane flying right over our heads. We found out later that it was visiting our airport on tour.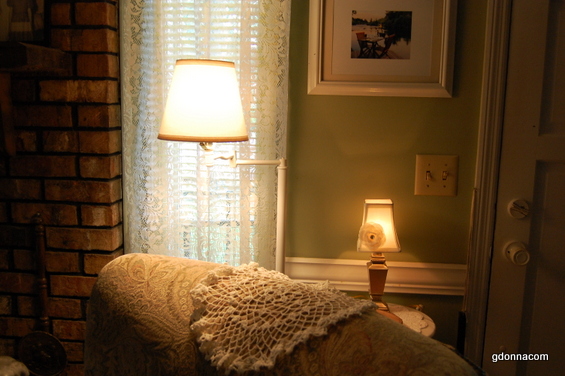 Our 1943 history project is starting to go a bit smoother. There were a few days last week I questioned myself why in the world were we doing this. But that passed and now I am back on track. Winter should be very interesting around here.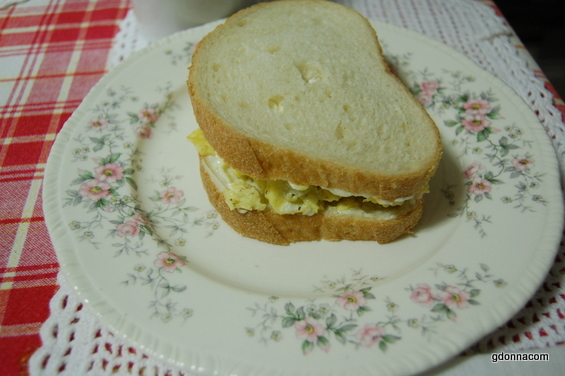 It seems we are eating more eggs and bread since the rationing. I will show a few of the different ways we make eggs. Starting with egg sandwich.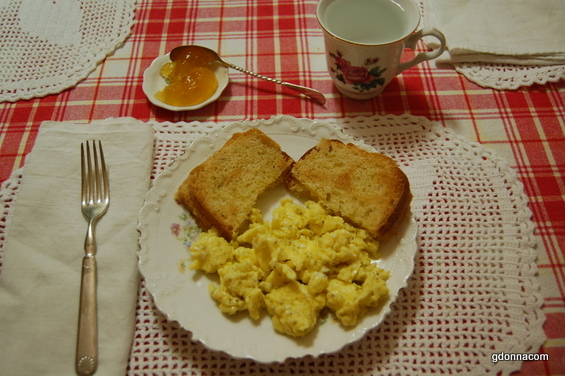 Scrambled with toast and jelly. A cup of warm water.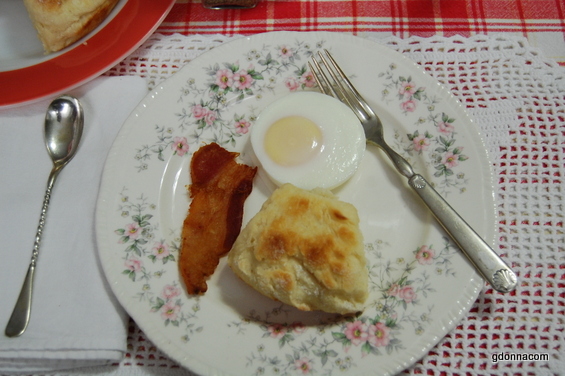 Poached egg with bacon and biscuit.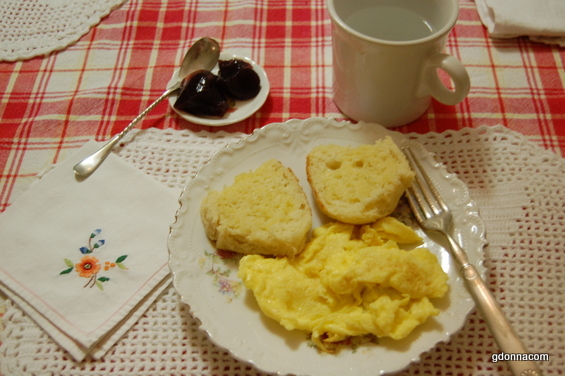 Scrambled egg with biscuit, butter and Jam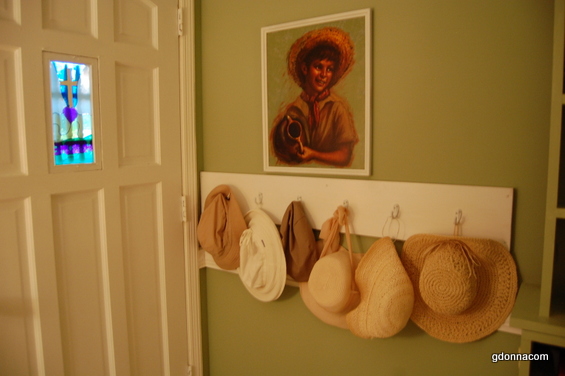 We spend more time outside since I hang laundry almost every day and my husband uses the rotary mower which takes a lot longer to do the yard now. We are not using the blower so I sweep all the walks and driveway. The small garden is getting more attention. Here our summer hats hanging by our front door.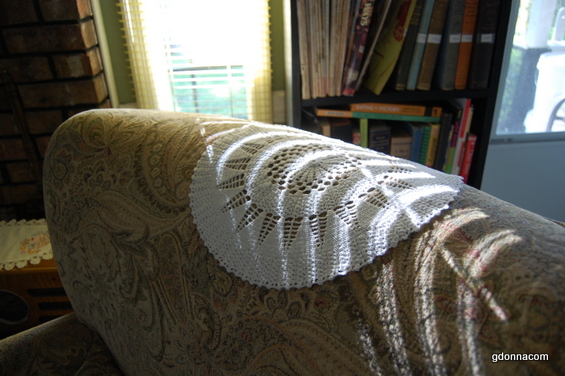 The other day I thought this was pretty where the sun was coming in the window.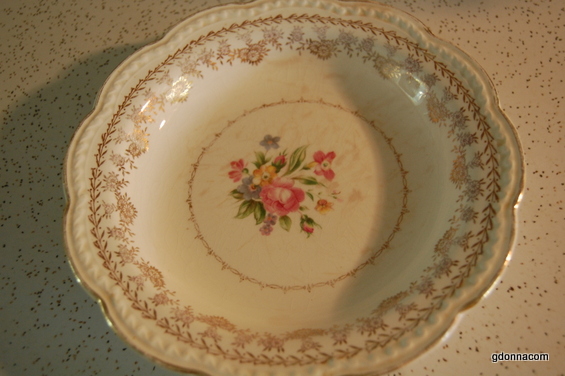 For the last several years, since we started moving back to the old way, we like to go to yard sales and thrift stores. We look for older items to replace newer things we had bought through the years. We also had started a gallery wall in our sewing room.
I like to mix old dishes and it does not matter if I have a full set. Just odd pieces make a beautiful table setting.
Here above is a beautiful very old bowl I purchased for .50 cents recently.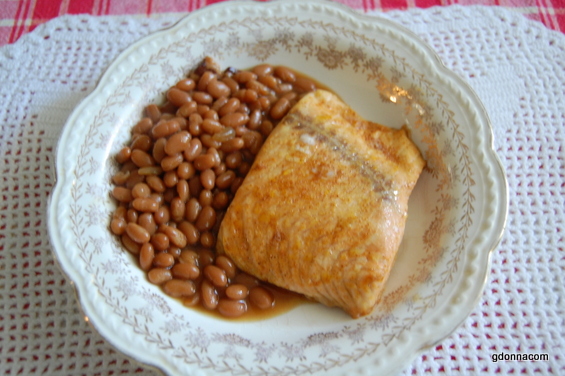 The other day my husband was out of town and I cooked fish and baked beans and used the pretty bowl.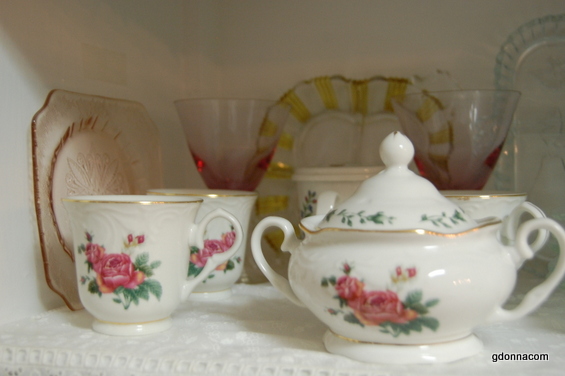 some things I had and some that were purchased at thrift stores. This lovely sugar bowl was $1.00 and the cups were .50 cents.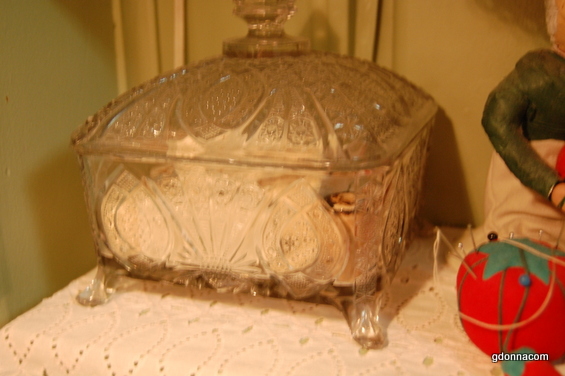 This little dish my daughter picked up for me at a yard sale I am using for lantern wicks.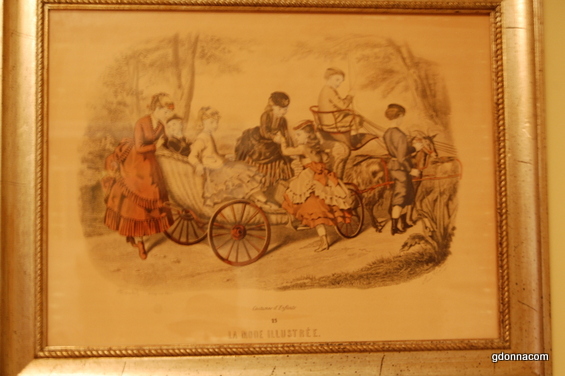 I love it when we find old pictures for our gallery sewing room. Here is one we found at a yard sale for $2.00.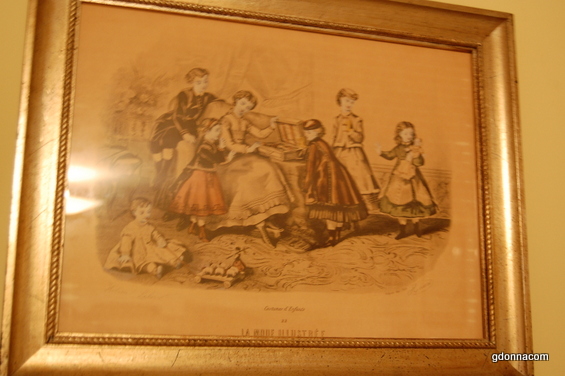 Here is the mate to the other one for the same price.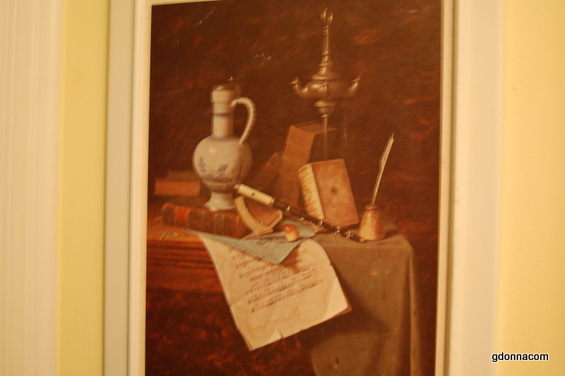 This is a lovely picture found at a thrift store for $1.50 A small lamp sets below this in our hallway.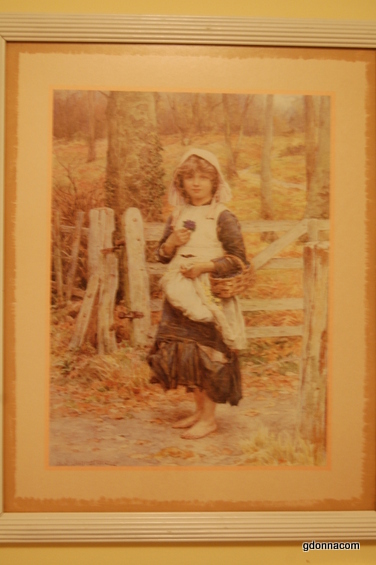 This is a very lovely picture that my husband and I found.
My daughter in law and I go to yard sales and thrift stores together now because I have the advantage of spotting old things because I am old enough to remember many items when I see them.
I don't need much anymore but I enjoy going with her "pickin".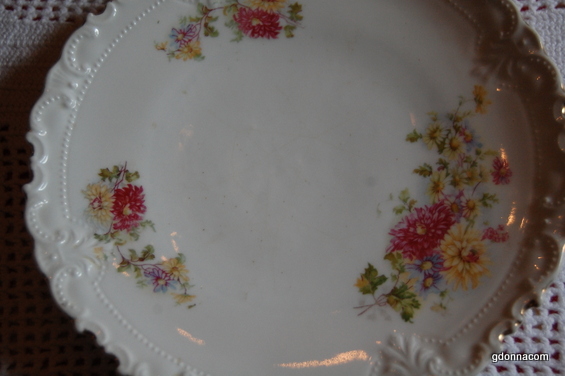 Last time we went to visit our daughter she took us to a thrift shop and we purchased this lovely plate. I have used very often since we purchased it and it is in some of the egg photos. I spent more on this plate than I normally would, $3.00 but the edges are just beautiful.
Our meals have changed quite a bit since rationing. We eat much smaller portions and one of our favorite quick meals is 1/4 pound ground pork (which we normally would have used a pound). Anyway 1/4 ground pork, saute in pan with onions and peppers. Make a gravy and pour that over a dish of rice. The meat is what is rationed in that dish.
Another is Chicken seared in just a bit of oil the cover with water in a pot, put a lid on and let it low boil for 45 min to 1 hour. Make mashed potatoes and a side vegetable. The chicken is not rationed.
Today I will boil meat scraps and make homemade noodles.
Remember to go to my "Home Page" to see the list of the most recent pages. I have many pages about living like the past as well as our recent History Project living like 1940s WW2.
Also my friend Catherine across the country from me is doing the ww2 history project. She is actually the one that brought it up and we discussed the possibility of doing this so we decided to give it a go. Catherine is more like Rosie the Riveter and she has a lovely blog,
http://www.elsiesgranddaughter.blogspot.com/
I will go for now, Grandma Donna