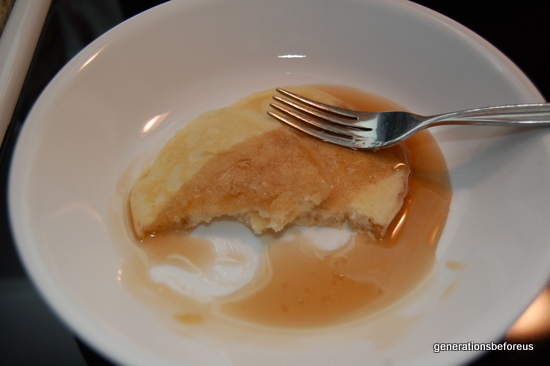 1 cup plain white flour (not self rising)
3 tablespoons white sugar or organic sugar
2 1/4 teaspoons baking powder
1/4 teaspoon salt
2 1/2 Tablespoons extra light Olive Oil to put in batter then you will need extra to grease the pan
3/4 cup plus 2 Tablespoons water

Directions:
Whisk or sift,flour, sugar, baking powder, and salt together into medium mixing bowl. (I do not sift, I used the whisk)

Add water, olive oil to dry mixture and whisk together. Don't over whisk this mixture, small lumps are ok. then fold in blueberries or fruit if you are adding the fruit.
Grease pan with extra light Olive Oil I use a paper towel to spread the pan. Cook pancakes over medium to high heat until bubbly and then flip.
You can add berries or fruit to this recipe if you like, any non allergic fruit if there is no allergy to blueberries this would be a good fruit to add to the batter, about 1/2 cup. Add the fruit after mixing in the oil and simply give it a stir then cook.