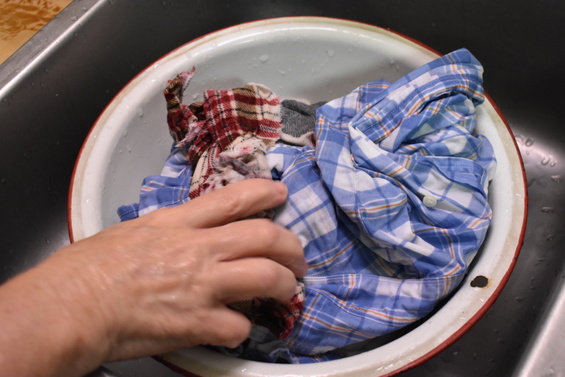 It has been difficult for me to find the time to post articles lately because we have a lot going on here at our house.
I am still hand washing all the laundry and the heat is making it very difficult. I must do this very early in the morning just after daylight. I am finding ways to do things a bit easier so all in all the washing machine being out of order can be a good learning experience even though I know how to do this, I just needed to tweak hand washing laundry for when we get older. :) The answer to this is do it daily so there is not a lot of laundry and to soak, soak, soak the laundry.
Tomorrow will be the end of 5 weeks that the HE machine has been out of order. The man came twice so far but has not fixed the machine and has been waiting on a part that is on back order.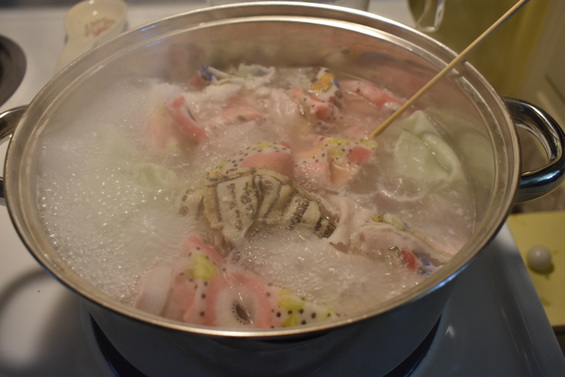 I boil anything that I need to sanitize. I have a big pot I use only for boiling laundry, I purchased it at a thrift store a few years ago for very little money.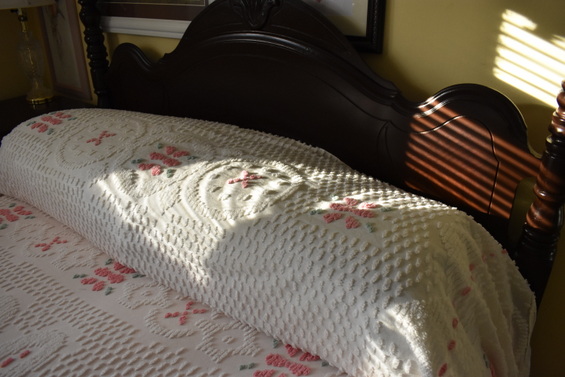 Many of you know we live this vintage life and we have been decluttering for quite awhile as well as painting and sprucing up the house.
Well we have taken things a bit further. We are still living this vintage life but we needed to make some changes for another reason.
One of our family members is getting older and slowing down and so we are making changes to our home to be able to help if we need to. We want to offer her an option to stay with us if she feels she needs to.
It can be difficult for someone that has been independent for a long time to ask for help.
In the past families moved in with each other when needed. During the 1930s and 1940s it was common to see many generations living in the same house.
Charles family did this and they had several generations living in the same house during ww2 and beyond the war.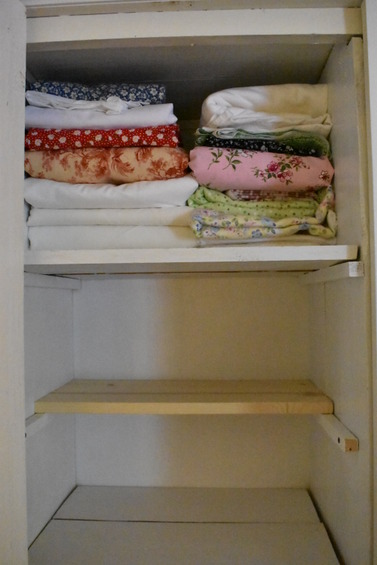 Back in the year 2000 Charles and I had a big decision to make. It was for me to become a caregiver. My Father was very ill and needed care. I just could not put him in a nursing home and he agreed to come live with us. My parents lived apart in two different states. This was an at need time and not a planned situation. He had a large wound from skin cancer and had a stroke.
I quit my job and we moved him directly from the hospital 400 miles away to our house. This included my brother that lived in another state than I and he and I and my sister-in-law packed up my fathers belongings and put them in his into a moving truck and his aging van while he was in the hospital. Charles was here at home packing some of our furnishings and putting them in storage to make room for familiar things that my Dad had so he could be comfortable. We merged and it was a very hectic merge because there was caregiving to do as well.
It was only 4 months later and my father had a very serious stroke that led to us needing hospice and my Dad passed away literally in our arms. I am so thankful he was with us and we were with him.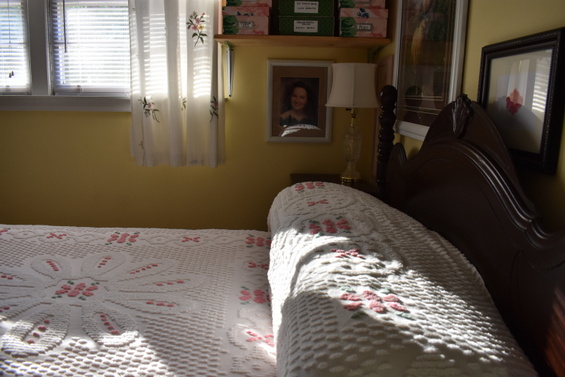 My mother was next to move due to having cancer and dementia. I took care of her for two years in her home but it was getting too difficult. We moved her into our home. A few years later after my mothers passing it took Charles and I quite a bit of time to put our little world back together.
Recently I was in tears just thinking about what it must have been like for them to leave their home and belongings. They were so brave to do this and I don't know that I could be as brave as they were. Saying this, my Dad was relieved for me to ask him, I was shocked because he was such an independent person but he looked at me and said, "you are my angel". I did not have any clue that he would come so willingly. He must have known how sick he was and I feel he was scared. I don't know how hard it had been for him at home, we had arranged home health when he was slowing down but he refused.
Charles and I said we never wanted to do this again "at need" but we have never done anything to prepare our home in a better way. So recently that little voice inside has been telling me, time to have a plan.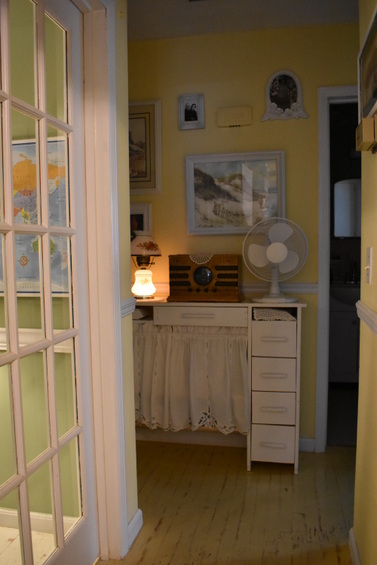 So if you stand in our little house in this doorway I am standing in taking this picture and notice there is a glass door to the left. This goes to the front room in the house, the living room. Straight ahead is a hallway and you can see a bathroom straight right side of photos. Take a right and it goes to a bedroom, take a left and it goes into another bedroom. This is like I am standing at the bottom of the letter T taking a picture.
I am standing in the third bedroom hallway doorway taking this picture. What is special about this bedroom is there is another doorway that goes into the den/kitchen. So if I close off the hallway door that can divide the house into a small apartment within the house. I wish I had thought about this when we were care giving at need.
When my mother was living with us Charles and I moved to this middle bedroom so we could know if my mother was wandering. She was very unsafe, especially at night and she had hallucinations with her dementia. We worked it out but we were not organized at all because we were sudden caretakers without a plan. We actually slept in every room in our house while caring for my mother. When caring for someone with advanced dementia you do what you have to do.
So now we have decided to move into this middle bedroom and get it fixed up for us. This will leave a family apartment.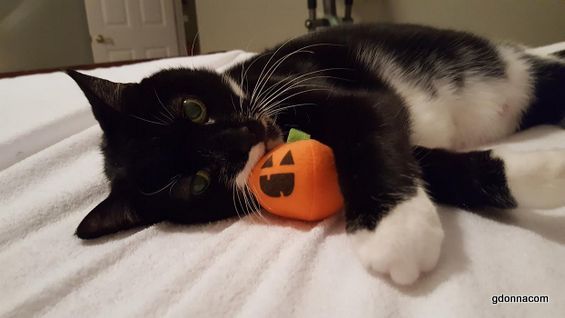 Fergie, my grandcat, one of my daughters cats....
We are a family of people with pets. Our daughters family has pets, our son's family has pets and we have pets. We have dogs, our daughter has cats and dogs our son has cats and dogs and our family member that is slowing down has cats.
It is a real zoo when we all get together. What we cannot do is mix the cats with the dogs because that just will not work for short visits. Charles and I like cats, we just do not have a cat since our cat "Skittles" passed away several years ago.
So what we have planned will help this situation. Let's say our daughter comes for a visit, she would no longer have to worry about leaving the cats at home and making it a short visit. They would have their apartment and we would have ours so the cats would be more comfortable. Or we can call it staying in their cat friendly bed and breakfast. :) I always wanted to run a bed and breakfast. So now we may have the smallest vintage bed in breakfast there is. :)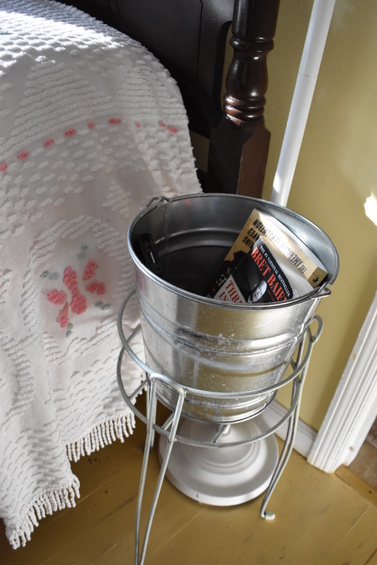 So I am trying to work things out. I have been shoving furniture around the house for over a week. I am so thankful for sliders. Charles is helping me with the very large pieces. This is forcing me to do a major clutter purge. This is a makeshift night stand since this space is not big enough for a nightstand.
We will figure this out as we go.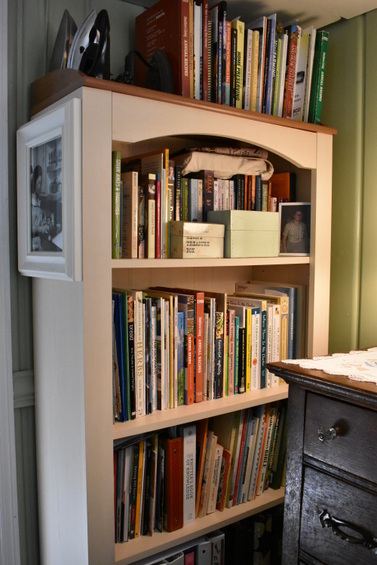 We have a lot of books and this is an issue for little space. I am trying to leave the "Apartment" side furnished with empty closets and drawers in case someone needs to come for care or for a long or short visit.
We moved our large cabinet that was in our bedroom into the kitchen/laundry area (the laundry area with the non working HE machine).
I have now made this cabinet my personal cabinet and it is "full" of all my sewing fabric and notions, craft and soap making supplies. It fits well here and I like it.
I know some of you must be shaking your head thinking, this woman will never quit moving furniture! I feel this one is needed.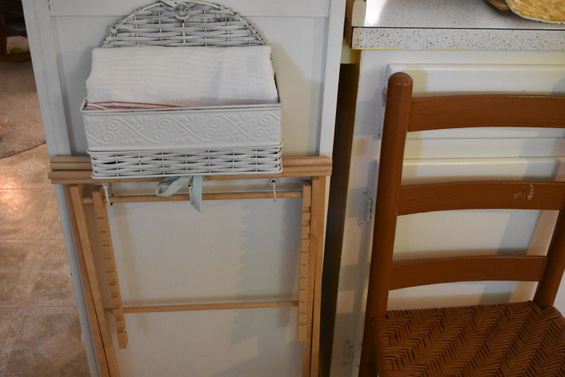 I even have a new pasta tools area.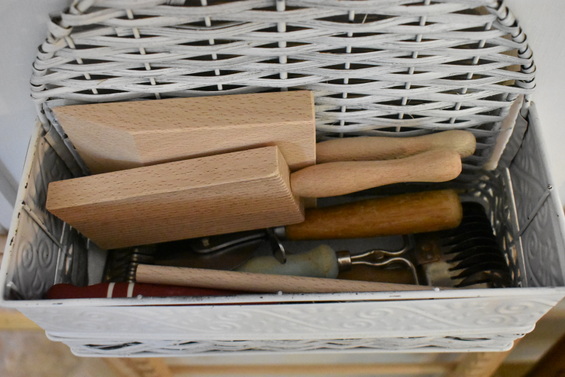 The top holds the tools and the bottom holds the pasta drying rack. I like this too. This is mounted to the side of an old chest of drawers sitting at the end of our kitchen bar.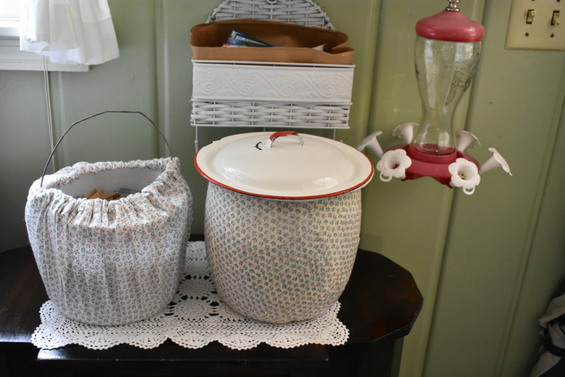 I did not have space for my Martha Washington sewing cabinet so it is now re-purposed at the back door and it holds The Bird cage cover in the left side bin, the right side holds reusable shopping bags, the drawers has garden seeds and such and the top sits the clothespin bucket and the rags bucket. I have a place for the hummingbird feeder. We rotate two feeders, one stays out and when it is time to change I have a clean one ready.
This is a thrift store shelf to hold my homemade soap while it is curing. It is above our bedroom washstand, at least for the moment.
By the way this bedroom we are moving in to is the smallest bedroom in the house. It is a good thing Charles and I like to snuggle :) as we are taking the double bed instead of the queen. I keep offering Charles the option for our queen bed but he said he is adjusting and getting to like the double bed.
I vision a very pretty bedroom as I am planning on removing all the gallery pictures and put some pretty vintage wallpaper since we plan to stay in this room. We gave this a lot of thought for if one of gets ill or something more serious our room would not be in the back of the house and we would be closer to the kitchen.
I cannot do these things all at once but that is the plan for now.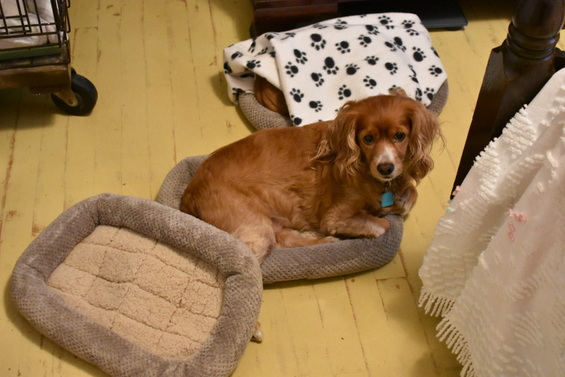 The girls want to be wherever I am and see what I am moving and what I am doing.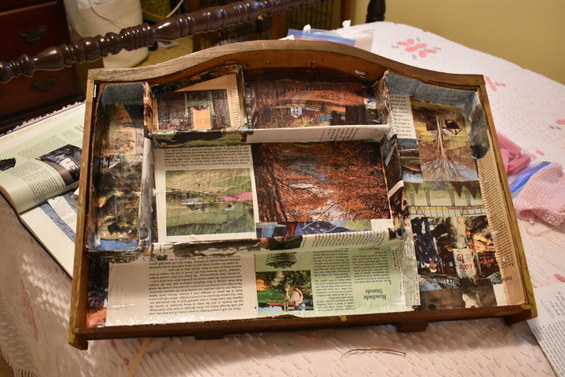 The washstand drawer is odd shape and very shallow. It was hardly usable because I could not put containers to hold things so I cut up a amazon box and made boxes in different shapes to use as dividers and pasted in pictures from an old book I was getting rid of. It is hard to see with all the busy pictures but there are now 6 compartments in this drawer. After I pasted the pictures I decopodged over it.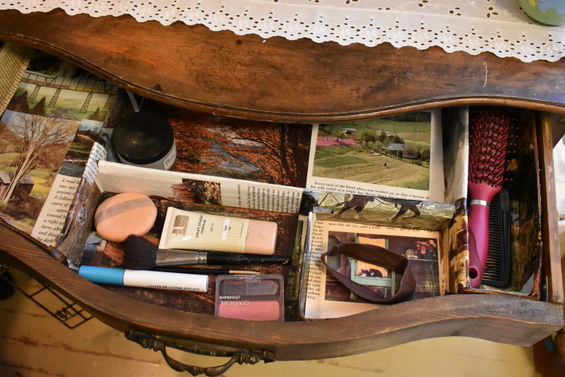 So now I am adding items to this drawer. I enjoy the farm pictures and the hidden piggies and farm kitties and farmers and old farm houses. :)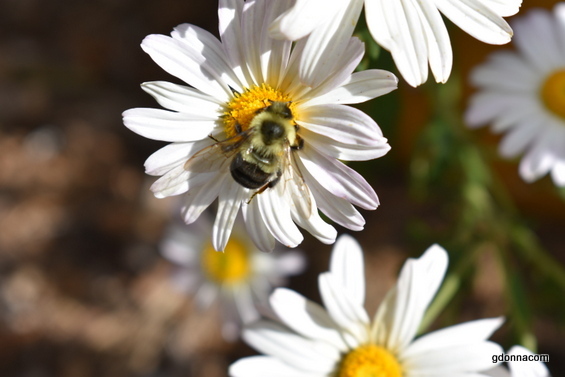 I cannot show you a lot more because I literally just cleared off a place for us to sit and eat. I am going through everything in the house and believe me it is quite a mess. I know I just did this not long ago but I have now turned it all upside down again and just imagine pulling everything out of every closet and nook and crany in your home, going through all of your books and craft supplies and anything and everything. Many people would most likely not do it this way but it is the only way I know how to get it done.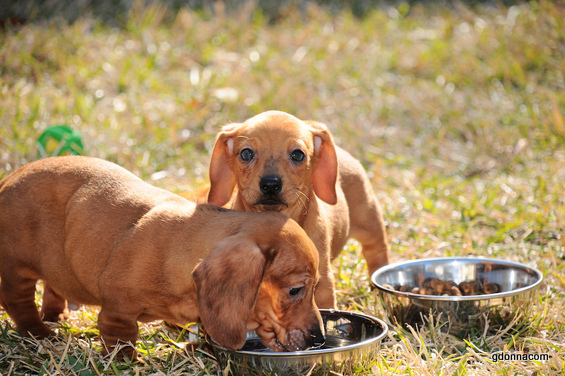 Katherine and Frank when they were babies....
I just feel I need to listen to the voice that comes with a gut feeling. This person we are concerned with does not know what we are doing, we know her pets are a concern for her and we will let her know she has this option after we finish with our remodel. I had recently painted one of those bedrooms and so I will only need to paint the other bedroom. One of the bedrooms we are putting in a recliner and television area even though we do not watch television anymore. I moved the bakers rack in that room and will have a coffeemaker in that room. It will have a twin bed, sitting area and we will put up a window shelf to use as a kitty window.
Our side of the house, our apartment so to speak has the door that leads to Charles work shop and our backyard garden. We are keeping it as vintage as we can.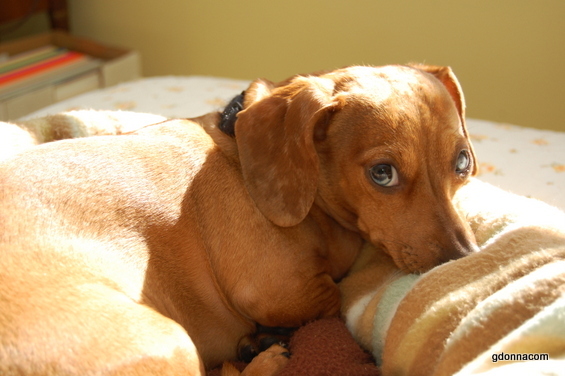 Our Katherine.
We are adding a toilet area for ourselves on our side of the house and we already have a bathing room.
So this shows us we can turn a small home into two apartments so to speak if needed. I just wish I had thought about this years ago.
I thought I would post about this because I know that many people have adult children living at home as well as parents and others. This helps us with pet issues.
I will take pictures when it is finished and let you know how things are going.
One more thing, through all of this our washing clothes by hand, the repair man's secretary just called and said the part will be in from New York next Monday and he will be out next Thursday which will be the end of six weeks. I doubt I will be using the machine much once we get it fixed other than sheets and blankets.
Through all of our water study we are doing trying to use minimal water, we have had plumbing issues with tree roots getting into our drain line, city water issues where we had to flush our water pipes, the plumber having us run all our faucets for a long period after he got the tree roots out, and hand washing laundry, we have reduced our water by two thousand gallons for 30 days. :) Yay!
Oh and another one more thing, some of you may wonder about what if our family comes, well we are replacing the floor on the Shabby cabby and this will be a guest house too. We also have the living room and cots. :)
Grandma Donna