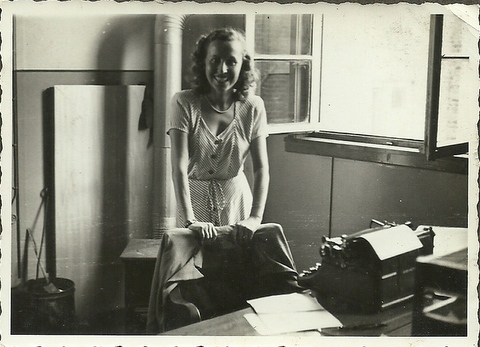 Do you have a window without plastic blinds? A vintage window? An interesting window? A homey window?
I have started a series about windows around the world. We want to see your windows :)
There are magazine ready photos of decorated homes everywhere but we rarely get to see what real or the average home looks like.
We are just getting started and only three people have sent photos and they, like me would like to see how others cover their windows especially if you do not have plastic blinds but still send in photos because looking at how others live is quite interesting.
I hope others will join us, just send me an email with attached photos. If you have not contacted me before then go to contacts and send me an email. Make sure you fill out your correct email. Let me know you would like to send a photo. I will answer you back and let you know what to do, it is very simple.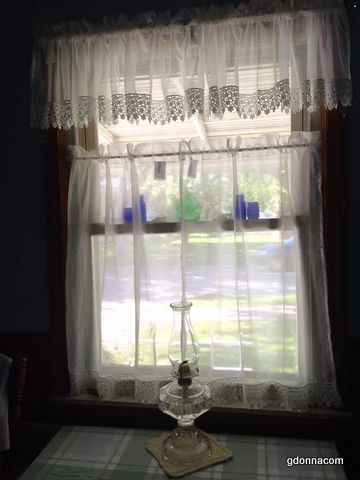 Terry sent in these pictures. She stated this dinning room window sits under a porch awning and it is dark in this area so she put in some sheer curtains. What a pretty window.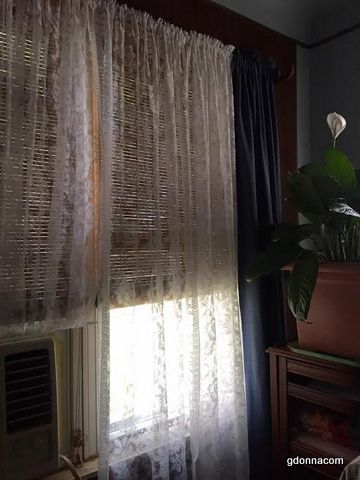 This window has a bamboo roll up blind and sheers it is a west facing window and needs something to shield the sun. I like her pretty lace curtains too....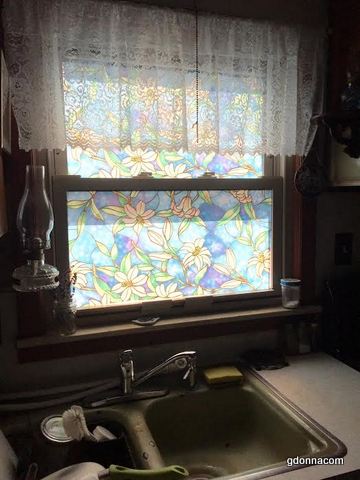 Her Kitchen window faces south and gets a lot of direct sun. Her solution was to cover the glass with a film so that it would block sun but still let light in. Very cheerful window. I love her vintage avocado sink and oil lamp.
Thank you Terry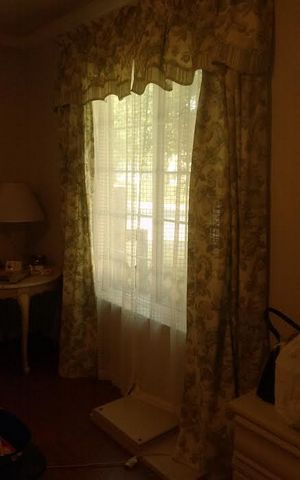 This window photo comes from Megan.
Megan says she got rid of her fake wood blinds in her living room last year.Her sheers have a light gold stitching and beautiful rose drapes with matching valance. I also like her vintage table in the corner :) Thank you Megan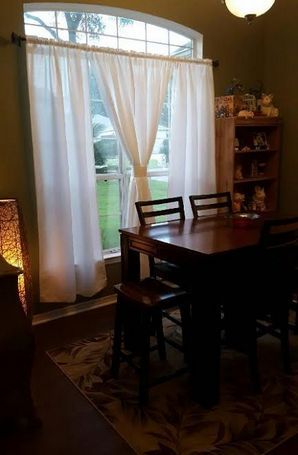 My daughter lives in Florida and she sent me this picture after she removed her difficult to clean blinds. She will eventually need some type of window shade to help to block out hot sun but this is much better for now. She said the chemical smell from the blinds is gone. I think it is very pretty.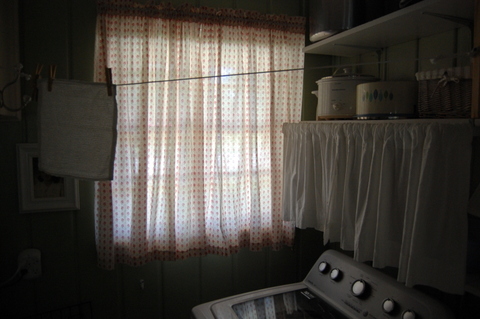 I am planning on removing our blinds because I am getting older and it is quite a job to climb up and get them off the hardware then carry them outside to wash them. We are trying to make things more simple for us.
So here is a peek inside the windows around the world. If you don't have a window then send a photo of your chickens or something at your house. The most common thing people tell me on my blog is they love to see how others live. Please join us!
Grandma Donna