We have another post for Windows around the world. Part 4
These photos were sent in by Mirjam from Bloemendaal , The Netherlands.
This is a part of the living room. Like Ina already mentioned (part two): normally during daytime we have the curtains open in Holland. But in the summer we have the afternoon sun and then we close the curtains (a bit). And also in the evenings.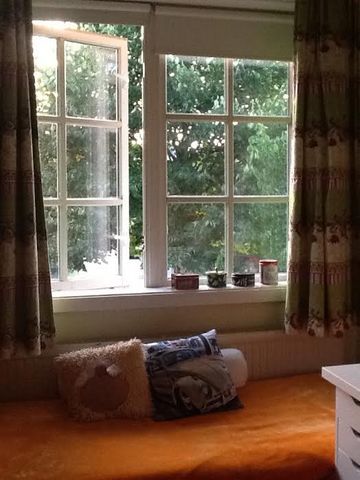 These two windows (above and below) are from the rooms on the first floor from my son and daughter. They have roller blinds to keep the sun and the warmth out in the afternoons during summer times. In winter and nighttime we close the curtains and don't use the roller blinds.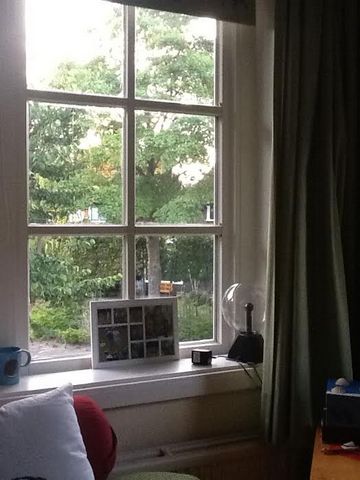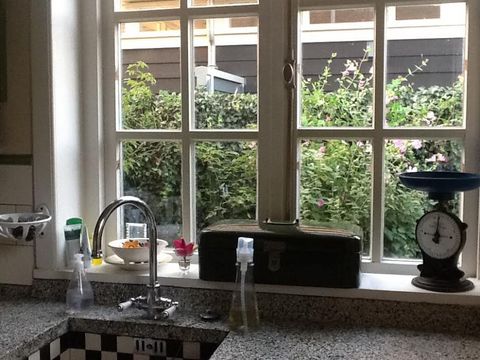 This is the window in my kitchen. It's facing north, so there's no sun. We don't have curtains or blinds over there. On the right side there's a door (with window's) to the garden facing east. No curtains there either.
Thank you Mirjam for these photos. In your living room the window design is just beautiful with that lovely extra glass inset at the top. You have a very lovely home with spacious windows. If I had your kitchen window above a sink like that I would find dishes to wash :)
These next 4 photos below are from Sheri.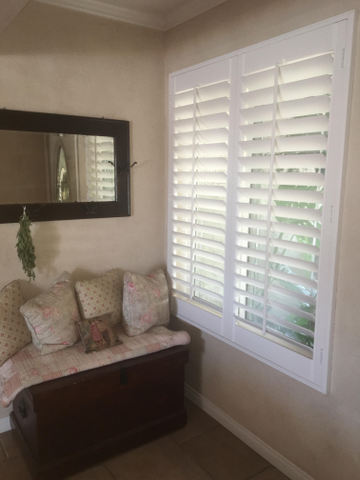 This is what Sheri has to say, Most all my windows have plantation shutters, which came with the home. They are great for keeping the home cool but are very heavy, block a lot of light , and just like your blinds are work to clean. The first picture that I am including (above) is at our front door, so the shutters are perfect!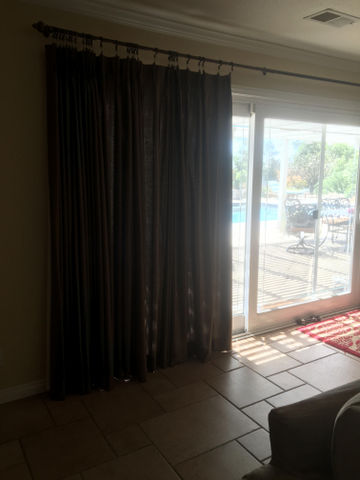 In the family room we have curtains that are a dark brown. I bought a bolt of fabric that has reds and roosters to replace those curtains.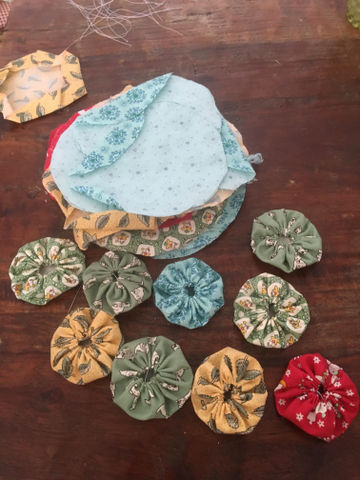 Currently I am working on a valance for my kitchen window that has nothing on it. I decided to use up my sewing scraps and make a yoyo valance . I will send you a picture as soon as I finish, but as of now it's a work in progress..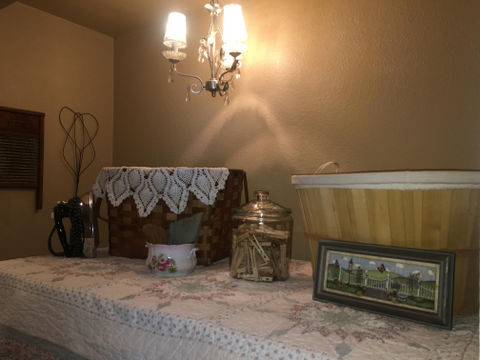 You said to send pictures of how we live. Well what better place to start than the laundry area? I keep my laundry area tidy and decorate to inspire me to do all my domestic duties beautifully. I hope you enjoy the pictures.
Thank you Sheri,
I have always loved plantation shutters, to me they are charming and remind me of the name in which they are called. I have never seen a yo yo curtain. Please show us your curtain when it is finished and I will include it in one of my regular post later. Your laundry area is lovely and as many of you know I have posted about a romantic home and how I enjoy making the home have a feel of romance because it makes our work in the home more pleasant. You have a very lovely home and I thank you for sharing.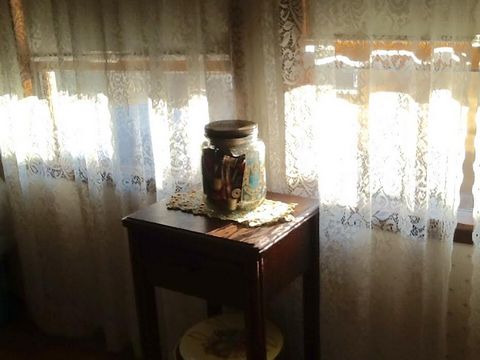 These next 4 photos have been sent in by Tami, starting with photo above.
Tami says, I like the lace curtains when they blow in the breeze. This is my west facing dinning room window.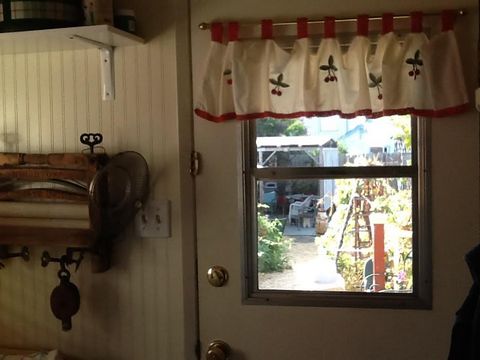 This is my back door, I love looking out into the yard.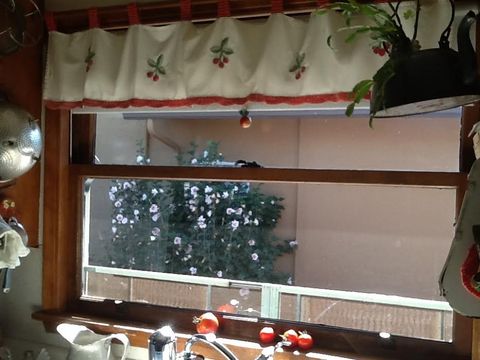 This is my kitchen window, I love the little wooden fruit shade pull.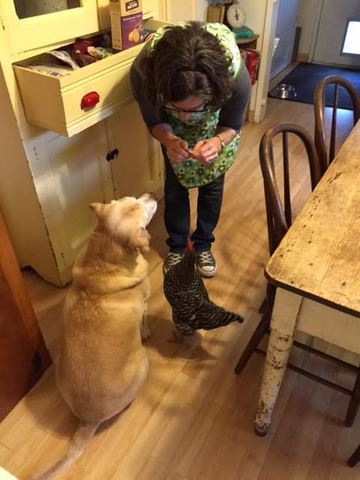 This is our dog Chunk and chicken Lyla. She comes in for snacks. It is not a window but I thought it was fun.
Thank you Tami,
Oh I too love to see lace curtains blowing in the wind. When I open our windows and it is a breezy day the lace curtains are the first to start their beautiful dance and your window is just beautiful. I like that table too :)
Your window in the kitchen reminds me of my home when I was a child. My mother had a valance with cherries and a canister set also with cherries. The little wooden apple pull is so perfect for that window. AND you sent us a very special picture of Chunk and Lyla. They are so cute together who would think we would see a dog and a chicken in the kitchen :)
My mother had a pet chicken named Sister and she followed my mother everywhere including her car. Many people do not realize how smart a chicken can be and how attached we can become to them and them to us. Thank you for sharing this photo.
I want to thank all of you for these wonderful photos. Many people have emailed me telling me how much they have enjoyed these posts. Grandma Donna