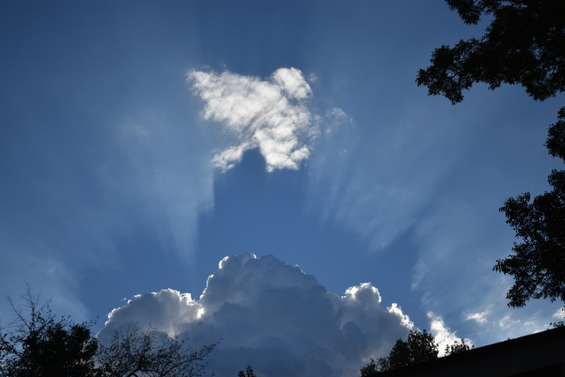 The week before Hurricane Michael hit, I was outside in the backyard planting turnips and carrots. Charles was outside as well and we looked up to the sky and saw this. I ran in and got my camera and asked Charles I wonder why we were suppose to see a cloud that looked like angel?
This is completely untouched, I snapped the pictures with my phone first then my camera. I realize it is just a cloud but I do say a very impressive one and the bottom cloud and the beams of light were just beautiful.
Little did I know what was about to happen and that we would be ok.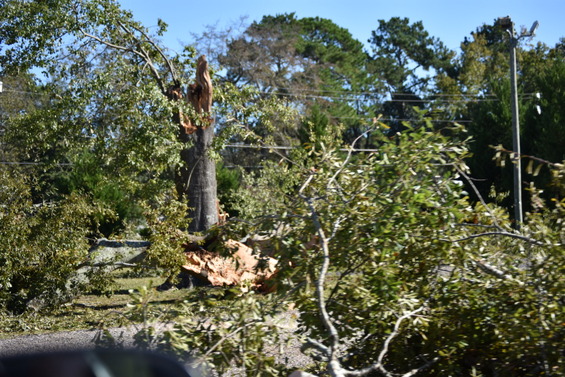 The very next week we all knew about Hurricane Michael.
After the storm, 80 percent of the city had lost power and our entire city and county went under curfew due to damage.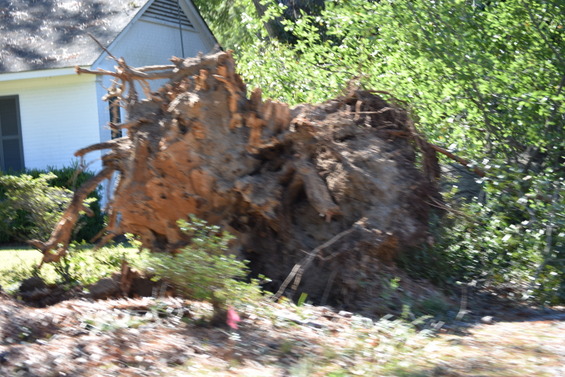 This area of our country has beautiful trees. We are considered inland of the Gulf of Mexico and normally do not get a hurricane of this force this far inland.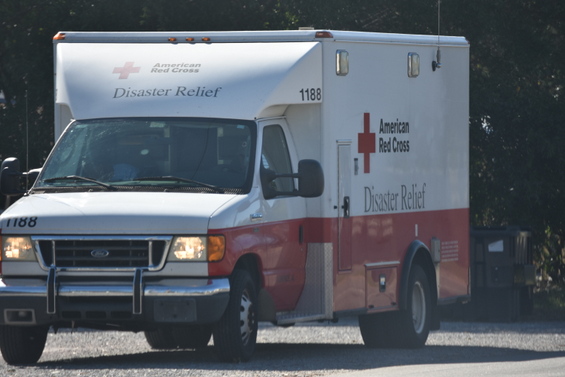 Yesterday just down our street the red cross was set up with canopy areas of disaster relief. Our damage is different in our area because of the large trees and I don't even want to complain because of the truly catastrophic damage to our south and southeast.
We are at day 5 now after the storm and you can pass through our city on the main roads now and things look like business as usual because they started getting business up and going as soon as possible because people were going to need things. People are relieved because even chick-fil-A is now open. Schools are still closed due to roof and property damage.
Off the main roads there are still people without electricity but those that are left without electricity it should not be much longer.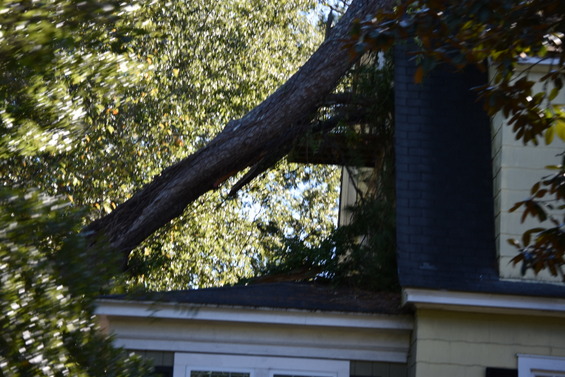 Many of our grocery stores lost their dairy, meat and frozen foods during the power outage. Some of the stores sold out of what they had before the storm but then there was the power outages. Our lumber companies still have lines of people waiting for generators and wood and water as our evacuees are trying to load up and head home. Some are coming up from south of hear to buy supplies and go back.
I am not going to show a lot of pictures because most people have seen enough damage on the news.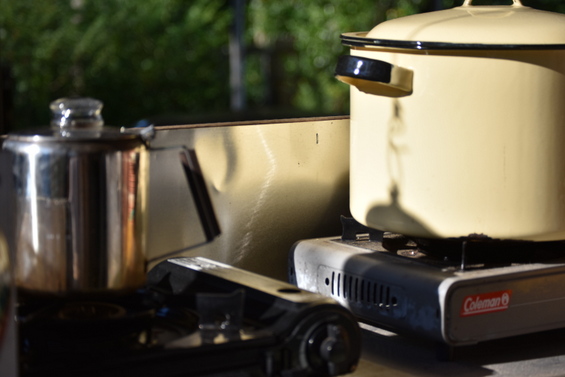 Charles and I did fine. I was surprised to find the next morning we still had hot water in the hot water heater for washing morning dishes. After it was no longer hot we boiled water in the large pot on the right for washing dishes or bathing and cooked on either portable gas stove that sits on our back porch. We built a ledge/counter area last year for the stoves. Nothing fancy just a wide board.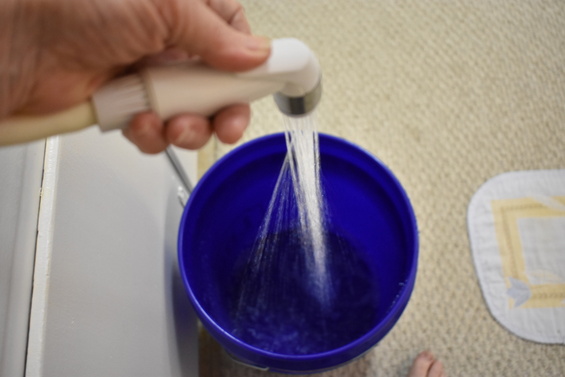 When I saw this could be a really bad storm I started adding extra things. I actually did not go to the store at all for anything to prepare for the storm because we stay prepared but there was much to do such as water and securing the outdoor area which for us is a big deal. Before the storm Charles did go out and buy a small honda generator that could be carried around to run power tools. When you have the right equipment you can help yourself and help others.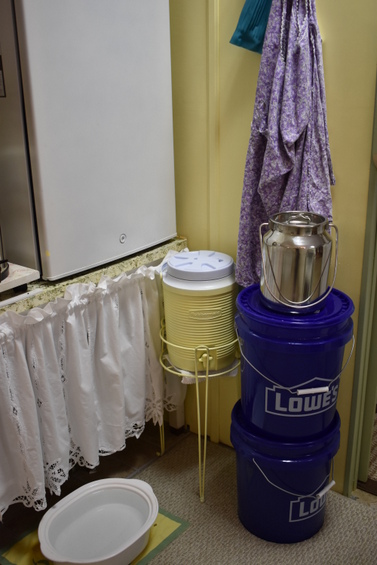 I filled 5 gallon buckets with water. We keep these buckets just for this. We filter all of our water anyway with our berkey water filter. So I placed two 5 gallon buckets of water in the kitchen. The stainless steel pail sitting on top is water I had already filtered. The cooler on the plant stand is filled with ice and the dog bowl is filled to the top which is an old crock pot crock that I purchased year before last at the thrift store for our pets water bowl.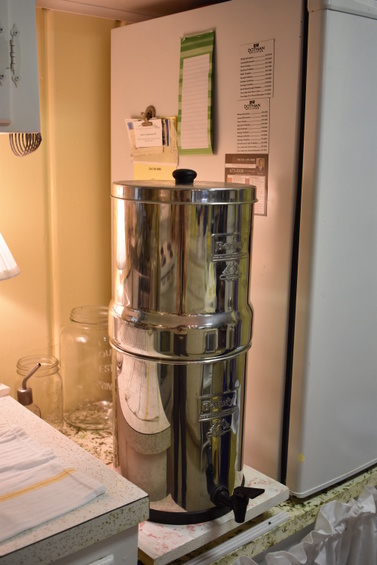 The Berkey filter sits close by filled with filtered water and I filled other containers and sat on the counter.
I was told the stores were out of bottled water the day before the storm hit.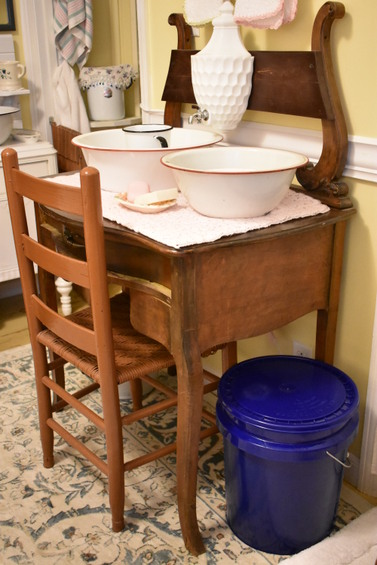 I placed a 5 gallon bucket of water next to the wash stand in our bedroom.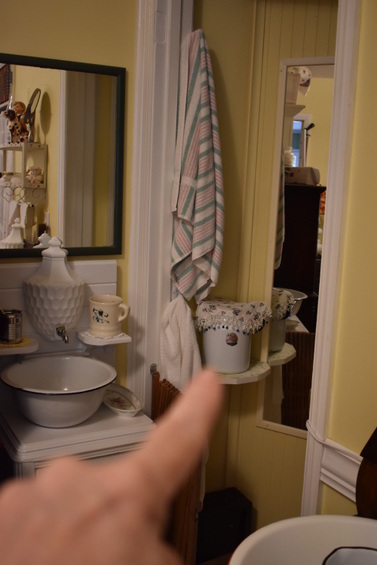 I even filled the bathing pitcher...... I wanted the water to be where it was needed.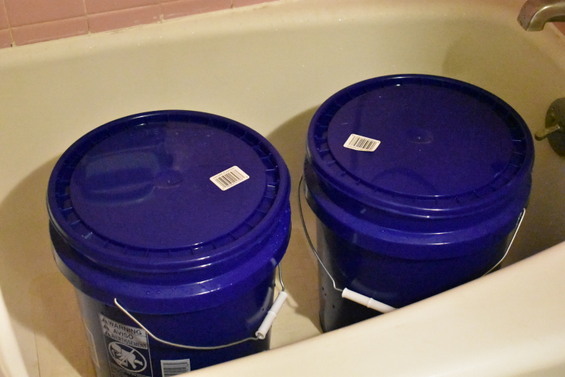 I filled two more 5 gallon buckets to sit on the bathroom floor. Charles lifted them out later. Then we topped off our large containers that sit under our carport against our brick wall which is 160 gallons of water combined.
Also don't forget our hot water heaters hold water that can be used by attach ing a hose at the bottom of the hot water heater if there is a need for water in an emergency.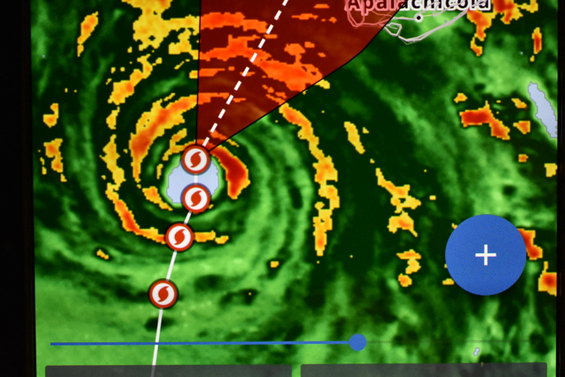 Then we watched and waited.....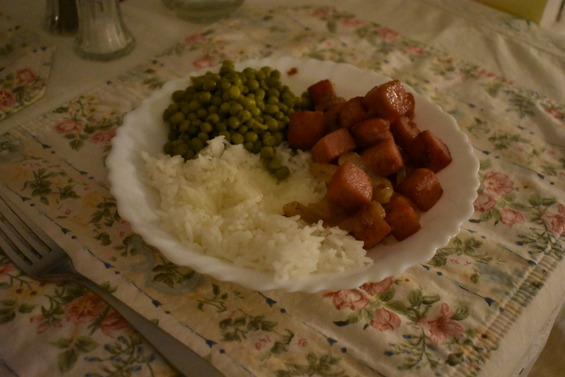 So all of those dry goods we keep on the shelf in case of a emergency now looks pretty good. After all the fresh food is cooked or eaten before it spoils which is not very long we go into our shelf stable foods.
Here is spam and onions with canned peas, rice and ghee.
Also when it is hot in the house solar bulbs work very good for lighting with no heat.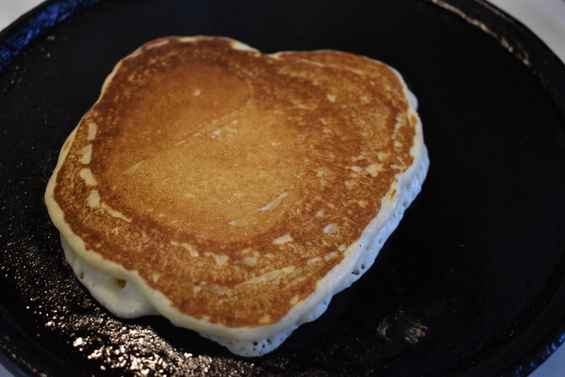 Pancakes is another good thing to cook on the portable gas stove. By the way these stoves are normally under $20.00 in the camping sections of stores. The fuel canisters are normally under $3.00.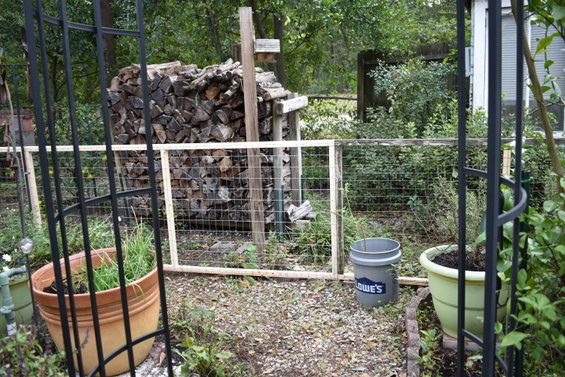 When we finally found a store that had the lumber we needed we started cleaning the yard and garden and replacing our fencing .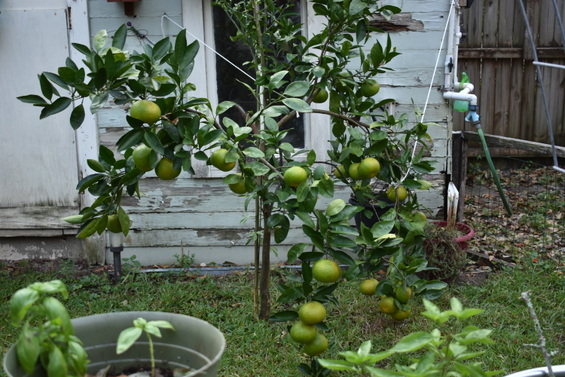 Somehow our satsumas clung to their branches and only a few fell off. I think because it is near this sheltered area. We enjoyed eating those that fell off.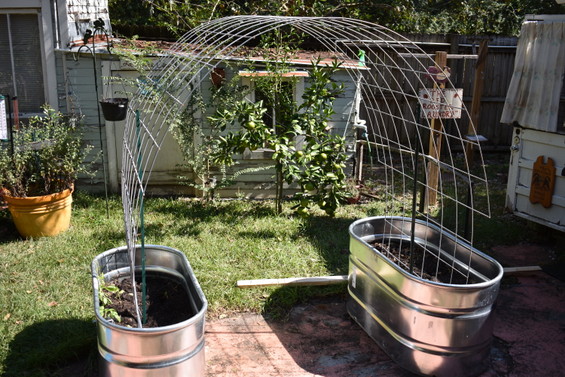 I have not shown a lot of gardening pictures this summer because we had such a hot summer and concentrated on fall gardening. We were making changes to the garden to make it easier for us as we get older. Before the storm we had set up this planter arbor. We used cattle fencing to make a heavy duty arbor that would hold most anything including cantaloupe. I planted snow peas or some call them sugar peas. I also planted carrots and turnips in these and some of the other troughs.
After the storm I gathered many of the large planters and pots and picked out leaves and tree branches and put them back together again best I could. I am still picking leaves out of some of the pots.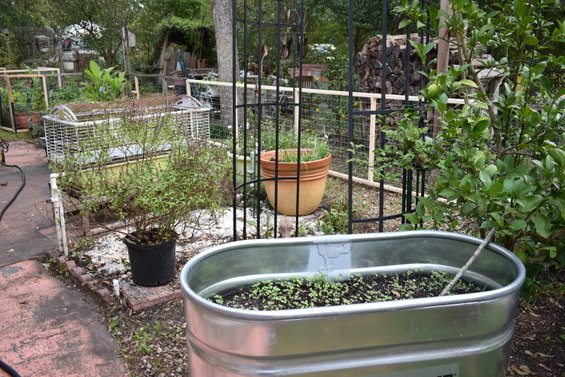 Most people ask was your house damaged? We did have a scare when water started dripping from the chandelier I just cleaned. We didn't know what to expect because this happened when the power was out, the wind was growling and blowing so very hard with heavy rain and trees were cracking and you could hear the thud when and entire tree fell somewhere. Transformers were exploding and drops of water were dripping from our chandelier. To be honest I was frightened in this storm by the high wind as I have never been in a storm this strong.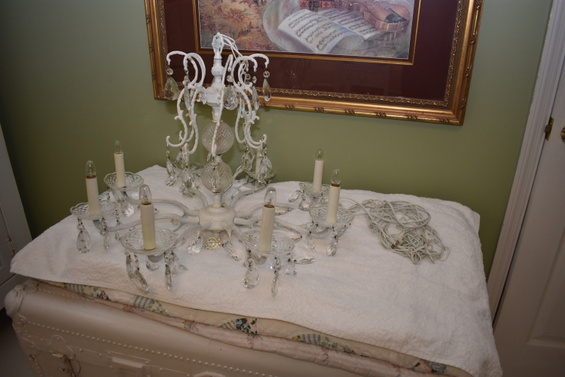 So we quickly removed the chandelier, best we could so it would not damage it and put a bucket on the counter to catch the water. We imagined a big chunk of our roof gone and I started wondering about that time if our roof was going to blow off.
But no, there is no hole in the roof. We think what happened is the wind was so forceful that it pushed water into the ridge cap that goes along the top of our roof and water entered our attic.
The ceiling dried up and we will use kiltz and paint and it will be good.
But.....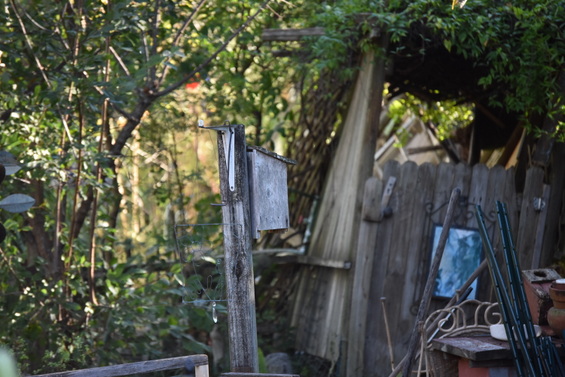 A yard, a garden is the extension of our home. For us that do garden it is a true part of our home because our home gives us shelter and our garden gives us food. Food that we know from where it came and how it was grown.
It takes hard work to cultivate our yard and turn it into a garden. So damage to the yard and garden is stressful on the body for all the work it takes to start over or repair.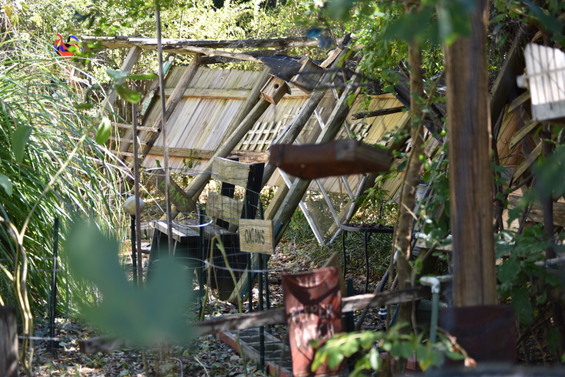 We have been working non stop to cut up large limbs and clear limbs and rake endless amounts of tiny branches and leaves and haul it to the curb where the large claw trucks will pick it up. I am so thankful that we have that here. It is entirely too much to use for compost at this time and Charles has cut up and saved some of the larger limbs for wood work projects. We hardly used our fireplace last year so we still have wood left over so we are just putting it all to the curb because we have plenty more to do and do not need things piling up.
This long arbor will take us a lot of time to clean up and replace so we are working our way to this area.
The camper we call the shabby cabby stayed in place, I am very thankful for that. It has an air conditioner on top of it and over the roof air conditioner is a large molded cover that protects the air conditioner. It blew off in the storm and water went into the camper. This will require some work too.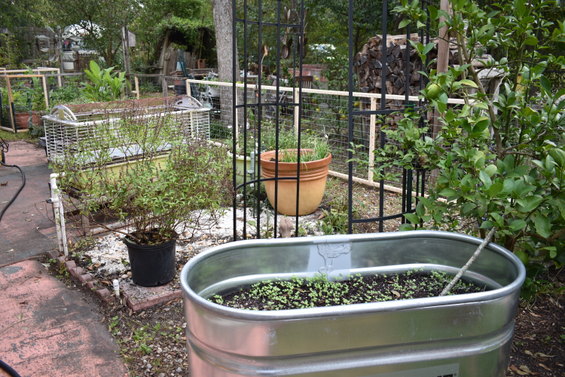 It is getting much better now that we can walk without tripping over limbs and things are once again starting to look clean.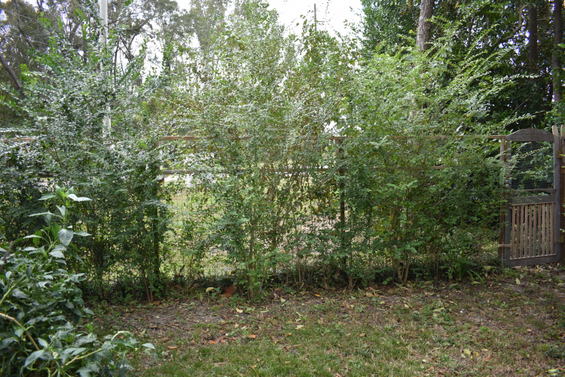 This fence was pushed over by the wind but this type of hedge is more flexible so it just blew over and the roots look to be good. Charles purchased metal posts and pushed the fence back in place and secured it to the new posts.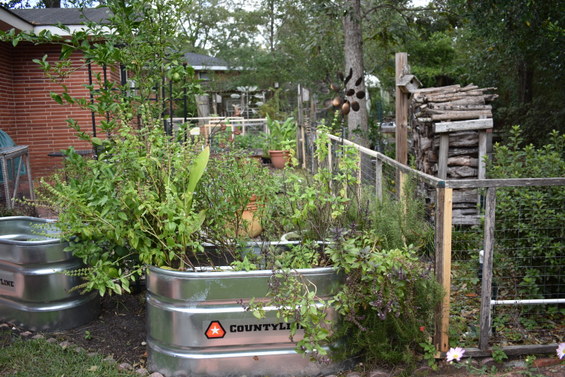 When I had no way to communicate I started writing my thoughts down for my blog, so here they are.
Don't cook pizza during a hurricane.
Freezers and Refrigerators are a burden in a power outage.
Dont sleep naked after a hurricane when the power is out to stay cool (Charles idea), the fired department may come pounding on your door in the middle of the night to see if you are ok.
We used humor to help get us through the difficult part, but then it was started getting serious...
Strong winds are scary as.......
Many people don't even own a flashlight.
Learn which direction the trees should fall during a hurricane. Here was south...
Cleanup without a bulldozer is difficult.
You can charge your cellphone in the car.
No matter how often you turn on a switch the light will not come on if the power is out.
Generators are no good if there is no gas at home or at the gas station.
Start cooking the food in the refrigerator right away.
Use a pressure cooker on your gas stove to cook the meat because it uses less fuel.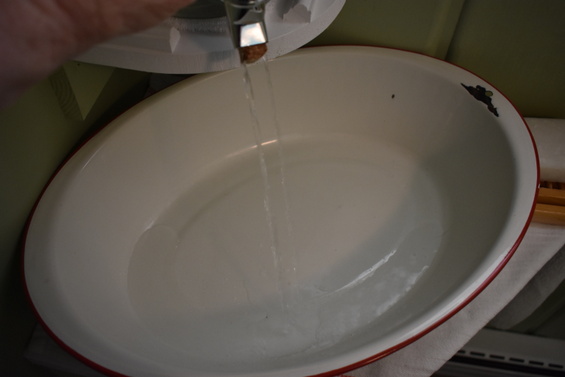 We were never without water. We were without power and cable internet. We were prepared if our water pumping stations went down. There is always a possibility of that happening but unlikely during an emergency but if there is a total grid outage everywhere, anything can happen. Towns to our south are without water so yes it can happen.
I am so grateful for all the linemen and police and firemen and crews from all over other states to help from this storm. The most severe areas that took a direct hit will take a long time to rebuild and my heart feels sad for those that have lost so much.
I want to thank you all for your emails, your prayers and encouraging words as many of you did not know if we were okay here. Know that I have read all of your emails and each and every one of them has lifted my spirit. I cannot answer them right now due to the ongoing work so I will post as often as I can.
I have many thoughts about better ways to be prepared and I have deeply pondered about freezers.
Grandma Donna