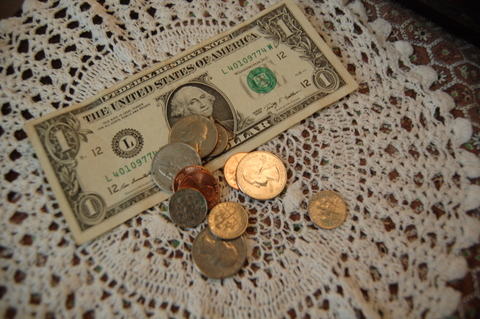 I do like to get change back and I am sure you do too. But I like to change things as well.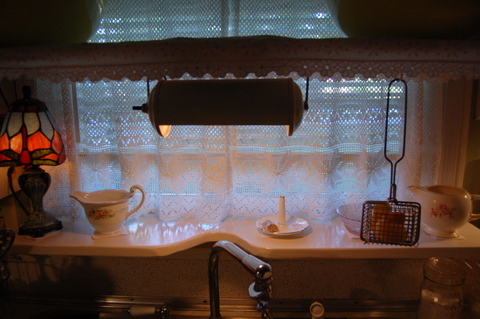 My husband recently made a wider shelf above the sink for the small items that I keep up there for convenience. The small creamer to the left holds garlic bulbs. The creamer to the right is use for pouring water into the vintage steamer for one of the irons.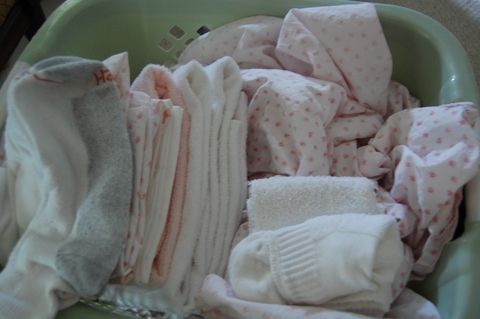 Another change is going back to hand washing our laundry. I can physically make it more clean. There is no artificial fragrance, just the clean smell of hand washed and sun dried laundry.
I just grate 1/2 cup real soap, add 1/2 cup washing soda, 1/2 cup borax and put it into a bowl and put a small scoop that holds a tablespoon to use for the wash. The amount used depends on how much laundry I am washing.
You can grate Dr. Bronners, or Lye soap, or kirks castile or here is a link to a family that makes goat soap and they have a laundry bar that you can grate. I am not affiliated with them but I do know they make good soap because I have purchased some of their soaps. https://goatmilkstuff.com/Goat-Milk-Soap-Laundry-B...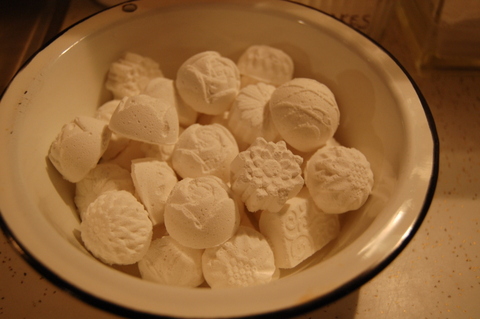 So what has inspired this post is our homemade dish washing soaps. My daughter sent me a link a few weeks ago and wanted my opinion about making some dishwasher cube soap. There seems to be an uncountable number of posts how to make these. It is rare that I use the dishwasher and I looked at the link and told her my concern was it had too many ingredients.
So I fiddled around in the kitchen and came up with dish washing cubes for the sink. My gut tells me to investigate all products we use because something is making more and more people get cancer.
I wanted to use something with a good rating on the EWG, the environmental working group.
As mentioned before if I do use liquid dish soap instead of bar soap I use Biokleen free and clear dish soap to wash dishes. They are a family owned business and get a A rating with EWG for this product.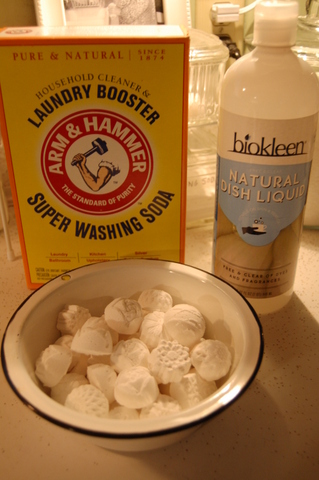 Arm and Hammer super washing soda is something I keep around to use and it also has an A rating with the EWG. So I simply mixed one tablespoon washing soda and one teaspoon biokleen dish liquid and came up with this.
I am mixing two things together that each have their own use but the washing soda says on the box great for pots and pans but do not use on aluminum. It is used as a booster to add to laundry soap so I feel it is the better option for what I am trying to make.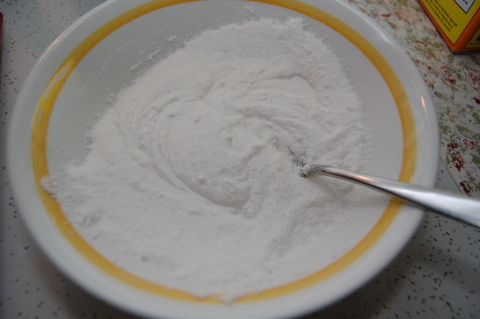 This is not something I would normally want to do because we are trying to stay to basics but since others are already making all these concoctions I thought I would try to make something with as few ingredients as possible.
My youngest child, my daughter is in her mid 40's. It seems this generation likes cute things. Things that just pop into the washer. Not pour or rub, just pop.
The mixture made a slurry of sorts. Like a thick frosting. Mix it really good and then put it in a candy mold. My mold holds just over a teaspoon and half.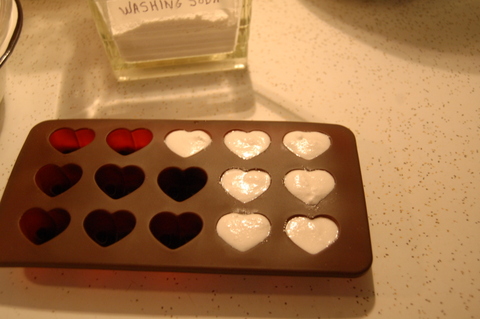 This is a candy mold.
I made some more to show you how I did it. This batch is 4 tablespoons washing soda and 4 teaspoons biokleen.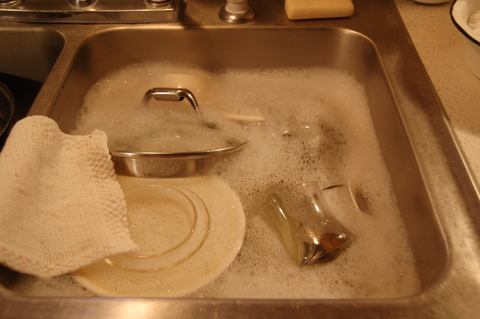 Just drop one in the sink and fill with water and it makes just the right amount. Now saying all of this, the biokleen washes just fine without the washing soda. This was just an experiment to make fancy little cubes. Biokleen is very expensive, as many of us are learning, better comes with a price. Making the cubes is helping to stretch the use of the biokleen.
Just to mention I did try using just baking soda and not washing soda but it did not set up well, actually it did not set up and the washing soda mixture dries quickly in the molds.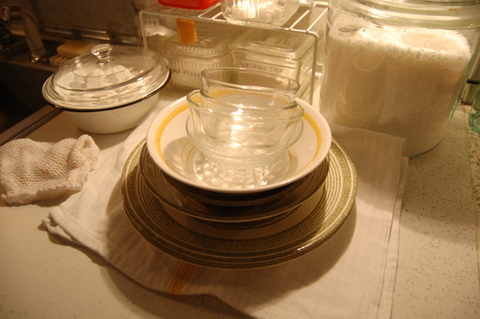 I do like change every so often. I want to mention when the washing cubes are completely dry they should be kept dry so I keep a lid on them so water does not splash in the bowl or that would be a mess.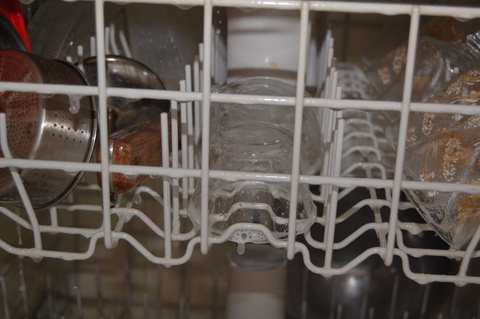 Did I try it in the dish washer? Of course, I had to know! I researched and found that all dish washing liquids say do not use in the dishwasher. But I decided to break the rule. I quickly opened and peeked inside while it was washing and found soapy water on the dishes. Not too much soap but just soapy water.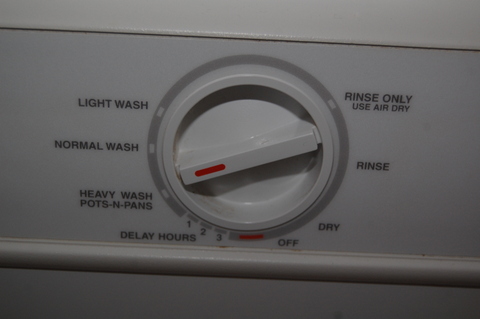 I only put one tablet in the bottom of the dishwasher and started it on heavy wash. by the time it moved to light wash there was very little bubble residue left. It drains at each wash. When it got to rinse only there were no bubbles and at the end I had clean dishes.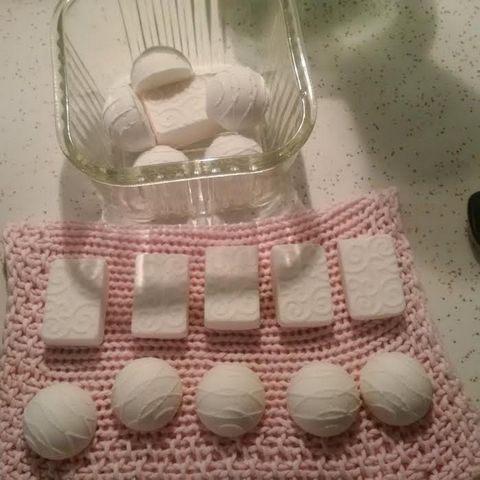 This is my unofficial laboratory.
When I first made the cubes my formula was half washing soda and half biokleen and I liked it very much but my daughter was considering making this other recipe running around the internet and I wanted to see if there was one I could make with less ingredients. So the first mixture 1/2 and 1/2 was too soapy for the dishwasher. So I decreased the dish soap.
I am waiting for the dishwasher alarm or dishwasher police to come because I used something different in my dishwasher. So I am not suggesting you use these in the dishwasher, I am just telling you what I did and the dishes were very clean. I use my dishwasher so little that I expect to see cobwebs when I open it.
The half washing soda and half dish soap did work good for the sink washing and I might go back to that because it felt good in the water. These molds hold one and half teaspoons of the mixture. After a few hours, pop them out on a cloth and let them dry the rest of the day then put them in my pan.
Remember I did say the box of washing soda says do not use on Aluminum, I wonder why? But I try to stay away from aluminum anyway.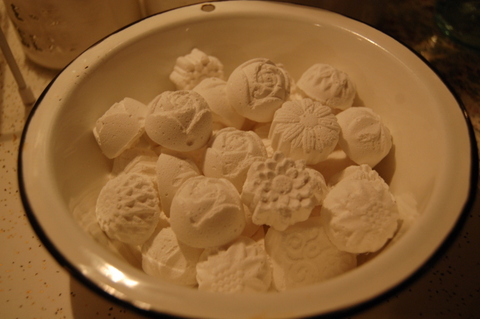 I do like my bowl of dish washing cubes, I would have a concern if small children were around because it does look like candy. I guess they should be out of reach of children because it has been making my husband want to eat them because they look like a fancy divinity.
I will probably go back to my old way but for now it is a fun change. It could save money by having a measured amount to pop in the sink and they are cute.
Would I recommend this? If you are determined to make a pop in cube maybe but just a bar of soap or a good safe dish soap would be the best.
I still keep dawn dish soap on hand for certain things such as the drains. I put it down the bathroom drains, shower and kitchen sink just to clean the drains but I prefer better options for daily use.
Grandma Donna