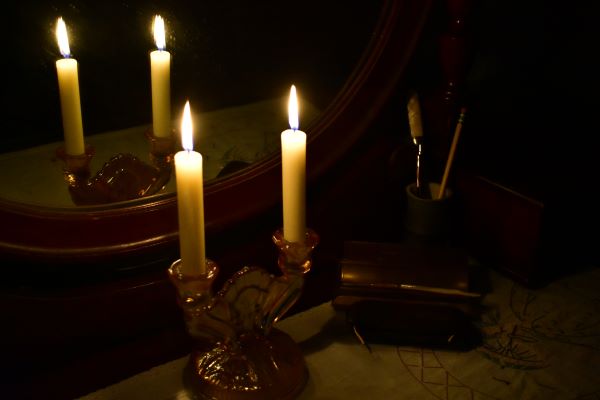 I started this post early this morning and then my server crashed and then there is the weather. But I am back hoping it will stay up.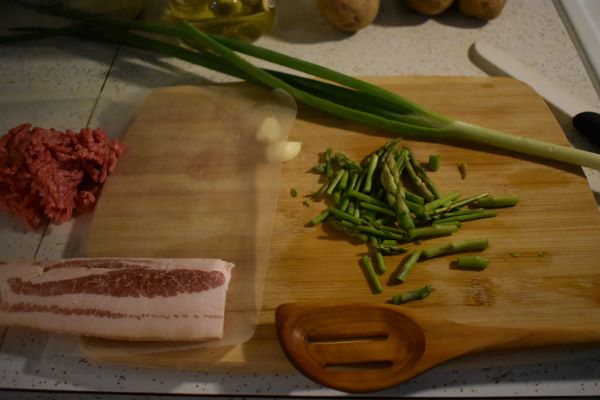 (There is wax paper under the ground beef and bacon.)
I am writing a recipe below to go with a dish that we make. With our ww2 history study we have meat rations now. So this dish helps to stretch meat.
One strip of bacon and 2 ounces of ground beef, small amount of asparagus or zucchini, one medium onion cut into wedges, one spring onion chopped, 2 cloves of garlic, Tablespoon oil. Cooked rice, for the two of us we cook 3/4 cup of measured dry rice.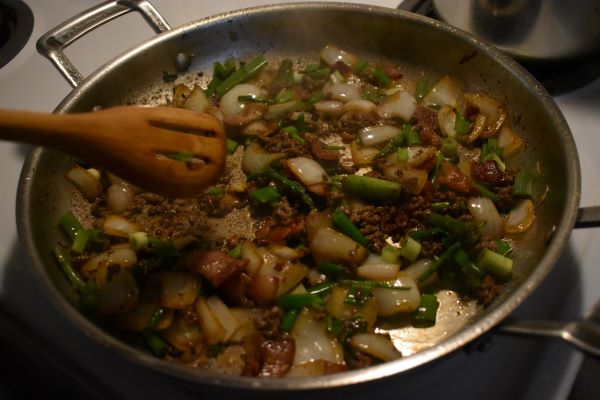 In a skillet, cook diced bacon, remove the bacon, put onions and asparagus in the bacon drippings and sautee, add just a little bit of water to steam up the drippings, when cooked, remove vegetables, add to bowl with bacon, add about one tablespoon of oil, we use light olive oil, then add ground beef, and cook and just before done add chopped garlic and finish cooking the ground beef.
Now add the vegetables and bacon back to the pan with the ground beef and heat that back up together, add just a little bit more water to steam up the drippings. Place your rice in your plate or bowls, add a little butter over the rice, salt and pepper if you like and put the meat vegetable mix over the rice.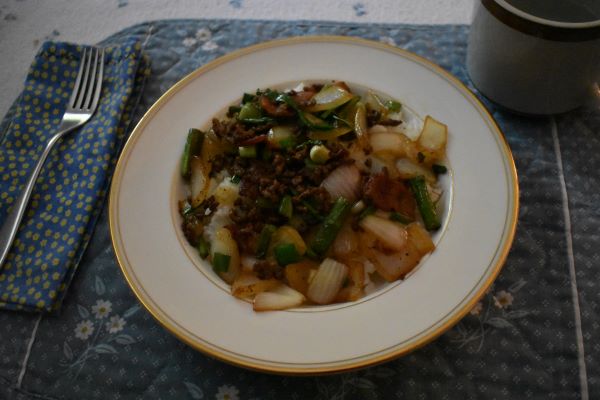 It is very tasty and this dish, you can add any kind of spices that you like. Sesame oil would be good in this meal, we do not cook with sesame oil because our grandson is allergic to sesame and we do not want it in our pans.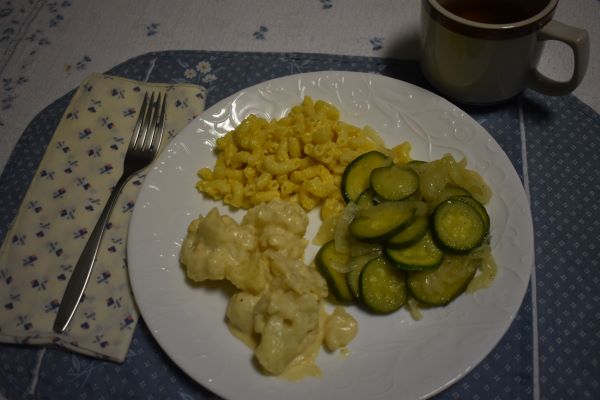 Food is a very important part of living a simple and sensible life and it seems that so many people go out to eat or pick up fast food so much today. We really should keep good staples around and fresh food from our garden or from the grocery store or produce market so we are not spending unwisely.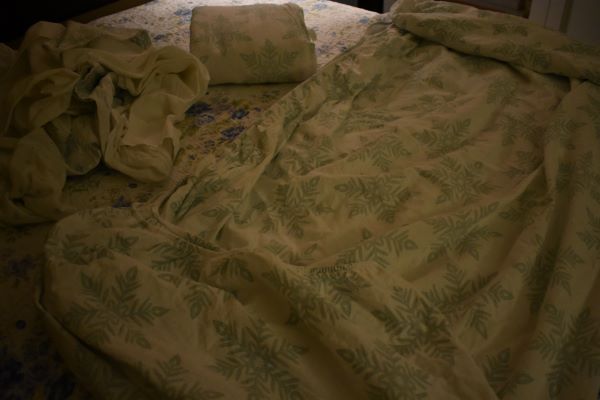 It is that time of year again for us to make changes. We have traditions, household traditions where we do some of the same things around the same time of year. Last week when I changed the sheets it was time to get out the spring and summer cotton sheets and put away the flannel sheets.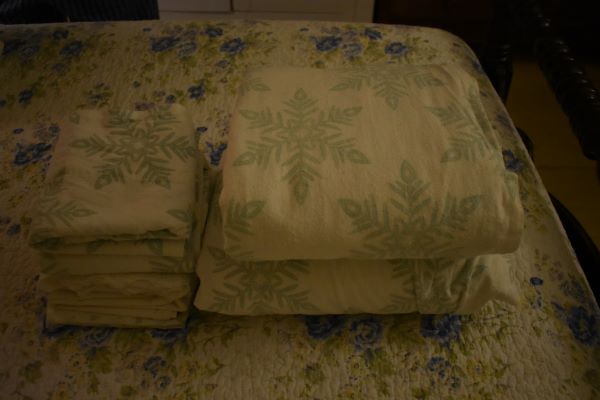 I enjoy our changes, it seems to mark time and it just feels right because it gives us a chance to perk up a bit and give us something different.
Home maintenance is another important part of keeping a household.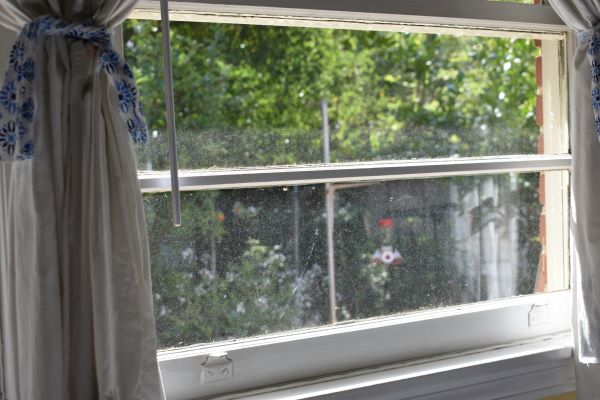 It was time to wash our windows. For those of you that have followed along my blog the many years I have been posting you will know that we normally clean our windows in the spring and again in fall before winter sets in.
We thought we were doing pretty good this past two years keeping things as normal as they could be considering all the trauma and grief we all have had these last couple of years. But when we started cleaning the windows I realized we did not clean our windows last year and wondered if we did the year before? I think that many of us have been just getting by emotionally if we are honest with ourselves.
So my post title is when you think your doing well.... maybe we should take a realistic look around. After cleaning the windows I realized that there are many things that I have let go by and now I need to focus more on these things and let other worries go because when things are left undone it can fester in us. I looked at our back porch and we have gotten used to the items that are accumulating there that should not be there. It is not okay because it can only get worse because we cannot clean around it and then that attracts critters.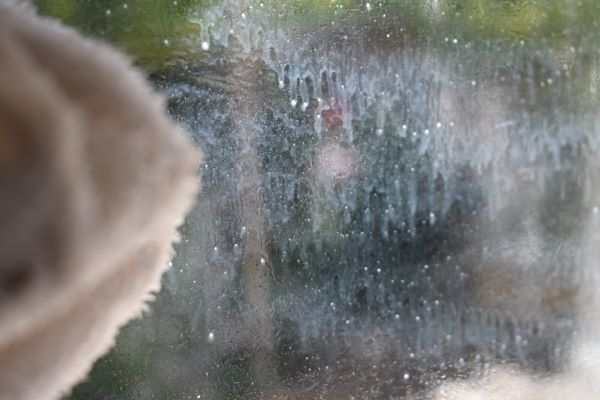 But it is time to shake it off now.
We wash our windows inside and out using castile bar soap. We like to use real soap, either Dr. Bronners, Kirks Castile soap which is a good cleaning soap in my opinion or Marseille de savon soap. Any castile soap is good.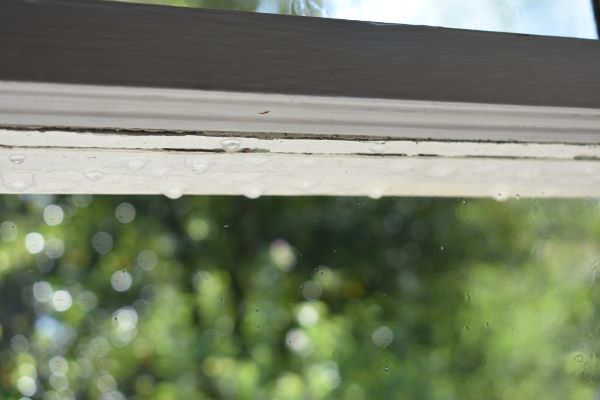 We wet everything down and soap up rags and brushes and go to work soaping the glass and all of the window and shutters and window ledges. Then rinse really good and let it air dry.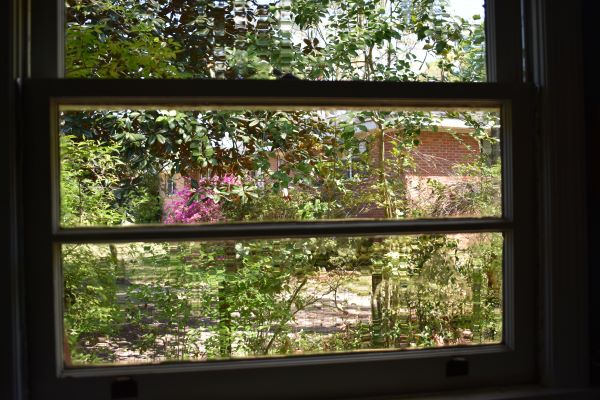 For the inside I do the same thing but I have wet rags to rinse and dry rags to dry and polish the glass.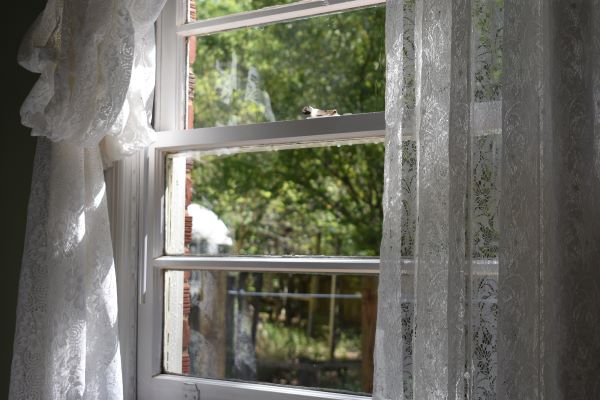 The next week I normally wash the curtains. I let the season be our reminder of the chores that are not daily or weekly.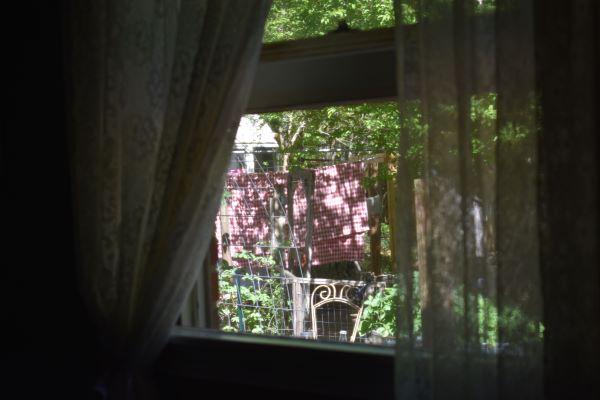 There is something different in our backyard. This weekend we moved the clothesline back to the place it was a few years ago.
We have had this problem with our clothesline. It started with a tree that was planted by nature. A mulberry tree that grew rapidly. It started making a canopy over the clothesline so we had to move the line further away but we have a small yard so we could not move it far away. That only held one year because the mulberry grew to canopy that area.
So we moved it up by the camper, the shabby cabby. I started having some health issues and could not hold out to carry and hang the laundry that far away from the house. I was used to the lines close to the back door.
So we moved it closer to the house.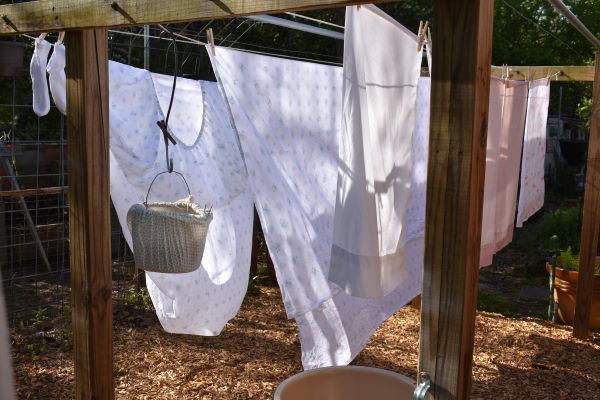 And this was good until we needed this space for a garden.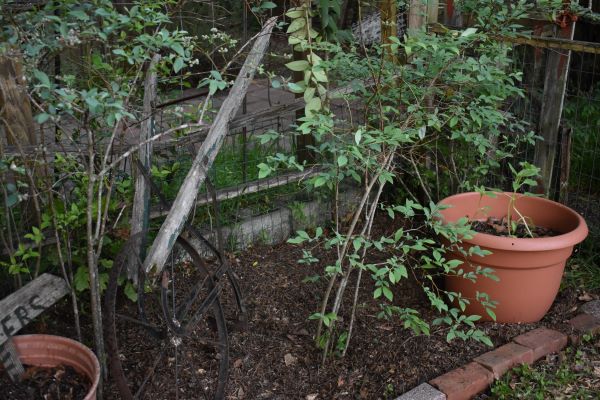 So this past weekend we did some much needed clean up around all the beds and places in the yard that had grown together.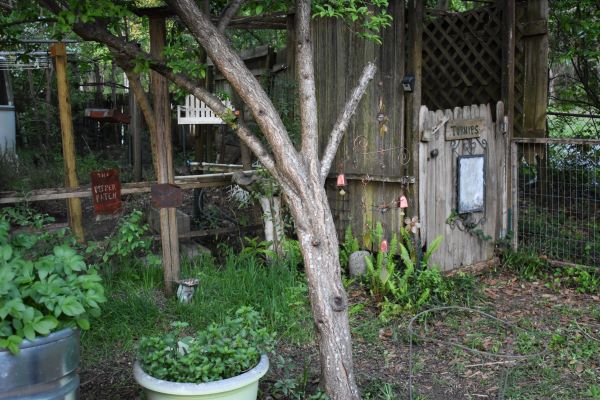 We cleaned part of the area where the storm damage was. We just cannot seem to catch up with all of it but when Charles retires this will be better.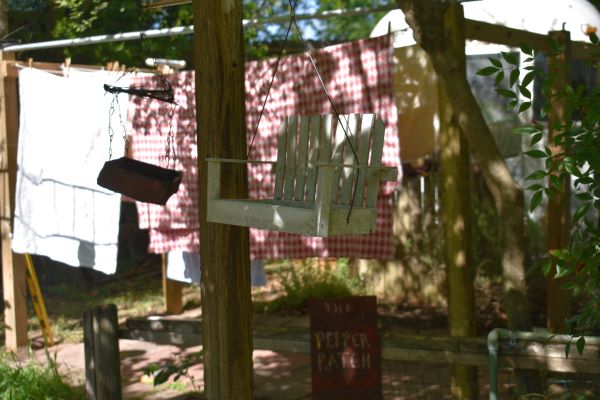 We put the clothesline back where it was in front of the shabby cabby and we are both happy about this. I have a rolling cart now that I can use and Charles is putting a bench up there where I can sit down to rest.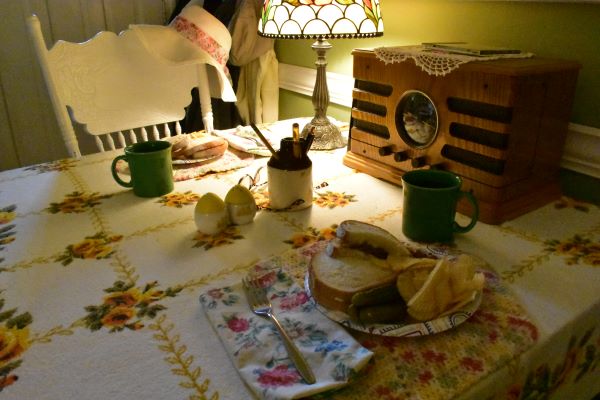 I am going to combine what should be two posts but due to weather I am going on with this here with some information for the history study.
We have been very busy lately, Saturday we cooked hamburgers and put them on white bread, some chips, pickles on paper plates. We rarely use paper plates but keep them in case of emergency. These were the medium size plates and almost too small to hold our sandwiches.
I wondered if we could use them since we are doing the history study so I looked it up.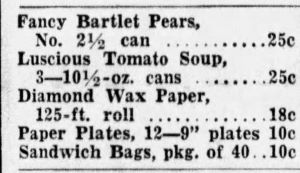 This was in the paper in 1943 so it was okay to use them.
For those of you that are reading our diaries you may be noticing that Lena is using her point stamps without much thought of how she is going to run out much too quickly.
Point system rationing has started now since we are into April. Each person was given 48 blue point stamps per month. Blue Stamps were to used for Processed Foods such as Fruits and fruit juices, frozen fruits, dried and dehydrated canned and bottled vegetables and vegetables juices, other processed foods, canned and bottled including baby food. Fresh fruits and vegetables are not rationed.
Red Stamps, Each person was given 16 red point stamps per week totaling 64 stamps per month. Red stamps were to be used for Meat, Butter, Cheese, Lard, Margarine, Oils, Canned Meat, Tinned fish, canned milk etc.
March 29, 1943 Red stamps A valid and expires April 30 1943.
April 1, 1943 Blue Stamps D, E & F Valid and Expires April 30, 1943.
It did not matter how much money people had, if they did not have the stamps they could not buy the meat or canned, frozen dried items that were rationed.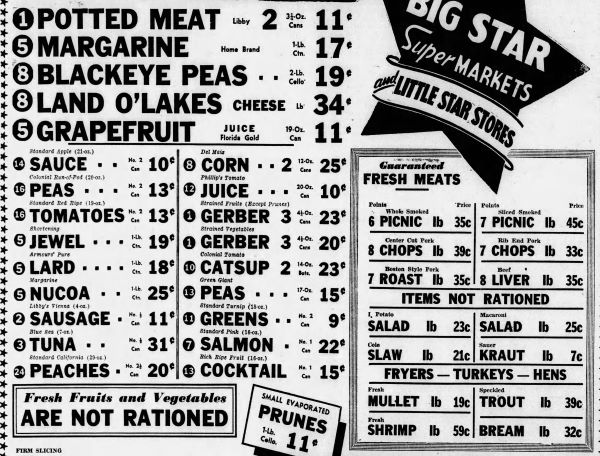 The points go fast when you use them without much thought. Chicken was not a favorite food during this time but most likely when it became more common to eat chicken because Chicken was not rationed. It would be easy to use up your stamps before the end of the month if not careful.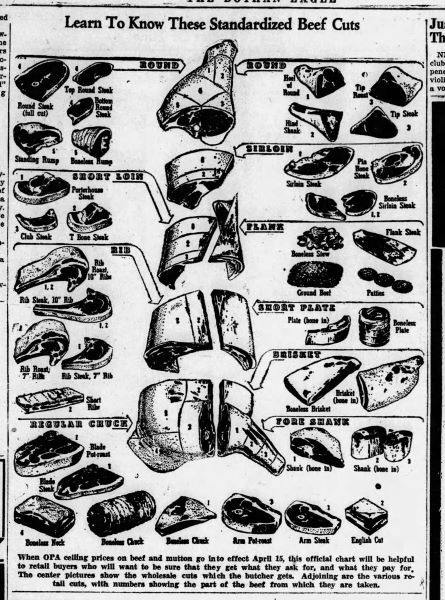 They started trying to inform citizens to understand what they were buying, how to recognize the cut of meat so they could be sure they got what they were asking for.
This is getting very long so I will close this post. They are predicting bad weather and I lost part of my post early this morning and then I posted I would be a few days but I seem to have gotten this done before the storm and now the wind is picking up so I better get it posted.
I apologize for errors and spelling because I have done this quickly and want to get the post done just in case we lose our internet cable or power for a few days.
Grandma Donna