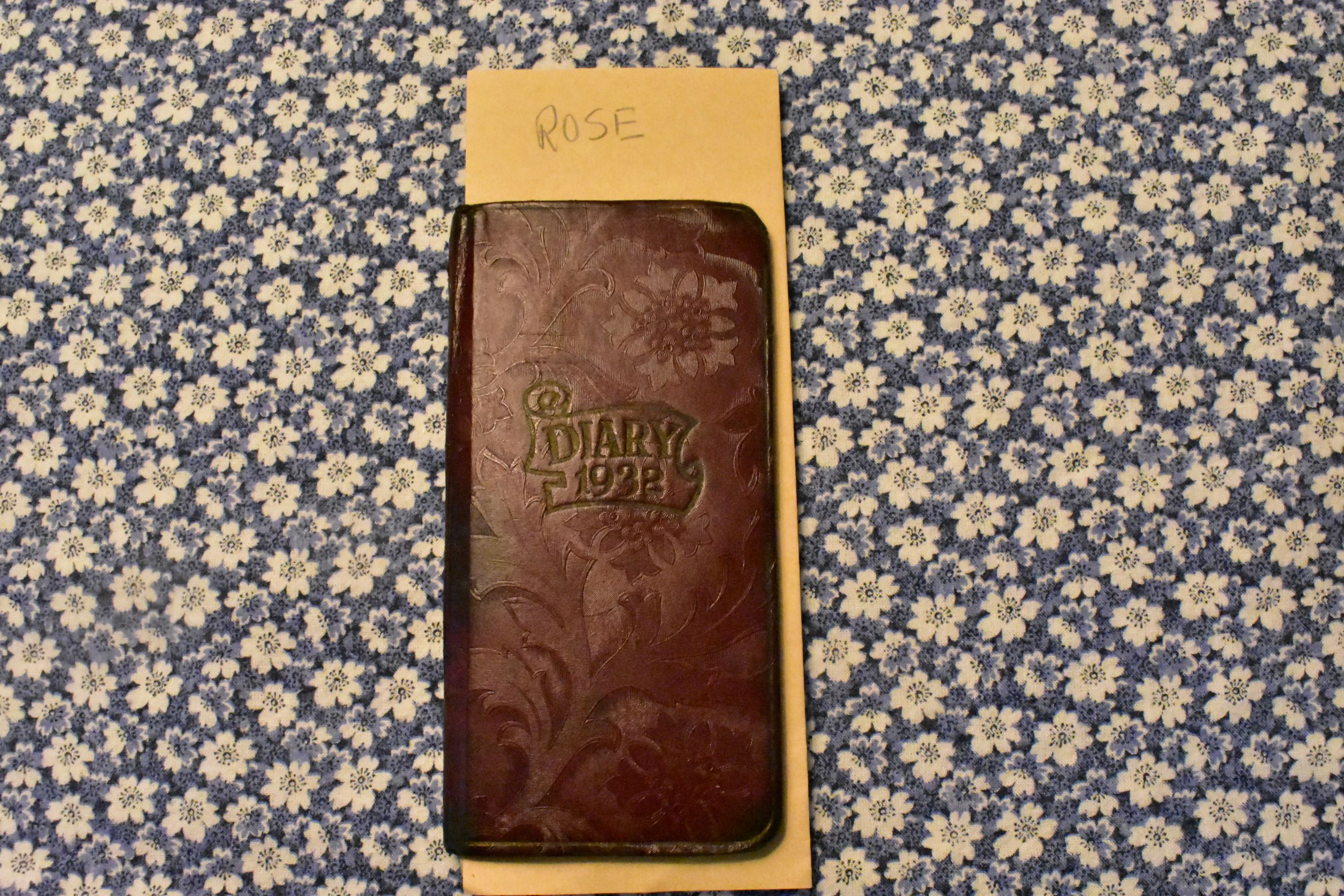 The year 1932. Rose is a thirty five year old school teacher in a country school. She is unmarried and lives at home with her parents and family in a rural area in the state of Iowa. Rose has not been teaching and we are thinking they have possibly closed her school. We are not sure of the reason why, many states, counties and cities have been having problems paying salaries during the great depression, there is also very bad flu at this time as well as scarlet fever.
We continue our readings of this diary.
Tuesday, February 2, 1932. Warmer, rain and snowed and got lots colder. Helen and I went to the dentist.
Wednesday, February 3. Cold and bright. I washed and clothes dried quite well. Folks cleaned kitchen. Ada Conrad died last night.
Thursday, February 4. Horner's cemetery assoc. Cold but bright. Mama and Harland to Skinners. Harland Helen & I to Ottos.
Friday, February 5. Very good day but chilly wind. Harland to dentist to get work finished. I took Mama to C.F. Peddling. To Conrad Funeral, heard from Uncle Joe.
Saturday, February 6. Very nice day. I took Mama peddling in Waterloo. Oysters for supper. Thawed considerably.
Sunday, February 7. Good day. Went down to McKimeys. Harland to play cards. Harry Vaughus here in eve.
Monday, February 8. Cold. I washed, Harland to town in P.M. Skinners here. Helen and I sewed. Mrs. Baskins funeral.
End of this weeks reading of the diary of Rose. They sure do go to a lot of funerals. I was thinking that somehow they worked at a funeral home but they did not, they farmed. I am not sure if there was a funeral home at that time, I think there was not. I did a little research and there are cemetery associations and different associations and locations. By reading some of the obituaries, it seems that the common thing to do was to have the body at the home of that person. This was still common when I was young. There were people that owned land and plots and there were frequent meetings of the cemetery associations. Someone had to help with the burials so people in the community are involved. If anyone understands about cemetery associations in Iowa, please post about it in the forum so we can get this part out of the way. Whew!
Now on with Emma's diary.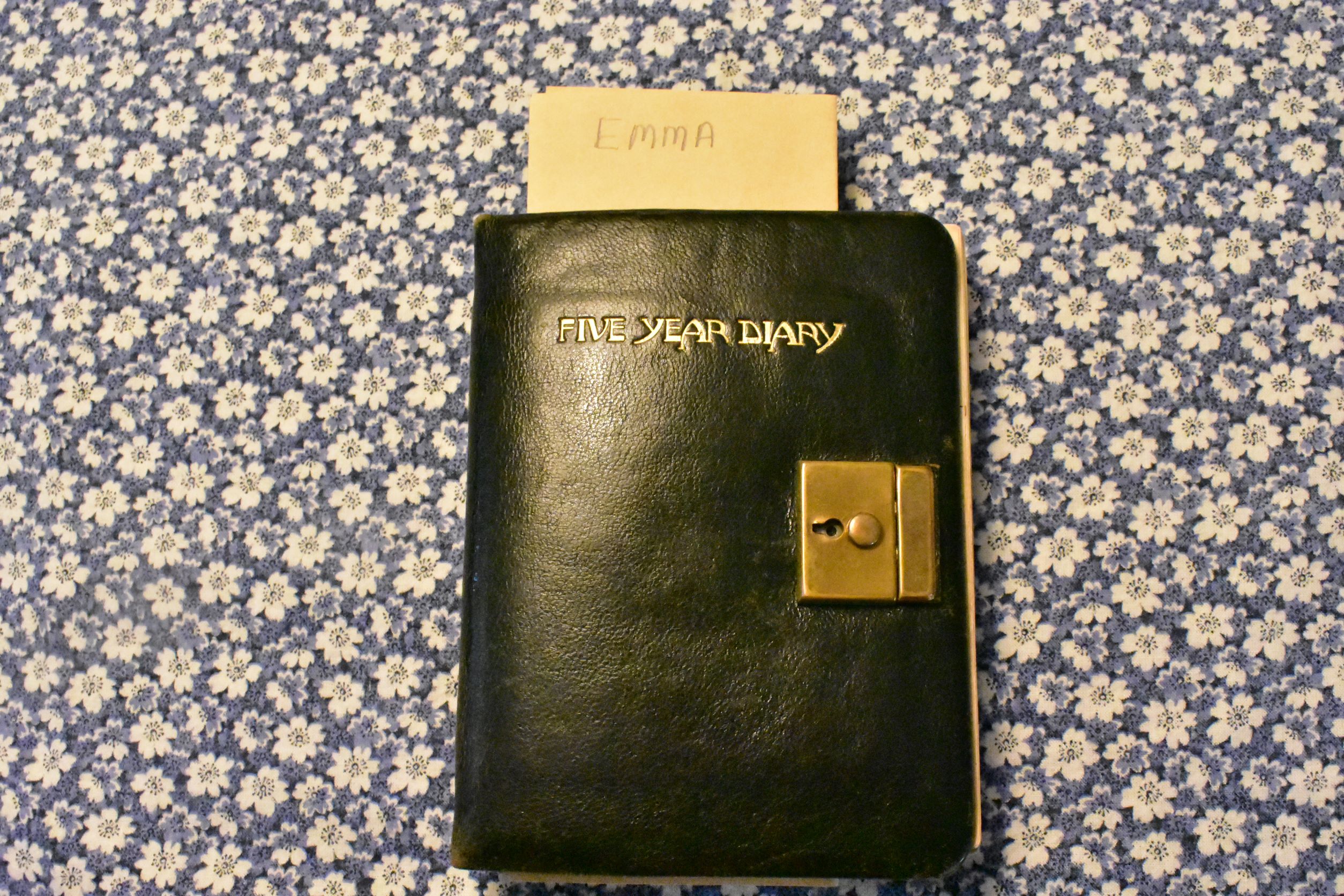 We continue the diary of Emma. The year 1933. Emma has been a widow for 1 year and 5 months, she is living in the United States in the State of Iowa. Emma lives in a small town community and has a busy life. Some of her grandchildren are brought into town for school and often they stay for awhile with her. One of her grandsons stays with her longer than the others. There is much interaction that goes on with her family, her children live in rural areas and one daughter lives away and writes letters. Emma's grandchildren come to visit her often and a few of them are old enough to be helpful. Emma misses them when they are not there. You will start getting the feel of who they are as we read through the diary.
Last weeks last entry here. Wednesday, February 1. Abe & Leighton came this P.M. brot cream & milk. Oli here a while after school. Sheryl here for dinner & stayed last night, mud froze up today. Cloudy & considerable cooler. Worked on crazy quilt again today.
Now we continue with this weeks diary readings of the Diary of Emma.
Thursday, February 2, 1933. One could see their shadow anytime today. Abe set four posts for feeding rack. Have crazy quilt mostly pieced, sure some job, work with wool for a change & evenings.
Friday, February 3. Been to see twins. They are so nice growing fast. Colder today & snowing this even. Sheryl came here for his supper, He plays ball this even. Abe was in a few moments.
Saturday, February 4. Cold weather, down to zero. I went to P.O. & Bank this a.m. put Greenlies $20.00 check on old tax note got letter from Grace & card from Melia, Bessie Leland & Beulah in this P.M. Bessie been to Dentist.
Sunday, February 5. More than 10 below this morning. Lem Bessie & Leland were at church & stoped for me to go home with them for dinner but thot it too cold to leave the house & fires. Looks like our Dec weather is retuning.
Monday, February 6. Abe & Leighton were here to take dinner with Frank & I. Have made two apple pies & carded some wool today. Also picked out a cup of nut meats.
Tuesday, February 7. In the worst blizzard of the winter so far. Grandpa died last nite. Lem gone down there. Oli got left without a way to get home will stay here. Ten below zero, they are keeping Nova's 500 chicks at hatchery. Abe came in to see about them was here for dinner.
Wednesday, February 8. Eighteen below zero this morning but sun shining. Fire bell rang at 11 last night. Roland stokes house roof was afire with a new baby & a pneumonia patient inside, a strong N.W wind but fire was soon under control fortunately. Nova's got chicks home & doing fine. Very cold yet this evening eating a lot of fuel.
End of this weeks diary readings. Does anyone else feel like they have been through a whirlwind of funerals, a blizzard, fire and too much excitement? I will be glad when the weather warms up. Come on spring!
I think we are getting a sense of community in these diaries. People in the community were pretty much dependent on each other's help. I cant even imagine how they put out a roof fire in a blizzard.
I have a choice, get busy with housework or go take a nap. I am typing this the same day I released Sarah's diary for this weeks reading so maybe you can understand feeling a bit frazzled.
Grandma Donna