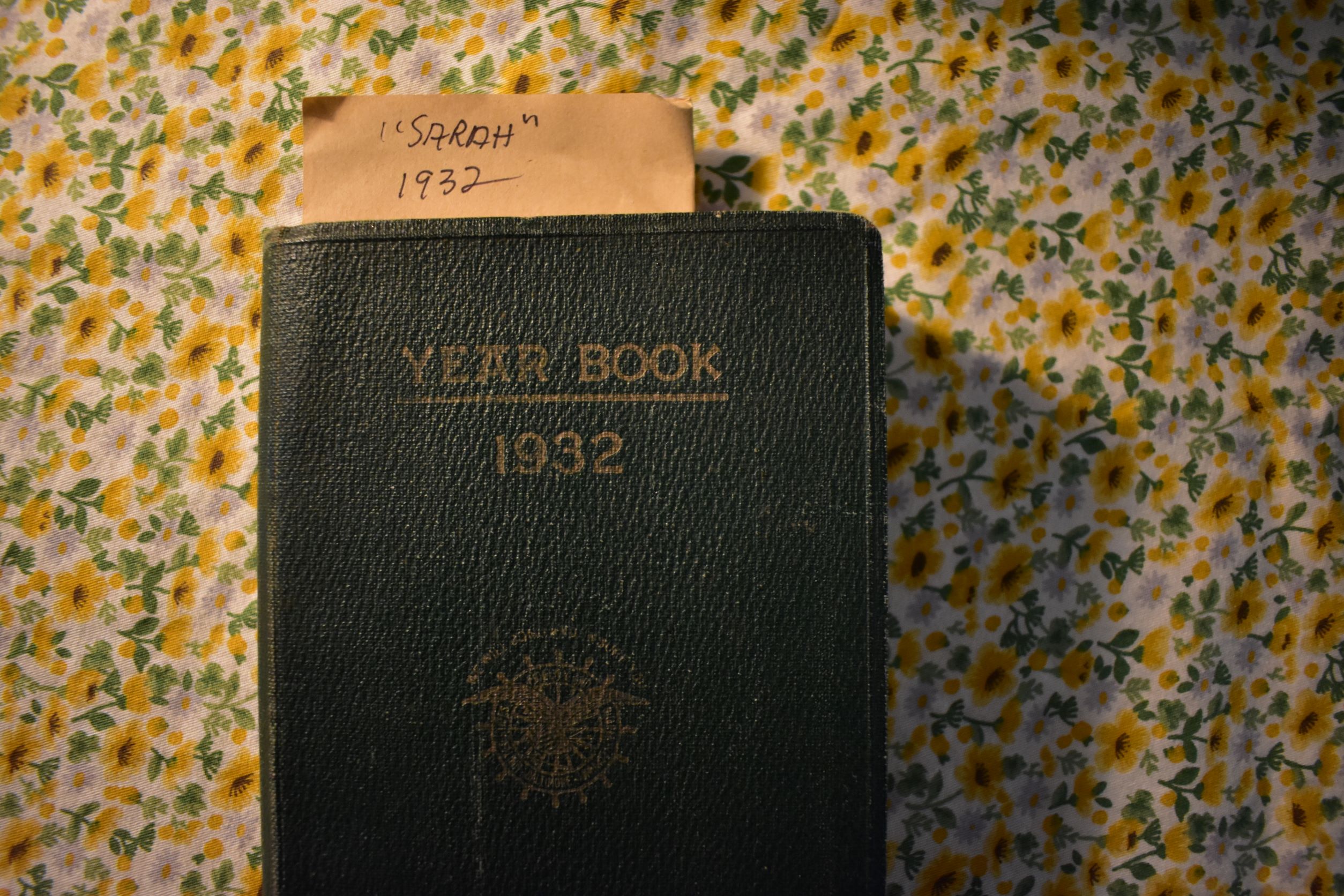 We continue the Diary of Sarah. Sarah and her husband live in Ohio. They have a busy life, Sarah a housewife, involved with her church and activities and she is also a local news contributor for their community. Her husband she calls Father, is a farmer. They have five grown children, two sons and three daughters. A total of 14 grandchildren at the time of this diary.
Their son Joseph, his wife and children live in another house on the same land as Sarah and her husband and Joseph farms with his father. The other four children live on their own farms.
We left off last week with Sarah's last post. Saturday, February 20, 1932. A most beautiful day, clear, bright and quick. Quite a keen air this A.M. warmer towards evening. Usual morning tasks. Mixed up the pumpkin and baked seven pumpkin pies and one plum pie. Set sponge for doughnuts and this afternoon, with help from Frances, Edwin & Father, fried two dishpans full of doughnuts. Gave the bed-room, living room. & kitchen an especial clean-up. Evening tasks and supper. Ernest called, but was quite ill with Grippe. Baked a white cake just after dinner & iced it this evening 10:45.
Now we begin this weeks readings.
Sunday, February 21, 1932. Cloudy and threatening this A.M. and by 10 o'clock it was drizzling and very disagreeable. It kept a sprinkling rain all this P.M. and for a while we had a regular rain. Had the usual early morning tasks to see to and made as me preparation for dinner as I could. Had to be late to church as Joseph was serving for janitor and attended S.S. Home again to find that no one has arrived. They came soon after - Uncle Paul, Harry, some later eve all enjoyed dinner together & the afternoon I collected news this evening as Uncle Georges are to visit us tomorrow.
Monday, February 22. Somewhat dull early this A.M. but it was still quite early when the sun came out and we had a fine bright day, with a cold wind. Had the usual early morning tasks to perform and made preparations for dinner. Geo, Ella, James, Mac & Clarence arrived before I had finished my dish washing and we spent a happy day together. They had left about 4:20 and I got busy on the News work, Earnest, Vera & Jimmie here this evening for a while. I wrote until almost 11'oclock.
Tuesday, February 23. Another clear, cold, crisp day. Got the breakfast over and then finished copying the news items & sent the church insurance $26.00 to Mr. Constines, washed the breakfast dishes & then did the weeks washing for the two families. Dinner. Hung out the clothing, emptied and stored the washer. Made a batch of caramels & one of ice cream candy. Usual evening tasks. Set two hens and took in the clothes. Supper. Tried to pull the ice cream candy but formed it too soft. Will have to boil again. 10:15.
Wednesday, February 24. A fine, bright, beautiful day. Still very cold early this A.M. but warmed up a lot during the day. Usual morning tasks. Did the sweeping and then the wks ironing. Re-heated the ice cream candy & later pulled it, cut it & wrapped it. Dinner and after- dinner work, dressed and went, first to Earl Wells for eggs and then on to the Howard Hatchery. Did some trading in Franklin & then home for evening tasks and supper. This evening Father & I attended an entertainment at the church. After 10-
Thursday, February 25. A fine day tho not quite so bright as yesterday. Usual morning tasks. Made preparations to can the remainder of the sausage. Put on beef for mince - meat and some bones for soup. Fried some steak and served dinner. This P.M. I canned three qts of sausage. Helped father carry the beef to the house and put all for dried beef in the brine & part of the roast meat. Evening task. Roys here this evening. 11 o'clock.
Friday, February 26. a most beautiful day & fine bright and warm the whole day through. Hurried through the early morning tasks, after putting on a big kettle of soup - meat and roaster full of roast meat in the oven. Aunt Amanda and Irene arrived early with the cold pack cooker & we worked with the meat all day. Sealed up 37 cans of beef and made five gallons of mince meat and we were really busy. Had the usual evening tasks to see to. Mr. & Mrs. Leonard Mount called this evening After 10-
Saturday, February 27. A wonderful day - bright and warm all day - getting quite cool this evening. Had the usual morning tasks to see to. Spent quite a while cleaning up the range. Set sponge for bread and baked 3 pies and a pan of cinnamon rolls. Had dinner. This P.M. I baked the bread and coffee Kuche. Gave the hall-way, living room & Kitchen and bedroom and especial clean- up. Canned the mince meat, ten pts. and 4 qts. Supper & work following Got Papas hair, Mending, A bath. Late.
End of Sarah's diary reading for this week.
Seems like we have found out that Sarah makes a coffee Kuchen. Her yeast Kuche. I will be back in the kitchen trying out a very old Coffee Kuchen recipe and if it turns out I will post the recipe. :) Grandma Donna