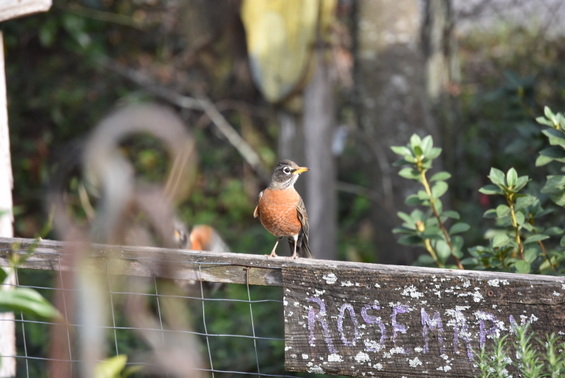 Getting started on so many diaries may seem confusing but as we start learning who they are and their routines we will be learning history in a different way. These are real diaries, very old and rare.
Theodore our farmer, rock hauler, wood hauler married to Nellie living in 1905. They live in Potsdam New York. They travel by horse and wagon and buggy.
Albert and Gladys the couple that writes down all their expenses in a journal during the great depression. The year 1932. They live in Arizona
Phoebe that keeps a diary and lives in a larger duplex type house in the city in 1939 in Pennsylvania. The Griffiths are her neighbors in the adjoining house.
Edith that lives in a small town as a recent widow of a dairy farmer keeps a diary 1924. Jefferson county New York.
All of the diaries start off in January when it is winter.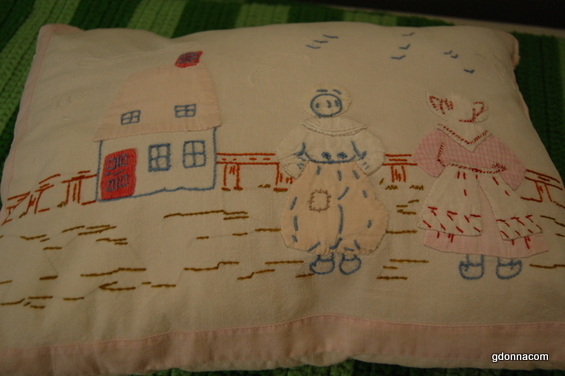 Now it is time to start another diary so we can keep moving along with our history project of learning about what goes on in the home during 1900 and 1939.
I am adding another new person. This is the diary of Lena.
We have "4" diaries from Lena.
This first diary starts January 1,1927. Lena, 30 years old not married and a school teacher.
Lena's father passed away 9 years prior and Lena and her Mother live together.
Place Ohio
Some of the names mentioned in her diaries, Merle,Lena's brother, sister in law Mearl Grace, Robert, Nephew young child of Merle and Mearl. Ethel Lena's sister, Ed the man Lena will marry.
As you will soon realize that Lena is a very active lady and a school teacher. Her diary is about her activities after school. Lena seems to be burning her candle at both ends at times as she tries to do so much. It is 1927 and uses city transportation and is always trying to be at the stop on time.
You will understand by first glance that I have to type out these diaries different than the others because it is difficult to figure out when one day leaves off and the next starts so I am going to put the date outside of somewhere resembling where she is writing.
If you are squeamish you might want to skip reading Jan 4 through 10 because she has a very bad sore on her face and in her mouth she is in terrible pain and very descriptive about it. It is her diary after all. I would advise you not to read that part while eating. This is the only place that is squeamish.
Since we have 4 diaries to read and this is the first diary we know she lived through the face sore issue thank goodness.
We will be going through these 4 diaries quickly because half a month is just one photo of the diary pages other than this first one.
She uses a lot of abbreviations. Eve for evening, com for comforter, em for embroidery S.S. for Sunday School etc.
This post will cover January, February, March and part of April. School is in session. At first you may feel this is too confusing but as you read along you start understanding her writing.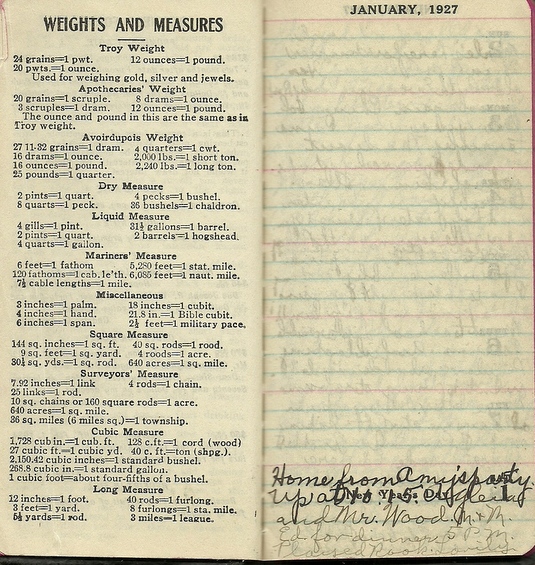 Sat, Jan 1, 1927
Home from Amy's party. Up at 10:15 Clyde and MR. Wood, M.& M., Ed for dinner 5 P.M. Played Rook, Lovely.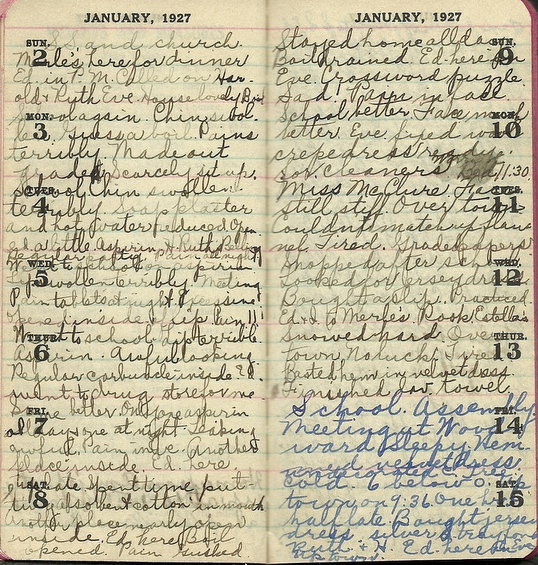 Sunday Jan 2, 1927
S.S. and church. Merle's here for dinner. Ed in P.M. called on Harold and Ruth Eve. House lovely Back School again. Chin swollen
3 Guess a boil. Pains terribly. Made out grades. Scarcely sit up School. Chin swollen terribly.
4 Soap plaster and hot water, reduced opened a little. Aspirin. Ruth Belling Regular party. Pain all night. Went to school on aspirin.
5 Lip swollen terribly. Meeting. Pain tablets at night. Excessive! Opened inside of lip, pain!!! Went to school. Lip terrible. Asprin.
6 Awful looking. Regular Carbuncle inside. I went to drug store for me.
7 & 8 Some better. Only one asprin all day and one at night. Leaking awful. Pain in eve. Another place inside. Ed. here. Up late, spent time putting absorbent cotton in mouth. Another place nearly open inside. Ed here. Boil opened. Pain Gushed.
9 Stayed home all day, Boil drained. Ed here in Eve. Crossword puzzle. Sad. Pain in face.
10 School, better. Face much better. Eve fixed wool crepe dress ready for cleaners. Bed 11:30.
11 Miss McClure. Face still stiff. Over town couldn't match up flannel. Tired. Graded papers.
12 Shopped after school. Looked for Jersey dress. Bought a slip. Practiced. Ed and I to Merle's. Rook. Estella's
13 Snowed hard. Over town No luck. Tired. Basted hem in velvet dress. Finished Lav Towel.
14 School. Assembly meeting at Woodward. Sleepy. Hemmed velvet dress.
15 cold. 6 below 0 uptown one hour half late. Bought jersey dress. silver tray for Ruth and H. Ed here in eve uptown.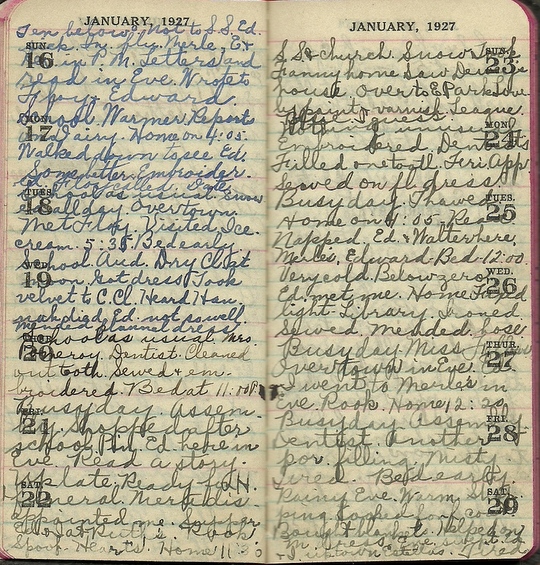 Jan 16, 1927
Ten below. Not to S.S. Ed sick. In.flu. Merle, E & He in P.M. Letters and read in Eve. Wrote to Floy and Edward.
17 School. Warmer. Reports on Dairy. Home on 4:05. Walked down to see Ed. Some better. Embroider. Floss called. Date
18 School as usual. Snowed all day Over town met Floy. Visited Ice cream. 5:35. Bed early .
19 School. Aud. Dry cleaners at noon. Got dress. Took velvet to C.Cl. Heard Hannah died. Ed. not so well. Mended flannel dress.
20 School as usual. Mrs. Boneroy. Dentist. Cleaned out tooth. Sewed and embroidered. Bed at 11:00
21 Busy day. Assembly. Shopped after school Pin. Ed. here in Eve. Read a story. Up late. Ready for H funeral.
22 Merle disappointed me. Supper. Ed and I at Ruth's. Rook,, spoon, Heart's. Home 11.30.
23 S.S. & church. Snow. Took Fanny home. Saw Dercy's house. over to E. Park. Love the paint and varnish. League. Bessie I guess.
24 Nothing universal. Embroidered. Dentist filled one tooth. Teri. app. Sewed on flannel dress. Busy day. Thawed. Home on 4:05 Read
25 Napped. Ed and Walter here. Merle's , Edward. Bed 12:00.
26 Very cold. Below zero. Ed met me. Home Fixed light. Library. Ironed. Sewed. Mended hose.
27 Busy day. Miss Fellows over town in Eve. I went to Merle's in Eve. Rook. Home 12:20
28 Busy day. Assembly. Dentist. another por. filling. Misty Tired. Bed early. Rainy Eve
29 Warm. Shopping. Cooked for F. Bought blankets. Helped on M. dress. Eve swept and I. uptown Estellas. Tired.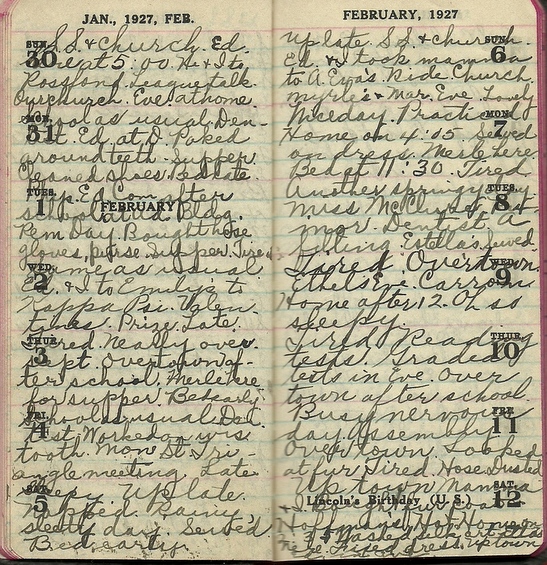 Jan 30, 1927
S.S. and church. Ed here at 5:00. He and I to Rossland. League talk. Our church. Eve. at home.
31 School as usual. Dentist. Ed at D. Paked around teeth. Supper. Cleaned shoes Bed late.
Feb 1 Phep. Ed came after school at Ad Bldg. Rem Day. Bought hose, gloves, purse. Supper. Tired.
Feb 2 Same as usual. Ed and I to Emily's to Kappa Psi. Valentines. Prize. Late.
Feb 3 Tired. Nearly over slept. Overtown after school. Merle here for supper. Bed early.
Feb 4 School as usual. Dar test. Worked on wisdom tooth. Mon St. Fri single meeting Late.
Feb 5 Sleepy. Up late. Napped. Rainy sleety day. Served Bed early.
Feb 6 Up late. S.S. and church. Ed and I took mamma to Aunt Eva's. Ride. Church. Myrle's and Mar. Eve.. Lovely. Nice day.
Feb 7 Practiced. Home on 4:05. Sewed on dress. Merle here. Bed at 11:30. Tired.
Feb 8 Another springy day. Miss McClurry Bitmor. Dentist a filling. Estella's Sewed. Tired.
Feb 9 OVertown. Ethel's Eve. Carrom. Home after 12:00 Oh so sleepy.
Feb 10 & 11 Tired Reading tests. Graded tests in Eve. Over town after school. Busy nervous day. Assembly over town. Looked at fur. Tired. Hose. Dusted
Feb 12 Up town. Mamma and I bought fur coat. Hoffman's Hat Home on 2:35. Washed Silk art. Ella's here. Fixed dress. Uptown Ed in evening.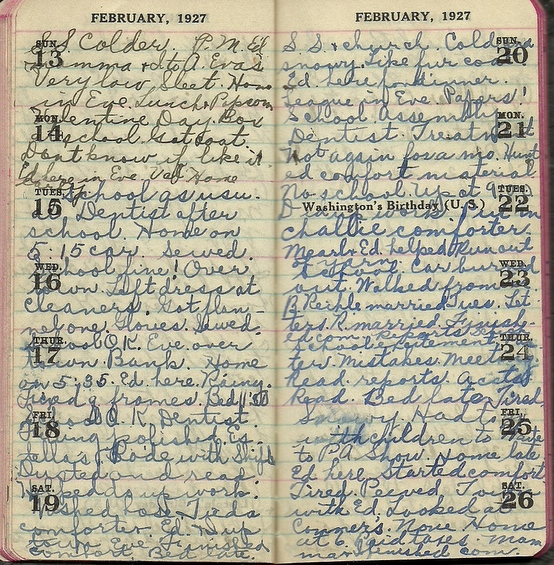 Feb 13 1927
S.S. Colder. Pm Ed, mamma and I to Aunt Eva's. Very low. Sleet. Home in Eve.
Feb 14 Lunch and Popcorn. Valentine Day. Box at school. Got coat. Don't know if like it. Ed here in Eve. Val Home.
Feb 15 School as usual. Dentist after school. Home on 5:15 car. Sewed.
Feb 16 School fine! Overtown. Left dress at cleaners. Got flannel one. Gloves. Sewed.
Feb 17 School O K. Eve over town. Bank. Home on 5:35. Ed here. Rainy. Fixed g frames. Bed 11:50.
Feb 18 School O.K. Dentist. Filling polished. Estella's. Rode with Shifter. Dusted and read.
Feb 19 Helped do up work: Washed hose, Tied a Comforter. Ed and I uptown Eve. Finished Comfort. Bed late.
Feb 20 S.S. and church. Cold and snowy. Like fur coat. Ed here for dinner. League in Eve. Papers!
Feb 21 School. Assembly. Dentist. Treatment Not again for a mo. Hunted comfort material.
Feb 22 No school. Up at 9:00.Did up work. Put on Challie comforter. Mearl and Ed helped. Run out of yarn.
Feb 23 School. Car burned out. Walked from car. B Reikle married Tues. Letters. R married. Finished com Reports Sc?. .
Feb 24 School excitement after. Mistakes. Meeting Read. Read. reports. Accts Read. Bed later Tired.
Feb 25 Snowy. Had to go with children to Waite to Pa show. Home late. Ed here. Started comfort. Tired
Feb 26 Peeved. Town with Ed. Looked at Conner's.None Home at 6. Paid taxes. mamma finished com.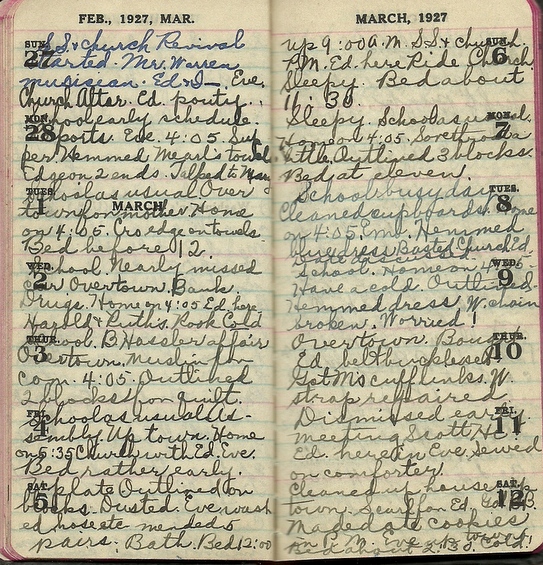 Sunday Feb 27, 1927
S.S. and Church. Revival started. Mr Warren musician. Ed and I -. Eve Church a= Altar. Ed. pouty..
Feb 28 School early schedule. Sports. Eve. 4:05. Supper. Hemmed Mearl's towel. Edge on 2 ends. Talked to Mary.
March 1 School as usual. Over town for mother. Home on 4:05. Crochet edge on towels. Bed before 12.
March 2 School . Nearly missed car. Overtown. Bank. Drugs. Home on 4:05 Ed here. Harold and Ruth's Rook Cold.
March 3 School. B Hassler affair. Over town. Muslin for com. 4:05. Outlined 2 blocks for quilt.
March 4 School as usual. Assembly. Uptown. Home on 5:35 Church with Ed. Eve. Bed rather early.
March 5 Up late Outlined on blocks. Dusted. Even washed hose etc. mended 5 pairs. Bath. Bed 12:00.
March 6 Up 9:00 a.m. S.S. and church. P.M. Ed here. Ride Church. Sleepy. Bed about 11:30.
March 7 Sleepy. School as usual. Home on 4:05. Sore throat a little. Outlined 3 blocks. Bed at eleven.
March 8 School busy day. Cleaned cupboards. Home on 4:05.? Hemmed blue dress Basted. Church. Ed Date discussed.
March 9 School. Home on 4:05 Have a cold. Outlined. Hemmed dress W. chain broken. Worried!
March 10 Over town. Bought Ed belt buckle set. Got M's cufflinks. W strap repaired.
March 11 Dismissed early. Meeting Scott H and Ed. Here in Eve. Sewed on comforter.
March 12. Cleaned up house. Up town. Scarf for Ed Got BB. Madedate cookies in P.M. Eve up town. in P.M. Bed about 2:30.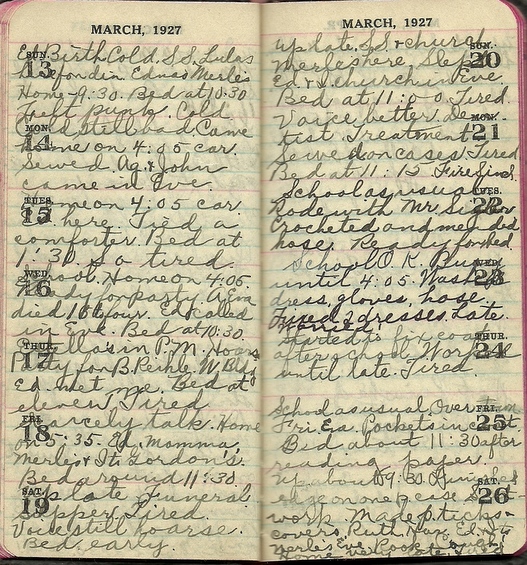 Sunday March 13 1927
Ed Birthday. Cold. S.S. Lula here for dinner. Edna's Merle's home 9:30. Bed at 10:30 Felt punk. Cold.
March 14 Cold still bad. Came home on 4:05 car. Sewed. Ag and John came in Eve.
March 15 Home on 4:05 Car. Ed here. Tied a comforter. Bed at 1:30 So tired.
March 16 School. Home on 4:05 Ready for party. Aunt Eva died 15 to four. Ed called in Eve. Bed at 10:30.
March 17 Estella's in P.M. Hoars? Party for B. Reikle. W. Bldg. Ed. met me. Bed at eleven. Tired
March 18 Scarcely talk. Home on 5:35. Ed, Mamma. Merle's and I to Gordon's. Bed around 11:30.
March 19 Up late. Funeral Supper Tired. Voice still horse. Bed early.
March 20 Up late. S.S. and church. Merle's here. Slept. Ed and I church in Eve. Bed at 11:00 Tired.
March 21 Voice better. Dentist. Treatment. Sewed on cases. Tired. Bed at 11:15.
March 22 Fire S in S School as usual. Rode with Mr Sigler. Crocheted and mended hose. Ready for bed.
March 23 School O.K Busy until 4:05. Washed dress, gloves, hose. Fixed 2 dresses. Late. Worried.
March 24 Started to fix coat after school. Worked until late. Tired.
March 25 School as usual. Over town. Fri. Eve. Pockets in coat. Bed about 11:30 after reading paper.
March 26 Up about 9:30 finished edge on one pillow case. stitch work. Made p. ticks and covers. Ruth Har.Ed and I to Merle's Eve. Rook, Cou?, home very late. Tired.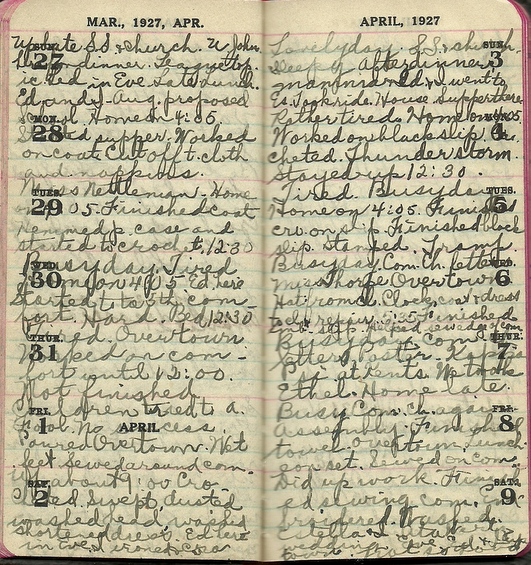 Sunday March 27, 1927
Up late. S.S. and church. W John here for dinner. League topic. Led in Eve. Late Lunch. Ed and I - Aug. proposed.
March 28 School. Home on 4:05 Started supper. Worked on coat. Cut off t. cloth and napkins.
March 29. Miss Nettleman. Home on 4:05. Finished coat. Hemmed pillow case and started to crochet. 12:30.
March 30 Busy day. Tired. Home on 4:05. Ed here. Started to to ta 5th comfort. Hard. Bed 12:30.
March 31 Tired. Overtown. Worked on comfort until 12:00 Not finished.
April 1 Children tried to April fool. No success. Poured overtown. Wet feet.Sewed around com.
April 2 Up about 9:00 Crocheted. Swept, dusted, washed head, washed, shortened dress. Ed here in Eve. Ironed and Crochet.
April 3 Lovely day. S.S. church. Sleepy. After dinner Mamma, Ed and I went to Es. Took ride. House Supper there.
April 4 Rather tired. Home on 4:05. Worked on black slip. Crocheted. Thunder storm. Stayed up 12:30.
April 5 Tired. Busy day. Home on 4:05. Finished crochet on slip. Finished black slip. Stamped.
April 6 Busy day. Com. Ch letters. Miss Thorne overtown. Hat from Cl. Clock, coat and dress to cl and repair. 5:35 Finished. Embroidered slip, helped sew edge of com.
April 7 Busy day. com, I letters, Poster. Kapta Psi at Kents. We took Ethel Home late.
April 8 Busy Com. ch again assembly. Finished towel. OVer town. Luncheon set. Sewed on com.
April 9 Did up work. Finished sewing com. Embroidered. Washed. Estella and I ata wert's wedding. Eve Ed and I to town. had or hat so good.
I will stop here for now. Warmer weather is coming, more chores to do. The lawn has to be mowed and warm weather brings on spring cleaning. Ed goes missing, Lena very worried.
Hope you are enjoying the diaries. Maybe if you take a note pad and write down which ones you have read it would be easier to keep up. I will try and remember to post the months that I cover in the heading. Grandma Donna