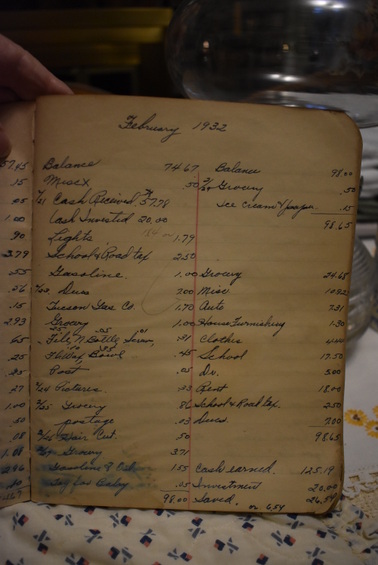 Here we are back to visiting the budget and spending journal of Albert and Gladys. This is for the month of February, the year is 1932. Albert is working and they have a small baby.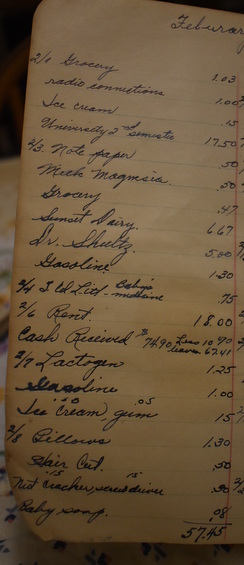 We saw last month that Albert and Gladys purchased a radio but we learn this month that they did not have a connection for the radio and we still do not know if they have a refrigerator ice box. Ice boxes were called refrigerators until refrigerators came along and then the original refrigerator that held ice to make it cold became the ice box instead of the refrigerator.
The radio purchase last month was a big expense for Albert and Gladys. As we remember the time of 1932, the great depression is happening and television does not exist at this time. We now learn right away that this month they will be able to enjoy listening to their new radio as we find a connection fee right away on the first of February.
Feb 1
Grocery 1.03, Radio connections 1.00, Ice cream .15, University 2nd semester 17.50,
Feb 3
Note paper .50, Milk Magnesia .50, Grocery .47, Sunset Dairy 6.67, Dr. Shultz 5.00, Gasoline 1.30
Feb 4
J. Col Litl ( Baby's Medicine) .75
Feb 6
Rent 18.00, Cash Received $74.90 less 10% leaves 67.41
Feb 7
Lactogen (baby formula) 1.25, Gasoline 1.00. Icecream (.10) gum (.05) = .15
Feb 8
Pillows 1.30, Hair Cut .50, Nut Cracker (.15) screwdriver .15 = .30, Baby soap .08
57.45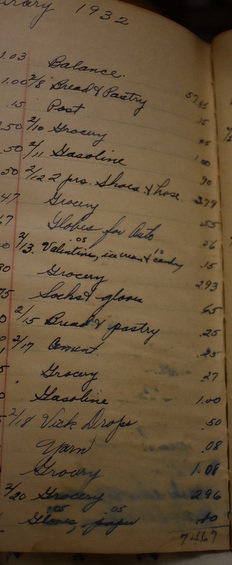 Balance 57.45
Jan 8
Bread and Pastry .15, Post .05
Feb 10
Grocery 1.00
Feb 11
Gasoline .90
Feb 12
2 pair shoes and hose 3.79, Grocery .55, Globes for Auto .56
Feb 13
Valentine (.05), icecream and candy (.10)= .15, Grocery 2.93, Socks and gloves .65
Feb 15
Bread and Pastry .25
Feb 17
Cement .25, Grocery .27, Gasoline 1.00
Feb 18
Vick Drops .50, Yarn .08, Grocery 1.08 (.05) = .10
Feb 20 Grocery 2.96, Gloves (1.05), papers
$74.67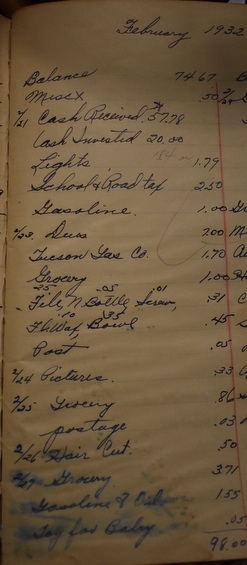 Balance 74.67
Misc .50
Feb 21 Cash Received $57.78, Cash Invested 20.00, Lights 1.79, School and Road Tax 2.50, Gasoline 1.00
Feb 23
Dues 7.00, Tuscon Gas Co 1.70, Grocery 1.00, File (.25) N Bottle (.05) Screw (.01) = .31, Fl Wax (.10) Bowl (.35) = .45, Post .05,
Feb 24
Pictures .33
Feb 25
Grocery .86, postage .03
Feb 26
Hair cut .50
Feb 27
Grocery 3.71, Gasoline and oil 1.55, Toy for baby .05
98.00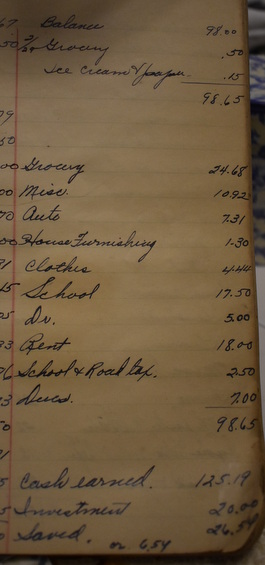 Balance 98.00
Feb 29
Grocery .50, ice cream and paper .15
98.65
Grocery 24.68
Misc 10.92
Auto 7.31
House Furnishing 1.30
Clothes 4.44
School 17.50
Doctor 5.00
Rent 18.00
School and road tax 2.50
Dues 7.00
98.65
Cash earned 125.19
Investment 20.00
Saved 26.54
So we see that Albert and Gladys did better this month and actually invested and saved money. This is very good considering it is the great depression. They are saving and spending helping the economy. We will return to their journal March First.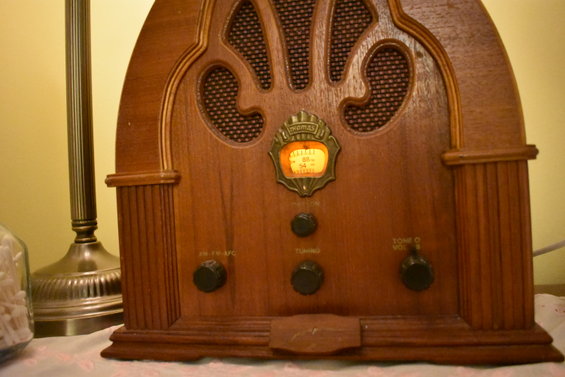 Some may be wondering about the radio connection fee. Many people still did not have electricity or telephone in the 1930's and some did have it but often single lines were pulled to the home. The older homes were not wired for outlets and as new electrical appliances came about there was a need to upgrade to place things like lamps, kitchen electrical appliances and electric iron.
Then came the radio and radio transmission was new and different. This was a time when electric and telephone workers were pulling lines and installing new services.
I found a article from 1922 I will type out
Radio Connection for Homes
At a recent meeting held by some of the nation's most prominent architects it was unanimously decided that the designs of the homes of the future must include proper connections for radio receiving apparatus. In fast, this plan has already been put into effect in several of the larger cities. One builder recently advertised the fact that the $1,000,000 worth of houses he is building "will be wired for radio telephone service."
The growing popularity of the radio phone will soon make it an almost indispensable utility of the American home. When the house hunter of the future corners the landlord in his den the question will not be, "how far is it from the car line?' Perhaps the tenant will insist on extra radio connection so that the cook and hired girl may entertain their company.
In several cities model electrical homes have been opened for the inspection of the public. In addition to a complete equipment of labor-saving electrical equipment these model homes are furnished with everything necessary for the best reception of radio broadcasting. No doubt these model homes will be copied by many home builders who wish to incorporate modern conveniences in their homes.
Radio is here to stay and it is safe to predict that its popularity will continue to grow for an indefinite period.
And so it did and then some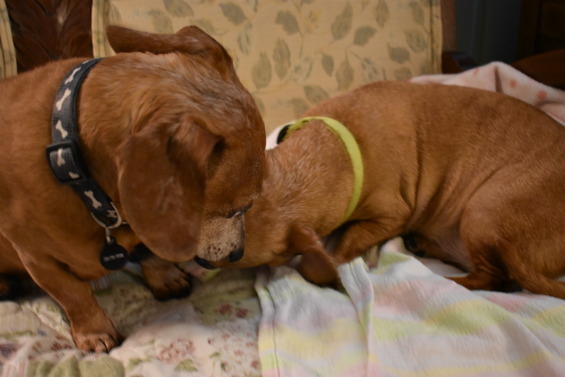 Our Katherine on the right had a visit from her brother Frank recently and they were happy to see each other and have to smell each other to see what the other has been up to since their last visit. Frank and Katherine are now 11 years old.
In case you missed the January journal post I will link it below.
http://gdonna.com/living-like-the-past/beginning-s...
Grandma Donna