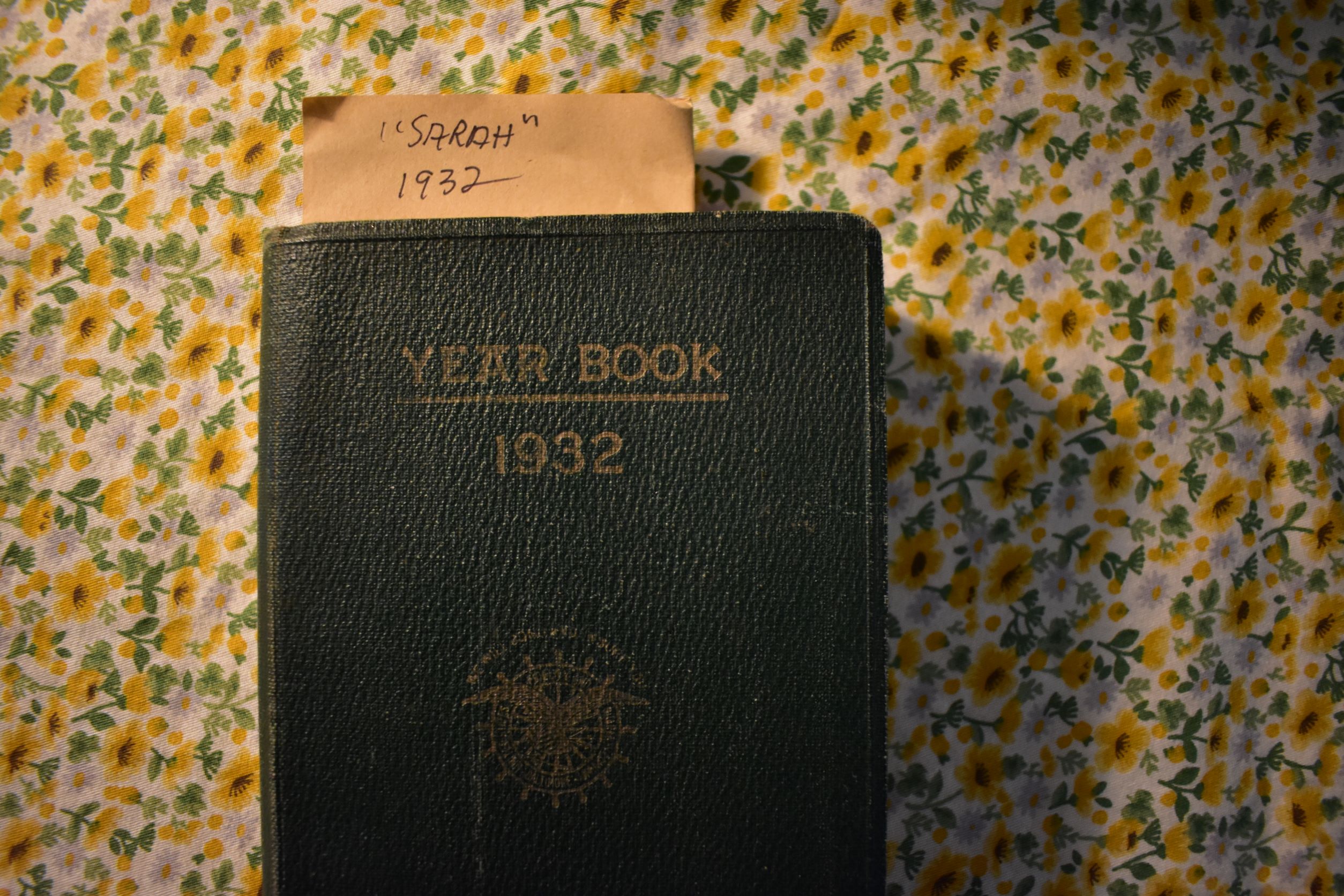 We are beginning the Diary of Sarah and her family. They live in the United States in the State of Ohio, the year 1932.
In Sarah's writings she addresses her husband as Father. Many people did this in the past, when children address their father as Father often their mother will start addressing her husband as Father.
Sarah commonly will say "usual morning tasks", I think about my own morning tasks after brushing my teeth and washing up, I get dressed and don my apron. There are many small things to do in our home in the morning such as turning on the kettle, preparing the food for the doggies and feeding the feral cat, Mr. Bingley, while the water is heating for coffee and tea. This is the time to move quietly around the house before starting breakfast. Especially now that we are living like the early 1930s.
Sarah will say, "evening tasks, supper. I hope I get a better routine as Sarah has, we can all learn from this diary. I hope that my evening tasks will have me better prepared for morning tasks. I will work on this throughout this new study.
I want to mention that Sarah will note in her diary that she wrote her news articles, and will say news job so she considers this as a job.
Also, during the early years as these that we are studying, when we read dressed a chicken or dressed a turkey, they are not speaking of the food item dressing. If you do research on this you may find a lot of incorrect information.
To dress a chicken or dress a turkey is actually going out to the chicken yard or hunting for that Turkey and how ever you want to say it, you harvest, or kill the chicken and quickly dress it, which is removing the inners, plucking the feathers etc. They are preparing that chicken for cooking that day or the next day. Charles and I eat meat, and we are thankful for what we can afford.
When you study history and you see an old grocery ad that says dressed chicken or a dressed hen, that means the grocer or someone selling to him has already dressed the chicken and many times you had a choice to purchase dressed or undressed which means you take it home to dress it. I try to remember to be thankful for everything that goes into my basket when I place it there.
I will start Sarah's diary.

Friday, January 1, 1932. A new year with its joys and its sorrows, its opportunities and its disappointments is ushered in to-day, Had the usual morning tasks to see to. Father & I made the popcorn into balls and I prepared the dressing and got the chickens out of the oven. Dressed and with father, Joseph, Julie, Frances, Edwin & Samuel attended the family reunion at Springboro at the Grange Hall. Had a fine time. All except six people were present. Home for evening tasks. Father & I dressed a turkey.
Saturday, January 2, 1932. Cold and cloudy, Got the usual morning tasks out of the way and then got off to town with Joseph & the dressed turkey. Stopped at Butlers on our way home and got a stock gobbler. Home about 12 o'clock. Father had found the stove pipe in the attic rusted away and having gotten a joint of pipe from Joseph, we worked at the range for some time. Baked bread & Kuche this P.M. & did my special cleaning for Sunday. Ernest called and got some things, towards evening , since supper I filled out S.S diplomas.
(During this time, "called "meant stopped by or visited, phone calls are referred to telephoned.) (S.S. would be Sunday School). So Ernest called, he stopped by and got some things.
Sunday, January 3. Dull this A.M., bright this afternoon. Hurried through the early morning tasks and baked 3 pies. Made preparation and went with the rest to the church. Stayed in the basement and filled out diplomas all during the church service. Attended S.S. Home for noon - day meal. Henry, Polly and the kiddies here for dinner and the afternoon. Usual evening tasks and supper. Ernest here late this evening.
Monday, January 4. Dull, cloudy and threatening by noon, after a fine bright morning. Usual morning tasks and did the weeks washing for Joseph and us. Dinner, hung out clothes. After dinner work, collected news items. Evening tasks. Took in the clothes, but few of them dry. Set up the clothes rack and filled it. Prepared supper. After supper work, did some little telephoning job and some copying. Sleepy and tired.
Tuesday, January 5. Dull & cloudy early this A.M. sprinkling rain later and raining all the afternoon. Usual early morning tasks, then settled down to copy the news items. Ruth and Samuel here all this A.M. Samuel pressed Joseph's pants and vest. Busy with the items until 10, and carried them over to the mail box. Got busy in the kitchen and prepared dinner. This P.M. I made preparation and did the ironing, the regular except a fine white shirt and a pair of pants - 2 white table cloths and 2 pair of linen curtains. Supper as usual evening tasks.
Wednesday, January 6. Dull and cloudy and considerably colder. Hurried through the morning tasks and got busy with the iron again. Pressed Joseph's Sunday coat, a pair of pants for Ernest and a white shirt for father. Violet Gray made over a short visit. I baked bread and Kuche to-day. Dinner this P.M. I scrubbed the front porch & pavement & the west porch & pavement. Usual evening tasks, Got a letter from Aunt Myrtle. Supper. Attended meeting at church this evening. Late.
Thursday, January 7. A fine, bright, winter day - we were all glad to see the bright sunshine once more. Had the usual morning tasks to see to. Wrote two letters - one to "Ohio Farmer" and the other to The Farmers Guide in regards to their advertising L.N. Walter. Did a bit of telephoning in region L. D.A. Society. Prepared & served dinner. Dressed & attended the meeting at Mrs. Rhodes Home for evening tasks. 9 P.M. (I did a little research and L.N. Walter was a turkey farm. )
Friday, January 8. A most beautiful day - bright and cold - the nearest a real winter day we have had. Had the regular daily routine of household duties. Dismantled the Xmas tree, stored the decorations and the few remaining presents and burned the tree. Gave the parlor, hallway an stair way a thorough going over and feel well pleased with the result. Also gave our bed-room a special clean up for Sunday. Even my evening tasks, supper. Have been mending all the evening. 10:30
Saturday, January 9. Cloudy and cold- a few snowflakes fell. Had the usual early morning tasks to perform. Set sponge for bread and mixed the pumpkin for pies. Baked 6 pumpkin pies and 2 peach a kuche and a batch of bread. Mopped the living-room and kitchen. Dressed a chicken about noon and put it on to boil. Had the usual evening tasks and made a kettle of noodles for supper. Ernest and V. & Jimmy here for supper.
End of this weeks weeks diary reading .
If you want to follow along with the diary in your home actively doing the things that Sarah does, each of us can make a calendar of sorts for her days of the week and fill in what we know she bakes or does in her home. It would be fun to resemble Sarah for at least a few weeks. If you think this is a lot that she does, everything is much slower in cold weather and when it warms up things get busier.
A couple of years ago I started sharing this diary but stopped because Covid had just begun and life seemed complicated. This is a very good time to begin again.
Sarah's diary is my most special diary, and it gives us a wonderful inside look of what running a home looked like during this time. Sarah mentions baking Kuche. She bakes it when she bakes bread, her bread baking is a different day than her Cake and pies, most often. So her kuche is a yeast kuche. For those of you that want to follow along in the kitchen with Sarah this year I have found a Kuchen recipe, I am still not sure why Sarah left off the letter N on Kuche. I have found an old Peach Kuchen recipe. Kuche can be made with most any fruit, Apple would be good too. There is kuchen and Kuche, Sarah calls hers Kuche. Some things we read about Kuchen talks about coffeecake. However, in this diary, Sarah makes her Kuche when her yeast sponge is ready on Saturday mornings normally but she also bakes bread and Kuche during the week, I think it depends on how many people come over.
Below 1930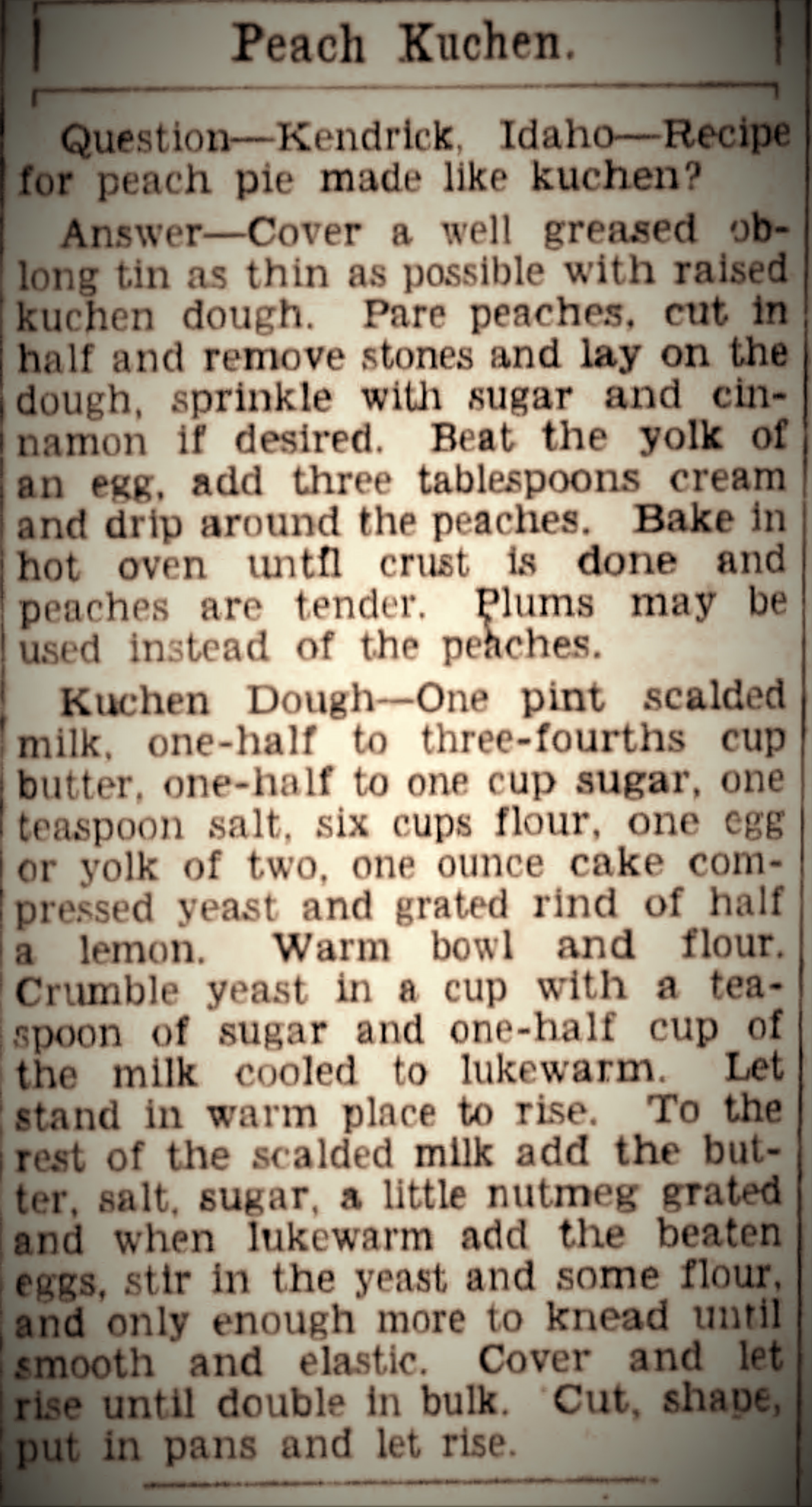 This above was a question about a peach pie made like kuchen. I figure that if they wanted peach pie to look like Kuchen we will learn what Kuchen looks like above.

Below, 1903, you will notice where some confusion comes in on what Kuche/Kuchen is and why some say it is cake. Well it is depending on what era it came from. They call this a popular cake but it has yeast.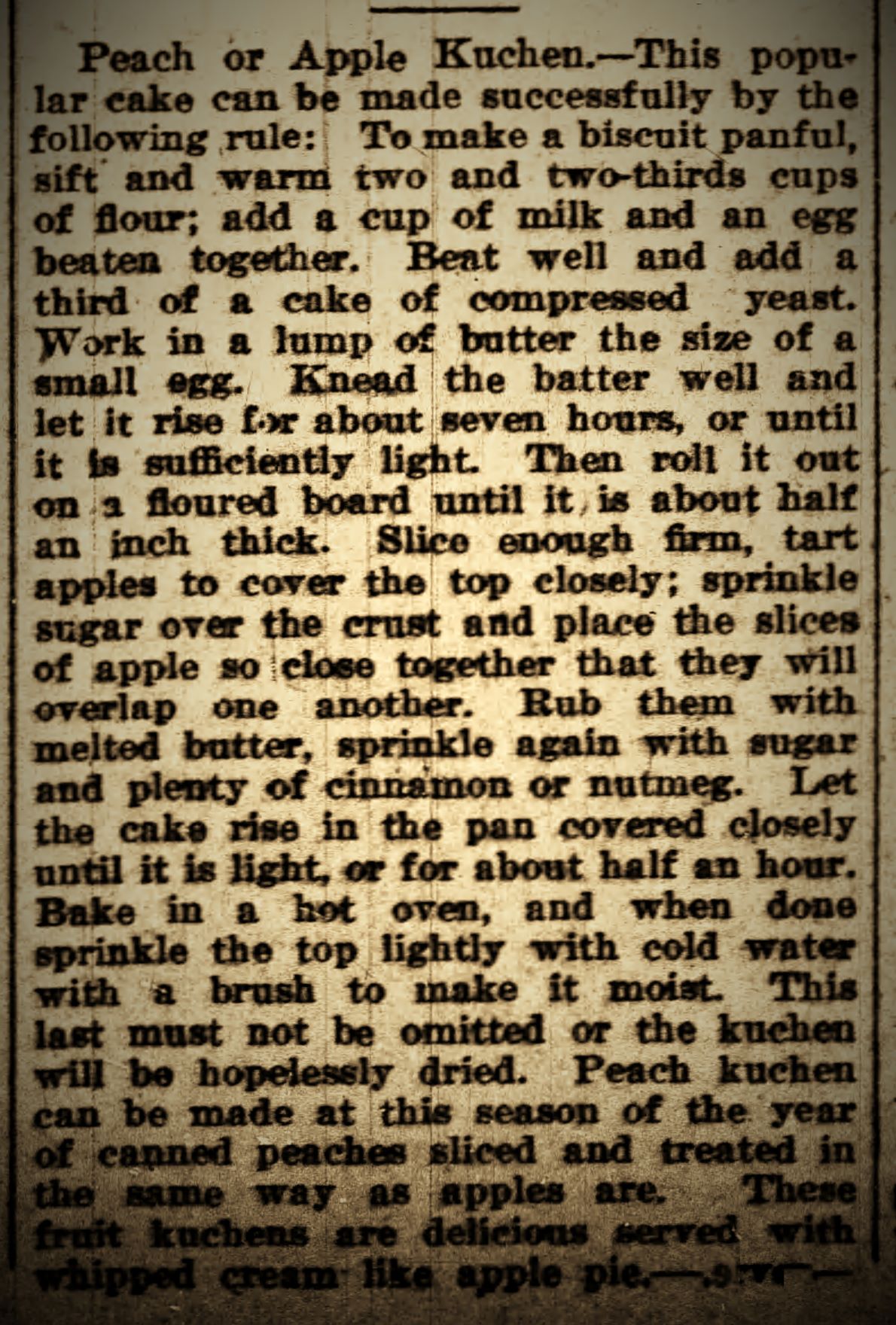 Here above is Peach or apple Kuchen, the year, 1903. Some may wonder why they would say warm flour. I believe that is was cold weather when this was written because they are telling to use canned peaches this season of the year. Most likely the flour is cold and for it to rise well, the flour should be a warm, not cold.
We found a yeast calculator for cake yeast to convert to dry yeast or active dry yeast. So best we can figure is 1/3 of cake yeast for this recipe will be 1/4 ounce of dry yeast or 2 & 1/4 teaspoons dry yeast.
Also noting that this says to let rise seven hours "or sufficiently light. Considering that our dry yeast / active dry yeast today, this will most likely rise differently than the cake yeast an not nearly as long. I noticed that Sarah baked her Kuche in the evening on January 2, possibly due to a long rise time which if we are following her diaries there are many things to consider with rise times and such as that.
Oh my, just wait until spring comes. Lol Hold on to your hats!
Some of you are interested and excited to do Sarah's week. If we start doing Sarah's week, we need to get to bed as soon possible in the evenings, remember they did not have electronics to distract them back them. When we get up it is ready set go! Ha Get those aprons on. :)
Also Sarah baked a large amount of the food when she baked, we can sit down and figure out the amount for our home. Possibly a small pie, cake, kuche and bread. If you have a lot of family coming in and out or visitors you might need Sarah's amount or more. I will be posting Sarah's diary the week ahead each week but if you feel you need more time for grocery shopping and scheduling, let me know. I will start with this and adjust as we go.

So if we start our household tasks, making them our own what would they look like? If we take out all the extra things Sarah did for this week and we start This Sunday January 1, (we look at her Sunday, not the date) this is the household work Sarah did below. I will have to start a schedule or I won't keep up and I will start a diary. Also, anyone can jump in at any time, no matter where we are in the year. :)

Maybe part of Sarah's Saturday evening chores was preparing for baking the next morning before Church. I can tell you that morning and evening chores were quite laborious because of the time they lived, heating water on a non electric range, heating water for washing was a lot of getting ready for things.
We will need our basic dry goods, such as flour, sugar, a few spices such as nutmeg, cinnamon. Yeast, butter, eggs, milk, lemon, and some fruits, fresh, or canned, pumpkin, peaches, apples etc. Will need to make a grocery list. We do not have to start right away or at all and just read the diary. Anything is good with this study. We are here to learn new information that will help us to live a more simple life.
I will make my schedule based off this and what I actually already do here in some kind of blend. What will your schedule look like? For those heading over to the forum this is a great place to talk about all of this and share pictures of your tasks, cakes, pies, kuche or whatever your early 1930s looks like. Remember there will be threads for different posts so we will do our best to keep on topic. There will be many topics. I have to learn that too.

Grandma Donna