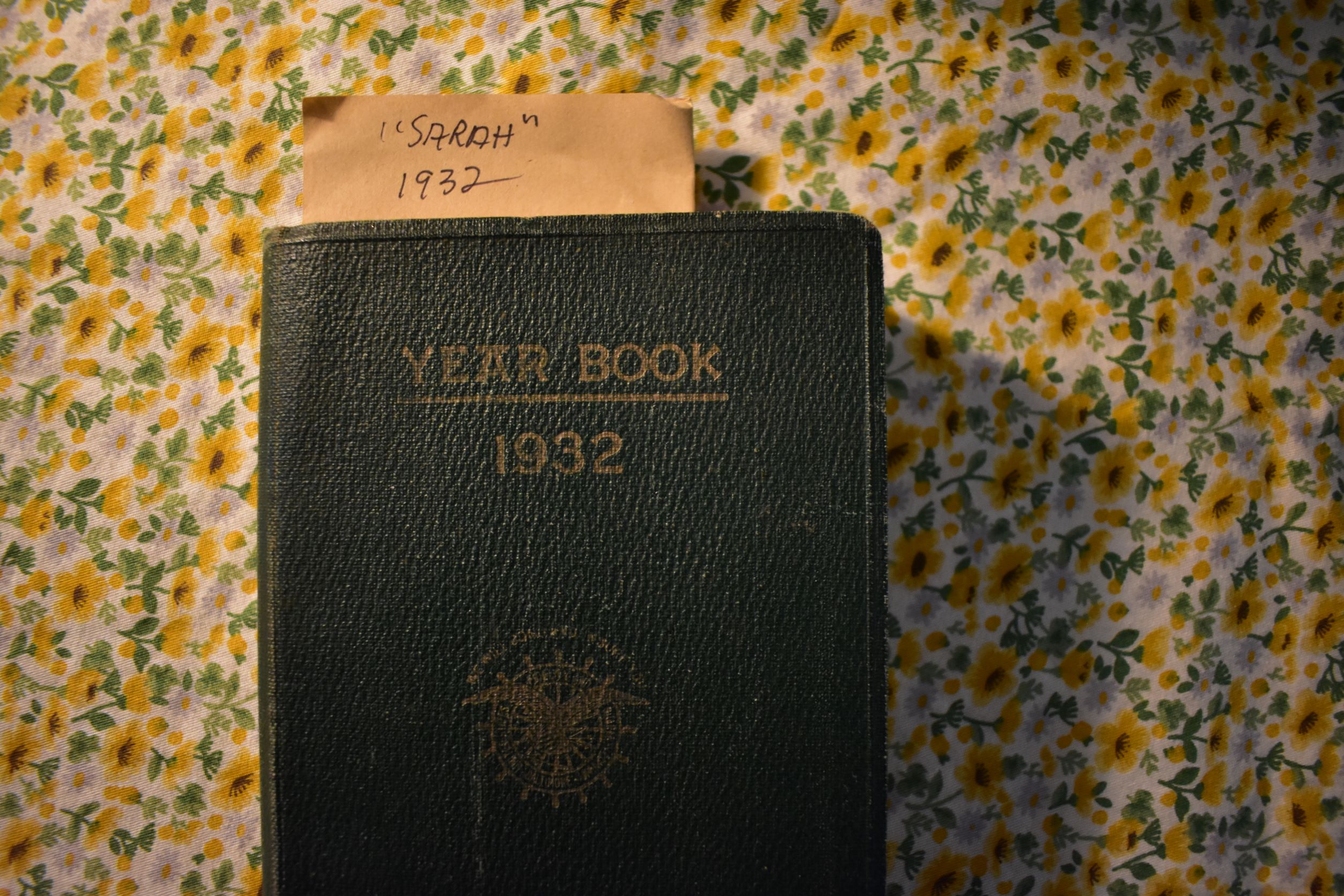 This is second post on Sarah's diary. January 10 - 16
I am posting ahead on Sarah's diary since some of you are following Sarah's dairy at home during the study with cooking and household work. I will be posting ahead so you have time to plan and shop for groceries for the next week should you want to cook or bake something that Sarah is making. Also so you can make your weekly household schedule ahead of time. Keep in mind to follow her days, because her dates are two days ahead. Let Sarah's diary be a guide but fill in what is needed for your household.

Many people are simply reading along Sarah's diary and we all can enjoy learning more about home life in 1932.
I will post Sarah's Diary each Tuesday, that might come out on a different day depending on where you live.
Sarah's diary
(Sunday, January 8, 2023)
"Sunday", January 10, 1932. Clear, cold bright and beautiful, an ideal winter day. Had the usual morning tasks to see to. Dressed and attended church service and Sunday School. Home for the noon - day meal. Read for a time. then Joseph took father & I over to call on Mr. Glagle who had a stroke of paralysis several weeks ago and is improving quite slowly. Home for evening tasks supper. Nearing 10:00
"Monday", January 11. Cloudy all this A.M. but quite bright this P.M. Had the usual morning tasks and got an order out to David C. Cook Publishing Co for S.S. Supplies. Did quite a bit of business telephoning and then, was late getting at the washing. Finished a little before 12 and had dinner. Spent the afternoon, after hanging out the clothes and emptying the washer, getting news items. Evening task. Supper, copied news items this evening.
*Note Consider the time 1932, of what kind of washer that Sarah has. If you notice, "after" hanging out the clothes and emptying the washer. Sarah has to manually fill and empty her washer. You will learn this as we go along.
"Tuesday", January 12. Cloudy this A.M. raining all the afternoon, and a stiff breeze this evening thought quite a bit warmer. Had the usual early morning tasks to perform. Then finished copying the news items and wrote a letter to Mrs. Miller in regard to the Glasford note. Carried the mail to the box. Prepared and served dinner. Did the work ironing this P.M. finishing a little after two. Stripped tobacco etc. remainder of the afternoon. Evening tasks, Supper, Wrote a long letter to Aunt Myrtle. 10:40
"Wednesday", January 13. A fine, bright, beautiful day and warm as Spring. Hurried through the usual early morning tasks and father, Joseph and I motored to Harry where we get busy with the butchering business. By three o'clock, the dinner was over, the meat cut up, the sausage made and stuffed, tender loin and back straps in the cans, lard rendered and in the cans, we came home through Franklin where I did a little trading usual evening tasks at home 9:30.
"Thursday", January 14. A little sunshine this A.M. changing to clouds and later to rain. Have quite heavy rainfall this evening. Usual daily routine of household tasks to see to. Made a couple of crocks of Pigs foot souse. Opened 4 cans of pickles and finished them up ready for the table. Baked bread & Kuche. Violet, Fredric and Samuel here this PM for visit & later Harry & his family. Harley was here & his family. Dan Winger was quite ill. Joseph called just after dinner & father & I, Sarah and Frances & Samuel hurried up just after milking. Dan is threatened with appendicitis.
"Friday", January 15. Heavy rainfall during the night and still raining this A.M. Kept it up until about 9 o'clock this A.M. Usual early morning tasks to see to . Scrubbed the west porch and pavement and later did the front porch and pavement. Gave our bedroom an especial clean up and then we had dinner. This P.M. I baked a white cake gave the bed-room upstairs an extra cleanup all the hall-way & stairway. Mopped the floors in the living-room, saw to the normal evening tasks and supper. Iced my cake since supper & helped father get some chickens to pen up for butchering.
"Saturday", January 16. Dull and cloudy this A.M. sprinkling rain this P.M. and showering this evening. Had the usual early morning tasks to see to, got the egg & bill ready for town after -breakfast work. Then father & I dressed three chickens which were hem caught last evening. Prepared early dinner, after dinner work. Hurriedly dressed after mopping the linoleum & attended the funeral of Albert Routt at the M.E. Church at Franklin. Home for evening tasks. Ernest here for supper and the evening, Made Cherry Tapioca, opened up the cans and filled them.
End of this weeks reading.
Is Sarah's diary helping you to rethink how you do your household work and meals? Grandma Donna