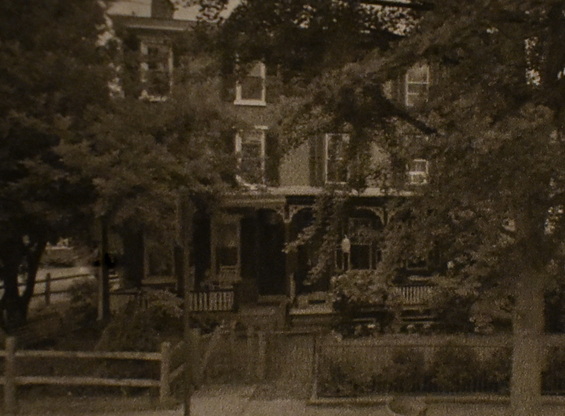 The Diary of Phoebe.
The year of 1939 William and Phoebe lived in the home above on the right side. This is two adjoining homes. If you notice there are two gates and a fence in between. The Griffiths live on the left.
William is age 65 and owns a cigar shop. William was working as a wood worker before this time and considering the great depression I am not sure when he went from woodworking to owning a cigar shop. Phoebe is 62 and a housewife. The Great Depression is coming to an end in the U.S.
During the great depression as well as WW2 many families had boarders and had family members that lived with them.
William and Phoebe married in 1900 and never had children. They have had boarders off and on renting rooms through the last 10 or so years but not at the beginning of 1939 diary.
The Griffith's live next door of the adjoining house above.
William has a brother named Harry and a sister named Frances and two other brothers, John and James.
Their niece Ruth age 17 lives with them and is a very social teenager.
William's mother Carvenia age 87 at the time of this handwritten diary 1939
Phoebe has brothers William, Herbert and a sister Sallie. There is also a older niece Jennie.
Phoebe's mother and father died 3 months apart in 1911.
Anyone that can make out the words that I have _____________ or ? because I cannot read them or unsure of word, please feel free to email me the word if you can figure it out and I can edit it. This will be appreciated in all the diaries and Journals so we can all enjoy these wonderful pieces of history so we all can enjoy them.
This is Phoebe's Diary starting January 1, 1939.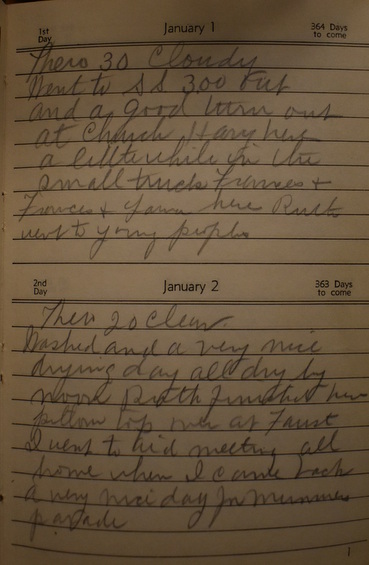 Jan 1
Temperature 30 Cloudy
Went to SS (Sunday School) 3.00 Put and a good turn out at Church. Harry here a little while in the small truck Frances and Frances and Lauara here. Ruth went to young peoples.
Jan 2
Temperature 20 clear
Washed and a very nice drying day all dry by noon. Ruth finished her pillow top over at Faust. I went to aid meeting all home when I came back. A very nice day for Mummers parade.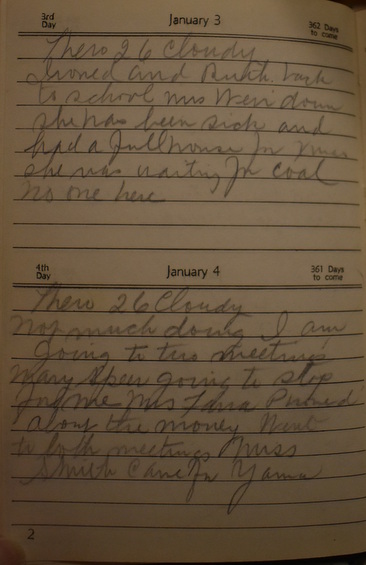 Jan 3
Temperature 26 Cloudy
Ironed and Ruth back to school. Mrs Weir down she has been sick and had a full house for Christmas she was waiting for Coal No one here.
Jan 4
Temperature 26 Cloudy
Not much doing. I am going to two meetings. Mary Speer going to stop for me. Mrs Farra Phoned about the money. Went to both meetings Miss smith came for Yarva.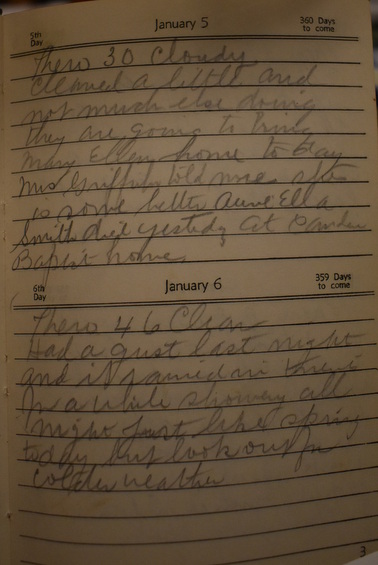 Jan 5
Temperature 30 Cloudy
Cleaned a little and not much else doing they are going to bring Mary Ellen home today. Mrs Griffiths told me she is some better. Aunt Ella Smith died yesterday at Camden Baptist home.
Jan 6
Temperature 46 Clear
Had a gust last night and it rained in _______ ____ a while showery all night just like spring today but look out for colder weather.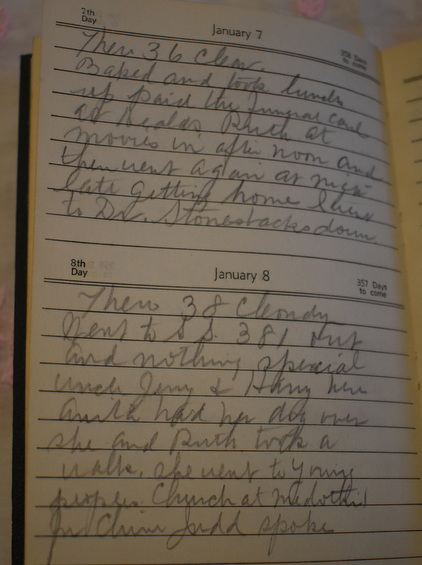 Jan 7
Temperature 36 Clear
Baked and took lunches up Paid the funeral card at ________. Ruth at movies in afternoon and then went again at night late getting home _____ to Dr. Stonesbacks dorm.
Jan 8
Temperature 38 Cloudy
Went to Sunday school 381 out and nothing special uncle Jerry and harry here Anita? had her dog over she and Ruth took a walk. she went to young peoples. Church at _____in _____ Judd Spoke.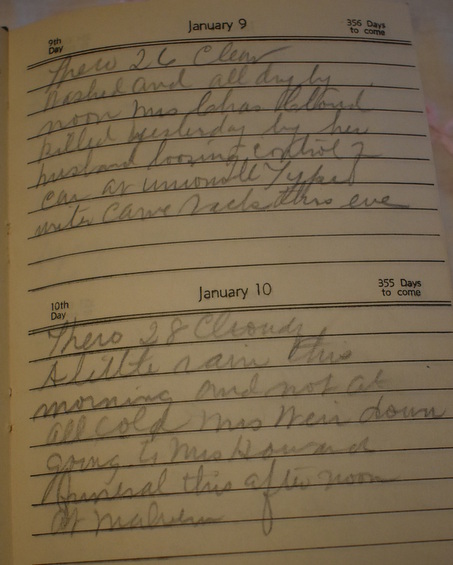 Jan 9
Temperature 26 Clear
Washed and all dry by noon. Mrs. Charles Clond killed yesterday by her husband loosing control of car at Unionville. Typewriter came back this evening.
January 10
Temperature 28 Cloudy
A little rain this morning and not at all cold. Mrs Weir down going to Mrs. Howard funeral this afternoon at Malvern.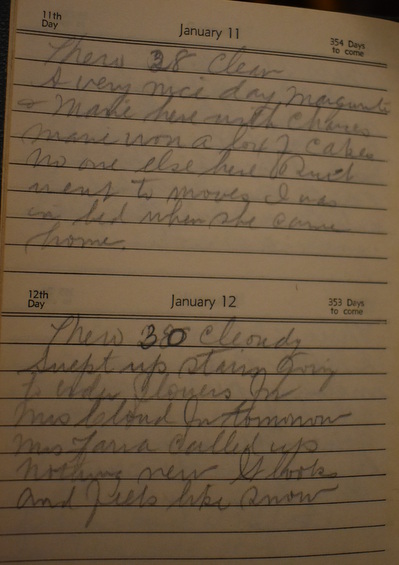 Jan 11
Temperature 28 Clear
A very nice day Margarite and Marie here with Charles and Marie won a box of cakes. No one else here Ruth went to movies I was in bed when she came home.
Jan 12
Temperature 30 Cloudy
Swept upstairs going to order flowers for Mrs. Clond For tomorrow. Mrs. Farra called up Nothing new. It looks and feels like snow.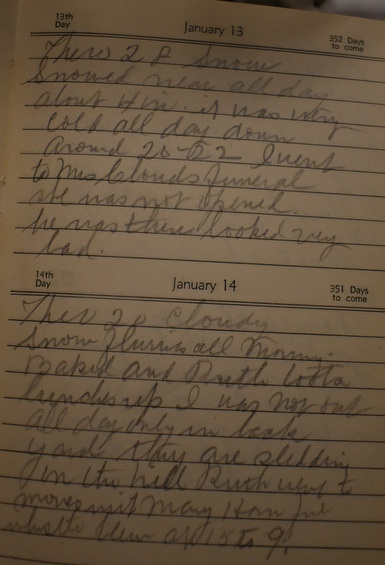 Jan 13
Temperature 28 Snow
Snowed near all day about 4 inches. It was very cold all day down around 20 - 22 I went to Mrs. Clonds funeral she was not opened. he was there looked very bad.
Jan 14
Temperature 20 cloudy
Snow flurries all morning. Baked and Ruth loaded lunches up I was not out all day only in back yard they are sledding in the hill Ruth went to movies with Mary Horn. Fire whistle blew about 15 to 9.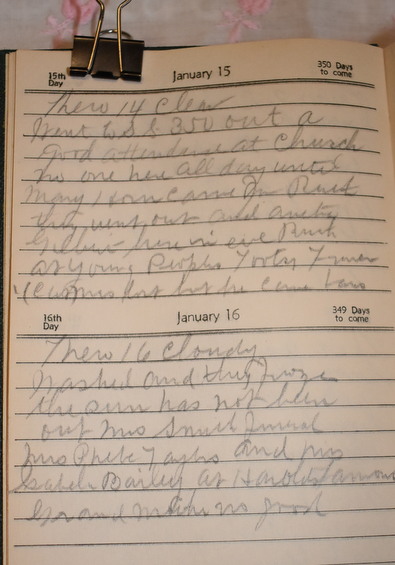 Jan 15
Temperature 14 Clear
Went to Sunday School 350 out a good attendance at church. no one here all day until Mary Horn came for Ruth then went out and Aventry Gilbut ?? here in eve. Ruth at young Peoples . Tootsy Frances cat was lost but he came home.
Jan 16
Temperature 16 Cloudy
Washed and they froze the sun has not been out. Mrs. Smith funeral Mrs Phebe Taybrs and Mrs Isabele Bailey at Harolds Ammons Grand Mother no good.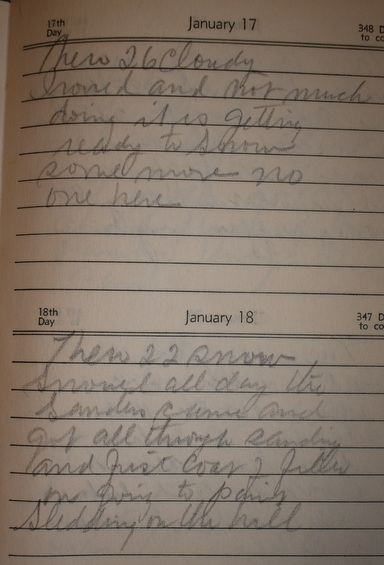 Jan 17
Temperature 26 Cloudy
Ironed and not much doing it is getting ready to snow some more no one here.
Jan 18
Temperature 22 snow
Snowed all day the sanders came and got all through sanding and first coat 2 fillers on going to paint? Sledding on the hill.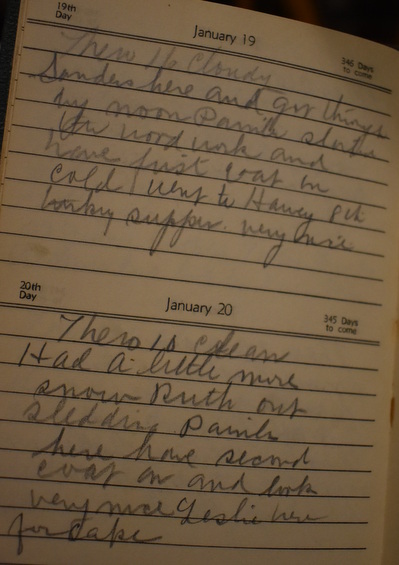 Jan 19
Temperature 16 Cloudy
Sanders here and got through by noon. Painter started on wood work and have first coat on. Cold went to Harvey 8th turkey supper. Very nice.
Jan 20
Temperature 10 clear
Had a little more snow. Ruth out sledding Painter here have second coat on and look very nice. Leslie here for cake.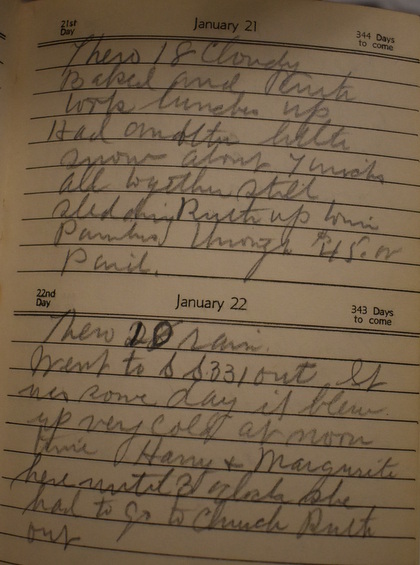 January 21
Temperatre 18 Cloudy
Baked and Ruth work lunches up. Had another little snow about 7 inches all together still sledding. Ruth up town. Painters through $45.00 Paid.
Jan 22
Temperature 10 rain
Went to Sunday school 331 out. It was some day it blew up very cold at noon time. Harry and Margurite here until 3 until she had to go to church Ruth out.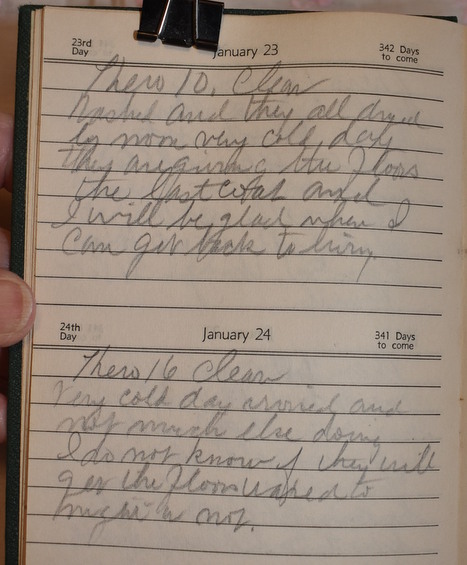 Jan 23
Temperature 10 Clear
Washed and they all dried by noon very cold day. They are giving the floors the last coat and I will be glad when I can get back to living?
Jan 24
Temperature 16 Clear
Very cold day ironed and not much else doing I do not know if they will get the floors worked tonight or not.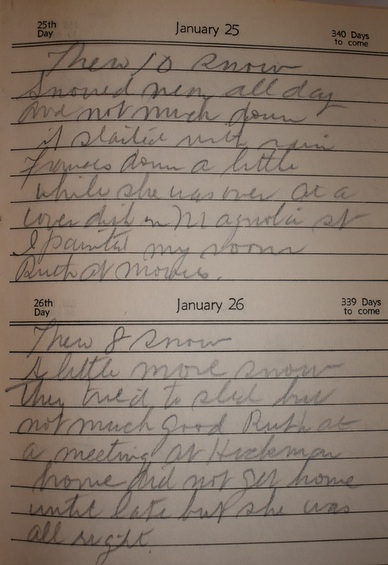 Jan 25
Temperature 10 snow
Snowed most or minimum? all day and not much down it started with rain. Frances down a little while she was over at a cover dish on Magnolia street. I painted my room. Ruth at Movies.
Jan 26
Temperature 8 snow
A little more snow. They tried to sled but not much good. Ruth at a meeting at Hickman home did not get home until late but she was all right.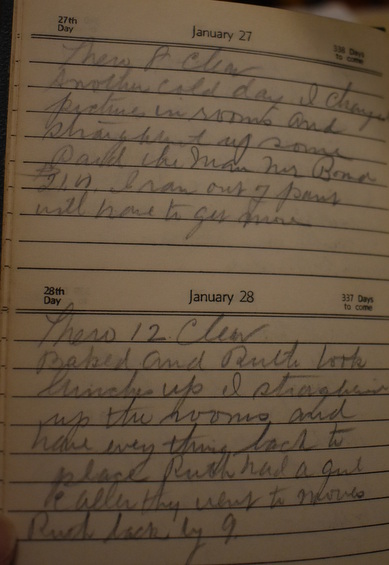 Jan 27
Temperature 8 clear
Another cold day. I changed pictures in rooms and straightened up some. Paid the man Mr. Bond $21.00 I ran out of paint will have to get more.
Jan 28
Temperature 12 clear
Baked and Ruth took lunches up I straightened up the rooms and have everything back to place. Ruth had a girl caller they went to movies Ruth back by 9.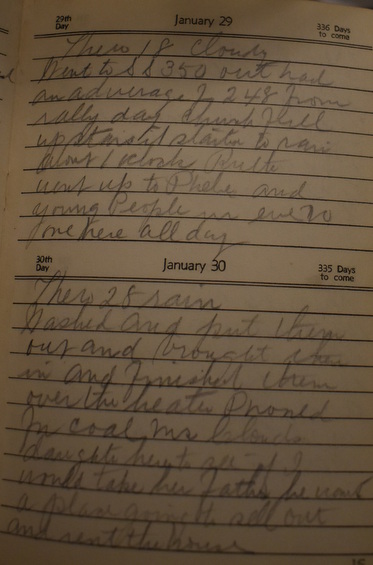 Jan 29
Temperature 18 Cloudy
Went to Sunday School 350 out had an average of 248 from rally day Church full upstairs . It started to rain about 1 o'clock. Ruth went up to Phebe and young People in eve no one here all day.
Jan 30
Temperature 28 rain
Washed and put them out and brought them in and finished them over the heater. Phoned in coal. Ms Clouds daughter here to see if I would take her father. he wants a place going to sell out and rent the house.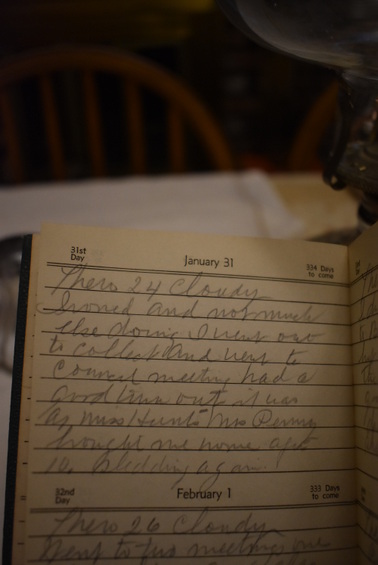 Jan 31
Temperature 24 Cloudy
Ironed and not much else doing. I went out to collect and went to council meeting had a good time out it was at Miss Hunts Mrs Penny brought me home after 10. Sledding again.