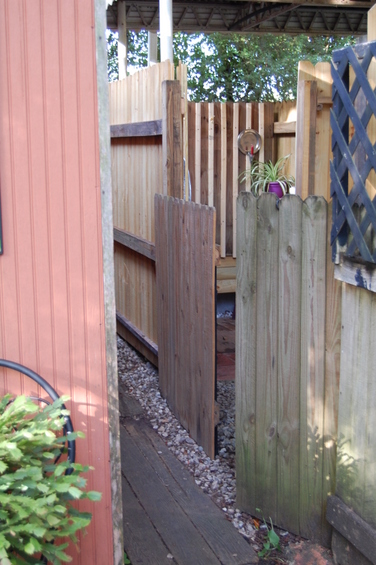 We decided to build an outdoor bath. We tucked it away between the back of the carport and my husbands small work shop.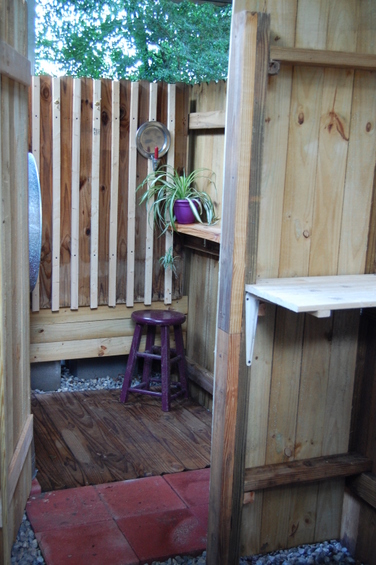 We had several reasons to make an outdoor bath. We are trying to conserve water and bathing outdoor we can capture the water to use for plants instead of letting it go down the drain. If we have rain we do not capture the water and let it soak into the ground so the trees can take up the water, if it does not rain we can stand in a washtub and save the water for the plants. We use good non toxic soap.
It also gives us an extra bath when we have company and for when we get dirty working out in the yard and very good if the power is out.
We built this out of used and new lumber.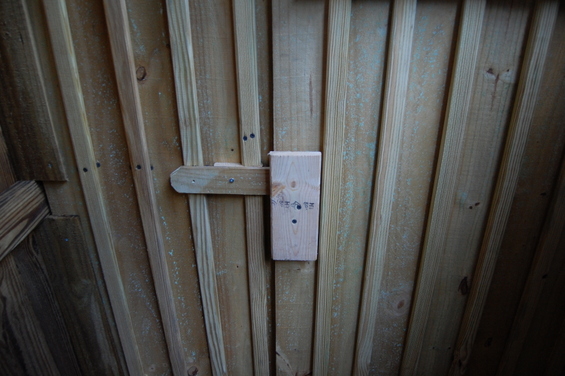 We made it very private, it is fencing boards with furring strips over the gaps in the fencing boards.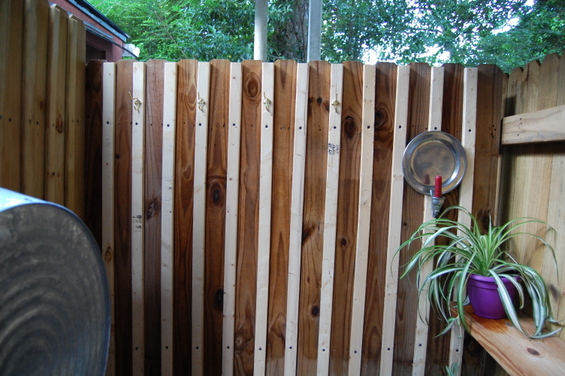 Back wall of the bathing area. It is not crooked, it is the way I am holding the camera.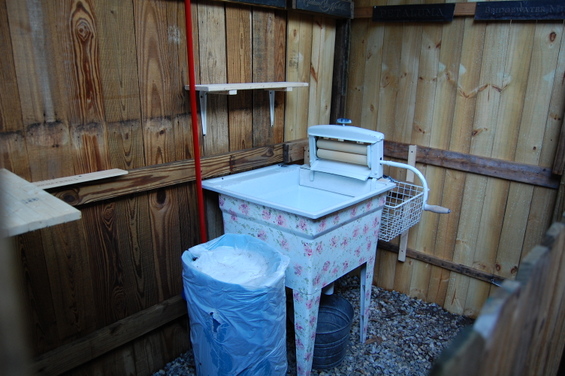 The other side of the bathing area is a wash area for clothes. Very handy if the power is out. The deep sink, wringer, basket to catch the clothes coming out of the wringer, and extra 15 gallon barrel for washing or rinsing, a bucket to catch water for reusing for the shrubs, trees and plants.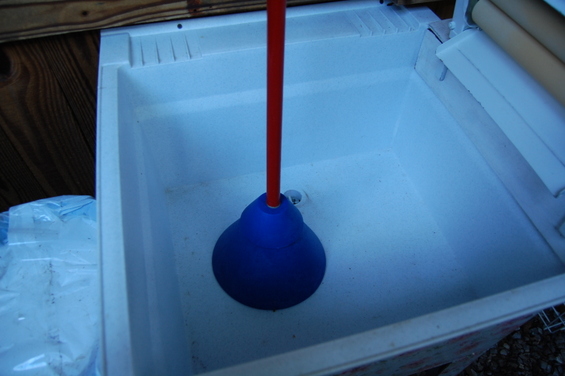 We have a deep sink and a washing stick thing.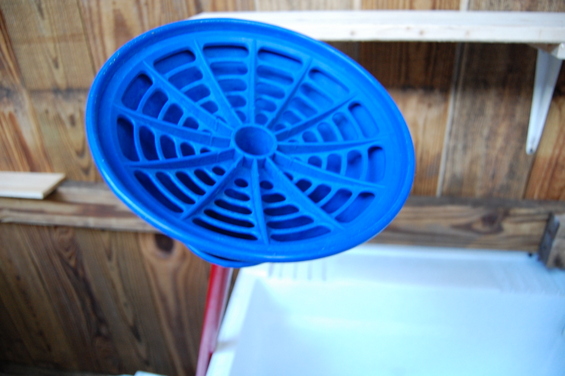 This is what the bottom looks like. We put a long handle on it so I can use it in the 15 gallon barrel. This washing area is also good for if we have another drought so we can capture our clothes washing water since we use non toxic soap for clothes.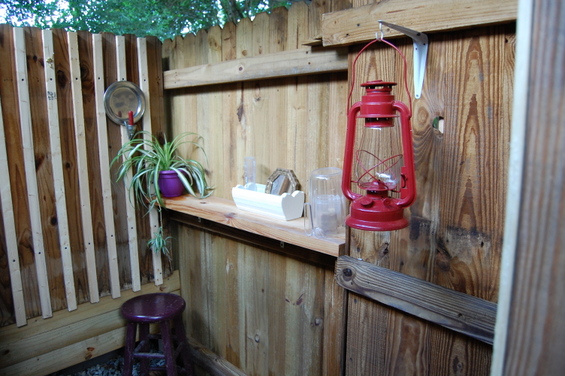 We have lighting for if the power is out or we bathe at night.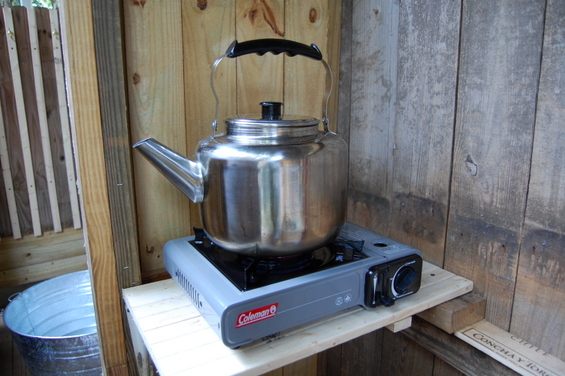 A camping stove with a large kettle for boiling water.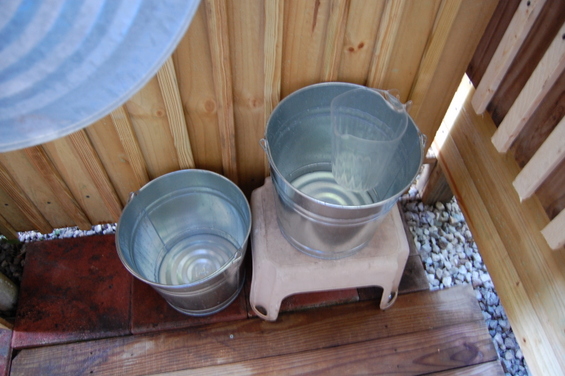 This is not an outdoor shower. We did not want a shower as we are trying to stop the flow of things that cause waste. We take a bucket bath. We fill a bucket part of the way with faucet water and part with the boiling kettle water to make it nice and warm. If I wash my hair I need extra water so a second bucket is used. You can purchase these buckets at tractor supply or amazon. These are 14 quart buckets, that is about three and half gallons.
In this picture above if you notice we did not build the walls to go all the way to the ground. We did this so we can remove leaves that may blow into the bathhouse.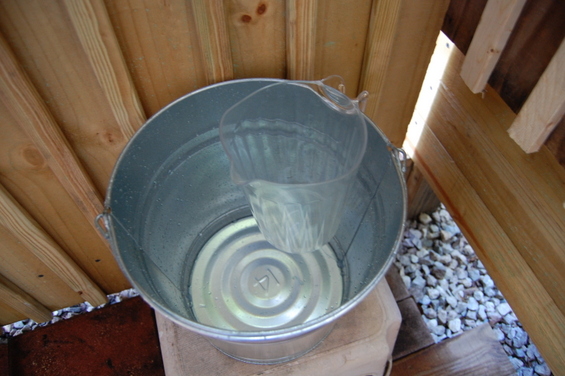 To bathe we dip the pitcher in the bucket of water that we have warmed using the kettle water and then pour the water over our body using the pitcher, rub a soapy cloth over our body and lather real good then rinse your body dipping the pitcher back in the bucket until you have rinsed all the soap off your body. You can get very clean bathing this way and it is very refreshing.
To wash your hair it is basically the same way, wet your hair lather and rinse. No running water in between.
We just do not feel a shower is necessary.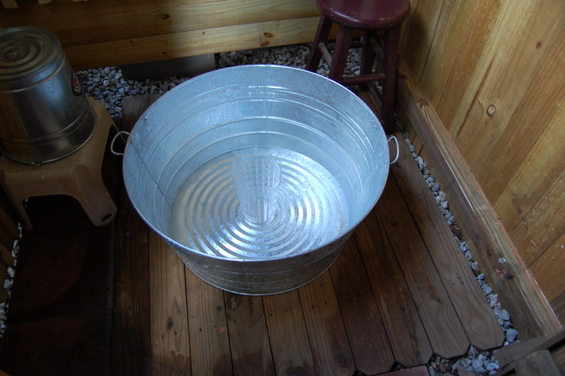 We purchased an extra large wash tub from tractor supply to stand in to catch the water for reusing to water the plants. We normally transfer the washtub water to a bucket we call our grey water bucket. The two water buckets are only used for clean water, we only use the pitcher to dip water out of those buckets. This way those buckets always stay clean.
If we need the water from our bath due to dry conditions and use the washtub to catch the water we rinse the washtub right away so it does not get a build up from the soapy water.
You can actually sit in this washtub if you want to and it is bigger than the old washtubs from years ago. It is not for old people like us to get down in it but I could manage if I was determined.
This washtub would be perfect for the grands. However, the whole purpose is to save water and the bucket bath is the best way we have found to save water.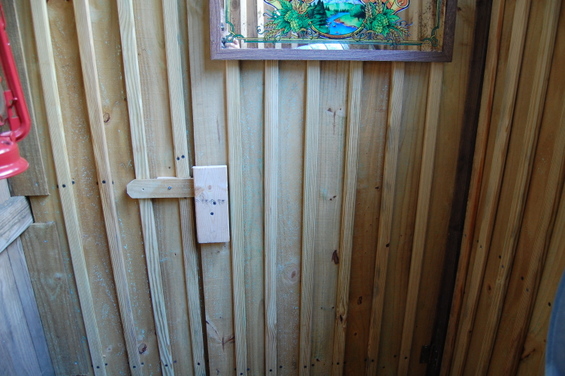 My husband made a nice latch for the door and as you can see the bathing area is very private.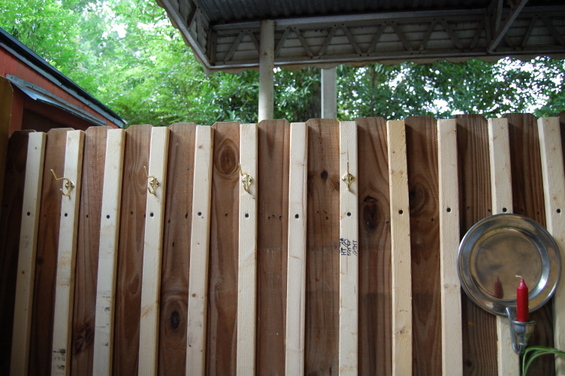 Our entire yard is becoming a secret garden so why should we not have a secret bathing area?
We have hooks across this wall for towels and clothing. We have a good system now, we have a tub/basket we put our clean clothes that we are going to put on and have it ready to carry outside with our towel and washcloth.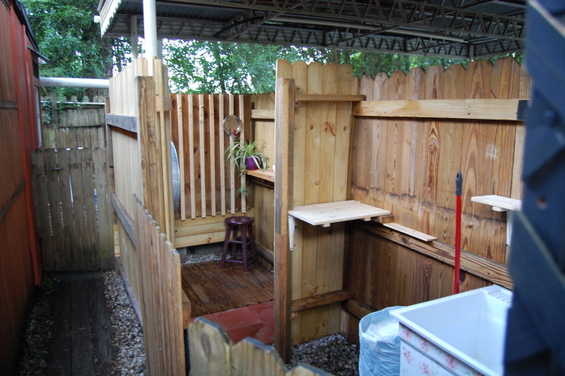 I will update further if we do anything else to the outdoor bath or find better ways to save water.
Grandma Donna