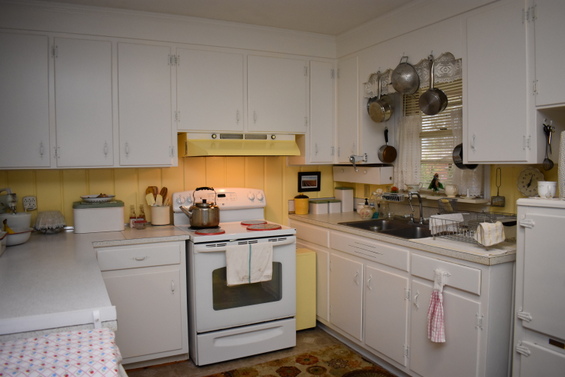 As many of you know we started off March painting the kitchen. After that I needed to slow down and give my body a rest before going on to another big project.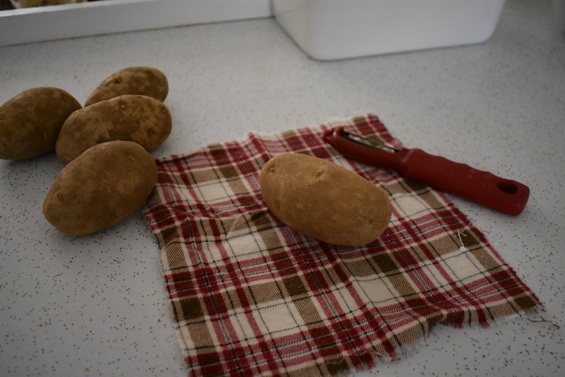 Today I am posting about our simple life as we live like our generations did in the past.
If I sit down to peel potatoes or carrots and such I will use my enamel pan in my lap and a peeler and paring knife for slicing but if I stand at the counter I use our flannel cloths that I made for kitchen use. I picked plaid so if the stains get bad it will not matter. We need old cloths in our home that are allowed to get stained.
We have an old enamel pot that is filled with scrap cloth that has been cut into squares to be used for things we know will stain.
In the past I cannot remember my mother or grandmother using cutting boards. They mostly sat with a pan in their lap with a paring knife to do their peeling and cutting up the vegetables.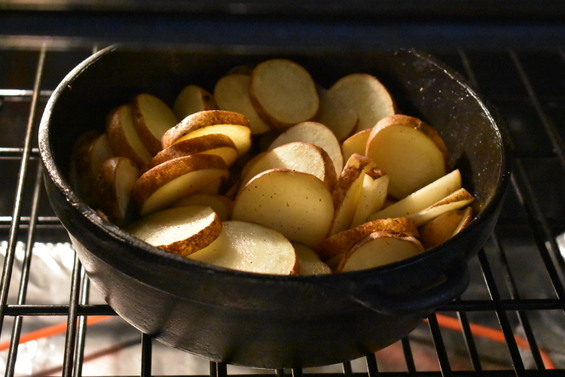 I often cook in our cast iron pot or skillet. Here I am baking some sliced potatoes to make a simple casserole.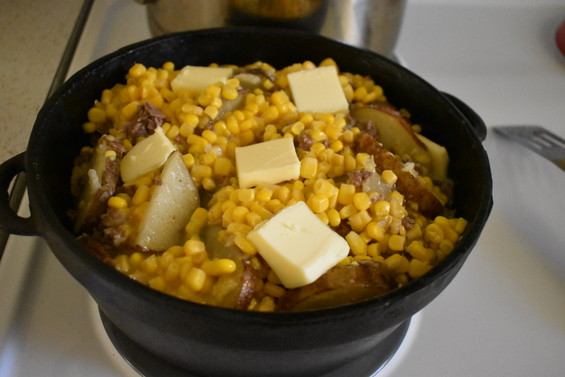 After the potatoes baked for about half hour I added ground beef that I had sauteed with onions then I added some cream style and whole kernel corn, some butter on top and I sliced onions to go on top of that.
I had to use ration stamps for the meat and corn for this dish due to our history project of living like 1944.
I put it back in the oven and bake it until it is hot and bubbly throughout.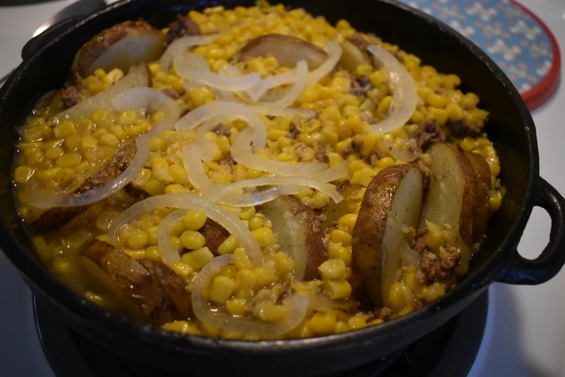 It makes a hearty meal..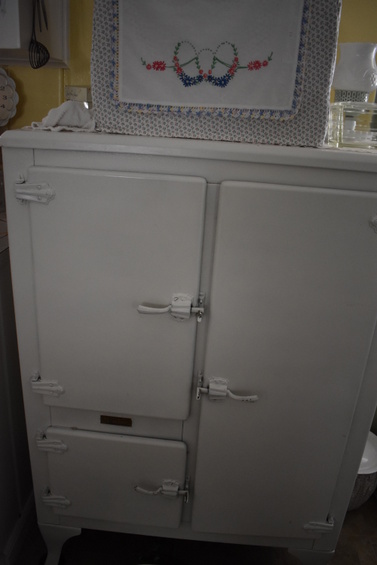 I told you about Windsor our 1920s icebox in my last post but I did not take any pictures of the inside. I have in other posts but not lately.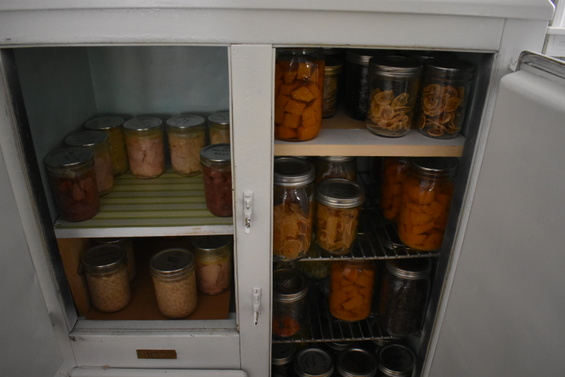 We keep some of our canned and dehydrated foods on the shelves. There is another shelf bottom left that holds the jams and such.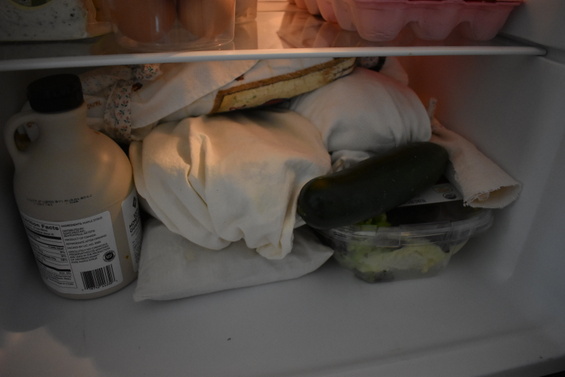 I talked about that we have only a small dorm refrigerator and I keep fresh vegetables that need to stay in the fridge in the small compartment in the bottom wrapped in cloth. We keep fresh eggs, butter and such.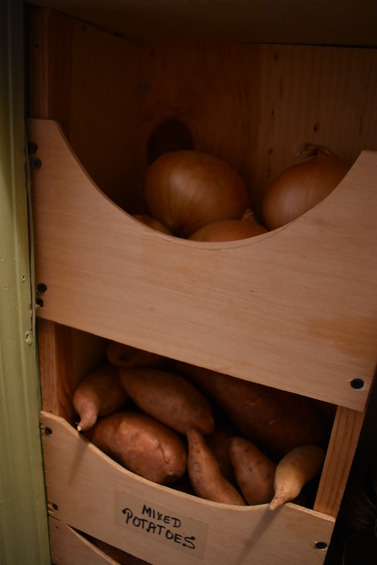 I did not mention the wooden bins that we have in our pantry that we use for fresh vegetables that do not need to be refrigerated and why we can get by with only the small dorm size refrigerator.
We are careful with leftovers, I try and cook the amount we will eat and I do save enough space in the fridge for leftovers for the next day when I have them.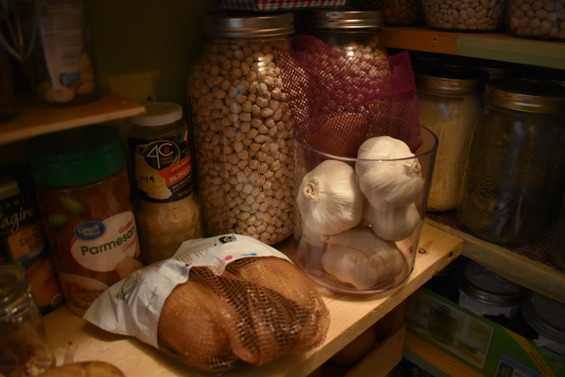 It is difficult to get good pictures of the side walls inside the pantry due to space. This week I spent a couple of days re-organizing the pantry so I could fit all of the canning jars in here. Now it is quite crowded but everything is where it needs to be.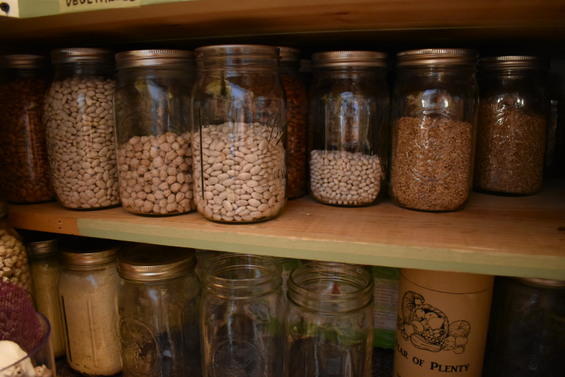 The pantry holds bins for fresh vegetables and shelves for canned goods and the very bottom has buckets that hold bulk supplies. I have other posts about the pantry.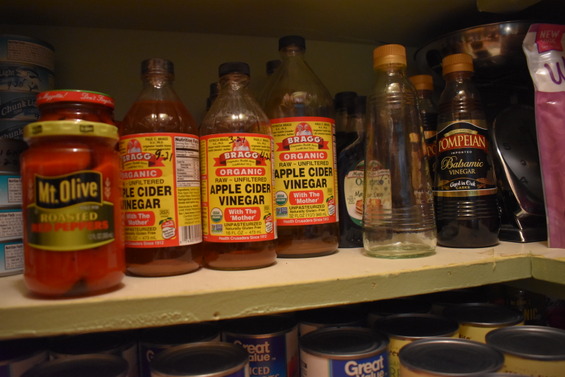 We keep store bought canned goods while we are building up our home canned goods and we keep vinegar's, maple syrup.....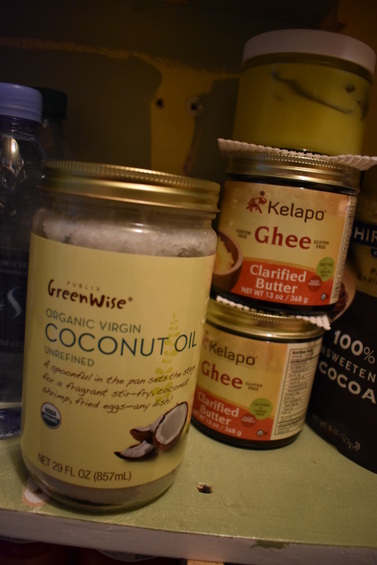 Oils and fats, coffee, cocoa, jams, jellies, sugar, oatmeal which has its own shelf because I try and keep a good stock of oatmeal and dried apples. Olive oil is to the left not shown in this picture above.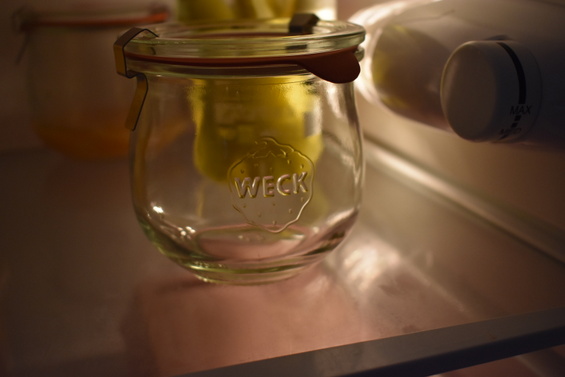 I have started keeping a jar in the fridge for leftover onion when I cut an onion and don't use it all. Keeps from wasting wax paper. I keep the jar in the fridge so I can make sure there is always space for it.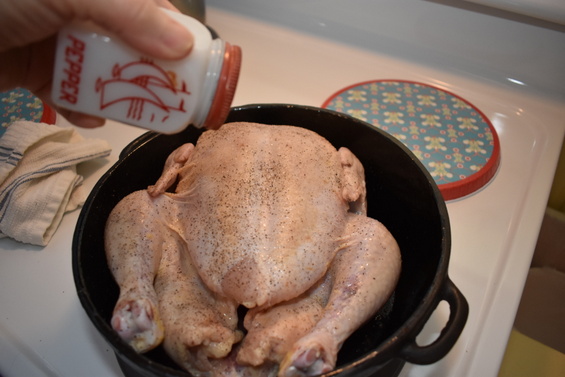 I baked a whole chicken yesterday. I like to make baked lemon chicken. I simply salt and pepper the chicken...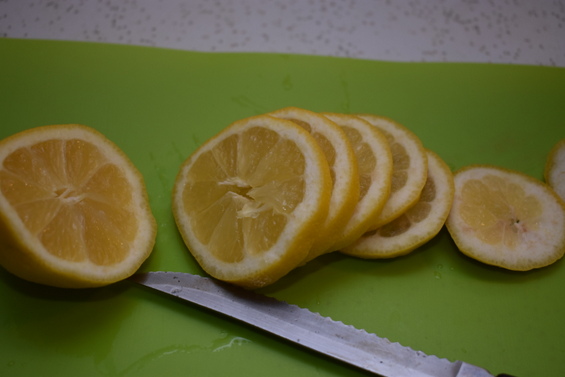 Slice up a lemon and remove the seeds..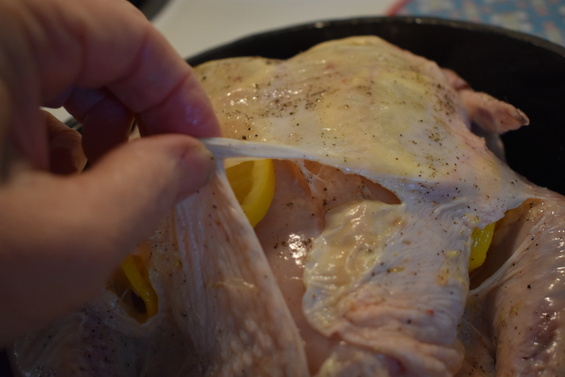 Lift up the skin and push the lemon slices between the meat and skin, add a little garlic salt if desired.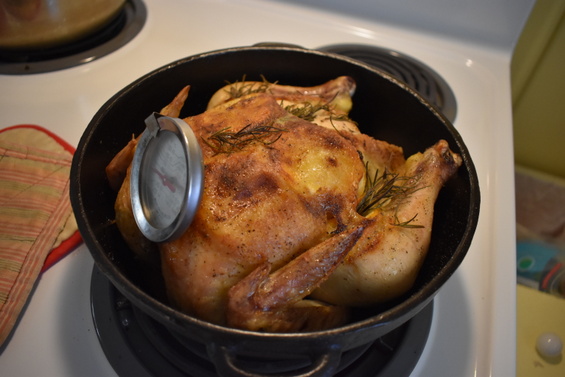 I add a little rosemary too sometimes...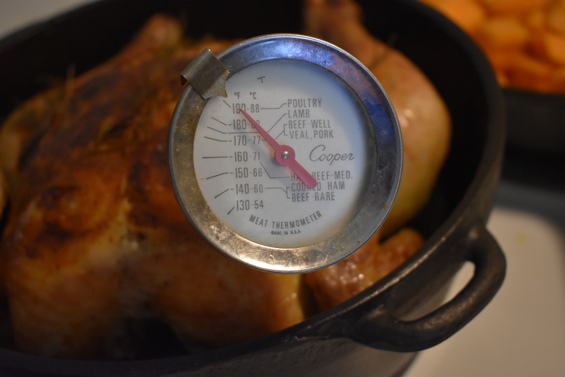 I bake the chicken until it reaches the poultry mark on my oven meat thermometer which is 190 degrees. I bake it at 350 degrees.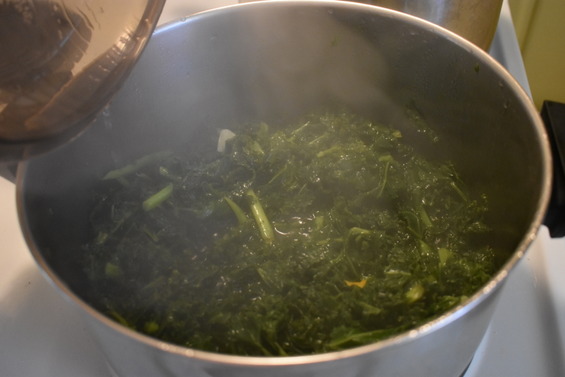 I cooked kale....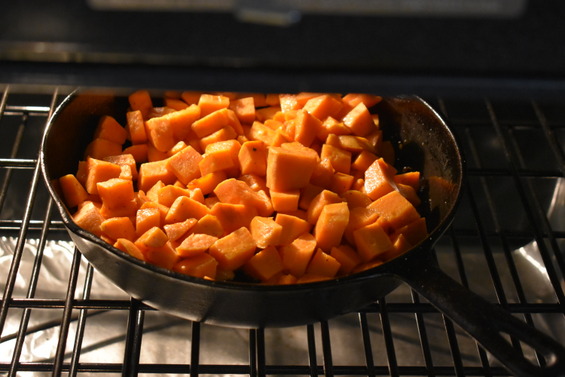 And sweet potatoes to go with the chicken.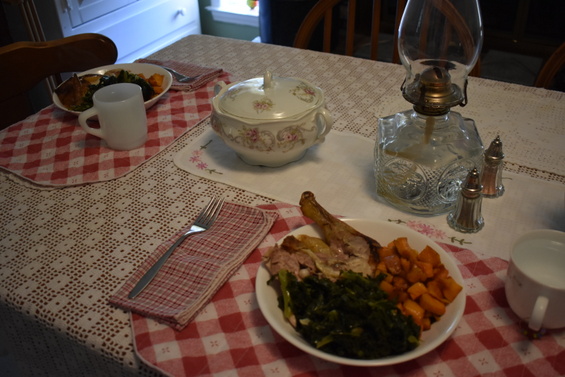 I often serve our meals in soup bowls when it is just Charles and I.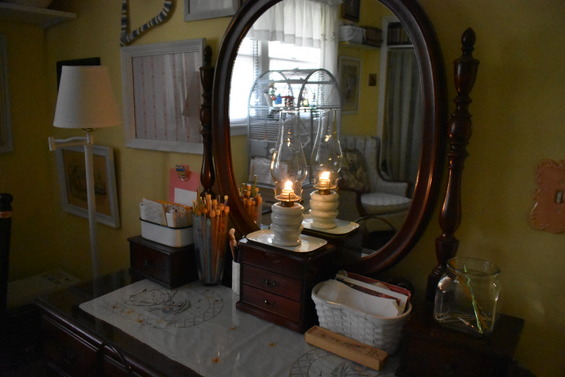 I once again re-arranged the small middle room in the house that we call the sewing room. It is the everything room, sewing, my blog computer, where our Cockatiel named Bell stays.
It is our only room that has a television which is very small. We kept one tv so if we have bad weather or something important going on we can watch the news and also so we can watch a Friday night movie if we choose to have a popcorn Friday night movie as they did during the 1940s only they went to the movies.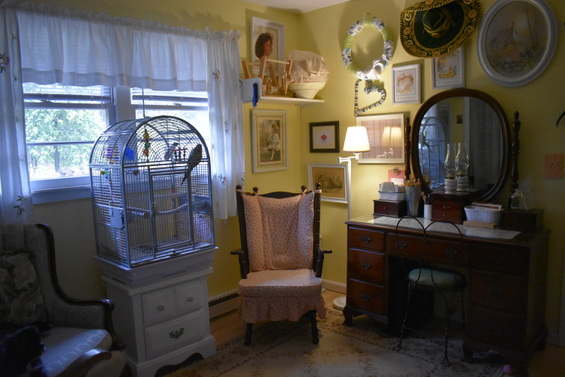 I moved my old 1940s Bedroom dresser in this room the left hand drawers hold sewing needs and items that need mending and the middle drawer holds stationary, pens, rulers, paper clips and such and the right hand drawers holds address book and envelopes, some designs that I draw and vintage doilies and runners. Since it is getting spring soon I will be able to open the windows for a longer period of time and Bell will be able to enjoy the windows being open. She was on the other side of the room during the winter.
The two drawer cabinet that bells cage is sitting on holds bells food, extra cuttle bones, toys, etc in the top drawer. The bottom drawer holds the doggies sweaters, extra toys. We keep their harnesses and leashes in our hallway closet which we call our storm closet that holds emergency back packs so if we had to leave in a hurry or shelter in place we have everything right there.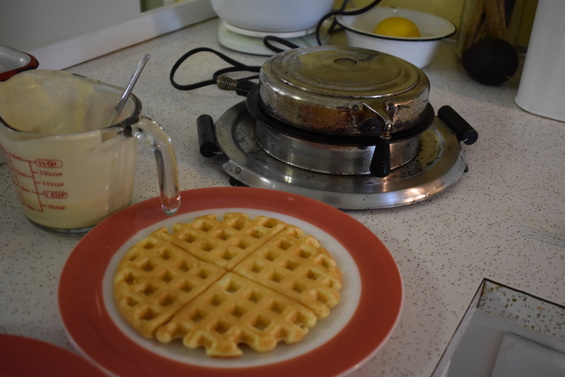 This morning we had waffles... This is a well used 1940s waffle iron that has been in our family since it was new. We do not eat waffles often anymore...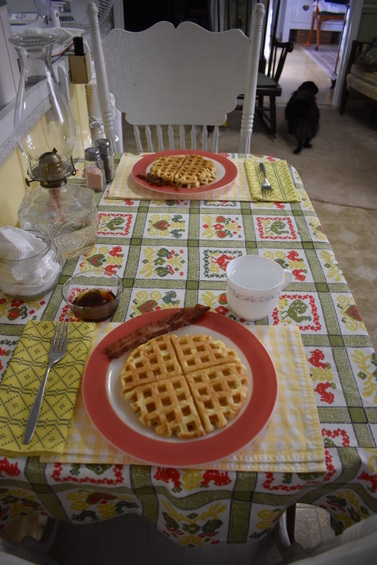 But when I was young, my father loved waffles and so my mother made them often and we still like them today and normally only make them on a Saturday or Sunday.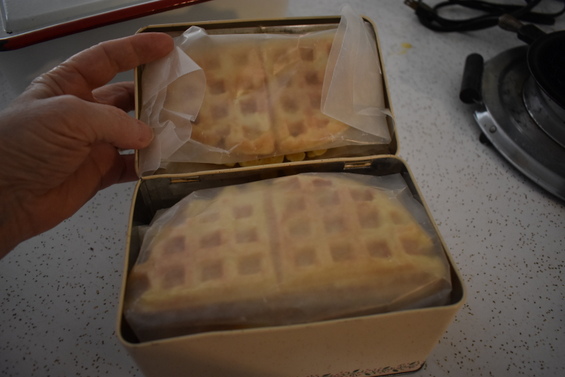 What I do with the extra waffles left over from Breakfast is wrap them, one layer at a time, in wax paper and I put them in a tin.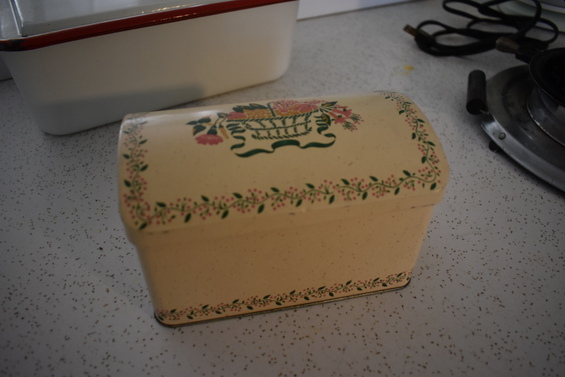 Such as this... I was discussing in an email the other day about tins. Many people are trying to get away from plastic and in the past tins were used for storage containers. Flour, sugar, tea and coffee often were in tins. Old Cookie tins are good to store all kinds of things in. It is something they did in the past.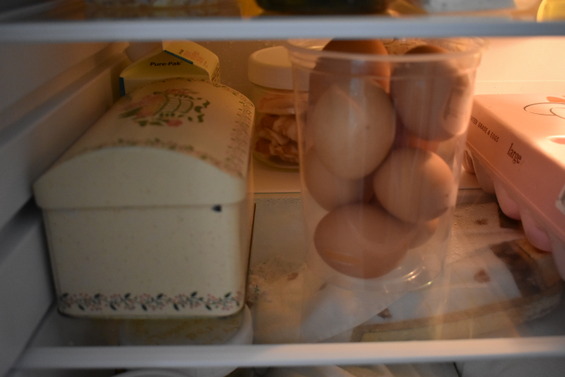 I put the waffles in the small fridge. I will reheat them the next day or two for a quick breakfast.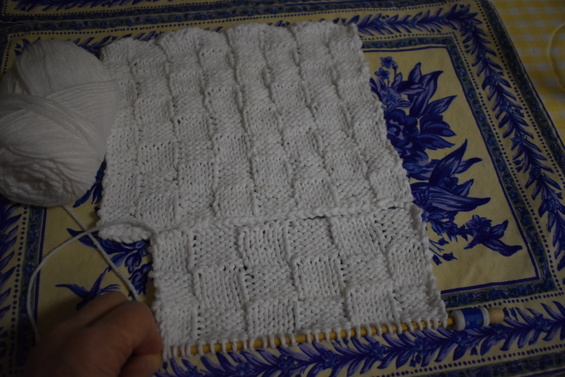 I have been knitting and resizing several of my knitting patterns. I like the smaller ones for dish cloths and the larger one for bath cloths.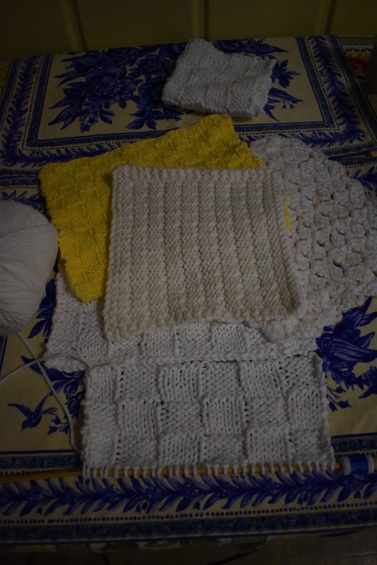 I find the small beige dishcloth that is the color beige, in the photo above, is the one that I use most often because it will push into the glasses easier but still large enough to wash the dishes with ease.
The white one under it with the squares I am making bath cloths. This pattern is one I have that was the pattern that ladies would make to send to the soldiers during ww2.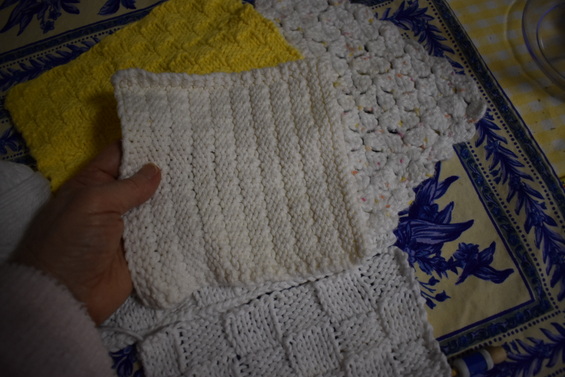 So I am finding that a cast on of about 30 knitted stitches seems to make a good size dish cloth for me.
I have not found or designed a "crochet" dishcloth that is not too thick and bulky. The one top right above in the picture and it is crochet but too thick for me for washing dishes.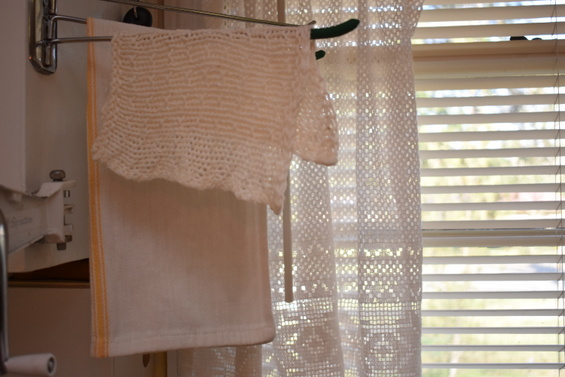 So right now I am going to stick with the knitted cloths.
I am working on a new one now and hoping that it will be just the right size. I want to have it good before I start making them in the yellow, red and green colors.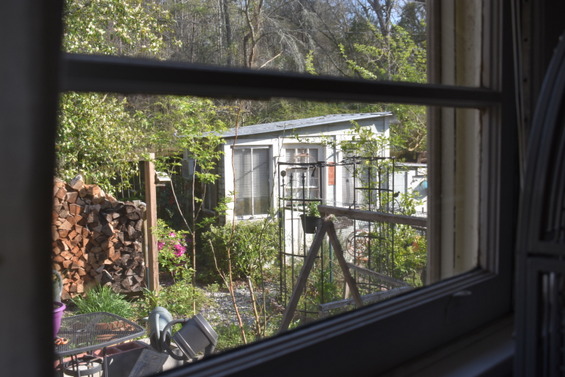 I hope you all are well and that there is something in this post that is helpful or gives you an idea that you can take away to help in some way. Grandma Donna