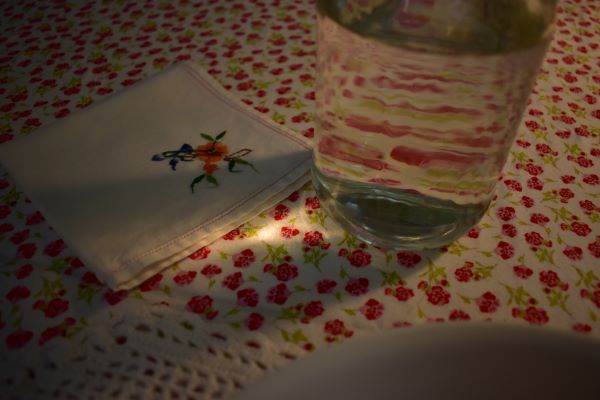 Lately I have been dragging a bit on posting. Understandable though...I am going to do a more simple post about things going on around our home.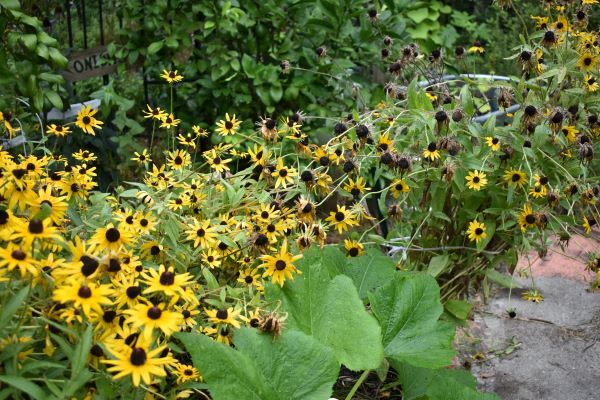 We are now the summer jungle and I am surprised we still have some blackeyed susans blooming.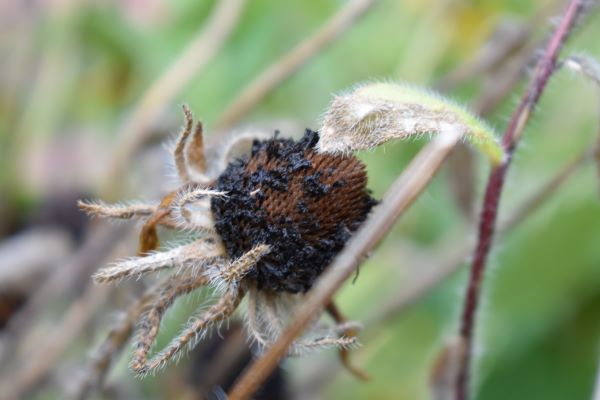 Then we have those that have finished and left us seed. Human life is somewhat like this almost finished flower. We hope what we leave behind is good seed in the way of good that we have done while here on earth.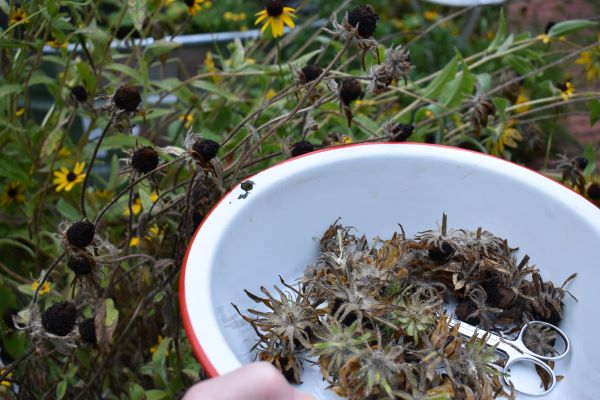 I collect the heads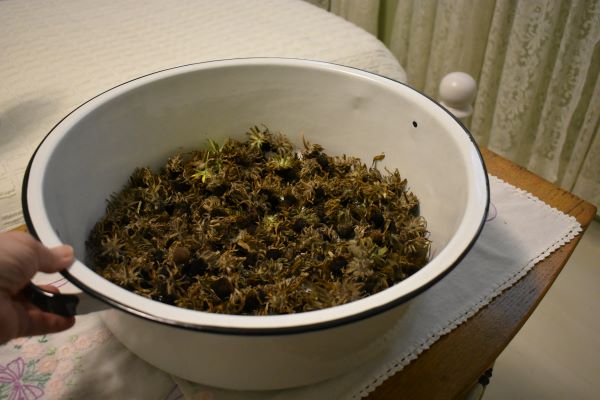 and let them finish drying then shake them off so the seeds will fall to the bottom.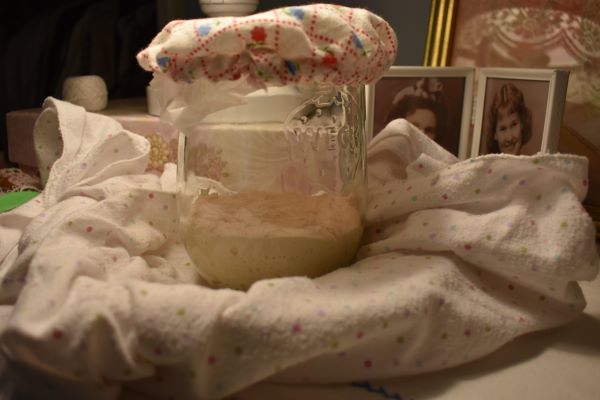 I continued to feed Leona, the new sourdough starter I started.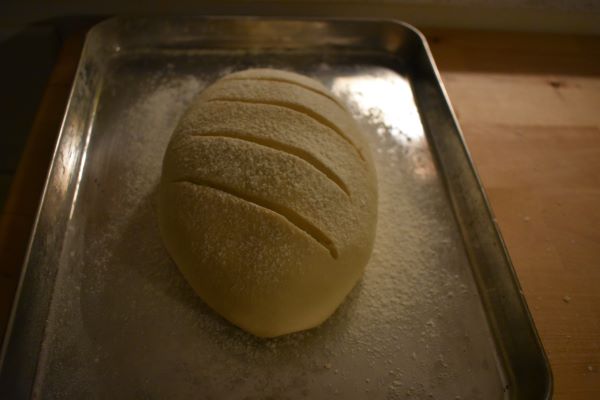 I have made many loaves, some failed and some did not.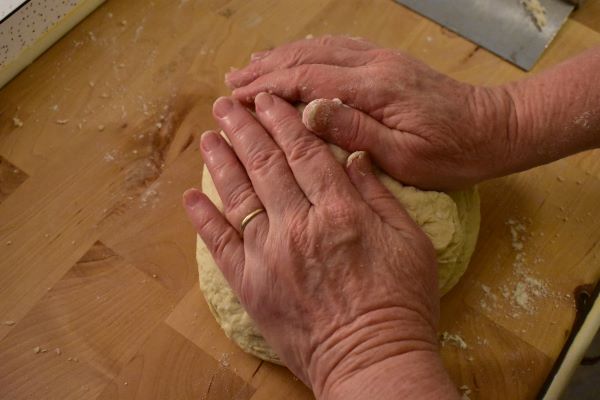 Each time I have made bread, Leona does better...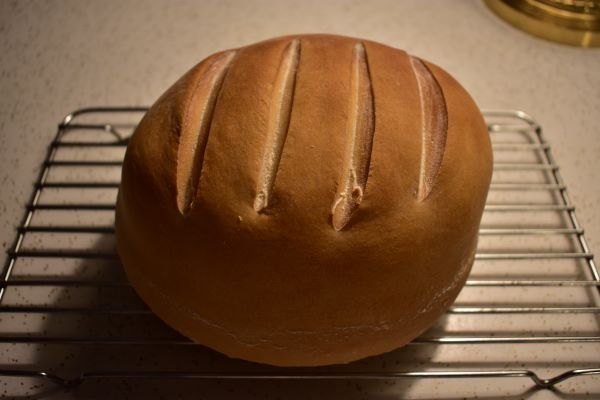 The loaf that did not fail...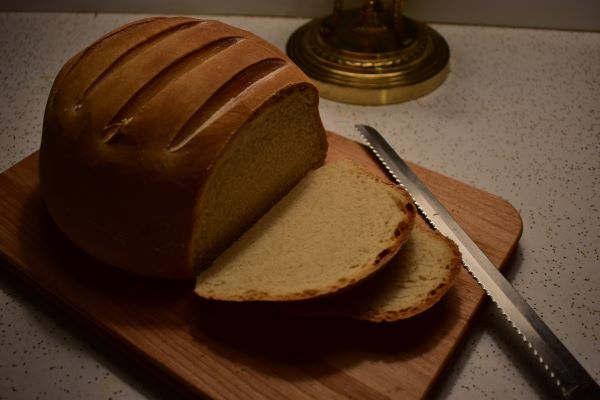 But was too dense. However the taste was good.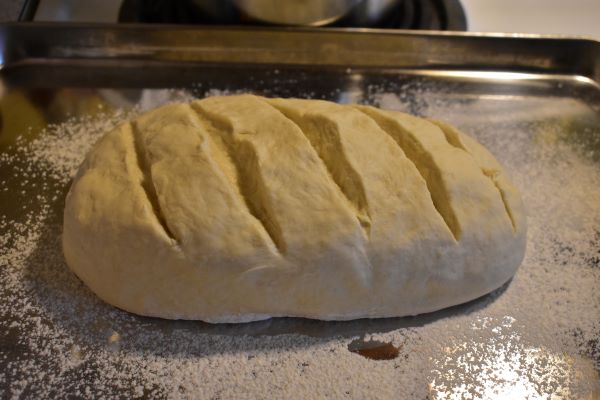 Then another and another...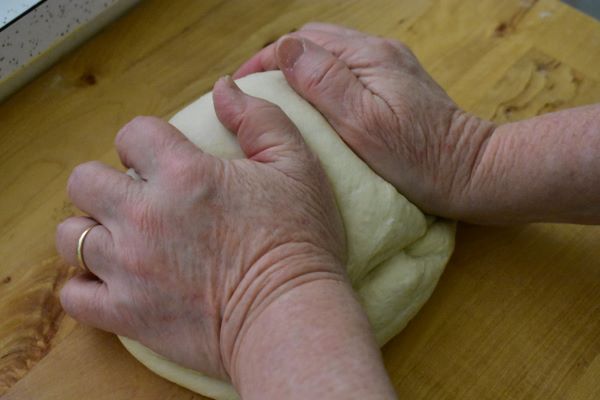 Each loaf I did the dough got better. This is how we learn the best, by feel.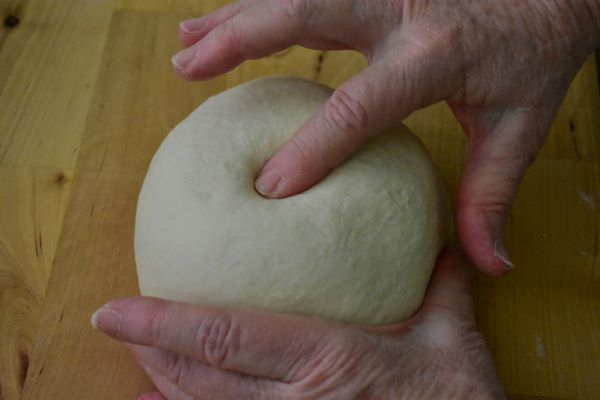 Does it spring back...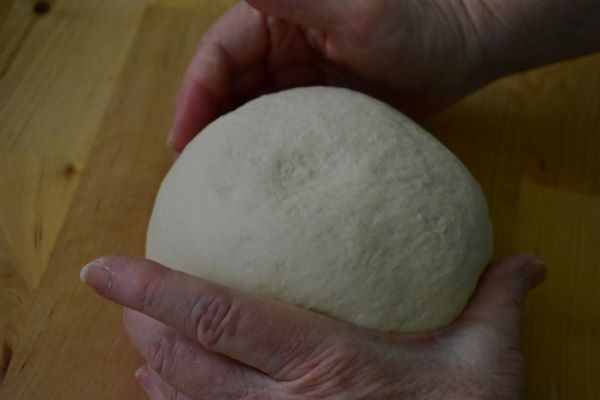 Not fully but getting much better.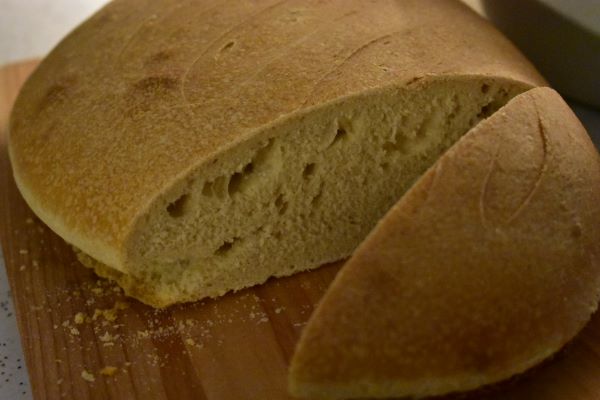 You see how it is changing each time. The sourdough starter is starting to mature and starting to lift.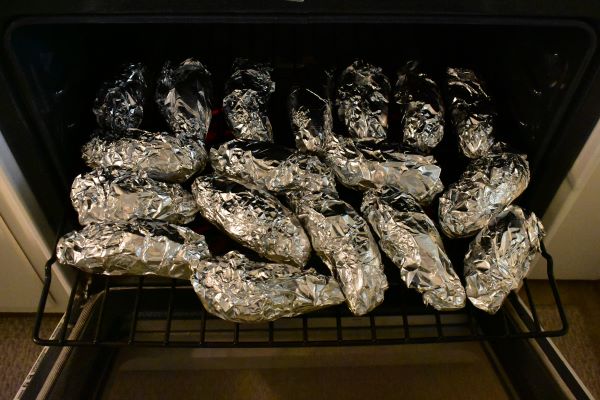 I baked more sweet potatoes for dehydrating...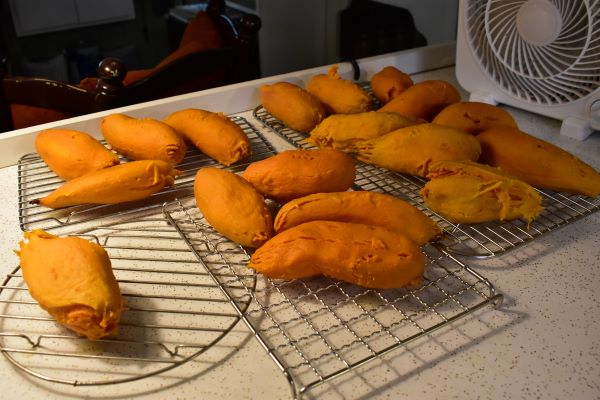 Cooled and sliced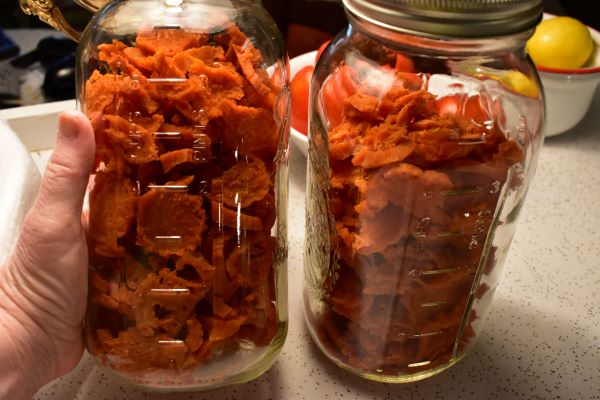 And the finished fully dehydrated sweet potatoes. These are 2 quart jars. Here where we live is very humid so it takes longer to dehydrate.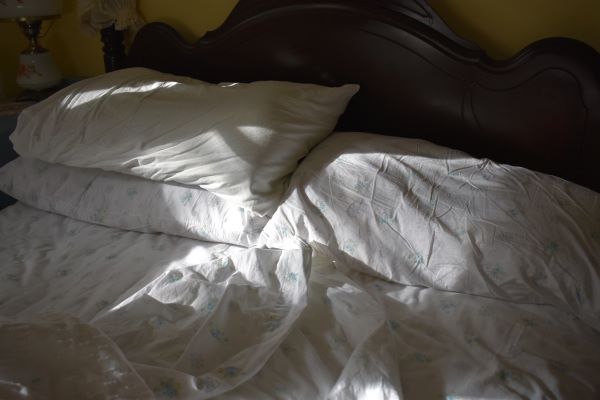 Each morning we wake with no fever and no sickness we are immensely thankful.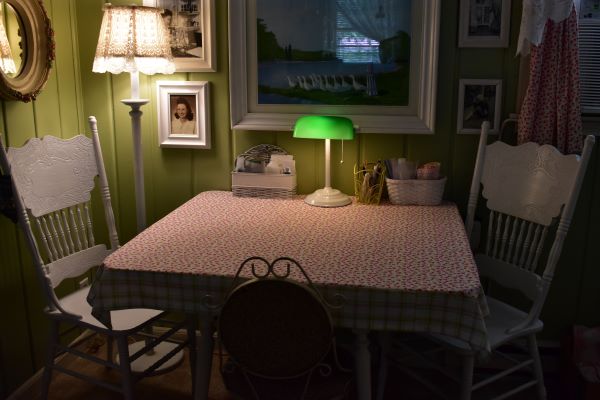 I made a new tablecloth with some leftover fabric.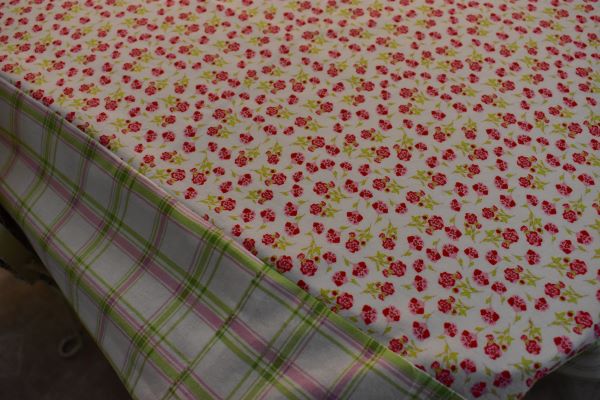 I only had enough to cover the top and enough of the other to piece some sides.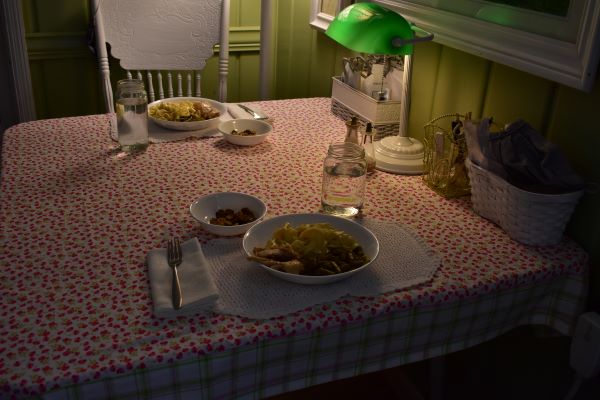 I truly enjoy pieced and patched linens.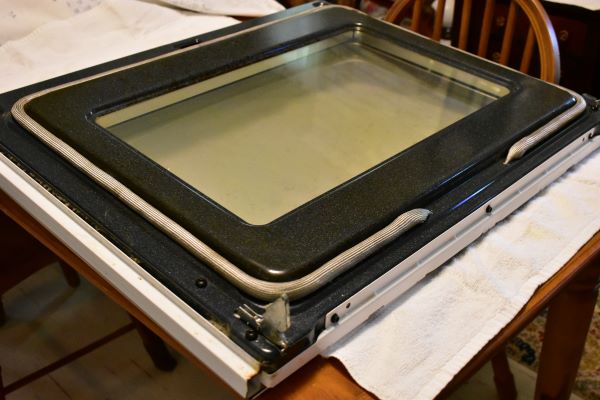 Charles and I finally figured out how to remove our oven door. We find that anything we do not know how to do just Youtube many videos and there will be at least one that shows you how to do what you are trying to learn how to do. The inside of the glass between the door has grease and runs and I have been wanting to clean it for years.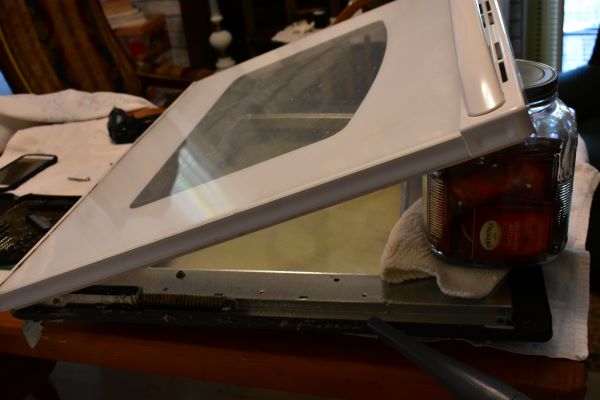 We kept watching youtube to learn how to pull the glass apart to clean inside and boy was it dirty.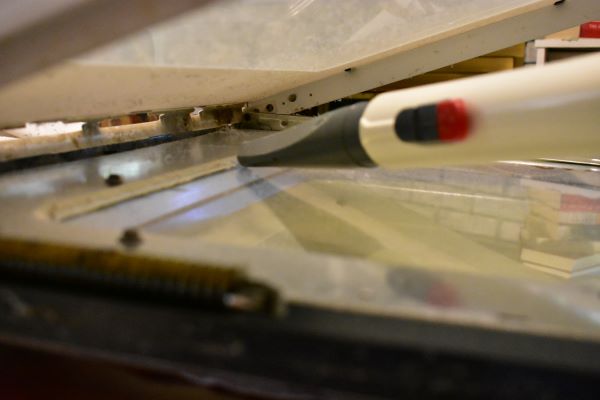 First we vacuumed the dust out, how does that dust and grease get inside?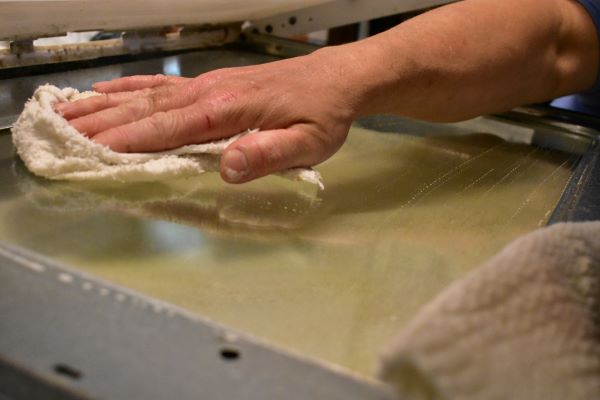 Then washed the glass with soapy water, then vinegar water and buffed dry.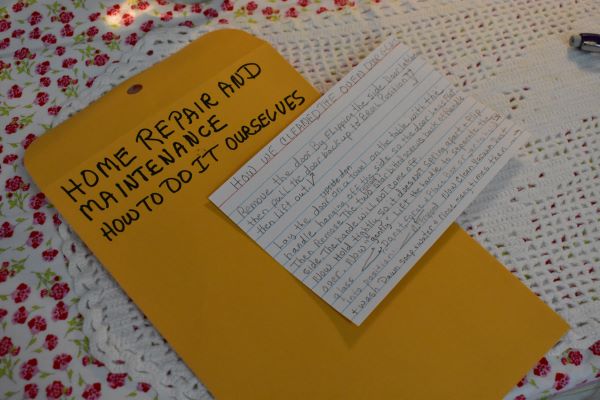 While fresh in my head I wrote all the instructions down how we did this..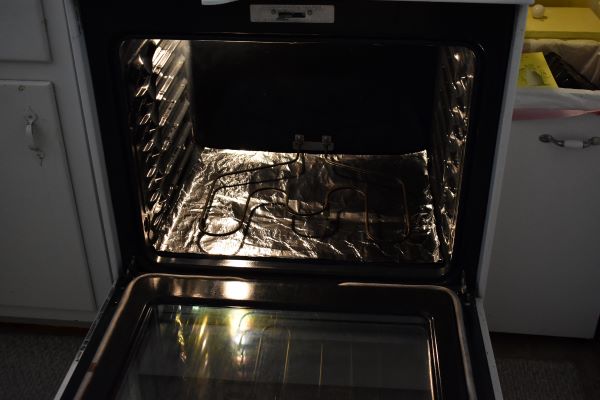 And somehow we managed to get it put back together with no issues.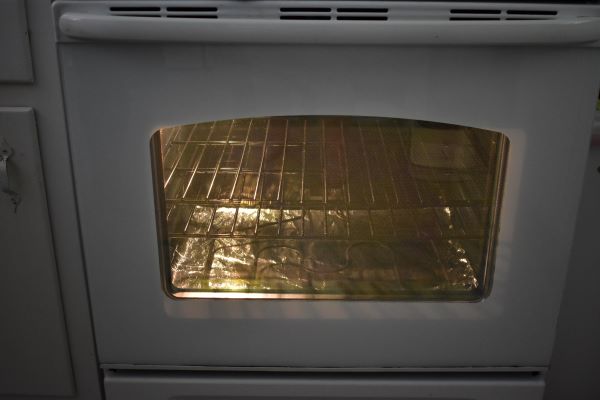 Now when I turn on the stove there are no more streaks.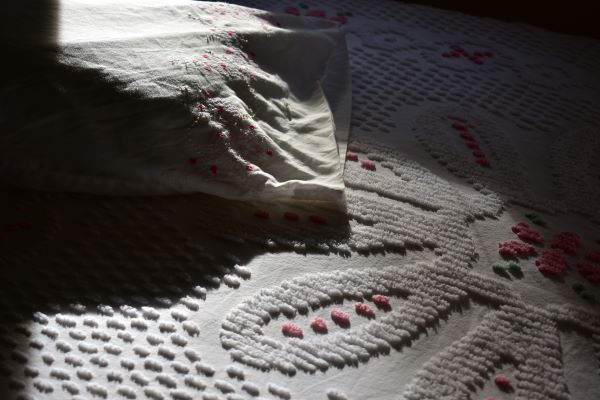 This difficult time we live we must do things that feel right. Do all we can and focus on what is good.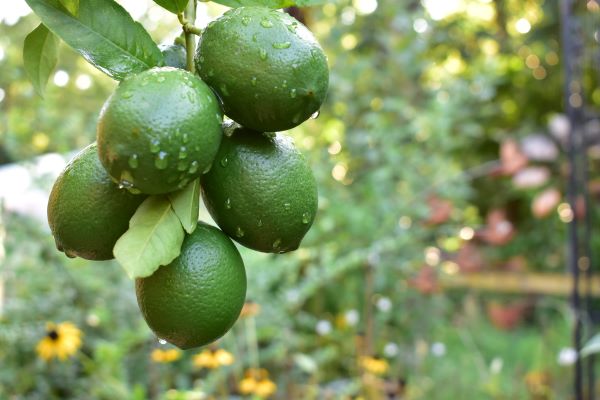 We can plant it so we can harvest it one day.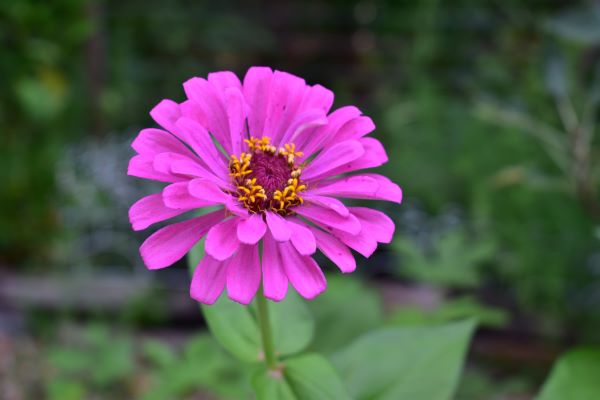 Or nature may plant it and surprise us.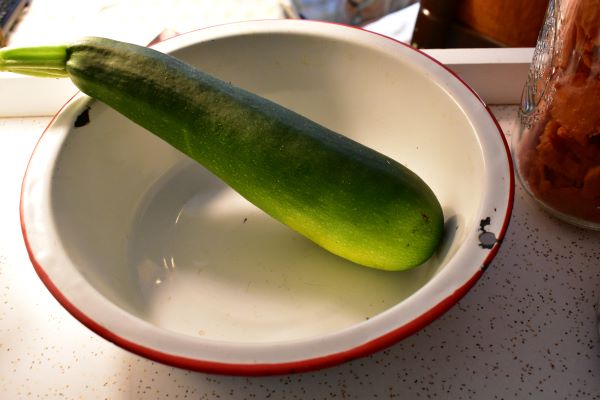 Possibly the last zucchini from our garden this season..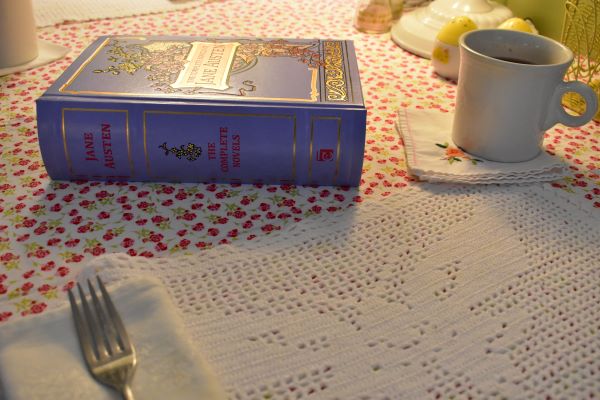 I have been reading Jane Austen this summer....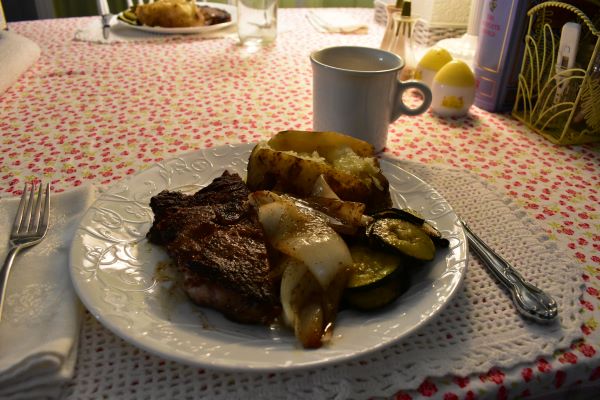 A lovely steak dinner with sauteed onions, zucchini and baked potato.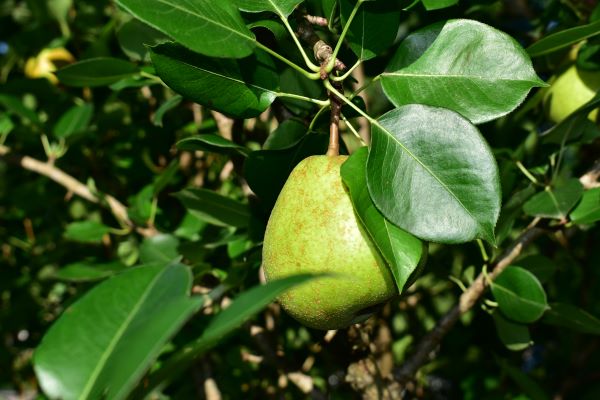 Our pear tree that we planted about 5 years ago is now producing pears for us. We are excited to finally have pears.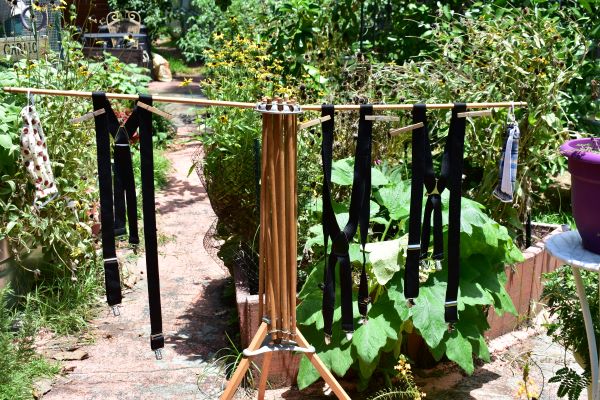 Drying masks and suspenders in the sun.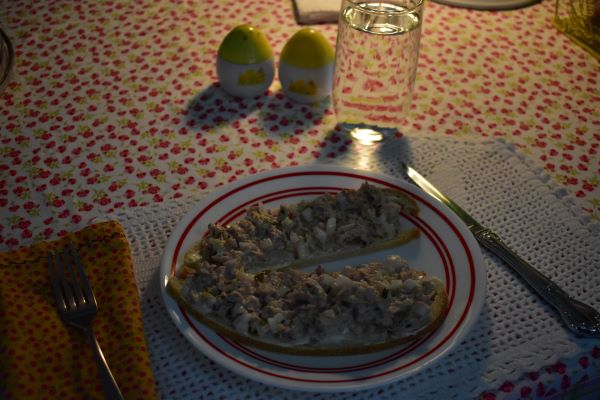 Tuna fish open face sandwiches on sourdough bread for lunch.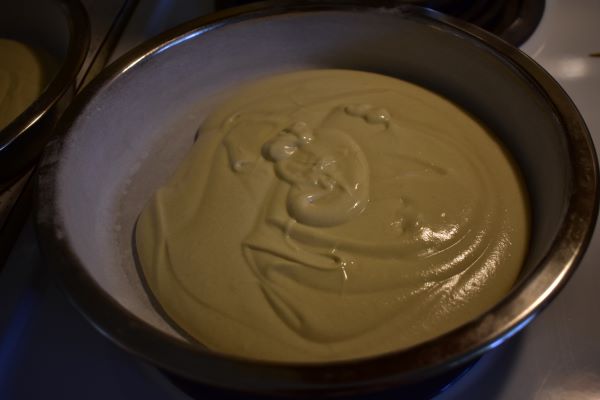 Charles just had a birthday...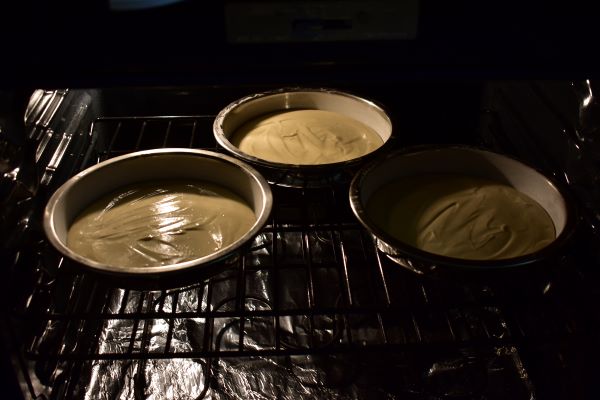 I baked his favorite three layer cake..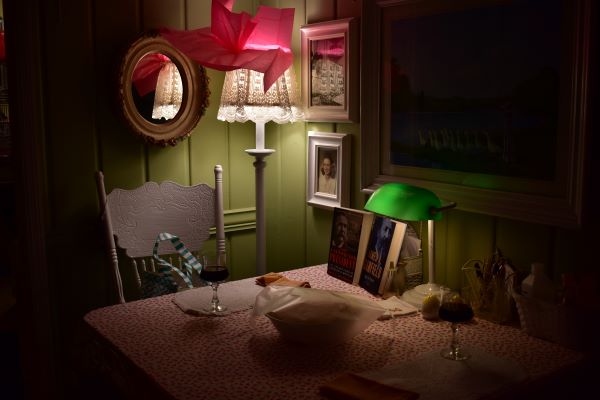 We, the girls, Katherine, Elizabeth and Bernadette had a surprise birthday party for Charles.
We decorated the house and I called Charles to tell him that when he got home from work we would have popcorn and a movie. A small glass of red wine to celebrate.
For his birthday the family added to his history books of the Presidents of the United States.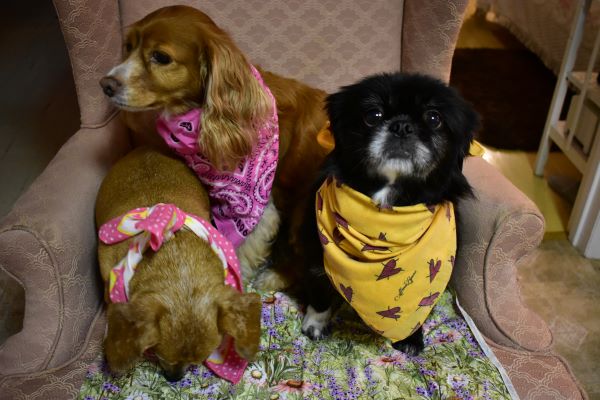 We dressed up, as you can see they were so thrilled... We did not tell him we were having a party.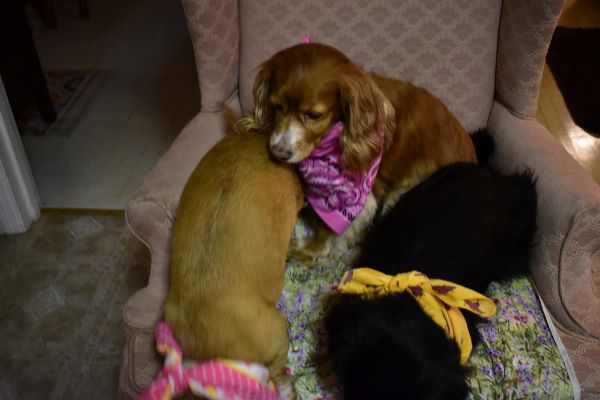 I told them that we were going to surprise daddy...Still not excited..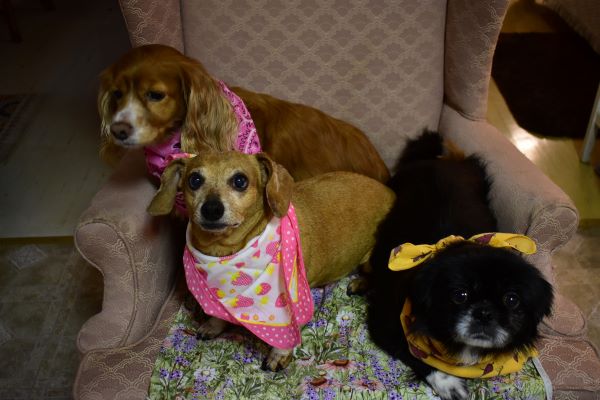 And the only thing that almost made them happy about dressing up is when I mentioned food would be involved.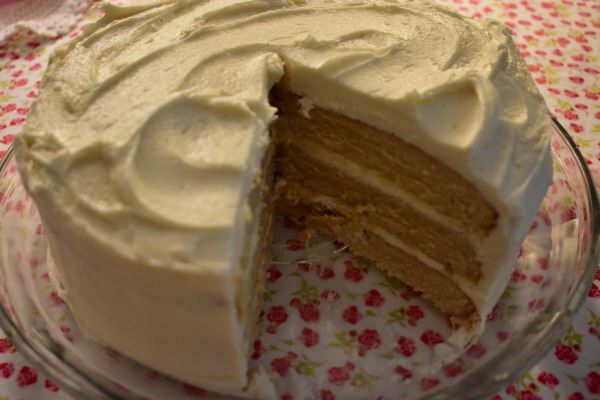 I surprised him with the cake..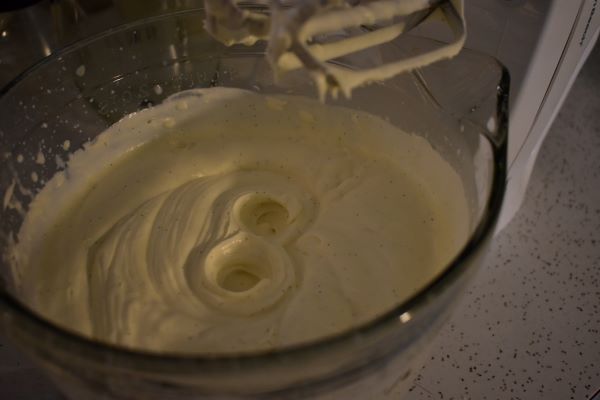 And homemade icecream. I did not have any ice to make the traditional icecream so I made a two ingredient icecream that turned out very good. Made with whipping cream and sweetened condensed milk. I will link the video I found. Just remember to whip it until it turns thick like this. It will harden in the freezer.
I will end here with a couple of links for you to enjoy.
Ice cream
https://www.youtube.com/watch?v=ZIWOfh_UjUE&feature=youtu.be
1936 movie, Little Lord Fauntleroy
https://www.youtube.com/watch?v=OMmxSELuP-8&feature=youtu.be