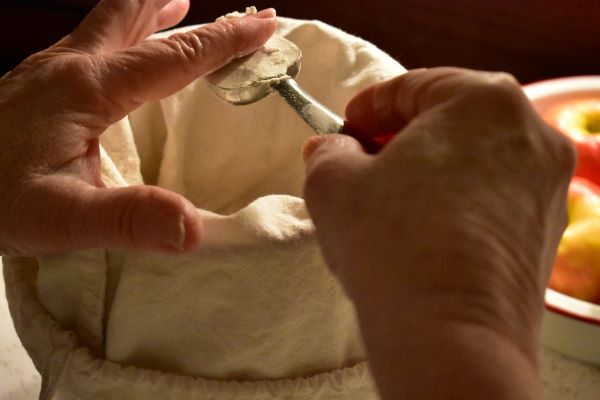 As Charles and I move through the early months of our study researching the entire year of 1943, day by day, we see that this will be an interesting year, much more than last time we studied this year which we did that study in the real year of 2015.
I am starting out with an article from 1943 that shows us that it many get tough this year (1943) but it might get tough in this year of 2022 too, so I though this fitting.
Remember, we are in 1943, Article : Uncle Sam's official housekeepers are teaching Americans to return to the frugal ways of their pioneer forefathers. Wartime household hints, embracing everything from drying foods for victory meals to covering old umbrellas, are a the disposal of the thrifty-minded everywhere in the nation.
Not only can women get information on how to make a square darn and mend a three-corner tear, reline an old coat and remove practically any stain from grease to glue and flypaper to fingernail polish, but the man of the house can get a few tips on practical living himself.
His biggest role in war time planning is perhaps through the things he can do to meet the fuel problem. He can learn ways of insulating the attic floor; to adjust storm windows and doors; put on weather stripping, all in the interest of cutting down heat loss.
All members of the family, for that matter, are being taught to follow simple rules for saving fuel-and conserving heat. A recent government bulletin approved by six agencies lists 17 different do's and don'ts including;
1. Get used to a lower temperature. A room temperature of 65 degrees is warm enough.
2. Be more active in the morning. Wear warmer clothing if you don't like it.
3. Reduce the temperature at night to 55 or 60 degrees.
4. Shut off the heat entirely when the thermometer registers 65 degrees outside.
With a rise in the nations food bill expected, housewives are being taught to can, preserve and dry foods for lean days.
Home drying, the Bureau of Economics points out, is especially important because it does not require sugar... nor the metals, rubber and other materials used in more common types of food preservation.
The bureau can tell you how to build a home-made heated drier; how to sun-dry, how to dry with controlled heat. Drying, they say, is not a difficult job, but it does take time and constant attention. Fruits are easier to dry than most vegetables, but they tell you how to do both.
In other words, if you can't get hair curlers, use rags; if you can't use your car, buy a horse; if you get cold feet...put a heated pie tin in your bed. Your grandparents did.
*********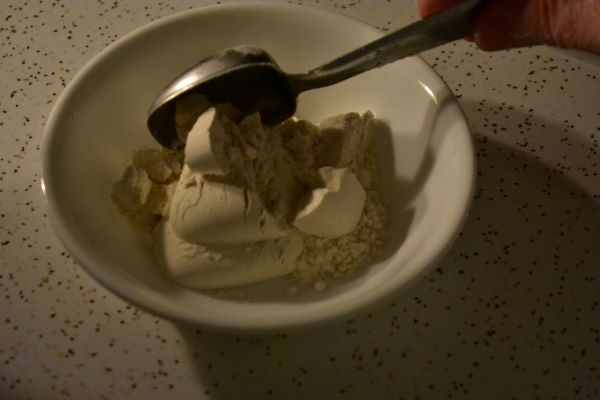 With prices getting higher and we are seeing more shortages, maybe this 1943 history study is of more importance than we thought and it is always good to learn new skills.
I have some ration information that was given out Monday, February 8, 1943.
The Economic Director made a statement announcing shoe rationing: Rationing of shoes to make certain that the American people continue to have all the shoes they need for the duration of the war was announced today by the director of economic stabilization.
The rationing was ordered by the War Production Board and will be into effect at 3 p.m. Sunday by the Office of Price Administration. Except for house slippers and infants soft-soled shoes, all types of shoes and boots made in whole or in part from leather or from rubber soles are rationed. Coupon 17 Valid Until June 15.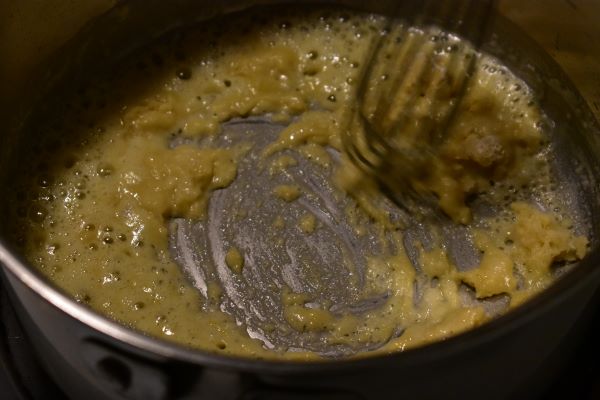 I will recap on Ration Dates.
Feb 7- Period 4 fuel-oil coupons, good to March 26, become valid. (fuel oil dates may have been different in different areas of the country) Because on Feb 11th, it was announced, Feb 20, Expiration date for period 3 fuel-oil coupons which became valid Dec. 23. And announced that April 12 - Expiration date for period 4 fuel oil coupons. (Fuel oil is confusing for us.)
Feb 8 - Final date on which No. 28 coffee coupon is valid. (Charles was jumping with joy this morning knowing he can go get his pound of coffee tomorrow.) What we did about our coffee situation when Charles ran out of coffee, we used my ration stamp for a back up. We portioned the spare coffee beans and he ground a one cup measurement of beans and put it in the coffee container. He ran out of that cup and did another cup. So we are doing our best with the coffee situation.
Feb 20 - Expiration date for Period 3 fuel-oil coupons which became valid December 23.
Feb 28 - Final date for first inspection of tires for "B" or "C" passenger car card holders and for commercial vehicles.
March 13 - Period 5 fuel - oil coupons, good to Sept. 30, become valid.
March 15 - Last valid date for No. 11 sugar coupons, good for three pounds.
March 31 - Final date for first inspection of passenger car tires for "A" card holders and motorcycles.
********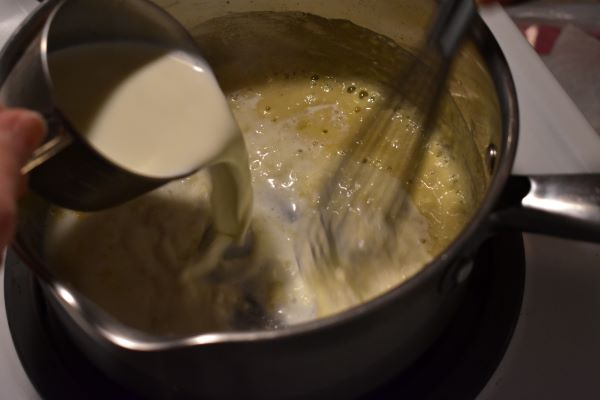 We eat a dish that we call egg on toast or some call it egg ala goldenrod. It has been around for a very long time. I grew up on this breakfast or dinner dish and all it is, is a white sauce with boiled eggs chopped up in it and put over toast.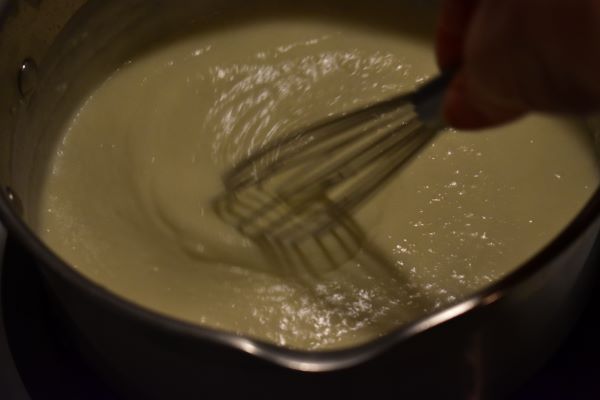 You have to stay with it stirring but it does not take long to make.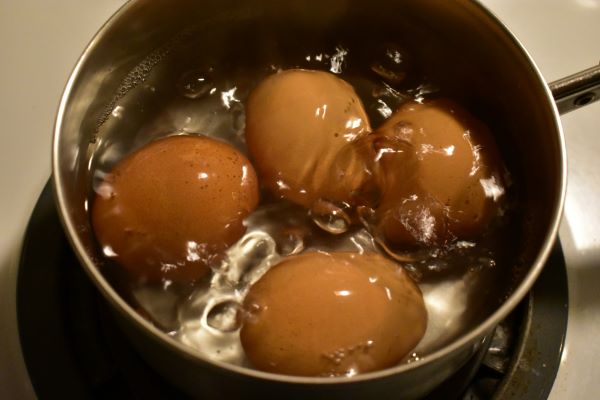 Just boil your eggs... I boil mine for 10 to 12 minutes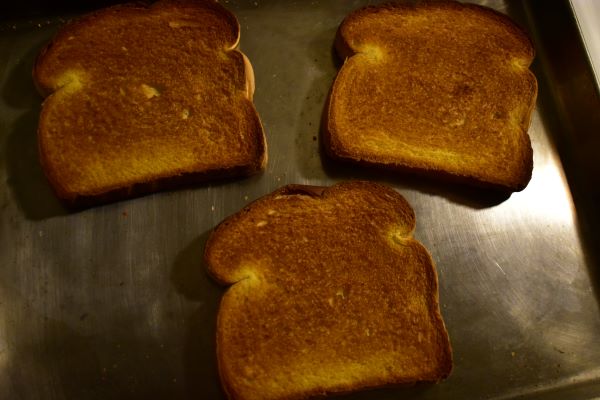 Make some toast...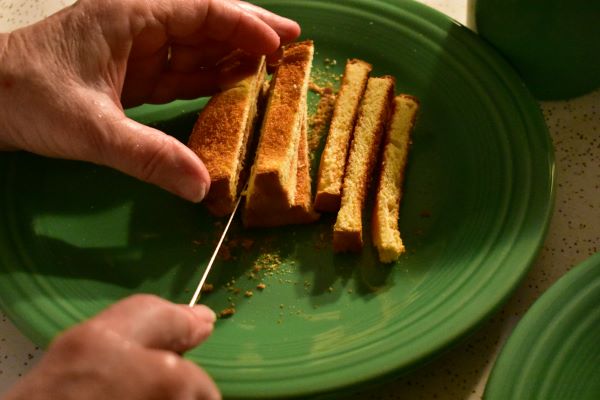 I cut our toast but the formal way was to put a whole slice down and put the sauce over the toast and then use a fork and knife to eat...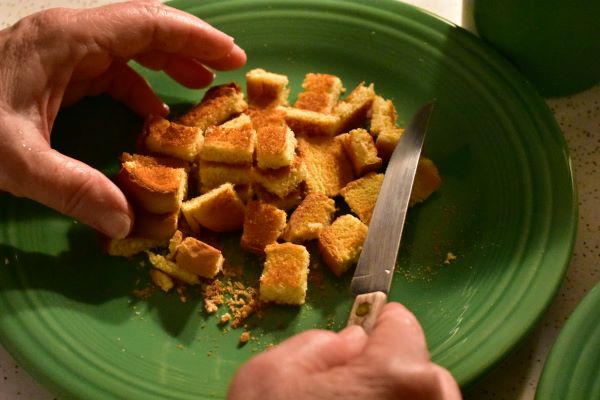 But we like it cut up so we do not use a knife.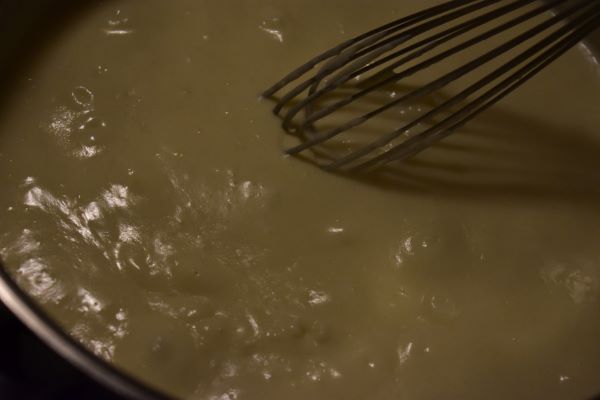 Finish stirring the sauce until it is bubbly and has thickened to a nice thick gravy texture but it is a white/cream color instead of brown gravy.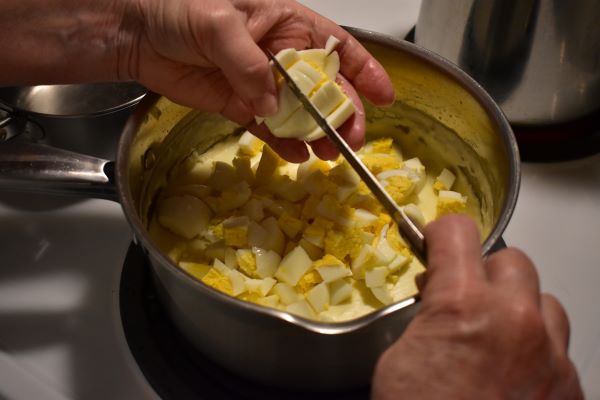 Peel the eggs and then cut them up in the sauce..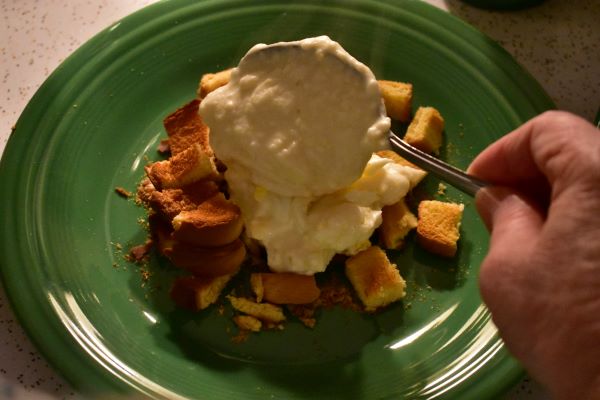 Spoon over the toast...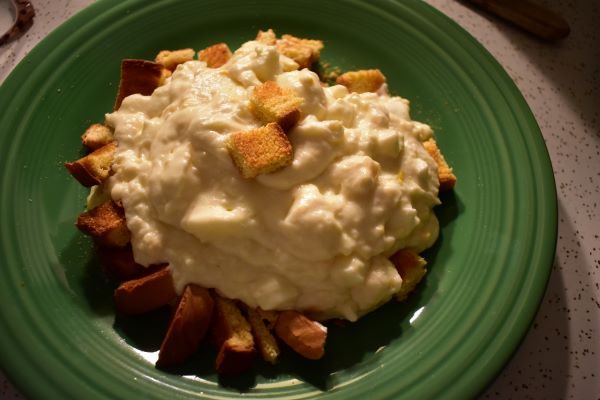 And we have a hearty breakfast. We like to make this on weekends when we have projects that might carry us through lunch and it will get us by longer.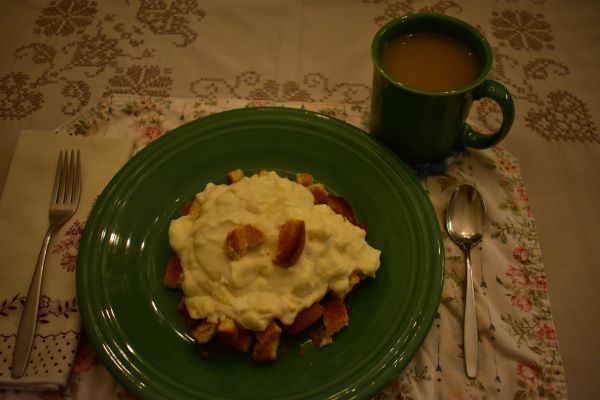 The recipe is simple.
4 Tablespoons butter, 4 tablespoons all purpose flour, two cups of milk, salt and pepper. Melt the butter, add the flour, stir quickly, add the milk and quickly whisk while adding milk, continue whisking or stirring, bring to boil and remove when thick and bubbly. Add 4 chopped boiled eggs and stir in and spoon over toast.
I just popped over to my other computer to do some research and Eggs ala Golden Rod is on a menu in 1909, and in the papers during the 1920s and 1930s etc. So this recipe has been around for a very long time.
I will leave this post to start the diary post. I hope you all are able to keep up. Please remember that we need to be practicing what we are going to do for food rationing and shortages because next month in March we kick it in to full gear of rationing food.
Grandma Donna