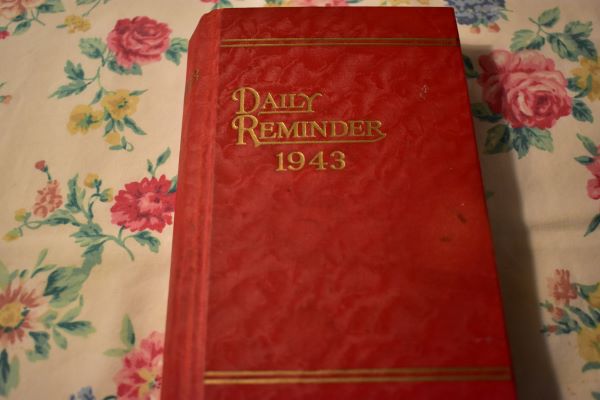 The last reading of Lena and Richards 1943 diary.
Friday, December 10, 1943. Today is very comfortable Went down to P.M. and got potatoes and one lb of steak all the points I had 10. Cam home and made a chicken stew & dumplins then had enough to have a chicken soup with rice for his supper he said it was good. Went over street and ordered a coconut cream pie I wonder if Ill get it at the Somain Resturant but he said he would do the best he could So Ill go down and try. Got oranges and grapefruit among other groceries Had enough to carry. They had boxes of Pimento cheese it is 20 points for 2 lbs.
Saturday, December 11. Only 6 above with a strong wind blowing. Might have snowed last night for the piazza was covered with snow this morning that had blown in during the night. It was awfully cold only 6 above all day but I went down after the pie but the man wasn't there and I didn't care much as I thot it too cold to do much carrying. Went in a.& P and got a cake. Thot Id freeze my face before I got home but got there O.K.
Sunday, December 12. Not quite as cold today but didn't think to look. I wrote letters this aft. Got to be after it now Must write some more tonight.
Monday, December 13. Cold day with strong wind 12 above zero and I only hung out sheets and only filled 2 lines a few things besides sheets. I thot Id freeze my hands. Dried the rest in the house very quickly Id put them all in the house if I had room. Richard looked to see if the pimento cheese they had Friday was there and it was no wonder! With 20 pts. he came home and got his book and 4 of my pots we will have 12 pts left but I can manage some how.
Tuesday, December 14. Cold again today and dark and dismal. Got the clothes ready but didn't iron. Went over and mailed what cards I wrote Sunday Tried to find print for an apron but didn't seem to be any. Pillow slips were as high didnt get any as I wanted nice ones if any. But plenty groceries.
Wednesday December 15. It is still cold and I didn't have to go out for which I was glad. Fixed a knitted slip and then worked on the foyee curtains made the center piece and put on ball fringe shall have two pieces on the sides with the ball fringe on the corner side with the figure sash curtains I already have up wonder how it will look. It will have to do. Tried to find something to make another apron but seemed none in sight. Will try again.
Thursday, December 16. Did one of the pongee tops to the kitchen curtains trimmed with the ball fringe. Had to go over town and got 2 yds of percale for aprons at nuberrys. Geneva sent 16 pts so I put 4 more with them and another 2 lbs of pimento cheese I guess folks dont want to spend so many points for cheese this aught to last at least 3 weeks. Got cal. oranges for the first time.
Friday, December 17. Today is cold zero early but has managed to get up towards 30. Not bad just 30 tonight at 7:30 I went down to Public Market thot they would have pork shoulders but they were all smoked. Think id like some but Richard wouldn't . They had a lot of pimento cheese in 2 lb boxes 20 pts at the A&P and we have had 2 boxes this week as Geneva sent me 16 pts but nothing else I had a good sized fowl from M. Book but want a pork Roast for Christmas 34 above at 9:30 P.M.
Saturday, December 18. First thing I put in a piece of celo glass in the front door which has had the glass broken out twice I did a poor job but did the best I could. It is much warmer. was up to 30 today and I think higher. Went down to P>M> and got liver bacon & small piece pork then over street for Bread oranges & Fruit cake washed the floor made ice cream & stuffed chicken made chicken soup for Richard supper out of wings neck & legs.
Sunday, December 19. Today isnt as cold up to 40 this P.M. Cooked the chicken and froze vanilla ice cream Made soup for Richards supper of the rest of the wings etc. and he liked it said that was a good chicken soup it cheers me as he seldom praises anything to eat. Wrote 2 or 3 letters and cards rather 7 in all and must find some more cards as they are several more I should write to.
Monday, December 20. Think Ive done pretty well today. Did my washing and got them dry and in the house soon after dinner but dried part over the furnace. Then moved things around to suit me as I didn't feel like going out as the wind blew making it seem cold. Moved the old couch down from upstairs and made it up after moving the organ into the little room again. Now I can drop down and rest. Think it will help.
Tuesday, December 21. Didnt iron any today but got the few I wanted ready and must iron tomorrow. Went over street and got some candy and they had peanuts in the shell I dont know how good or bad they were but got a lb so to send them to the deaf & dumb fellow and 4 lbs hard candy I hope it will go o.k. as they did it up in the white river paper co. and he was going to do it free but I gave him 10 cents seemed so small cost me 19 cents . Blew a gale when I came home hard to stand against it but soon when down.
Wednesday, December 22. This is a good Winter day Still the Christmas cards come in. Strange how many people we can dig up to remember then we are sure to forget some one I sent Mrs. Dennisons candy and found peanuts for Chester hope he finds them good but they may be no good. I sent the Christmas cards to mail by Richard and ironed this forenoon and mostly made an apron this P.M. Must go over and mail them tomorrow.
Thursday, December 23. This is a cold day but the Sun shone. 2 below this morning and around zero tonight. Did my small washing and made Clam Chowder for dinner. Finished the other apron for Mrs. Johnson and went over and mailed it and an envelope of cross word puzzles to Pearl. She has had the flu and I don't expect she goes out yet. Went to Public Market and they will keep a 4 lb pork roast for Fri or Sat 19 pts. Must try and get a cauliflower or something good.
Friday, December 24. This is the coldest day yet I looked at 8 a.m. and it was 15 below at 12 noon was just zero and I guess it will be 10 above by 1 Oclock as it is still rising slowly. The sun is shining brightly. Now at 230 it is just 10 above some cold. Richard came home and built a fire in the extra stove in the kitchen he seems to want it hot I thot it was very comfortable.
Saturday, December 25. Just zero at 8 Oclock but warmed up to 21 at 12 Oclock noon. A little hazy. I think this is almost a white Christmas Flu has been sweeping the country but is on the wane not a very bad. Clouding up this P.M. late and looks like snow. A little past 30 at 4:15 and guess its going to let up on us. Havent heard from folks south but presume they have had it cold too. Glad I havent got to go out I emptied 2 tubs of ashes this morning. Richard didnt like it but made them out.
Sunday, December 26. Not very cold today. Richards thermos bottle has given out. It is kind of a mix up but I think we can make it Ill get up and make his coffee and leave it on the stove. Hope I wont miss any morning. I wrote letters this P.M and Linnie came over a few min.
Monday, December 27. Didn't do much today Got up with a stomach ache havent had one for a long time but lasted most of the a.m. so I did not do any washing. Hope Ill do better tomorrow. I went over street and saw the 5 lb boxes of cheese white American 3 boxes & the clerk said they might have some more 2 lbs in soon.
Tuesday, December 28. Got up in fair season before 7 Oclock Did my washing and got it all dry with drying some over the furnace like starched clothes. Richard fixed my iron cord this noon it was almost burned off. I didn't go out this P.M. felt tired and cut out 2 small aprons by some piecing not quite as long.
Wednesday, December 29. 6 above zero. We have had it very cold so far in Dec. and began in Nov. I hope we will have it warmer to pay for all this cold. I did the ironing but started with a stomach ache. Guess Im in need of a laxitive but dont know. I burned a lot of oil today I do hate to but seemed so cold went down to Pub Market and got potatoes and 3 lbs of small yellow cooking onions havent had any for a long time they had 3 bu. Got some salt fish bit and bacon 2 pts all the pts I spent. Richard got 2 lb box of pimento cheese 20 pts but Im glad he got it I ordered a fowl for Friday.
Thursday, December 30. Did my midweek washing and dried it over the furnace. Was tired but went over street and got the P.O. Order for 2 mos home loan and looked after pkg sent to Mrs. Denison. Forgot the coffee that I thot I especialy needed but had plenty a little older. Got grape fruit and oranges and mocoa etc.
Friday, December 31. Here we are at the end of 1943 I think Im not sorry as it has been a hard year for a great many. The soldiers have had plenty and now they say the worst is to come. Id hope it will finish fast but we do not know what is in store for us all. We must hope for the best but we get nervous thinking what might happen. But must have faith in a over ruling power who will se us thro and is all wise altho we cant see how we should hav such awful things happen Mr Cook is very late but I want to post a letter and get something at Pub Market.
It seems that Lena needs a new diary so.. a few extra days.
Saturday January 1, 1944. Havent gotten my diary yet so will keep on here till I do. zero this morning and the house seemed cold but I started up the fires and it gradualy warmed up. We are having another 5 pts on pork that will help out Im glad we can have plenty of some kind of meat as fish is very high and doesnt tast very good in winter. I get cod fish bits that help some. We are hoping the war is coming better and do hope it will close this year. Our difficulties will not all be over even then but it only killing will stop will help a lot and i hope ill live in fair health to see a better world.
Sunday, January 2, 1944. Cold today but the sun shone I think it was zero this morning or not much above. The days are growing longer but not noticed much yet. There is a new moon looks like a dry moon.
Monday, January 3 8 above Did my washing and had 100 gal of oil this P.M. and then went out and cashed my check and got stamps and posted 2 letters Then went to the Pub Market and spent my 2 spares 10 pts for 1/2 pork shoulder and got 3 lbs cooking onions 29 cents and some tangerines also Bread and rolls. Tired tonight that is Monday. Wish I didnt get so done in and felt so tired in my left didnt want to get up. Not a pain but like to know.
Tuesday, January 4. 2 above. Did my ironing and this P.M. after resting went up and painted the piazza and cleaned up last part and can use it soon as the paint is dry as I washed and recovered the cushion and back. Must get me a diary tomorrow.
So I guess that Leana got her new Diary and I wish I had it to share with you.
Lena was age 73 when she wrote this diary in 1943.
Lena's Husbands name was George and his occupations was a hostler for different companies and worked as a Crossing Tender with the railroad. They lived in and around the Vermont and New Hampshire area. They also took in lodgers. George born in Germany and Lena born in Maine.
Lena and George's son Richard worked as a Hostler downtown mostly in cleaning floors and such as that. Fred, that was mentioned in Lena's diary was her brother. Geneva was her sister.
Lena did get to live to see the war end and she could purchase her food once again without ration stamps and the soldiers could stop fighting, at least for this war.
In 1950, Lena and Richard were still living in Vermont, Richard a janitor at the telephone company.
Lena's husband George died at the age of 67 in the year of 1924.
Lena died in the year 1951 after her right leg was amputated from gangrene. She had been diagnosed with cardiovascular disease.
Richard died at the age of 54 years in the year 1965 from a ruptured appendix.
It feels as if we have lost family, a bit of grief but I feel we will meet Lena and Richard and her family in person one day, when it is our time to leave.
I learn from Lena and Lil's diary that we all are here temporary and will leave our earthly tent behind one day so while we are here we make each day as good as we can. We only met Lil and Lena when they were getting older and when their bodies were getting weaker but I can imagine them when they were younger. There is no telling what all Lena did when she was stronger but I would think she had a beautifully cleaned house, laundry crisply ironed and wonderful meals, especially since we know they took in lodgers.
Even without owning a car, Lena always found a way to do what was needed if at all possible. I could say much about the diaries but I want to leave it for you to comment.
We have a completely new situation coming, "the great depression". There will not be any rationing or having to keep up with ration stamps but we will have new issues.
What did people do when they did not know if there would be no more work pay? No way to get money out of the bank? They had been through a world war 1, a flu pandemic and just as they though thing were good a Great Depression. I expect we will be learning some new things to apply to our new year of 2023/ 30's.
As simple as these diaries of Lena and Lil were, what did you learn from these diaries?
Grandma Donna