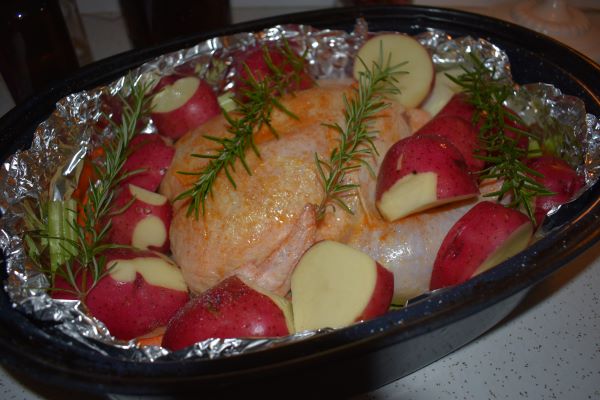 When I do not feel like cooking, I bake a one pot meal. It is a very simple meal, one whole chicken, potatoes, carrots, onion and celery. I sometimes add lemon slices. I seasoned it and added a few sprigs of rosemary from the garden.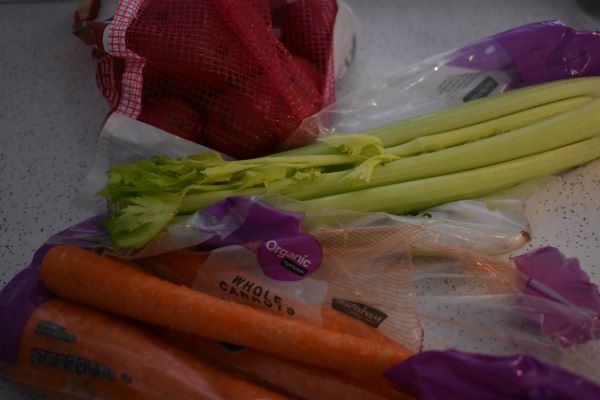 The ingredients are so simple and very little prep work to do. Very easy to clean up.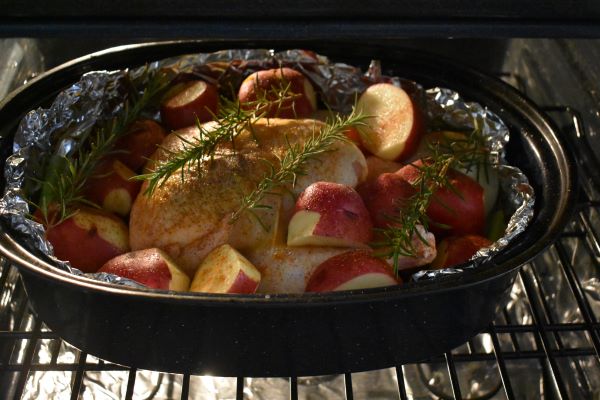 Bake it in the oven for a few hours.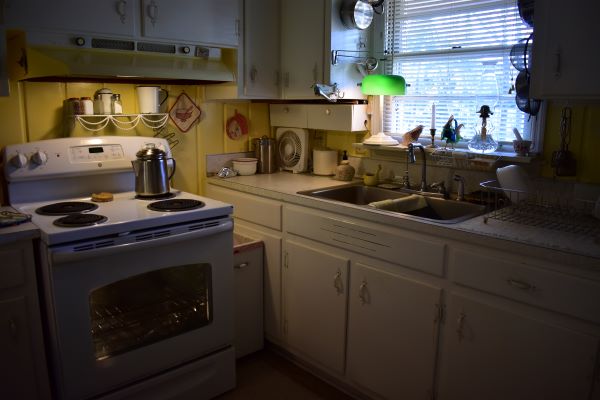 And while it is cooking in the oven the kitchen is clean.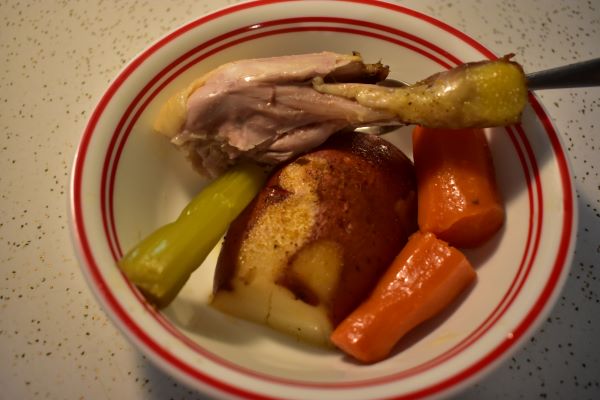 The other thing is it is a healthy meal.:)
When we look at the home of long ago, people ate simple meals. Many times we enjoy cookbooks from long ago as well as current time and I do enjoy these books but often families ate traditional meals at home that did not require a recipe such as this meal above.
When we think from 1880 and forward, many of our ancestors were just immigrating into the United States and bringing with them their traditions and food that they ate. As I follow my genealogy my ancestors came here from the 1700's and 1800's and were still coming in the early 1900s. with them came familiar food that they ate and often these different meals ended up in cookbooks.
Long ago, newspapers were filled with recipes where people would enter recipe contests and over time we have recipes from all over the world. Also as industries promoting their food such as dairy and meat, cookbooks were associated to the companies promoting. There were cheese cookbooks and Dairy cookbooks. When the first ice boxes where used to the first refrigerated ice boxes, cookbooks emerged showing chilled desserts and more recipes that could be kept refrigerated. This was a way to prod people along to purchase what they had to sell.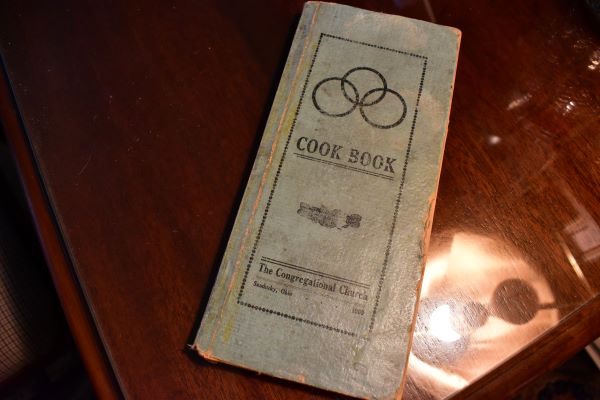 Then the Churches got involved with cookbooks. They started having the women of the Church to submit recipes and this became a cook book to raise money for the Church. Businesses in the community would advertise in the cookbooks and the Church would sell the cookbooks.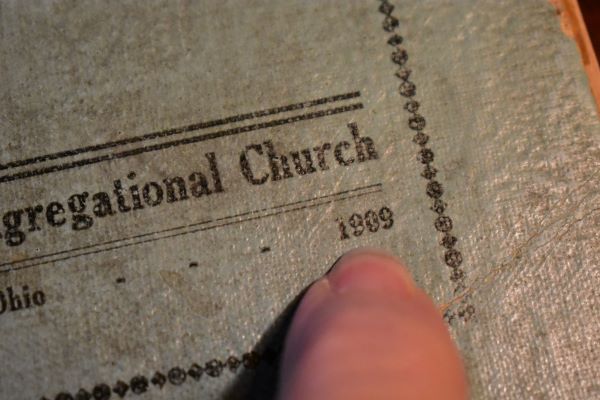 This cookbook was printed in 1909.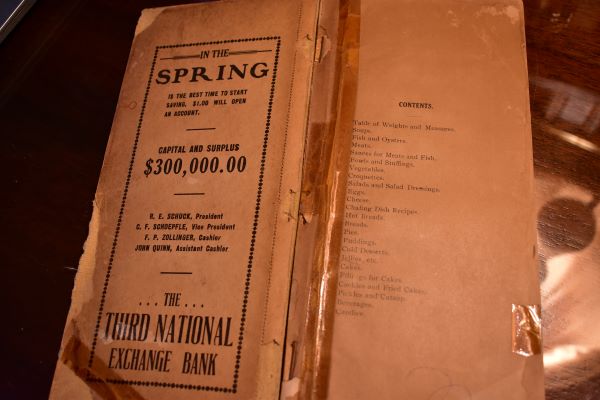 We see the advertising and it is all throughout the book.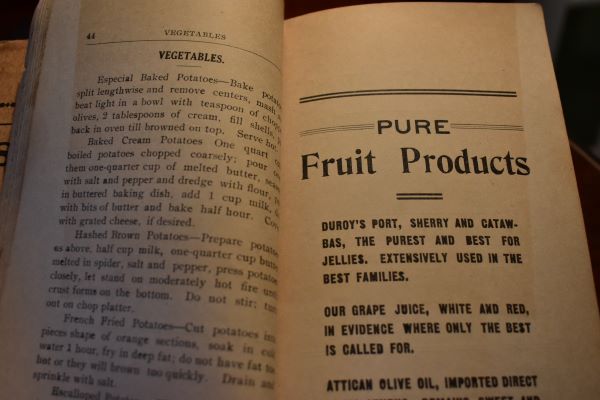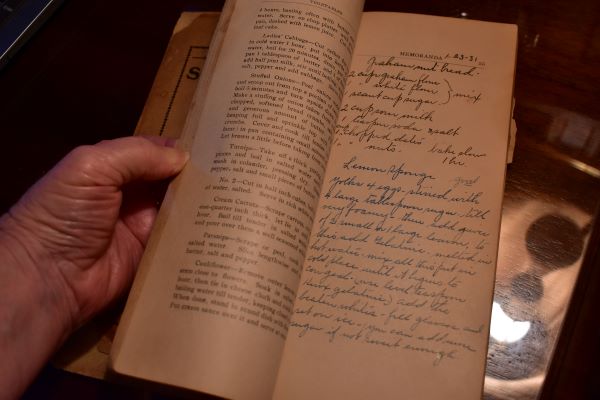 As time went by the cookbooks would have the name of the person that submitted the cookbooks with the recipes. The women enjoyed seeing their recipes in print. Less advertising was used and the books were sold in the community.
Year after year after years of cookbooks we have lost something very important. Our own regular simple meals. Meals with nothing processed added, just basic food.
As I have been studying my diaries and newspapers and information during the Great depression I see patterns of the people that did better during the great depression and they seemed to me to be the ones that stayed steady and did not make a lot of changes in their lives during the pre twenties years as well as the 1920's when styles took a drastic change and more electric appliances were starting to emerge. I know I have mentioned this before but felt should be repeated.
They were the ones that did not start out during the great depression with debt. And in Sarah's diary we could read how routine she was and about her regular meals and the baked goods she baked every Saturday. Sometimes ladies would bake on Thursday and Saturday. Other days were for washing and cleaning and ironing and running errands and Church. They also gardened and canned their food and sold homemade sweets to a store in town to make extra money.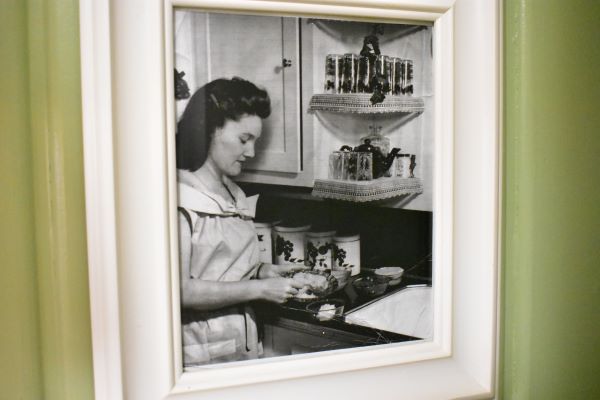 I know in my family we had Pate Chinois, Egg ala golden rod because that is what my Father had when growing up and he had his mother teach my mother to make these two meals so it would be just as he remembered. My mother also would often cook vegetable soup the same way that my Grandmother cooked it.
On Saturday we often ate tomato soup and grilled cheese sandwiches for lunch because this day we had extra chores to do and our larger meal would be in early evening which evening was known as 5:00 ish.
Here in the southeast many folks eat grits for breakfast or with supper.
When talking with older family years ago they tell of how they did not eat much meat or sweets. They did eat a form of bread, Cornbread, biscuits, flat breads and such as that and most common food was vegetables such as small country peas, butter beans, Collard, turnip or mustard greens (in our area)
When I was younger I thought the family ate a lot of desserts but as I got older I realized those desserts were because we were visiting. Later talking to an elder she explained that they did not get cake or pie often, that was for special times and only occasionally Father would bring home a small chunk of cheese and that would be very special to them.
We have so many choices of food now that it can make meal planning and cooking very difficult and it has become so difficult for many that they just eat out. I have been trying to get back to basics with food as well as many other things.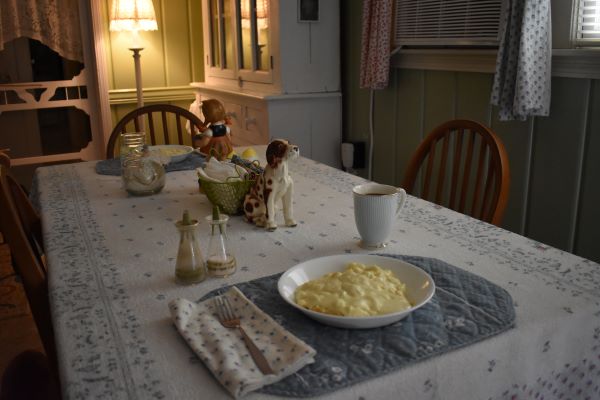 This weekend we ate our traditional meal, egg on toast or also called egg ala goldenrod. Just boil four eggs, set aside and make a simple white sauce The sauce is 4 tablespoons butter, 4 tablespoons flour, 2 cups of milk, salt and pepper. Whisk this together while pouring in milk over heat.(don't stop stirring).
Bring to a bubbling boil and it should be thickened. Remove from heat and then peel and chop 4 boiled eggs and add to the white sauce. Dip the thickened white sauce with boiled egg over toast.
Our family always breaks up the toast and places it in the plate or bowl and then add the sauce. My father enjoyed his over a solid slice of toast on a plate and he ate it very properly with knife and fork. This recipe would feed a family of 2 adults and 2 children breakfast. We ate this at brunch so we ate a larger helping this day since our meal would not be until evening. I also did not have bread so it is over biscuits.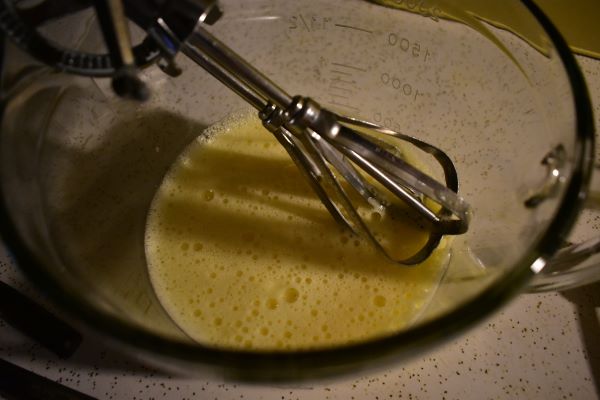 A Dutch baby or German pancake is a simple meal for us. I do not know the true origin but I did read that it was served in 1940 in Seattle Washington.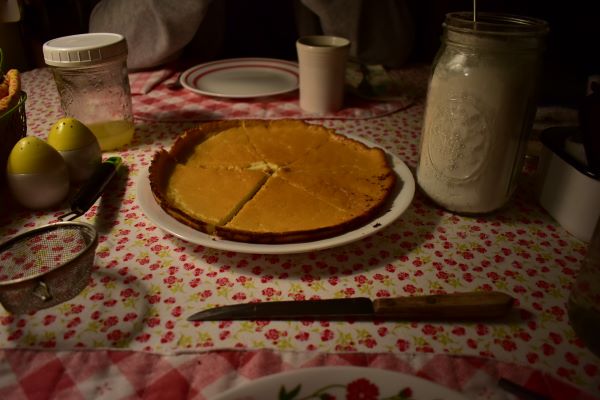 Some of the modern recipes say to make it in a blender but I like to use the simple beater. A blender will make it poof up the sides but did that do that long ago? or just crank the beaters?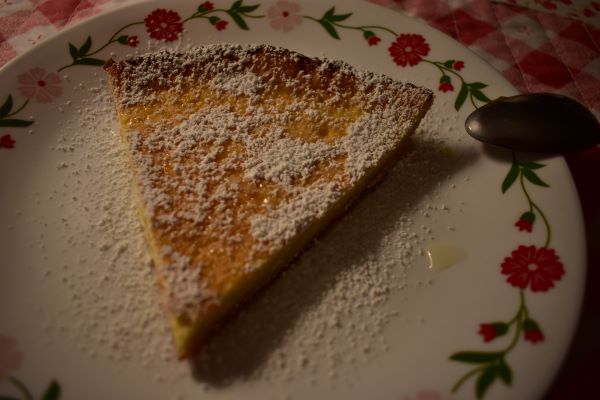 It is a custard like pancake. We normally eat ours with lemon juice and powdered sugar but fruit can be put over it and many other things. This is not a back in time breakfast, just something easy at our home.
French toast would be a more traditional breakfast from years ago for my children.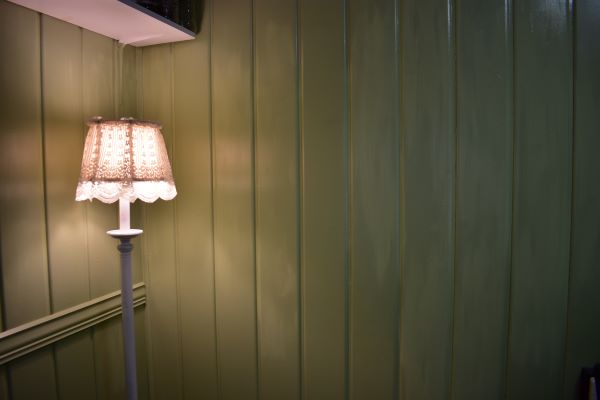 I have been doing some painting and sprucing up before this year has ended. I did not change colors, just refreshing. This was another surprise to me in the older diaries and that was they painted the inside of the house more often that I would have thought.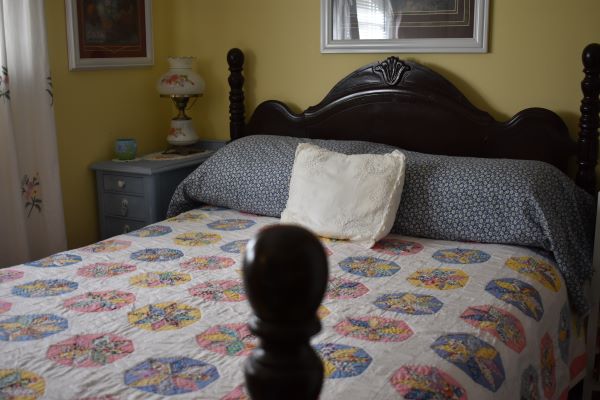 I am catching up on housework better than I have much of this year and that makes me happy.
I hope you all are doing well. Grandma Donna