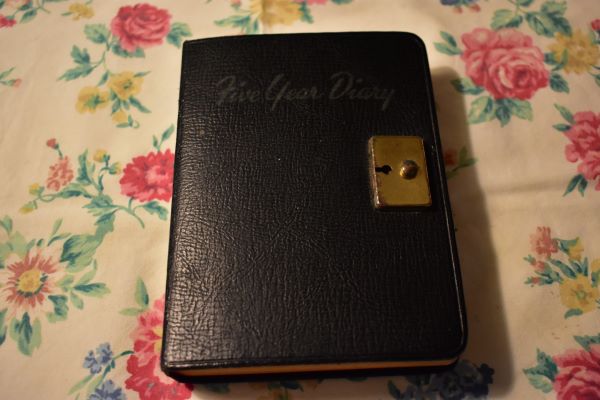 We continue with this weeks diary reading. I will start with the diary of Lil and Bob. Lil and Bob are in their mid 70's and Bob is doing war duty at the watch tower and Lil is taking care of home.
Monday March 8, 1943. Rain again most of the day. Bob late, stopped up town to shop and see about F locker. The Marshalls Called.
Tuesday March 9, Showers. Done a bit of outdoor work. Bob burned garbage and cut lawns.
Wednesday March 10, Rain most all the day. Bob home early, washed the car. Got our Red cross membership cards.
Thursday March 11, Fog in early a.m. Sun all afternoon. Done the washing. Up to Bank with Bob to buy Bonds and to shop.
Friday March 12, High fog all day. Done the ironing and some backyard pruning. Bob cut back lawn hay crop.
Saturday March 13. Rain tonight. Cleaned house and venitian Blinds. Bob home early.
Sunday March 14. First Sunday in Lent. Nice Sunshine but cold wind. Bob at watch tower 8 to 10 a.m.
End of this weeks reading of Lil's Diary Now on to Lena's diary.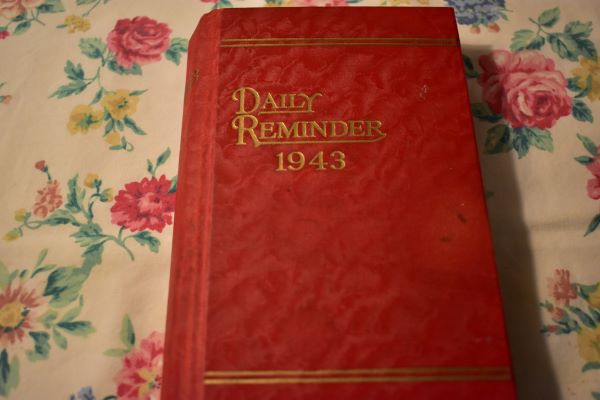 In our last diary reading from Lena's diary, Lena used her first ration stamp for canned clams. I type out the diary as it is written.
Monday, March 8, 1943. Did my washing and hung most of them on the piazza. Starched clothes over the furnace. Left the dishes and went to March of time. All about the industries in Canada. They seem very prosperous. Did some shopping and came home and took out waste and ashes sawed a little wood and washed the dishes and opened a can of chicken for R's supper creamed on toast. Didn't seem to feel very tired. have been taking Wamfoles cod liver oil for several days instead of the pills and think it is best.
Tuesday March 9, 18 below, Some cold! but the Sun shines. Richard went out at 2:50 and when he lighted the fire I said guess I had a cold so he gave me Vicks nose drops and the musteole which I used faithfully and today am much better I think this noon took 2 aspirins last night and 2 this morning. Hope I beat it up. No meat in sight and they say the cars are stuck in Canada short of help.
Wednesday, March 10. 20 above. Warmer this morning Cloudy as far 2:30. I ordered oil and used No 4 coupons. I had 6 got 54 gal I expected only 48 as it said in the paper. My cold is better but dont feel very good. Made four cup custards and should have baked something else but washed the kitchen floor. My ears keep a noise going and my eyes feel bad from my cold guess I had one alright.
Thursday, March 11. 44 above. Cloudy all day and much warmer. Mae an apple pie and had bacon and eggs as there was no liver. I ordered a pot roast and will have it over Sunday if I can get anything tomorrow and fat. Dont like to have fish all the time. Have been taking Wampoles cod liver oil but dont know when I started is about 1/2 gone think it may be better than the vitamin pills Ive been taking. Sewed a little this P.M. but had to carry out ashes and chopped away some ice on the steps. Now is going fast a lot of ice and water. The ice in the river is still here they, say it backed up here from White river.
Friday, March 12. 38 above. The ice is still plugging up the rivers. My milkman said the White River backed up its ice in the Conn and it was ice up to the Hartford dam. I never saw ice stay so long it looks bad seems to me if it should rain hard and long what would happen but a flood. Very foggy growing as since morning now nearly noon. Rained some early or in the night. Made ice cream and cooking part of a chuck roast. Washing Richards clothes altho he has 4 whole suits. Had a letter from Fred. A bad freeze of beans and tomato etc reported and he said it was.
Saturday, March 13. 28 & white frost. Today is warm and the snow most gone but the ice is still in the Conn river. They say there is a comet near the handle of the great dipper where it joins but I cant see it yet & have a little new moon now. Richard has had orders to go to Woodstock Monday for his prelimery exam into the army. I hope he will go and take it "on the chin" I like to see men do things right. Made molasses cookies.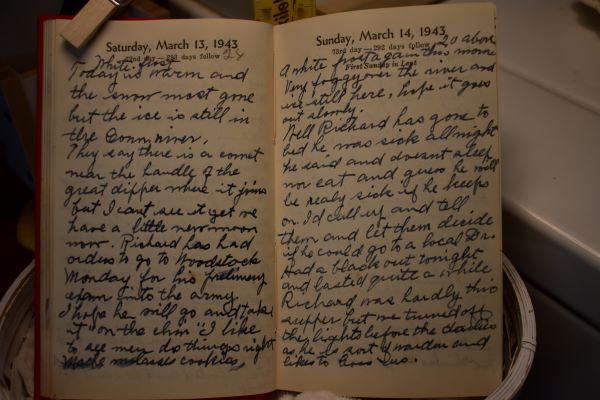 Sunday, March 14, 1943 20 above. A white frost again this morn. Very foggy over the river and ice still here, hope it goes out slowly. Well Richard has gone to bed he was sick all night he said and doesnt sleep nor eat and guess he will be realy sick if he keeps on. Id call up and tell them and let them decide if he could go to a local Dr. Had a black out tonight and lasted quite a while. Richard was hardly thro supper but we turned off the lights before the deadline as he is sort of warden and likes to boss us.
End of this weeks diary post. There will be another diary reading next week, see you then :) Grandma Donna